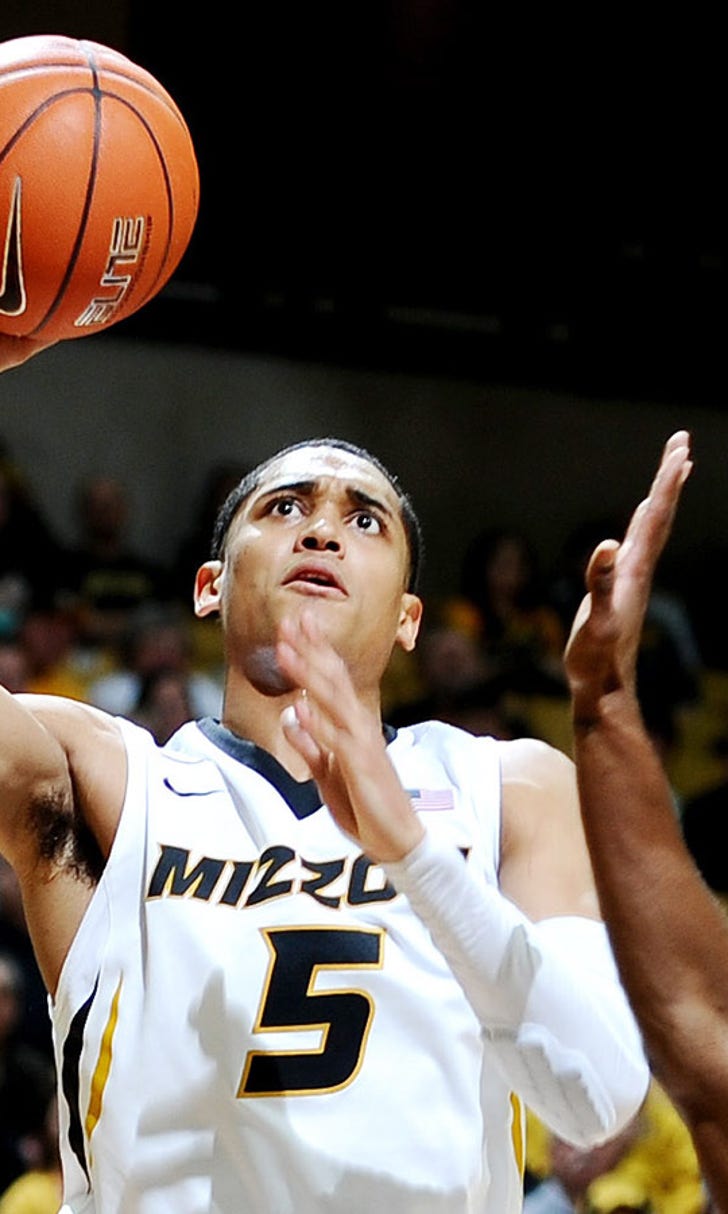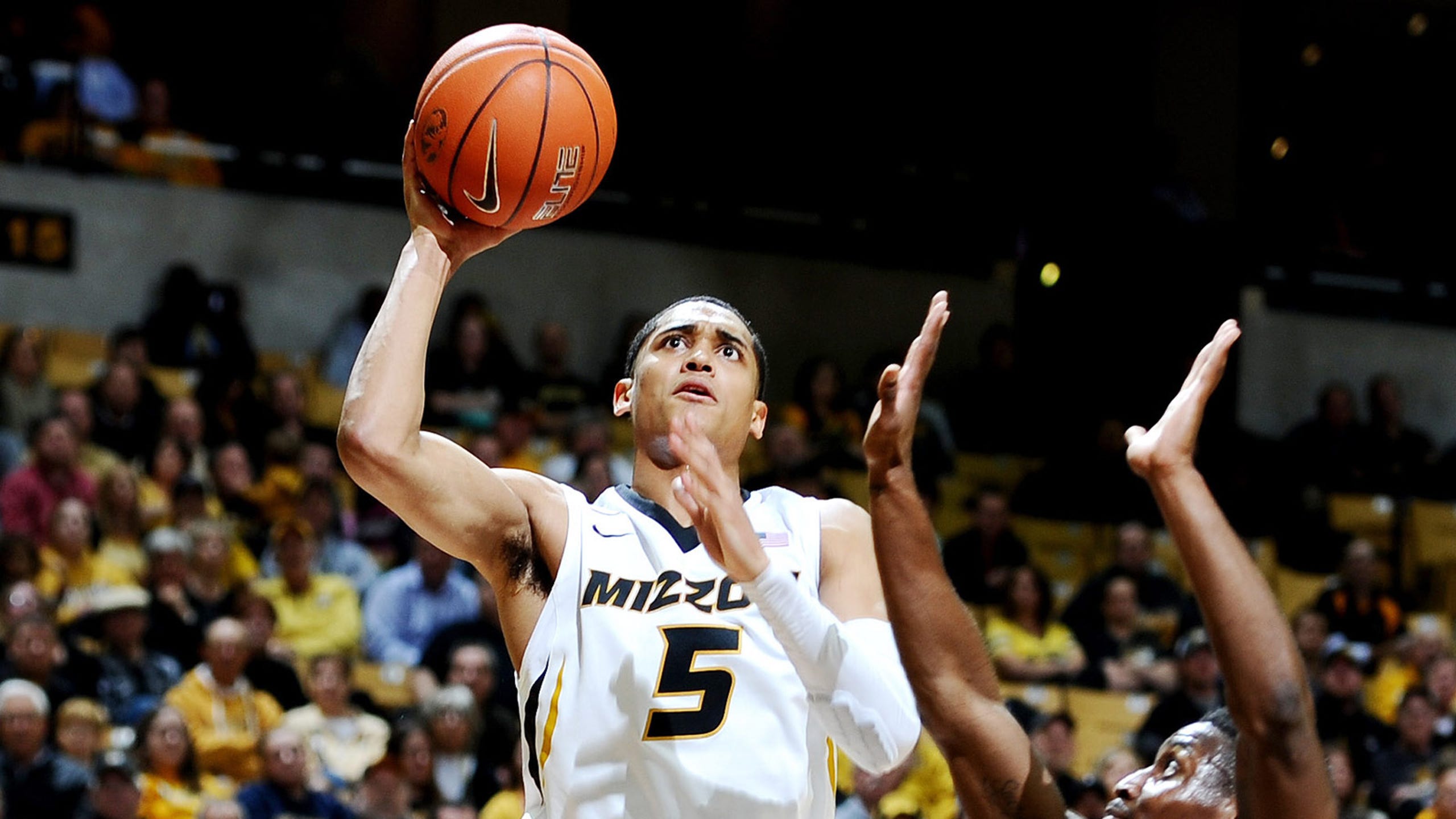 Mizzou's Clarkson is proving to be even better than advertised
BY foxsports • December 12, 2013
ST. LOUIS -- They own the ninth-best rebounding difference in the nation. Their shooting percentage is second best in the SEC. They gave UCLA its first loss by holding the high-scoring Bruins to their lowest output of the season.
But as efficiently as the Missouri Tigers are clicking across the board, the No. 1 reason they are 9-0 and have cracked the Top 25 has been the play of No. 5: junior transfer Jordan Clarkson.
The 21-year-old from San Antonio is proving to be even better than advertised, and he came to Columbia with quite a billing. Clarkson led Tulsa with a 16.6 scoring average before he transferred after his sophomore year and turned heads in Missouri's practices last season with regular battles against Phil Pressey.
Coach Frank Haith won't go so far to admit that even he has been surprised by Clarkson's strong start, but let's just say the veteran coach has been duly impressed.
"Has he exceeded my expectations," Haith asked, repeating a question from the media at his weekly presser Wednesday. "I knew he was pretty good but he's done some really good things, there's no denying it. He's a very talented kid."
Haith, after all, sought after Clarkson after he left Tulsa and watched him practice against the Tigers last season. In his share of those sessions, Haith says Clarkson was the best player on the floor. Still, you know what they say about practice. Haith wasn't sure how Clarkson would adjust to competition that, on most nights, is a cut above what he faced in Conference USA.
Well, 21 points, four rebounds and six assists against UCLA and 25/6/4 against West Virginia are pretty clear indicators that Clarkson has stepped up nicely. He already has the Missouri media relations department scurrying for the school record book.
For example, a 20-point game against Western Michigan Sunday night at Mizzou Arena and Clarkson will become the first player with six consecutive such outputs since Anthony Peeler in 1991-92. Seven years have passed since any Tiger turned in five straight 20-point outings, that being Thomas Gardner. Keep it up and Clarkson could become the first Tiger to average 20 since Kareem Rush in 2000-01.
Clarkson leads the SEC in scoring with 20.2 per game and, while he has put up more shots than anyone in the conference, he also ranks top 10 in field-goal percentage at 51.5. Those numbers figure to rise if he can lift his 27.6 percentage on 3-pointers to his career average of 33.8. With such production, who cares if he isn't a pass-first point guard like Pressey.
After going for 17 in the first half against UCLA, Clarkson certainly made an impression on coach Steve Alford. The Bruins turned their focus to stopping Clarkson after halftime only to watch the other members of the big three, Earnest Ross and Jabari Brown, take over as the Tigers turned an eight-point deficit into a 17-point victory.
"Clarkson is very, very special," Alford said. "He's getting a lot of interest, and he should. He's a very talented point guard."
At 6-5, 193, Clarkson hardly is a banger but he has shown the strength to score in the paint. Even against zone defenses, he has found a way to slash to the basket. West Virginia coach Bob Huggins, after watching Clarkson make 9 of 17 shots in a one-sided victory, attributed the effectiveness to more than talent.
"Guys like him really benefit from the way they're calling the game now," said Huggins, referencing the emphasis this season on calling hand-checking. "He's got good length and he's very good with the ball."
He's been pretty good defending the ball, too, as have the rest of the Tigers. Haith ranks defense as the main reason his team has exceeded expectations in the early going, particularly its effort on closing out on 3-point shooters. West Virginia and UCLA both came to Mizzou Arena shooting better than 40 percent on 3s but were held to a combined 23.1 percent (9 for 39).
"We're ahead of where we were this time last year defensively," Haith said. "We can change defenses, we have good length, we're rebounding and we've taken away the 3-point line. Those numbers are to our liking."
So, too, has been the play of No. 5.
You can follow Stan McNeal on Twitter at @stanmcneal or email him at stanmcneal@gmail.com.
---