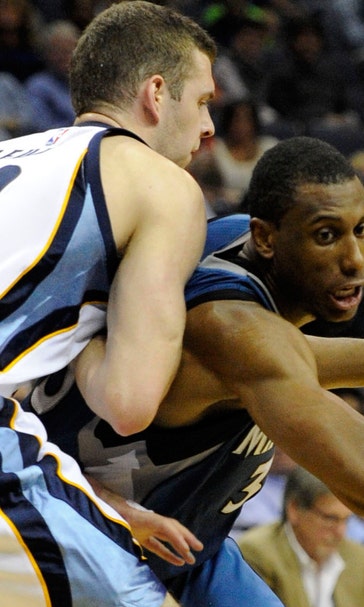 Minnesota's newcomers, reserves make Memphis sweat despite eventual loss
BY foxsports • October 30, 2014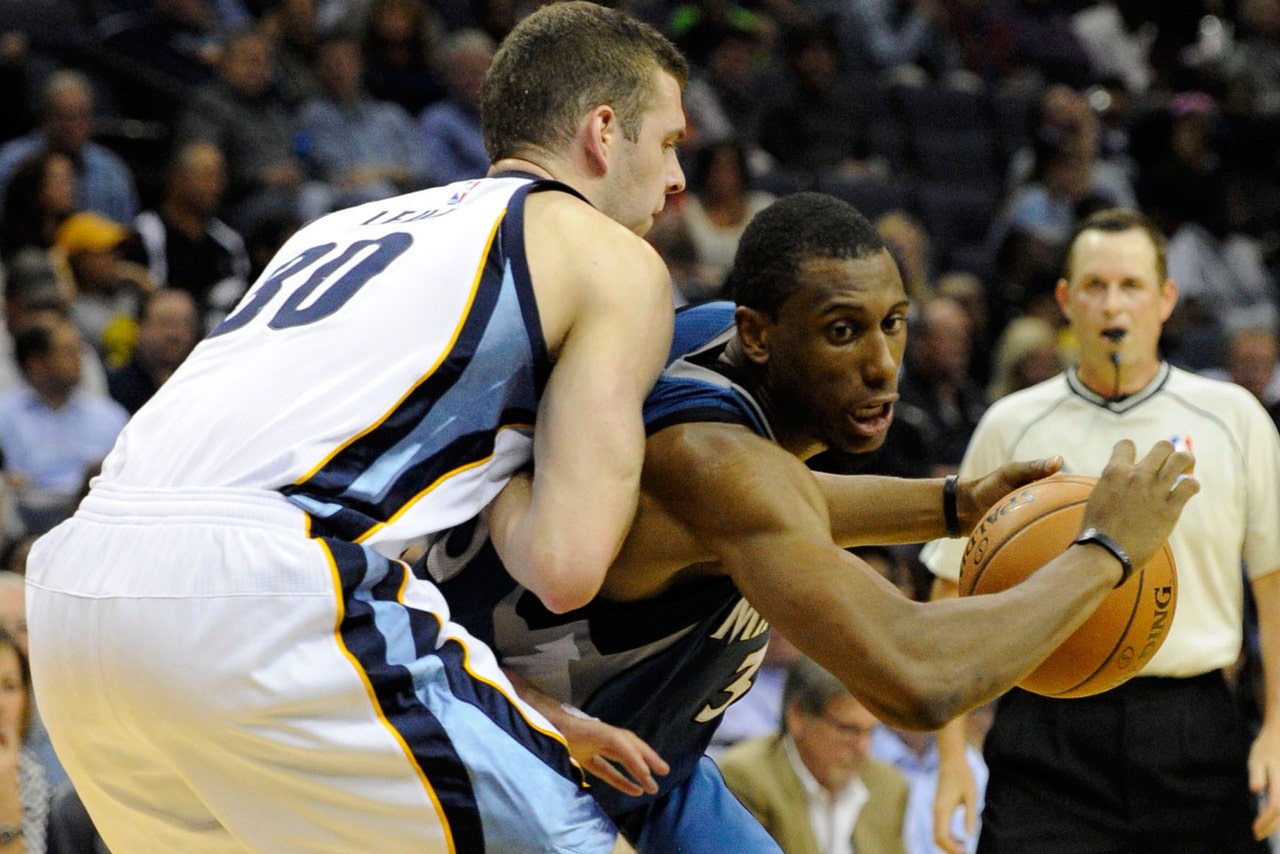 In the heart of rock-and-roll and barbeque country, which Thaddeus Young called home for the better part of his childhood, the newly minted Timberwolves forward slipped on his new road jersey and looked as comfortable as if he were sitting in his parents' living room.
Minnesota fell 105-101 against the Grizzlies in its season opener Thursday, but Young -- acquired in this summer's blockbuster Kevin Love trade -- was right at home in his Wolves debut, scoring 26 points on 10-of-18 shooting and chipping in four assists and a pair of steals. It was Young's pair of successful free throws and step-back jump shot that gave the Wolves a 96-94 lead with 3 minutes to go.
The Louisiana native-turned-Memphis AAU and prep star cut Minnesota's deficit to 103-101 with two more freebies at the 31.5-second mark, but a pair of Vince Carter free throws stretched the lead for good and gave the Grizzlies (1-0) their narrow victory. As they did much of last season, the Wolves (0-1) failed to execute down the stretch.
Success this season won't be measured by wins and losses, coach and president Flip Saunders has said. But start of the post-Love era aside, "This is a game that we were right there," Saunders said, "so you'd like to try to be able to finish that."
Minnesota went 6-13 in games decided by four points or fewer last year.
The result was familiar, but the look has changed considerably since then. Gone is Love and his gargantuan numbers, but through one game, the Wolves performed admirably without him. With Young's stout play at the power forward spot leading the way, they exhibited several potential harbingers the club's new core could do some damage.
Eventually.
"I told our guys I was really happy with the way we competed," Saunders said. "We played hard."
Free-agent signee and backup point guard Mo Williams scored 18 points off the bench, leading the second unit to a 46-10 edge over that of Memphis. Last year, the Wolves' bench ranked 25th in scoring in the NBA.
But Williams also committed a Flagrant 1 foul with 1:40 left that allowed Memphis to go up 101-96 on a Mike Conley free throw and a subsequent Marc Gasol jumper.
Second-year forward Shabazz Muhammad had 13 points and seven hard-fought rebounds off the bench, hampering the Grizzlies enough that coach Dave Joerger -- who seriously flirted with becoming Minnesota's coach this offseason before Saunders appointed himself to the job -- put burly big man Zach Randolph on him to keep him away from rebounds.
"'Bazz was phenomenal, played so hard," Saunders said. "He really got after them.
"Our bench kept us in the game."
With Muhammad, backup center Gorgui Dieng and starting center Nikola Pekovic clearing the glass, the Wolves outrebounded Randolph and Gasol-led Memphis 47-33. Dieng left with a right-thumb injury early in the second quarter but returned with a wrap on his hand in the third after X-rays came back negative.
Anthony Bennett, also obtained in the Love trade, followed up his strong preseason with an equally effective showing when Young needed a rest. The second-year power forward who averaged just 4.2 points and three rebounds per game last year tallied nine and three in his first game for Minnesota. His thunderous dunk on a nifty dish from Williams tied the game at 85 with 7:39 to go and capped a 7-0 Minnesota run.
But Bennett's Canadian countryman and fellow No. 1 overall pick, Andrew Wiggins, had a tougher time in his first NBA game. The centerpiece of the Love trade matched up frequently with lockdown defender Tony Allen and finished with six points on 2-of-5 shooting, three rebounds, two steals and four personal fouls.
"Wig played well at times, had a great challenge with Allen," said Saunders, who coached his first game since Jan. 23, 2012 with the Wizards. "I purposely went to him a little bit. Tony -- I'm not testing Tony -- but he's the best defensive player in the league, and that's a good situation for Wig to grow up a little bit and understand the physicality."
Said Wiggins, who earned the start after Kevin Martin was declared inactive due to a sore left ankle: "I learned a lot. I'm probably going to think about it the whole plane ride home."
Pekovic and point guard Ricky Rubio struggled, too. Rubio went 5 for 12 from the field, and was responsible for seven of the Wolves' 23 turnovers and the foul that sent Carter to the line with a chance to ice the game. Dieng missed most of the second quarter, and Ronny Turiaf was inactive with a sore right hip, so Pekovic played 35 minutes, 48 seconds -- about nine minutes more than Saunders wants to use the injury-prone big -- and had five points on 2-for-9 shooting to go with eight rebounds.
Gasol made life tough for Pekovic in the paint by scoring a game-high 32 points. Randolph made six of his first seven shot attempts and scored 25 points. But despite the outcome, Saunders and company have plenty of positive talking points for the flight home ahead of Thursday night's home opener against Detroit.
Follow Phil Ervin on Twitter
---