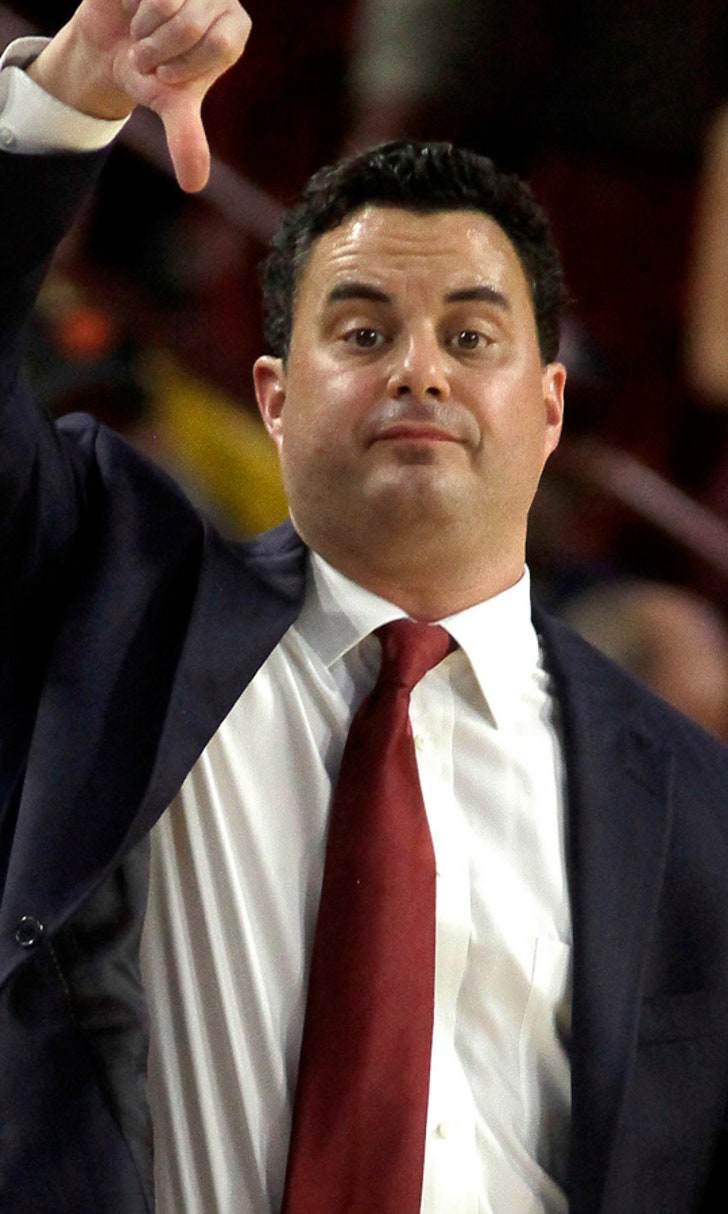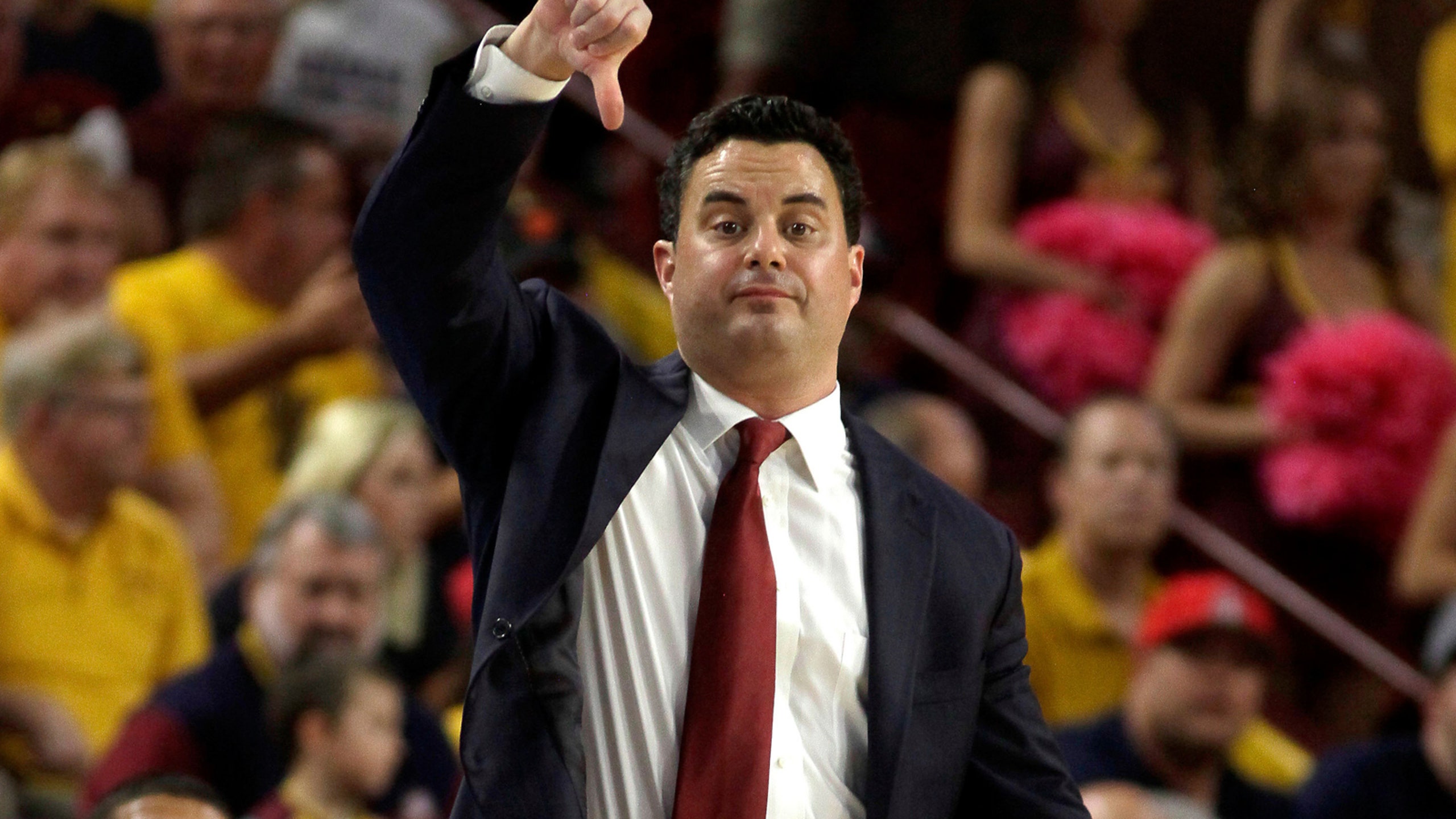 Miller to dig deeper into Arizona's bench going forward
BY foxsports • February 17, 2014
TUCSON, Ariz. -- Yes, Arizona coach Sean Miller said, he does wish he would have used his bench more prior to his team's recent struggles.
So starting now, he will. Miller said Monday at his weekly press conference that he'll go to his bench more often as the fourth-ranked Wildcats head to Utah and Colorado this week in hopes of hanging on to the Pac-12 lead. Arizona is 10-2 in Pac-12 play, one game in front of UCLA.
Miller, speaking for the first time since Friday night's loss 69-66 double-overtime loss at Arizona State, said "it's what's best for our team" and will become part of the plan moving forward. Players playing an excessive number of minutes -- something that has been an issue all season due to a lack of depth, particularly since the season-ending injury to starting forward Brandon Ashley -- was magnified in the loss Friday night, when the starters all played 45 minutes or more in the 50-minute game.
"The last straw for me in terms of how we're going to do things moving forward was the ASU game," Miller said. "What we try to do and how we play makes no sense to play players close to 40 minutes. It affects your defense, it affects your ability to make shots at the end of the games, your practice environment."
Miller added that, given the team's talk of being "all-in" and the importance of chemistry, "it's no fun when only five are playing."
With those issues in mind, the Wildcats are adopting a new standarf heading into the "stretch run" of the season, one that's still been excellent in its entirety. Arizona is 23-2 overall enjoying its 14th consecutive week in the top five despite falling to No. 4 in the polls earlier Monday.
Entering the game with ASU, it was discussed that the starters' minutes were creeping up due to the absence of Ashley, who suffered a foot injury two minutes into the California game on Feb. 1. Starters had been averaging around 30 minutes a game, with the thin bench still mostly a nonfactor. A couple of weeks ago -- maybe in jest -- the Arizona players and Miller jokingly mentioned that the starters would like to play more.
Well, be careful what you wish for -- especially after a double-overtime game.
"We're ready to play the extra minutes. It's something we have to do to win," center Kaleb Tarczewski said. "But, in the next few games, look for more contribution off the bench. I think those guys coming into the game are going to help us give us that extra boost of energy toward the ends of games."
Tarczewski added that "we all believe what's best for the team" is building more depth, as "everyone on this team is a great basketball player, and without a doubt, everyone can contribute to the success of the team. That's going to be important with us moving forward."
Contributions will have to come from sophomore guard Gabe York, the team's best outside shooter; freshman Elliott Pitts, another good shooter who has played a little more of late and can fill in on the perimeter or at small forward; senior guard Jordin Mayes, who has the experience the rest of the bench lacks; and junior big man Matt Korcheck, who can give Tarczewski some needed rest.
"Jordin has been in big games from a defensive perspective," Miller said. "Elliott Pitts, and how he's practicing, can give us another shooter. Gabe playing a little more allows him to be that much more confident. (And) Matt Korcheck can take a foul away from Kaleb."
Miller said he did not think anything of it when officials opted not to call a technical foul on Jahii Carson's last-second dunk, one that featured the ASU point guard pulling himself up and hanging on the rim with 0.7 seconds left in double overtime. Conference officials admitted Sunday that a technical foul should have been called on the play, but Miller said he just remembers shaking Sun Devils coach Herb Sendek's hand and thinking the game was over.
But time remained on the clock. After the ASU students -- who had prematurely rushed the court amid Carson's dunk -- returned to the sideline, officials put 0.7 seconds left on the clock, long enough for Arizona guard Nick Johnson to take an inbounds pass just past half-court and put up a 3-point attempt that bounced off the front of the rim.
"I don't want to win or lose something that doesn't have any relevance to the actual play," Miller said, referring to the technical no-call.
Miller said ASU deserved the credit for winning the game, lauding the Sun Devils' defense and guard Jermaine Marshall, who had 29 points.
Arizona point guard T.J. McConnell was selected Monday as one of 23 finalists for the Bob Cousy Collegiate Point Guard of the Year Award. The finalists were chosen from an initial list of 80.
McConnell, a junior transfer from Duquesne, is averaging 7.9 points, 5.4 assists, 4.0 rebounds and 1.8 steals per game. He has a 2.63 assist-to-turnover ratio.
McConnell said it was an honor to be selected as a finalist but credited his teammates for making him look good.
---