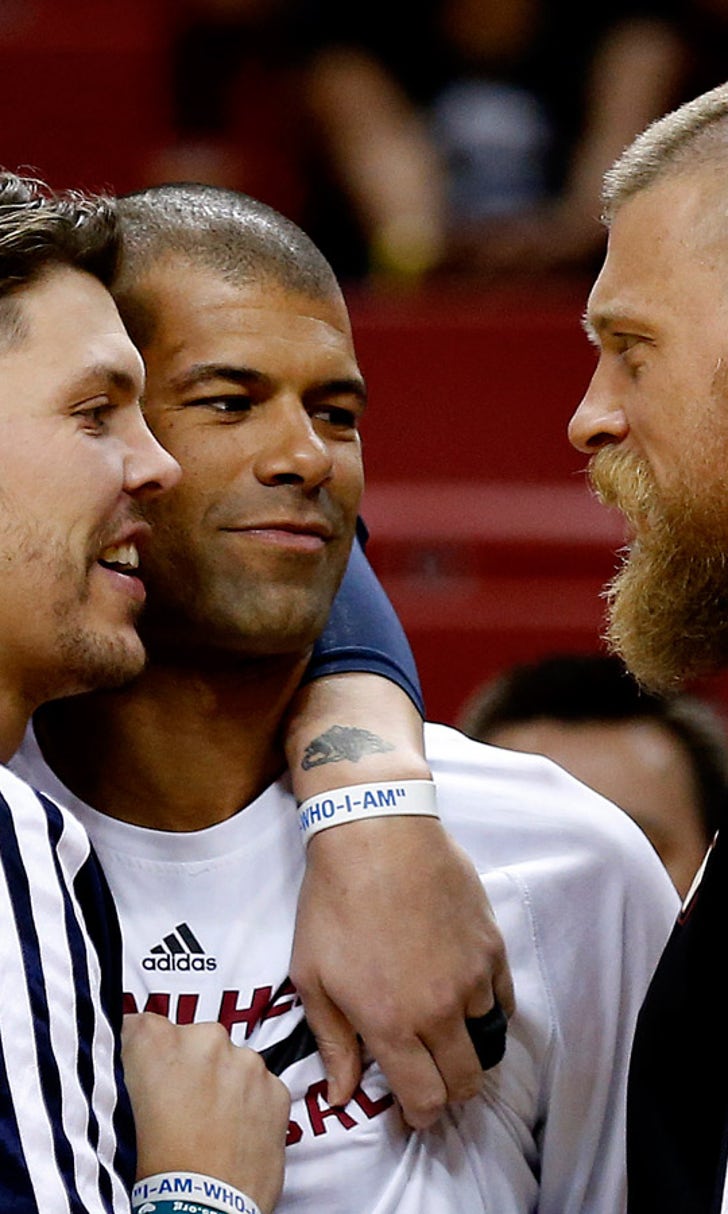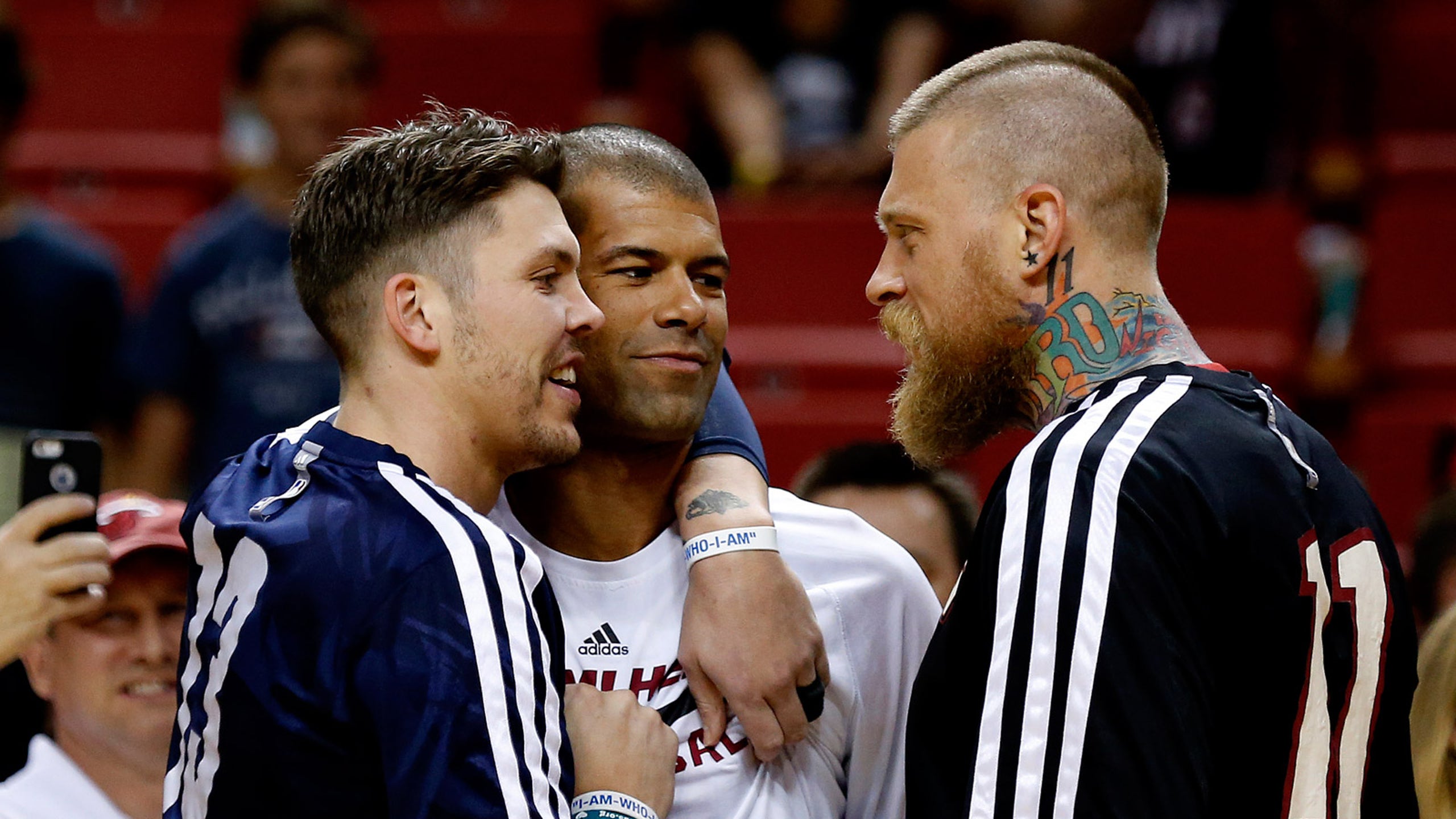 Mike Miller returns to Miami to collect championship ring
BY foxsports • March 21, 2014
MIAMI -- Former Miami Heat sharpshooter Mike Miller returned to AmericanAirlines Arena on Friday night and received his 2012-13 NBA championship ring.
We know this because he was front and center before the game when the Heat smothered him with love both figuratively and literally.
Miller's presence was less obvious during Miami's come-from-behind 91-86 victory in which he scored just 3 points -- courtesy of a trey, naturally -- for the Memphis Grizzlies.
The former Florida Gator also missed a 3-point try from the top of the key with 51 seconds remaining and Memphis down by two.
Miller made like a ghost after the game, disappearing before explaining how it felt to see his former teammates and receive his second consecutive championship ring. A Grizzlies spokesperson explained the player had many family members and friends to see.
That left others to describe Miller's return to the Triple-A.
"It's awesome," Lebron James said. "We hate that he is not around here. It's great to see our fans and our franchise pay respect to a guy who helped us win two championships."
Nearly five months after an opening night ring ceremony honored last year's NBA champions, Miller received his jewelry. The man who signed with the Grizzlies as a free agent during the offseason was a valuable player off the bench for the Heat the previous three seasons, including two league titles.
In between the singing of the Star Spangled Banner and player introductions, a brief video dedicated to Miller played on the screens above midcourt. The presentation showed highlights of the 3-point-shot specialist with the Heat -- including when he lost his sneaker and then sank a trey during Game 6 vs. San Antonio in the NBA Finals. The video concluded with the words, "Mike: Thank you for letting it fly!"
Heat players then rushed Miller and surrounded their ex-teammate near midcourt.
"We just did it. It was one of those things where you wished we didn't have a game because we hadn't seen Mike in a long time," Dwyane Wade said. "It was good to see him. He's a brother of ours, and I've had a special relationship with him. Obviously, (Udonis Haslem) has, too, aging to school with him.
"Just a great friend and great guy. We were happy he was able to come here and get the cheers from the fans which he deserved. That was a sign of showing him we all missed him."
After receiving pats and hugs from his ex-teammates, Miller darted toward the Miami bench and greeted members of the coaching and training staffs.
Miller then ran to midcourt to receive his championship ring from Heat coach Erik Spoelstra, before dashing over to slap hands and hug Heat owner Micky Arison.
Upon returning to the Grizzlies bench area, Miller handed the boxed ring to Zach Randolph and rubbed the prize as the Memphis forward held it.
"It was motivation," Randolph said. "It's something we want to get, something we want to do. He showed it to the whole team and was like, 'This is what we're playing for and this is what we can get.'
"This is what it is. This what you work hard for. This is what the NBA is all about."
Grizzlies point guard Mike Conley said he was impressed by the ring. "I'm going to steal it," said the man who led the NBA with 174 thefts last season.
Miller is averaging 6.8 points, 2.5 rebounds and 1.5 assists in 20.4 minutes this season with Memphis. He began the night fifth in the league shooting 44.9 percent from 3-point range.
The game also marked his 899th career NBA game, most by a drafted former Gator.
How did that feel, Mike? We await your response.
You can follow Charlie McCarthy on Twitter @mccarthy_chas or email him at mac1763@bellsouth.net.
---