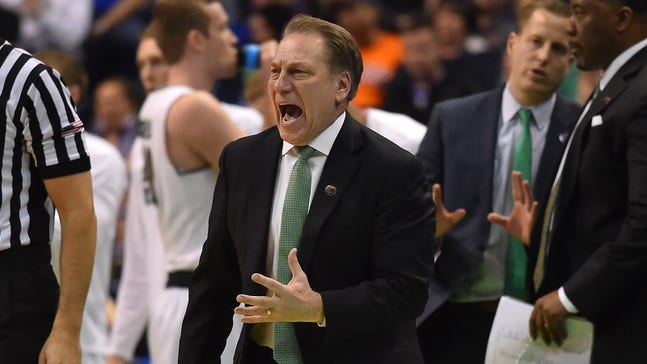 Middle Tennessee shocks Michigan State
Published
Mar. 18, 2016 5:07 p.m. ET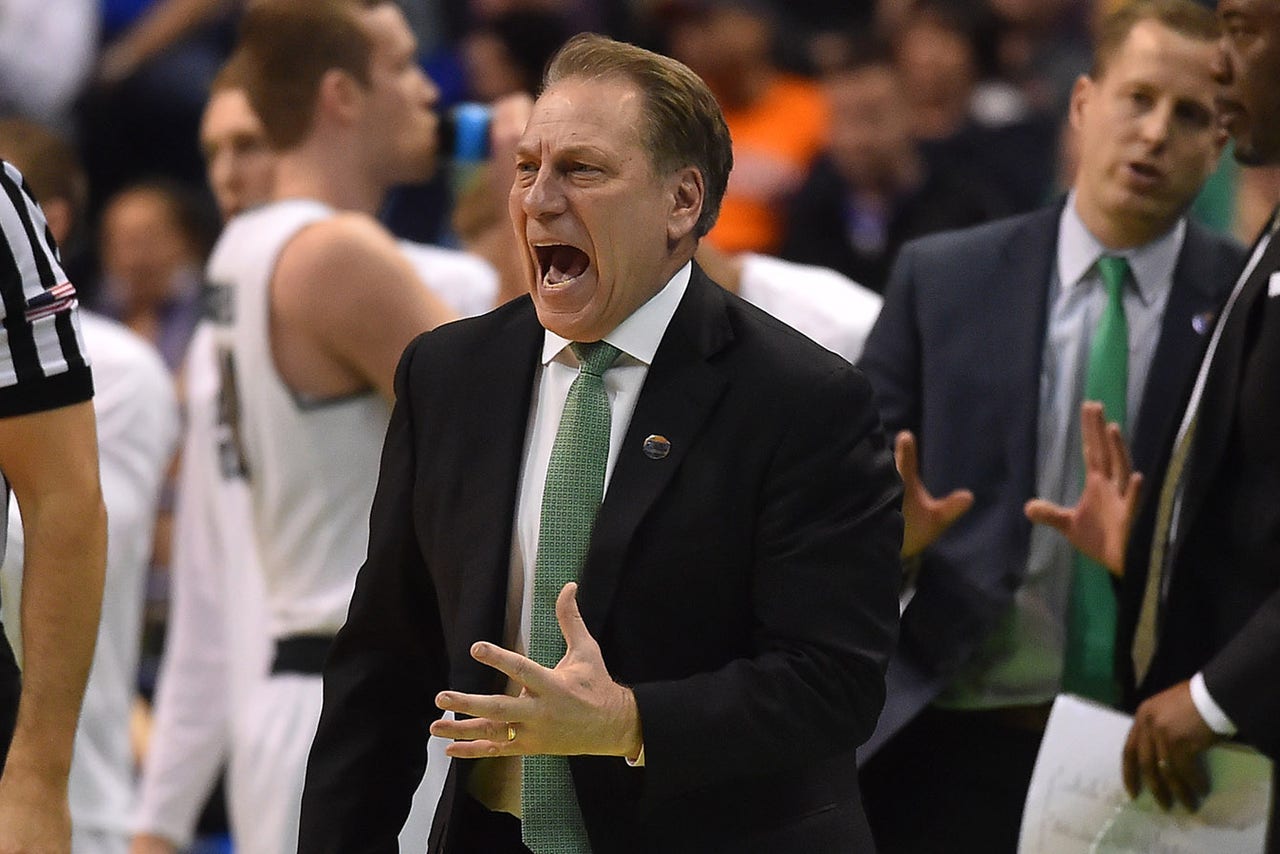 ST. LOUIS (AP) -- His voice strained after 40 minutes of yelling, Michigan State coach Tom Izzo remained steadfast that his second-seeded Spartans had the makings of a national championship contender.
If only they could have survived Round 1.
"We just got beat," Izzo managed to croak out after a 90-81 loss to No. 15 seed Middle Tennessee State on Friday ended their pursuit far sooner than expected. "But I want everybody to know this team had a chance to win a national championship. I don't feel one bit different."
In that case, what does the future hold for the Blue Raiders?
Reggie Upshaw had 21 points and Giddy Potts finished with 19 for Middle Tennessee State (25-9), which became the eighth No. 15 seed to knock off a No. 2 since seeding began in 1985. The last time it happened was 2013, when Florida Gulf Coast beat Georgetown on its way to the Sweet 16.
The Blue Raiders will try to do the same against No. 10 seed Syracuse on Sunday.
"I'll be honest with you, in my wildest dreams I didn't think they'd hit some of the shots they hit," Izzo said. "We didn't guard them good, but man, they made some shots."
The Spartans (29-6) were a trendy pick to win it all after capturing the Big Ten Tournament title. Part of it had to do with the experience of Denzel Valentine and the seniors, and part of it had to do with Izzo's impressive postseason pedigree.
The got sent home without ever leading in their only game.
"I'm more mad and disappointed because I know what this team could accomplish," Valentine said. "It kind of fell apart, and it just stinks right now because I know the capability our team had."
The Spartans' Matt Costello matched a career-best with 22 points, but it wasn't enough to offset Valentine's miserable afternoon. The senior had 13 points and 12 assists, but he also had six turnovers -- one of them coming with the Spartans trailing 79-76 and less than three minutes to go.
Michigan State twice had chances to tie the game after that, but Valentine missed an open 3 from the top of the key, and Bryn Forbes missed another. The Blue Raiders eventually scored on back-to-back runouts to establish some breathing room, then coaxed the final few seconds off the clock.
Darnell Harris and Perrin Buford scored 15 apiece, and Jaqawn Raymond had 11, as the Conference USA champion Blue Raiders won their first NCAA Tournament game since 1989.
Not that they haven't made a statement before: They beat Kentucky in the first round in 1982.
"We wanted to win this game as bad as anybody wanted us to win," Potts said.
The Blue Raiders never seemed intimidated by the Spartans, roaring to a 15-2 advantage in the opening minutes and slowly getting the Syracuse and Dayton fans in the building on their side.
Michigan State chipped away at its deficit but never managed to make an extended run. Valentine was saddled with two fouls and rendered ineffective most of the way, and the backcourt of Forbes and Eron Harris combined for four turnovers while managing a single point in the first half.
Valentine's frustration reached its apex after he committed back-to-back turnovers in the second half. During a stoppage in play and with the Blue Raiders leading 51-43, Valentine stalked back to his team's huddle and proceeded to slam his hand into the floor.
Michigan State slowly trimmed the lead to 65-64 on a basket by Costello with eight minutes to play, but the Blue Raiders scored on their next six trips down floor to hold their lead.
They held onto it the rest of the way, too. It was the first time the Spartans, heavily favored to reach the Final Four, were bounced from the tournament in the first round since 2011.
"There's such great college stories this time of year, every year," Blue Raiders coach Kermit Davis said. "We looked at it and said, `Guys, why not Middle Tennessee?' It's going to be something after this weekend. Everybody is going to have a great, great moment -- a great weekend."
SENIOR SEND-OFF
It was the final game for Valentine, Costello, Forbes and backup forward Colby Wollenman, and Izzo got emotional talking about the impact they had on his program. "They've done it all," he said. "Other teams are going to hear ... what this team did. That's probably the best compliment you can give them."
TIP-INS
Middle Tennessee State: The Blue Raiders have won seven straight. ... Potts, who led the nation in 3-point field-goal percentage, was 3 for 5 from beyond the arc. ... Upshaw was 8 of 14 from the field.
Michigan State: Forbes finished with 14 points. Harris had nine points and five turnovers. ... The Spartans reached the national title game the last time they were No. 2 seeds, winning the championship in 1979 and finishing second in 2009. ... The Spartans had won 13 of their last 14.
UP NEXT
Middle Tennessee State plays the Orange on Sunday.
---
---