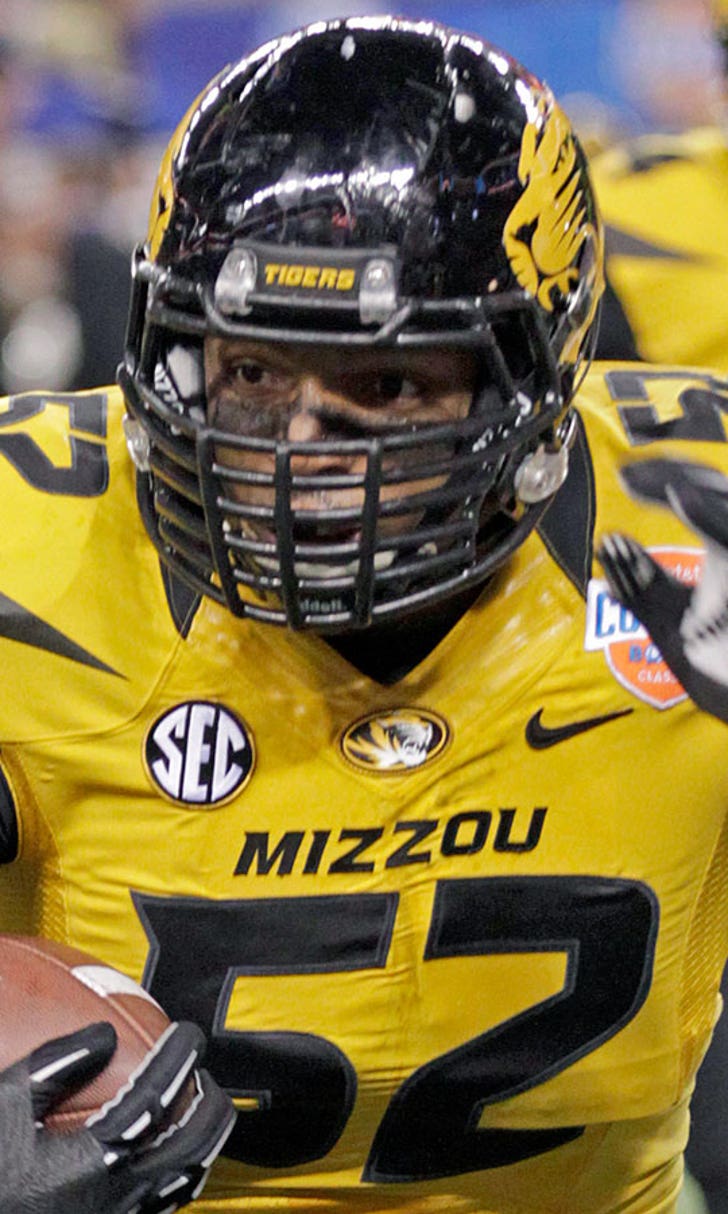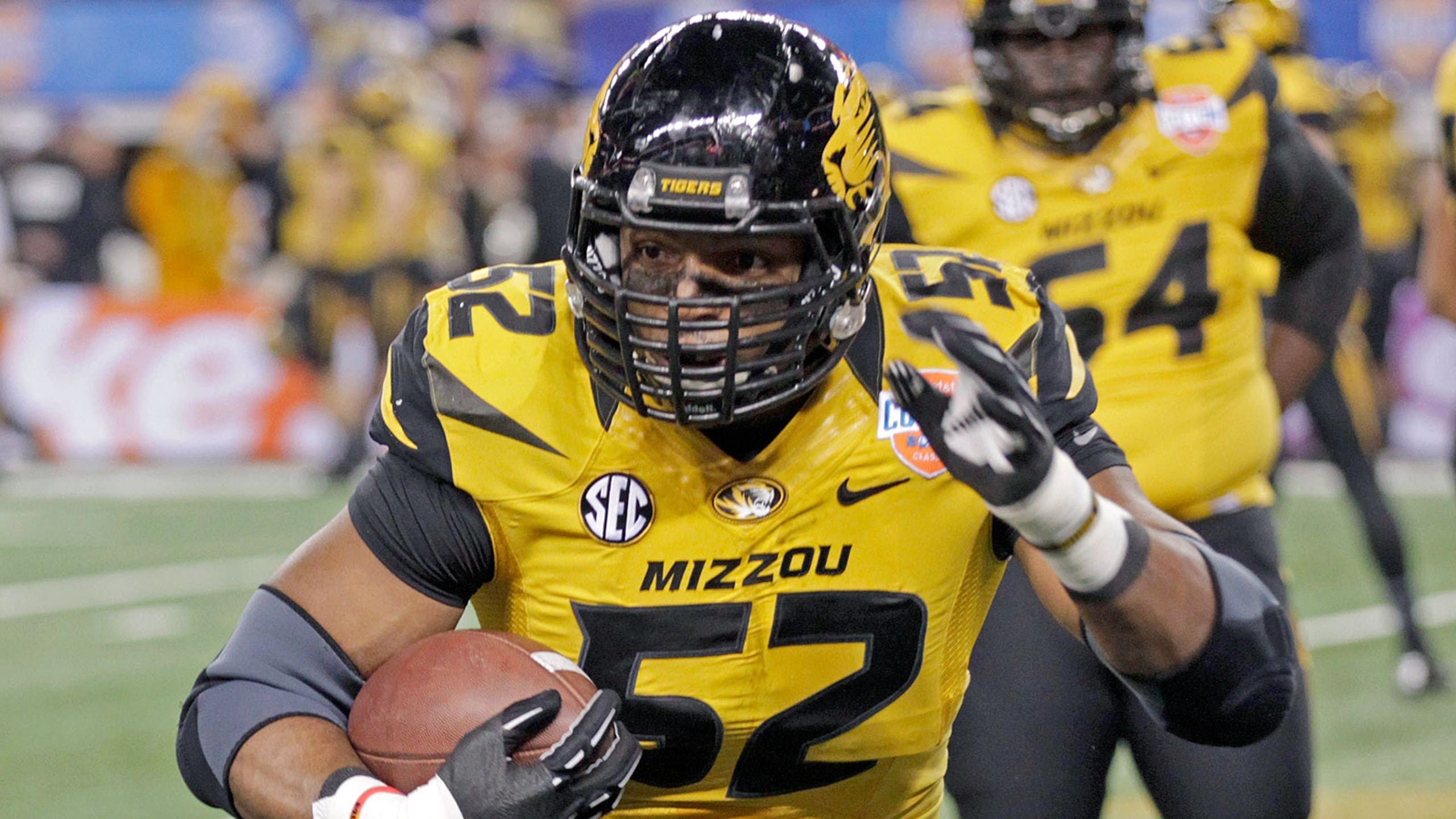 Michael Sam's historic NFL journey is set to make its first big stop -- at the NFL Combine
BY foxsports • February 19, 2014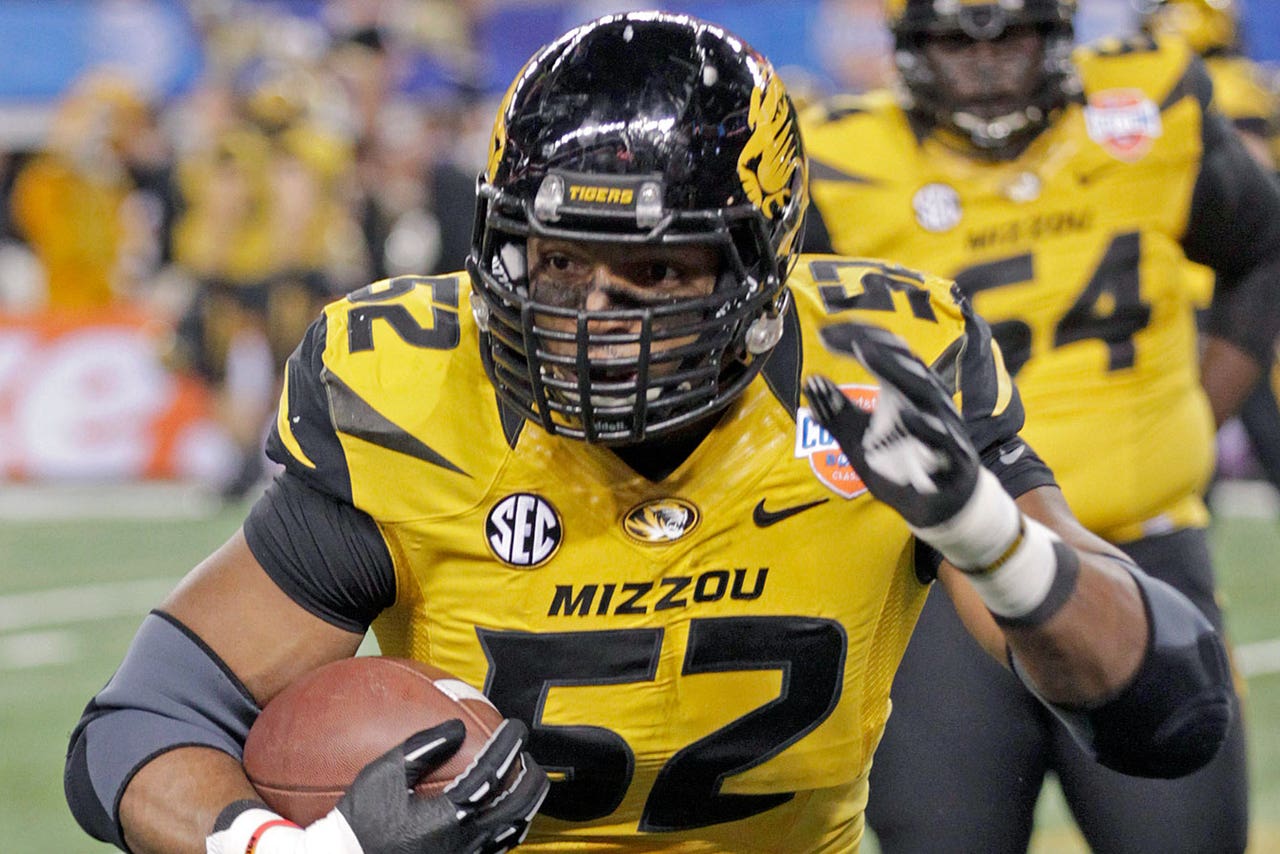 KANSAS CITY, Mo. -- Charm is subjective. A stopwatch isn't.
He'll make friends. He'll make allies. He might even make a few converts along the way. But if Michael Sam wants to make actual money this weekend in Indianapolis, he'll have to do it on the field, with his legs.
"Of the things I've seen and read about him, I don't think he'll have any issues (with interviews); he seems like a very confident young man," former NFL safety-turned-pundit Matt Bowen says of the 2014 NFL Scouting Combine, of which Sam -- the former Missouri football star and SEC Defensive Player of the Year and the first openly gay draft prospect -- is expected to be the star attraction. "The most important thing is what he runs in the 40-yard dash, what he runs in shorts, and what he does in the medical checks.
"The money-maker is the 40-yard dash."
Bowen scouted Sam at the Senior Bowl last month. And he says the Texas native's size (6-foot-2, 260 pounds) and 'tweener label -- smallish for a defensive end, not as comfortable in pass coverage as a typical 4-3 outside linebacker -- are bigger concerns with front offices at the combine than his sexual orientation. Sam's 40 times check in at the 4.64 to 4.85 range, according to NFLDraftScout.com -- good wheels, but not great. He's projected as a third- to sixth-round selection, depending on the team, depending on the fit.
"He doesn't look like a player that's extremely comfortable out in the open field. ... I think his best talent is rushing off the edge," Bowen says. "But first and foremost, I think you're looking at a guy that you have to have as one of your core special teams players, and a core special teams player that starts on all four units. That's where he's going to earn his paycheck, initially, in the NFL."
The first part of that journey, the first real tests, for everybody -- teams, players, media alike -- start here. Sam came out to the world Feb. 9, did a round of interviews with selected scribes and outlets, then vanished from the collective stage.
This weekend, the stage returns. So does the circus.
==
Combine weekend is stressful enough without the burden of being a trailblazer to one camp, a hero to another, a pariah to yet another and a curiosity to just about everyone else.
It's a four-day job interview in your underwear, and the most important job interview of your life. It's a dog-and-pony show one minute, a cattle call the next; you're poked and prodded and ogled like a frog in a middle-school science lab.
Only Kermit doesn't have to deal with the press afterward.
"If it was Michael Sam or Johnny Manziel, I'd say the same thing: Be honest," says Bowen, a sixth-round draft choice by the Rams in 2000 out of Iowa. "Be honest and up front about everything. Because they're going to throw you a ... number of questions, ranging from football life to personal life to history and background.
"That's why these guys are so stressed out and tired by the end of practice. I would walk in there and Bill Cowher would be sitting there, and that's kind of intimidating. So Michael Sam's going to sit down and John Fox is sitting there, or Bill Belichick. It's a tough experience; it's a stressful environment, and that's the way the NFL wants it."
Well, to a point, at least. As the combine has gone from a cloak-and-dagger deal to a showcase event televised on the NFL Network, secrets behind curtains and closed doors have become harder and harder to keep out of the public eye.
Hoping to avoid uncomfortable questions coming to light the way former Miami Dolphins general manager Jeff Ireland's did when he asked Dez Bryant if his mother was involved in, shall we say, the world's oldest profession, teams have been reminded not to query prospects in a way that could be deemed as discriminatory in a workplace dynamic. But since Sam has already released his greatest (presumably) secret to the world, that elephant has been in the room for weeks now.
"I remember one (team), just kind of asking how I would handle disciplinary actions on the team -- like with a teammate, say you've got a teammate acting up and not doing what they're supposed to be doing," recalls Jon McGraw, the former Kansas City Chiefs/New York Jets/Detroit Lions and Kansas State safety. "What's the responsibility for the teammates, not necessarily the team or the coaches?
"I thought that was an interesting question -- just kind of getting to learn the culture of the locker room, how they hold each other accountable. At that level, it's more difficult in the NFL than at college; you don't (get to) develop the same chemistry. Their concern will be that locker-room dynamic and kind of how he intends to handle it at the next level. That's probably the biggest concern: What his plans are, going forward. Is it going to continue to be something he wants to bring up, or is it something (where) it's, 'Hey, he's out, and we can move on now?'"
Sam is slated to run drills with linebackers and defensive ends, as teams have asked to look at him at both positions. He'll arrive Thursday, do a medical checkup Friday and most likely run Monday, agent Joe Barkett says.
As for the other specifics and their prep work heading into the combine, the Sam camp is keeping the details, for the most part, tightly under wraps. Barkett declined to elaborate on the identity of Sam's trainer  -- or even where the former Mizzou star has been working out.
"We don't wish to discuss that," Sam's publicist, Howard Bragman, said via email to FOXSportsMidwest.com, "other than saying he has a good plan, is working tirelessly and is looking forward to going."
"I'm not going to tell you exactly what our methods are," Barkett says, "but I'll say we've definitely been reviewing (them) with Mike very frequently."
They're also preparing for a zoo, media-wise. As it's the first chance most reporters have had to share a room with Sam since he came out of the closet, many expect the influx of reporters from sports and non-sports outlets will put last February's Manti Te'o crush to shame.
"I personally would assume (it'll) probably be the largest media day that the NFL Combine has ever had," Barkett says. "He's ready for that.
"Mike's not a shy person, and you'll see that at the combine. He loves people, and he enjoys being around people. Answering questions around hundreds of reporters is not going to phase him at all."
==
Fair enough. But what about all those questions, in private, asked by NFL franchises?
"I really don't think it's going to be as big an issue as people are making it out to be," says longtime draftnik Russ Lande of GM Jr. Scouting and the Big Ten Network.
"Hey, don't get me wrong -- there's a culture of macho (in the locker room), but it has nothing to do with sexuality. What it has to do with is toughness. He's a tough cat. You talk to the people at Mizzou who've seen him play over the years. NFL players and teams want to know, 'Is he gonna be there on time?' 'Is he gonna work his butt off?' 'Is he going to do everything possible in the weight room and the locker room and at practice to be the best teammate possible?'
"If he does all those things, 99.9 percent of the locker room could care less (about his orientation) as long as he's a team-first guy, a highly committed guy, as long as he's a team-committed guy that's gonna lay it on the line for his team every single snap."
Lande says NFL teams have a trick, too -- they'll ask players for the lowdown on specific former collegiate teammates. The rationale: They've all been coached for months about how to talk about themselves, how to sell themselves. But when someone asks about the guy on the other side of the line, or the other end of the locker room, that's raw. That's real. No rehearsed lines, no baloney.
"(Former Mizzou defensive end) Kony Ealy is going to get more questions about Michael Sam than (himself)," Lande says. "And that's how the NFL works."
So, funny enough, what gets said about Sam from the mouths of Ealy or E.J. Gaines or L'Damian Washington this weekend might mean as much -- or more -- to clubs as what Sam says about himself.
Nor does it hurt that former Tigers such as Sheldon Richardson, the NFL's Defensive Rookie of the Year with the Jets, told the SNY network last week that Sam's "sexuality has nothing to do with him playing on the football field. He is a completely different person (on the field). He puts this face on, no smiles, serious business. He's a killer."
In other words, he'll fit right in. Metaphorically speaking, of course.
"My experience with these different NFL teams is always, 'Hey, can this guy help us win?'" says Dan Shonka, general manager and national scout with Ourlads.com.
"That's all the bottom line is. Those locker rooms are full of drug-dealing thugs, guys who've been to prison, guys who would be in prison if they weren't in the NFL. And those guys have done stuff that's more disturbing than what's happened with Michael Sam."
Is he good enough? Is he fast enough? Is he tough enough? Can he take criticism from coaches? From teammates? From scribes? Does he want to compete, every down, every snap, every drill?
That's the impression Sam left with Bowen during Senior Bowl workouts. Ealy was (and is) the physical freak, but Sam was the pit bull, the motor that wouldn't quit. Even if he got knocked down, the kid got right back up again, angrier and hungrier than before.
"I don't think (being gay) matters, and that's coming from my perspective as a former player," says Bowen, who played 77 games for the Rams, Packers, Redskins and Bills.  "Because I don't think players are given enough credit, especially after the situation that went down in Miami (with Richie Incognito and Jonathan Martin). That's not normal -- that's meathead stuff. The majority of players in the NFL are educated and mature individuals. That should not play any role in accepting a teammate.
"Represent yourself as a mature professional. That's what the NFL wants: They want a mature player who comes to work prepared to be accountable for whatever they say and whatever they do in that workout or out on that field. That's how they're going to be judged for four days."
Because what's true for every prospect under the microscope is true for Sam, too: You can run in Indy. But you sure as heck can't hide.
You can follow Sean Keeler on Twitter at @seankeeler or email him at seanmkeeler@gmail.com.
---