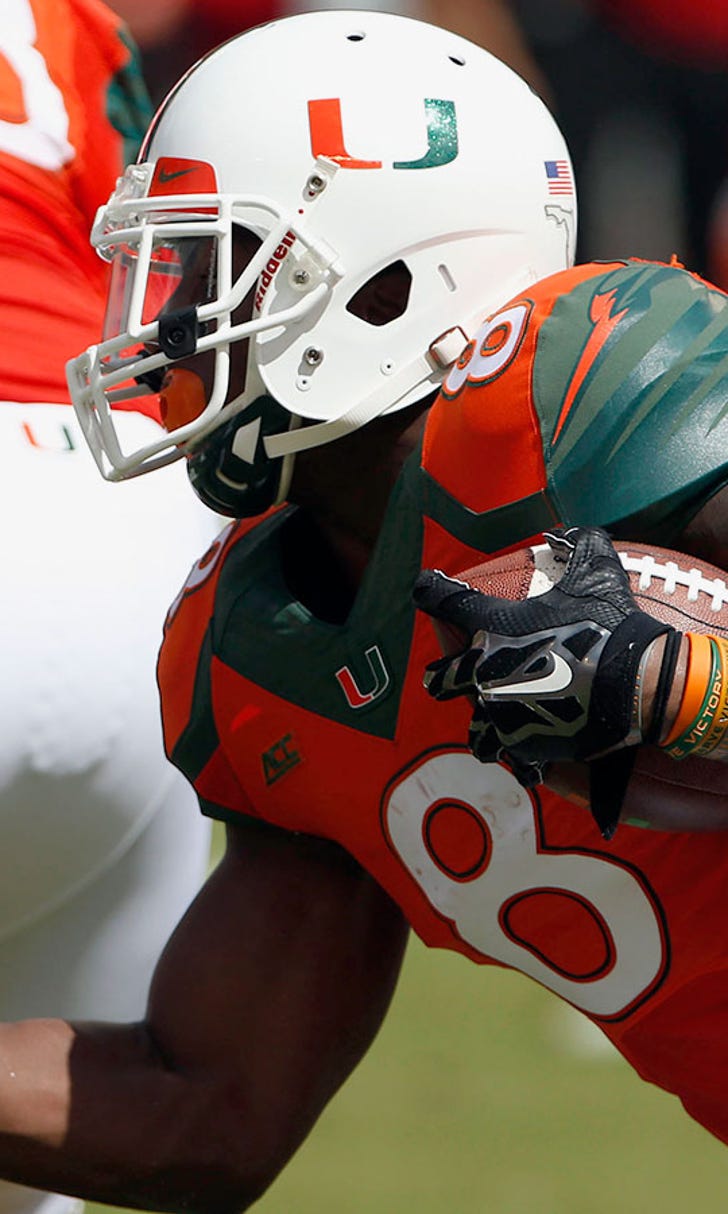 Miami visits Virginia Tech seeking first road victory of season
BY foxsports • October 22, 2014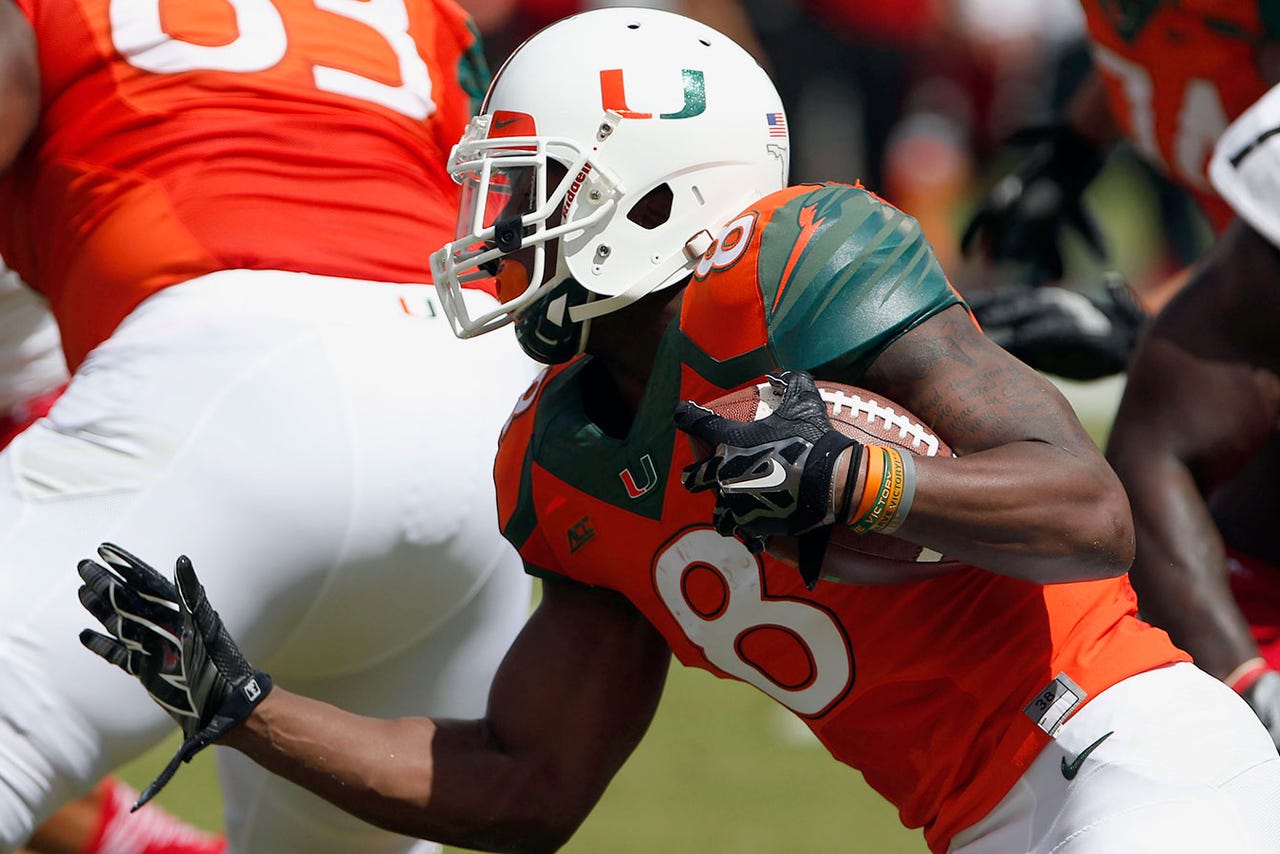 The Atlantic Coast Conference Coastal Division looks quite different since the last time the Miami Hurricanes played a game.
After beginning the 2014 season with seven straight contests, the Hurricanes watched their chances within the division improve during an open week.
While the Atlantic Division is Florida State's to lose, the Coastal remains up for grabs. Four teams, including Miami, have two conference losses. Duke (6-1, 2-1 ACC), which currently sits atop the standings, fell to UM earlier this month. Virginia (4-3, 2-1 ACC), tied with the Blue Devils and Pittsburgh (4-3, 2-1 ACC) in a three-way tie for first, hosts Miami on Nov. 22.
The Hurricanes visit Blacksburg this Thursday night to take on Virginia Tech. Both teams have matching 4-3 (1-2 ACC) records -- last in the division -- but just a game back.
Last Thursday, the Hokies lost 21-16 at Pittsburgh. The Panthers travel to Miami on Nov. 29 for the final regular-season contest. The Hurricanes have had extra time to prepare for Virginia Tech since beating Cincinnati 55-34 on Oct. 11.
Miami leads the all-time series 18-13 with a 5-7 record at Lane Stadium, but the Hokies have won six of the last eight. The Hurricanes have dropped their last two road games (2009, '11) in the matchup by a combined score of 69-42.
"Lot of things happening in mysterious ways right now," senior defensive back Ladarius Gunter said. "Just got to keep faith and keep grinding. Hopefully things fall into place, into our favor. Any given week. The schedule's hard at the end of the season for us. We just got to take it a game at a time and play our best ball right now."
Added redshirt junior defensive lineman Ufomba Kamalu: "Right now we feel like we control our own destiny, so just play hard every game and take it one day at a time."
Look into the recent past, however, and see it is easier said than done. Last year with a slim shot at the division, the Hurricanes were routed by the Hokies, 42-24, at Sun Life Stadium.
MATCHUP TO WATCH
Miami's defensive line vs. Virginia Tech's run game
A startling statistic would help partly explain the poor showings in Miami's three road games -- each equating in losses -- this season. While the Hurricanes allow 151.6 rushing yards overall, away from South Florida they surrender 263.7 yards.
Although Virginia Tech actually averages fewer rushing yards (152.9) than Miami (162.1) per game, the home-away split can't go unnoticed.
"I think all three of them were different," head coach Al Golden said. "... I think we have a plan. Obviously you have to execute the plan, and we know (Marshawn) Williams will be in there, see both tight ends, the fullback."
Those numbers won't cut it against the Hokies, who rank sixth in time of possession by holding onto the ball for 33:58. They have only lost three fumbles through seven games.
This could prove to be disastrous for the Hurricanes, who possess the ball five minutes fewer than their opponents. In a loss on Oct. 4 at Georgia Tech, UM had the ball for 19 minutes compared to GT's 40.
Last week at Pittsburgh should be seen as an aberration. The Hokies mustered just 26 rushing yards on 22 attempts, the second fewest in the Frank Beamer Era. Despite that, they still had a chance to win on the final drive.
Williams is nursing a sprained right ankle, but Golden and the Hurricanes expect him to play. The freshman has 337 yards and three touchdowns on 85 carries. His backup, Shai McKenzie, has added another 269 yards and three touchdowns.
Much like Nebraska's Ameer Abdullah, Williams is an imposing figure who can break tackles. He stands at 5-foot-11 and 229 pounds -- two inches taller and 39 pounds heavier than Abdullah, who gave UM fits with 229 yards.
"They have a good running game, good running attack," junior defensive lineman Calvin Heurtelou said. "They're a real good team upfront, so we've got to go up there and be physical, be real physical and impose our dominance. Allow them to feel us, especially up front guys like me, Courtel (Jenkins), (Olsen Pierre), (Anthony Chickillo). Just make them feel our dominance."
Added Golden: "We're going to see a heavy dose of that and the running game. He's a big back. We're going to have to tackle him. It'll be a great challenge for us and we've got to be up to the challenge. It's as simple as that."
TRENDING UP
Miami: Junior running back Duke Johnson has rushed for 100-plus yards in three straight games. Freshman quarterback Brad Kaaya has thrown just two interceptions in his past three contests. In five of the last six weeks, Miami has scored on its opening possession.
Virginia Tech: The defense ranks fourth in the nation in third-down conversion, holding opponents to just 26.3 percent. Sophomore cornerback Kendall Fuller is second in the country with an average of 2.0 passes defended per game. Virginia Tech is 4-0 when scoring 25-or-more points.
TRENDING DOWN
Miami: The Hurricanes have yet to win on the road, dropping their first three contests at Louisville, Nebraska and Georgia Tech. In each of the three defeats, opponents outrushed Miami and ran for at least 100 yards. This season UM is 0-2 when trailing at halftime.
Virginia Tech: Whether by coincidence or reason, the Hokies are 0-3 when the opponent scores first this season. Virginia Tech is tied with USC for the ninth-most penalties (65) in 2014. Offensively, the Hokies average just 394 yards per game (83rd in nation).
INJURY REPORT
Miami: Out -- WR Rashawn Scott (upper extremity), OL Kc McDermott (lower extremity); Surgery/Out for the season -- CB Rayshawn Jenkins (lower extremity), FB Ronnie Regula (lower extremity), OL Taylor Gadbois (lower extremity), K Matt Goudis (lower extremity)
Virginia Tech: Out -- DT Luther Maddy (knee surgery), LB Chase Williams (knee), CB Brandon Facyson; Probable -- WR Isaiah Ford (ankle), Williams (ankle), TE Dahman McKinnon (knee); Questionable -- TE Kalvin Cline (knee), WR Carlis Parker (hamstring)
DID YOU KNOW?
-- Miami is 12-0 under Golden when forcing three turnovers or more.
-- The offense has collected 25 plays of 25-plus yards this season.
-- Kaaya is one of 12 quarterbacks in the nation to throw for 1,800-plus yards and 16-plus touchdowns.
-- The Hurricanes' three losses have come against teams with a combined 17-5 record.
-- Virginia Tech will make its 29th appearance on ESPN Thursday Night Football -- the most in college football. The program is 20-8 (11-4 at home).
-- This marks the first Thursday game at Lane Stadium between the two teams.
-- VT's 250-game scoring streak is the fifth longest in the nation.
QUOTE BOARD  
"It was a pretty sloppy game. It was raining, it was wet out there. There were a lot of fumbles and stuff, a lot of errors that Va. Tech made that cost them the game. I'm pretty sure that they're going out there and gameplan and try to bounce back against us." -- Senior wideout Phillip Dorsett on what he saw from the Hokies' loss last Thursday
"They've got a good defense, offense pretty good, they've got a nice running game. It's going to be a physical game, so we've got to bring our big-boy pads." -- Gunter's analysis of Virginia Tech
"I know they take good pride in their special teams all across the board and I know they like to bring pressure, too, and stuff, but I'm not too worried about it. I feel confident in our team and our ability. As long as we do what we do and execute I don't think there'll be a problem, especially on the punting side." -- Sophomore punter Justin Vogel on Virginia Tech's reputation on special teams
"It's you against the world. We like that here at Miami." -- Freshman wideout Braxton Berrios on playing a primetime game in Blacksburg
"I think we could do much better. I think sometimes we show flashes we could be a great defense. I think sometimes we're not as consistent as we want to be. I think we definitely could be a great defense as long as we focus up and play together." -- Junior cornerback Tracy Howard on his assessment of the defense
LOOKING AHEAD
Homecoming is next on the schedule for Miami, which hosts North Carolina at 12:30 p.m. on Nov. 1. The Tar Heels, like the Hurricanes, are 1-2 in the ACC.
You can follow Christina De Nicola on Twitter @CDeNicola13 or email her at cdenicola13@gmail.com.
---