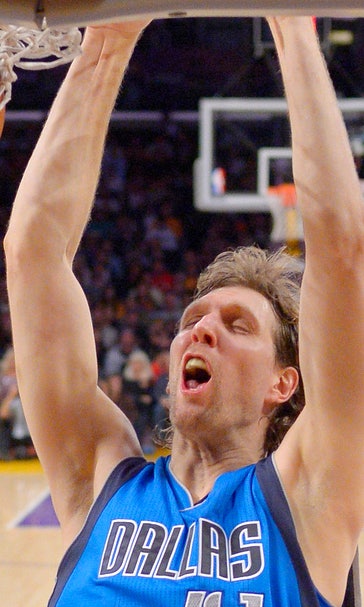 Mavericks hold off Lakers for season series sweep
April 13, 2015

LOS ANGELES (AP) -- Tyson Chandler had 20 points to lead seven Mavericks in double-figure scoring, and Dallas tuned up for the postseason with a 120-106 victory over the Los Angeles Lakers on Sunday night.
Richard Jefferson scored 17 points and Dirk Nowitzki had 16 in the third straight victory for the Mavericks, who will finish seventh in the Western Conference. Dallas led for the final 44 minutes and completed a season sweep of the Lakers for the first time in franchise history.
Wesley Johnson scored 16 points and hit four 3-pointers for Los Angeles before spraining his left ankle shortly before halftime. He didn't return, leaving the Lakers with nine healthy players in the second half of their sixth loss in seven games.
Jordan Clarkson had 26 points for the Lakers, who extended their team record with their 59th loss.
The Mavericks rested Devin Harris and Amare Stoudemire in a nod to their locked-in playoff position, but not to Friday's double-overtime game in Denver, according to coach Rick Carlisle.
Rajon Rondo had 11 points, 11 assists, eight rebounds and a warm reception from Lakers fans, who covet the guard in free agency this summer.
With 18 losses in their last 23 games, the Lakers must win one of their last two games -- both against Sacramento -- to avoid the worst winning percentage in the 16-time champion franchise's history. They're guaranteed to have the worst home record in club history after dropping to 12-28.
The Lakers (21-59) will head into the NBA draft lottery with the league's fourth-worst record. They have roughly an 83 percent chance of keeping their pick, which would go to Philadelphia if it's outside the top five.
Despite their latest injury, the Lakers used only seven players in the second half. Jordan Hill and Carlos Boozer dressed, but didn't play. All three of the Lakers' healthy guards are rookies, including two signed out of the D-League late in the season.
TIP-INS
Mavericks: F Chandler Parsons missed his fourth straight game with a right knee injury, but coach Rick Carlisle said he could return soon. ... Isaiah Austin, the former Baylor star who missed out on an NBA career due to Marfan syndrome, took part in a half-court shot contest for charity before the fourth quarter. He laughed after shooting an airball. ... Dallas has won three straight road games for the first time since early January.
Lakers: X-rays on Johnson's ankle showed no breaks. ... Tarik Black had 10 points and 19 rebounds, becoming the first Lakers rookie with at least 18 in a game since George Lynch in 1994. ... Guard Jeremy Lin was ruled out for the final three games with a sore left knee. ... Coach Byron Scott also formally ruled out Nick Young for the season, giving the Lakers eight players lost for the season with various injuries. ... Kobe Bryant and Young watched the game from the Lakers' bench.
UP NEXT:
Mavericks: At Utah on Monday night.
Lakers: At Sacramento on Monday night.
---