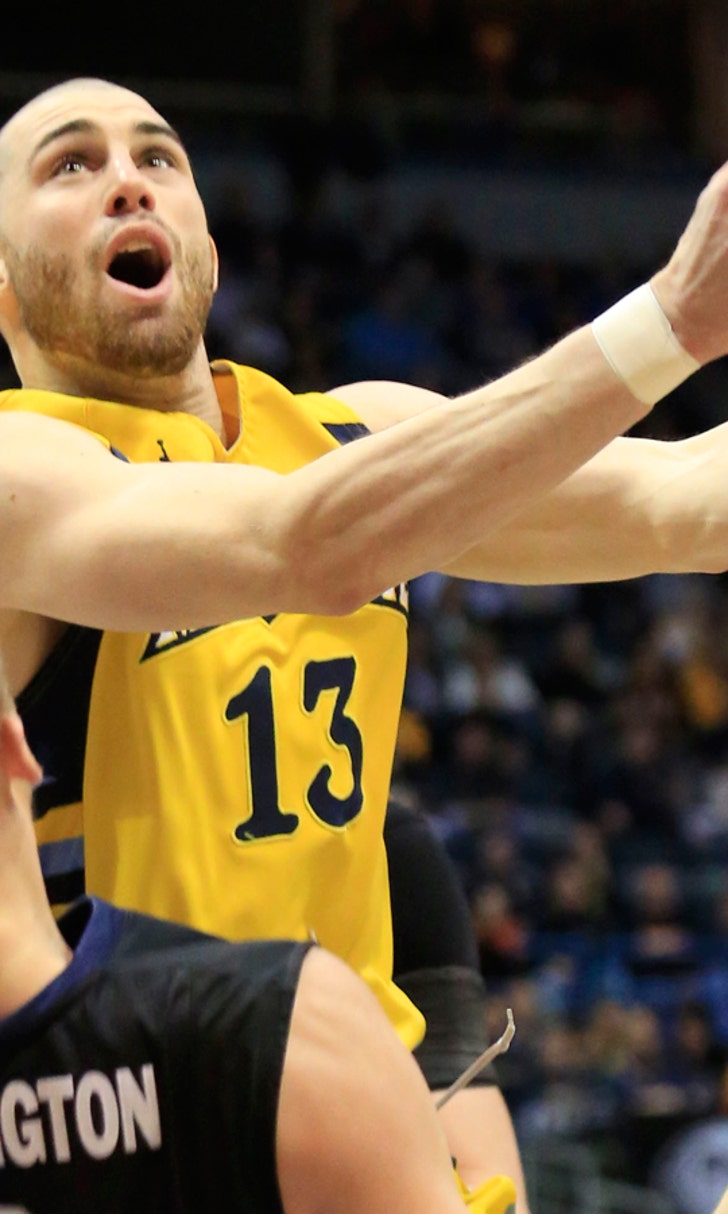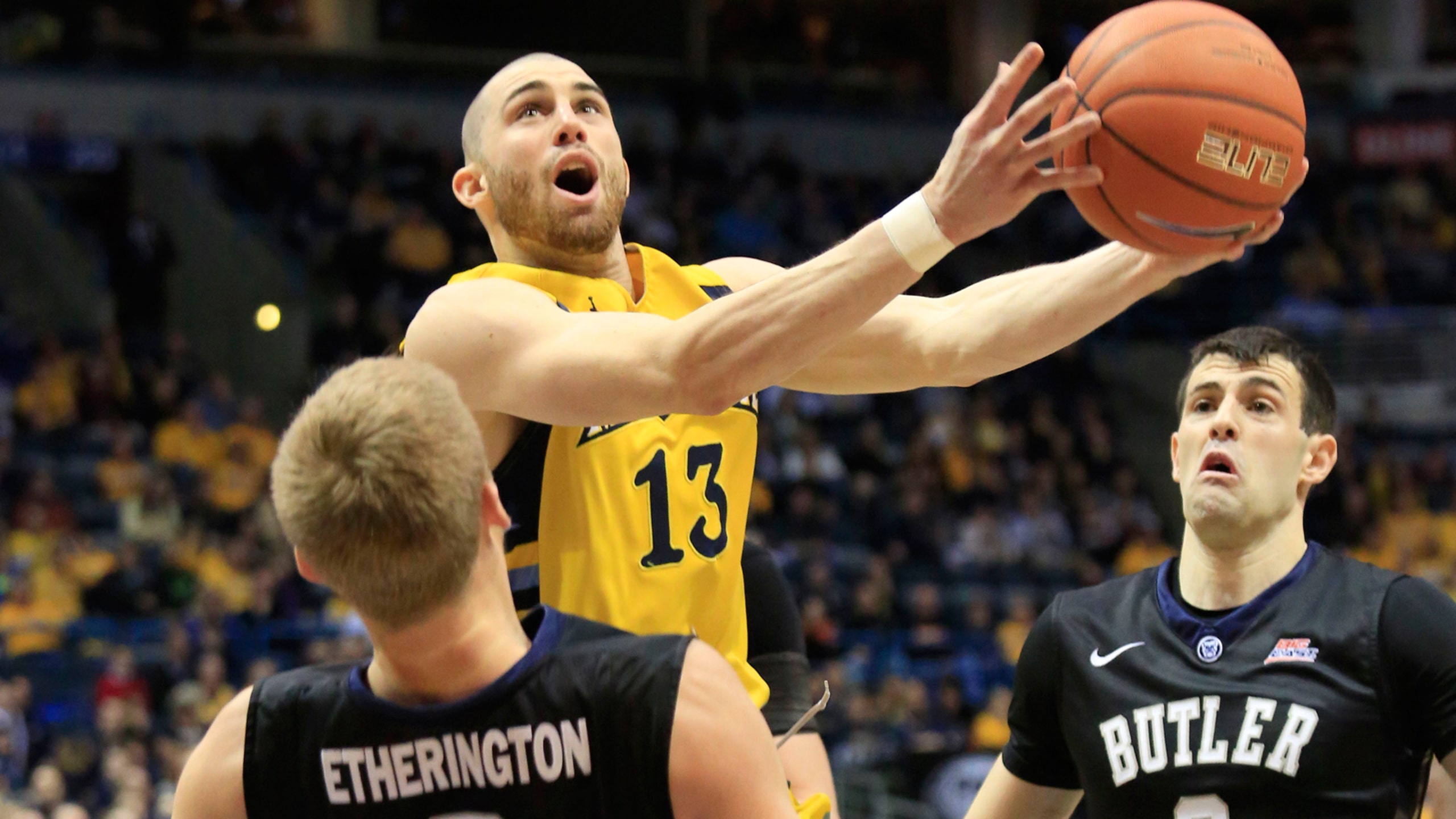 Marquette fights 'like crazy,' but can't close out Butler
BY foxsports • January 31, 2015
MILWAUKEE -- If it feels like this is redundant, it is because it is.
Marquette again had an opportunity to pull out a Big East win Saturday. But whenever the Golden Eagles seem ready to put a team away, they fall apart. They let a potential upset of No. 25 Butler slip away by not scoring over the final 2:20 of regulation, as the Bulldogs overcame a 58-50 deficit to send the game to overtime.
Butler controlled the extra session and prevailed with a 72-68 victory to send Marquette to its first five-game losing streak since the 1990-91 season.
"I'm disappointed for our players because they played with a winning effort," Marquette coach Steve Wojciechowski said. "We had a couple breakdowns at the end of the game.
"I thought my kids fought like crazy, they fought like crazy. We have to combine that with execution for 40 minutes."
A four-point possession off a technical foul on Butler coach Chris Holtmann gave the Golden Eagles a 55-45 lead with 4:20 to play in the second half.
Butler scored five straight to pull within five, but Matt Carlino answered with a step-back 3-pointer to extend Marquette's advantage to 58-50 with 2:18 left in regulation.
It seemed as if the Golden Eagles were going to pick up their first victory over a Top 25 team since the Sweet 16 of the 2013 NCAA tournament. But with this team, no lead is safe.
"We tried to stay with it and chip away," Holtmann said. "We said to them, 'If this thing is a one possession game in the last 45 seconds, we've done our job and it is our time to answer the bell.'"
Kellen Dunham hit one of two free throws on the ensuing Butler possession, but Andrew Chrabascz made the biggest play of his career game by grabbing the offensive rebound. He was fouled and hit two free throws to cut Marquette's lead to 58-53.
After a bad offensive possession by Marquette, the Golden Eagles lost Bulldogs point guard Alex Barlow in transition. The result was a made 3-pointer, bringing Butler to within two with 1:20 on the clock.
It seemed as if Marquette took the air out of the ball offensively once it built the eight-point lead. Another empty possession allowed Dunham to tie the game with 21.0 seconds left.
Holtmann smartly used one of the two fouls he had to give to force Marquette to inbound the ball with 5.6 seconds on the clock. The Golden Eagles turned the ball over trying to get it in, and the game went to overtime after Roosevelt Jones' prayer 3-point attempt was no good at the buzzer.
Chrabascz, who finished with a career-high 30 points, scored six of Butler's first eight points in overtime. Butler went 8 for 8 from the free-throw line in the extra session, while Carlino missed two 3-point attempts that would have tied the game late in overtime.
The Bulldogs weren't going to let Carlino beat them. Butler double-teamed the senior on every possession, but Marquette kept going to him. He missed a contested shot near the end of regulation and missed all four of his 3-point attempts in overtime.
Again, the Golden Eagles were hurt by not having another offensive option.
"Carlino has a flair for the dramatic as good as anybody in our conference," Holtmann said. "He makes big shots as good as anybody in our league, anybody. Him with the ball late is really scary. Certainly he was at the forefront of our mind because of how good he is in those situations."
While still poised, the frustration of a five-game losing streak wore on Wojciechowski's face after the game. It would be a different story if better teams were blowing out Marquette, but the path to a 2-7 Big East record has to be maddening for the first-year coach.
The Golden Eagles have had the lead during the second half in five of their conference losses and double-digit second-half leads in three of those defeats.
"We see how close the games were and how hard we fought," Marquette center Luke Fischer said. "We know we are right there and we can beat any team that we've played so far. That gives us confidence that we are good."
How does Wojciechowski prevent morale from slipping, considering Marquette was nicknamed the Warriors the last time it had a losing streak of this length?
"Morale's not allowed to be low," Wojciechowski said. "There's a lot of season left, we have too much to play for. This isn't like we're getting blown out. These are very difficult losses. I'd be lying to you if (I said) it didn't hurt our guys -- it does hurt. But we're right there, too. We're right there, too."
"Obviously we've shown we can lose to anybody in our league, but I still believe we can beat anyone in our league. We have a lot of young players who are gaining valuable experience and we have seniors who want to go out on a positive note. Poor morale is not allowed. It's just not allowed."
Follow Andrew Gruman on Twitter
---