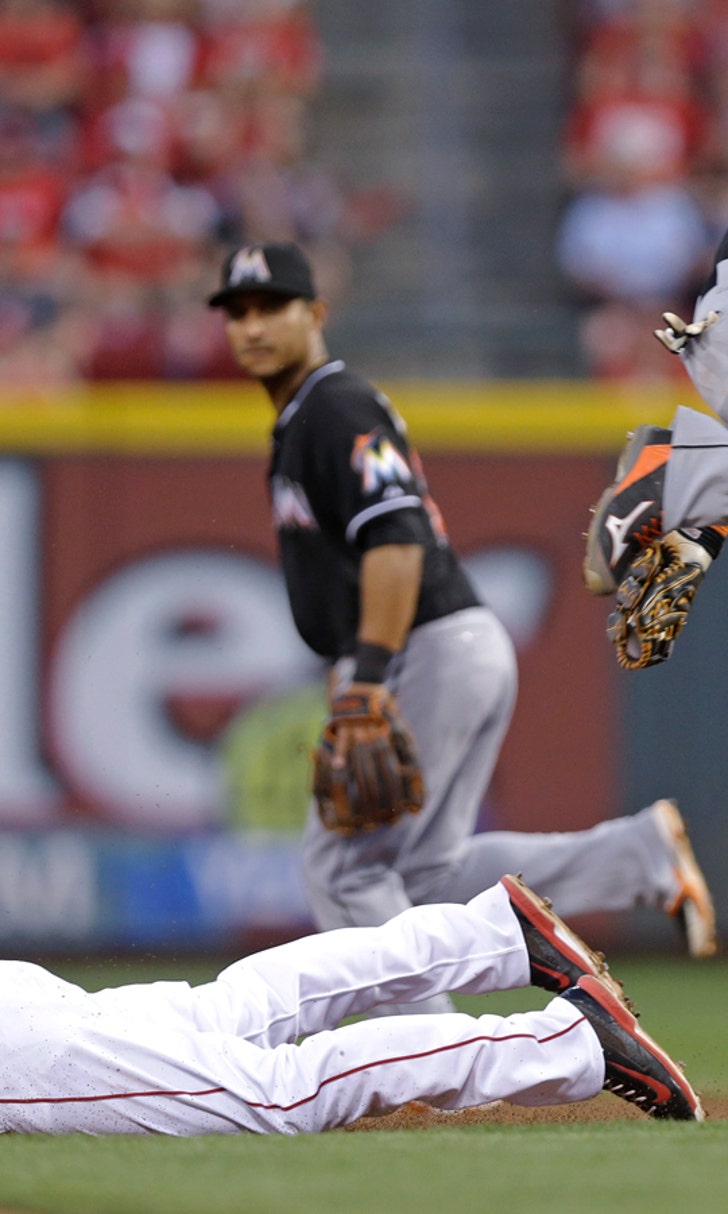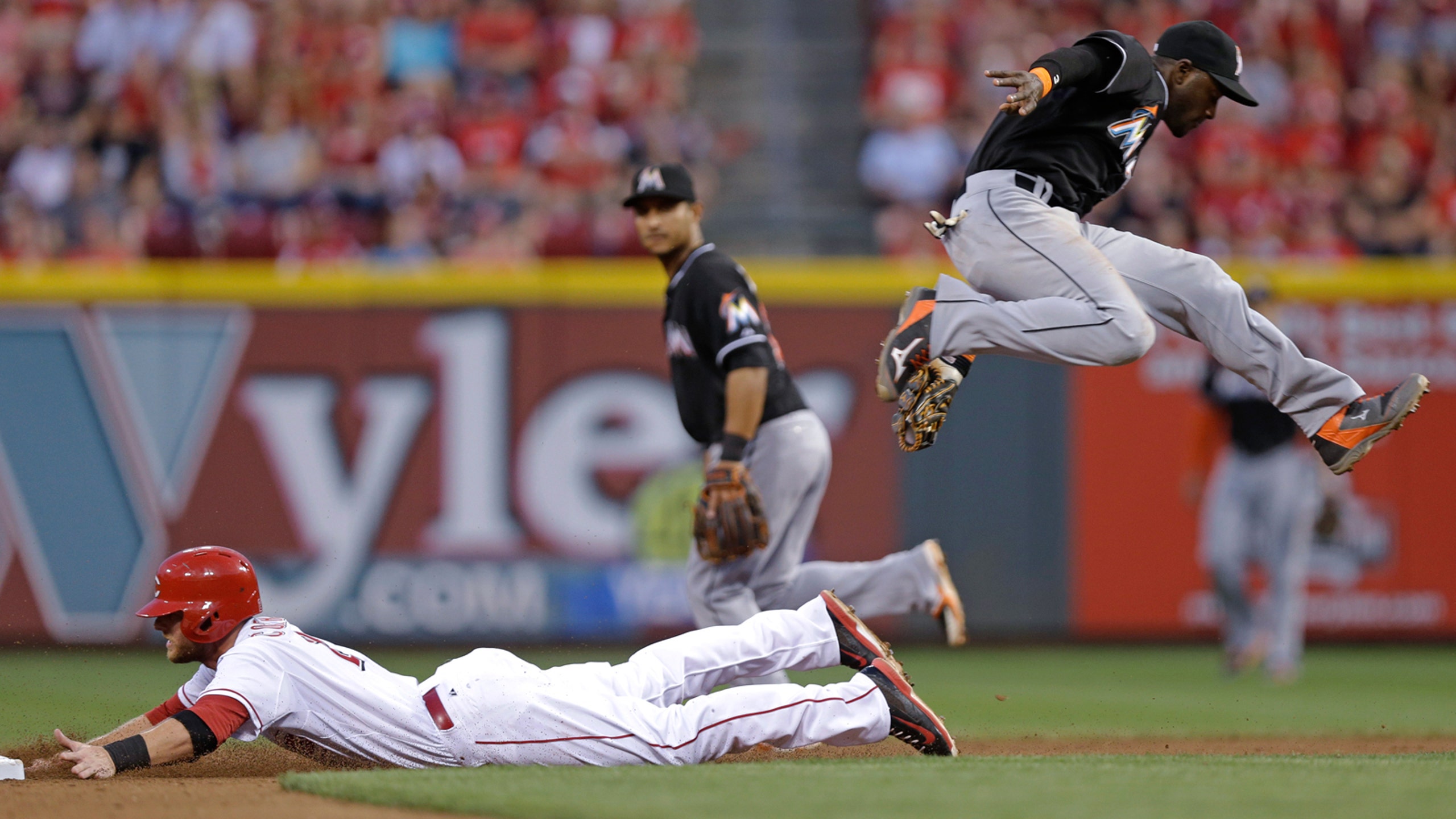 Marlins notes: Solid defense keeping team in rhythm
BY foxsports • August 12, 2014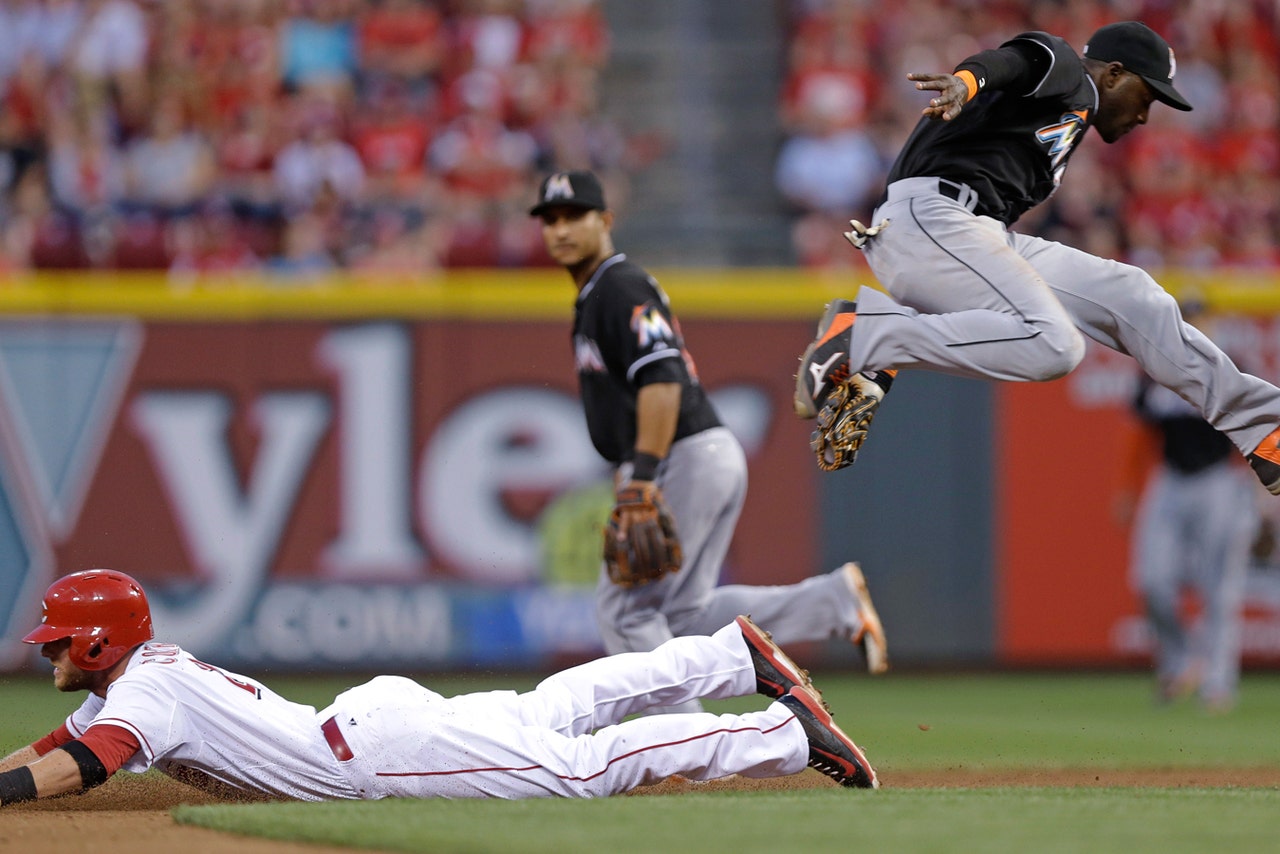 MIAMI -- The Miami Marlins took over Monday night's web gems with defensive highlights in both the outfield and infield.
In the fifth inning alone, Giancarlo Stanton made a diving catch at the warning track to rob Kolten Wong of extra bases. Shortstop Adeiny Hechavarria turned a 6-3 double play by ranging to the right of second, racing to the bag and throwing to first to end the frame.
"I think both of the plays were good and both plays helped us win," Hechavarria said in Spanish. "When a play is made, it motivates everybody to get into a good rhythm."
Second baseman Jordan Valdespin stole a single from Oscar Taveras with a diving stop and quick throw to first in the second. Omitted from the list was Christian Yelich, who ran a long distance and slid toward foul territory in the third for an out.
As for Stanton, whose name has come up in recent MVP talk, improving his defense has been the key to setting himself apart from the rest as a complete player.
"I had a great time yesterday," Stanton said. "Just watching our defense as a whole, and everyone contributed yesterday, offense or defense. So it was really fun to see what we can do."
Manager Mike Redmond said the solid defense has come at the right time when every out is huge. After struggling earlier in the season, guys seem to have "turned the corner." Miami still ranks 12th in the NL with a .983 fielding percentage.
Hechavarria, who continues flashing the leather, earned words of praise from his manager.
"Alex Gonzalez and Luis Castillo were probably two of the best at making tough plays look easy, and honestly I played with those guys a long time, including the minor leagues," Redmond said. "I had a lot of years to watch those guys. I always said I wasn't going to judge Hech with those guys until I got to see him over a couple of years. I'm telling you he's as good if not better than those two guys at making those plays in just watching him in two years."
DAY OF REST
Like he did last week, Redmond gave one of his regulars a day off to regroup on Tuesday.
Center fielder Marcell Ozuna, who had started every game since the All-Star break, is just 4 for 35 (.114) in August and hitless over his past 11 at-bats. Valdespin took his place.
"I'm struggling with my mind and he doesn't want to see me struggling," Ozuna said. "He wants to put me on the bench to refresh my mind and be ready for the next day."
Ozuna said he has been seeing the ball well but his timing has been off. He plans on continuing to take additional swings in the cages.
"Sometimes we feel too comfortable and try to do too much," Ozuna said. "If you want more at one time you're not going to get it. Most of the time I try to make three hits in one at-bat. That's frustrating a little bit."
SHUTTING THE DOOR?
Closer Steve Cishek recorded his 30th save Monday, becoming the third pitcher in club history to achieve that feat in consecutive seasons.
Cishek has converted 10 straight opportunities since July 9 in Arizona. And yet, he has given up at least a run in three of his past four outings.
"It's been way too close for comfort," said Cishek, who allowed two runs Monday and had the go-ahead run at the plate. "It is what it is. I'm going out there with the same mindset every day and for some reason just in a rut again. I go through these lulls a couple times a year. Bottom line is we're still winning ballgames even though I'm giving up runs."
Monday wasn't necessarily about the location of his pitches. Matt Holliday drove in a run with an infield hit, just beating out Hechavarria's throw from in the hole. A would-be double play didn't get turned to end the game.
Redmond said the club would monitor Cishek to see whether he needs a day of rest. What is encouraging is the Marlins keep getting him opportunities to save games.
"Even though the velocity is there it's just not coming out the same right now," Cishek said. "Find a way to locate my pitches better in the zone and whatever happens happens. Have that mindset. I'm not going out there fearful or anything."
ROAD TO RECOVERY
A welcoming sight greeted the Marlins prior to Monday's game when left-handed reliever Dan Jennings hung out with his teammates.
Jennings, who was struck in the head by a liner on Thursday, is on the seven-day concussion list. He is still experiencing symptoms and will not begin baseball activities until they go away.
"It was great to see him in there sitting having a sandwich and hanging out," Redmond said. "That's such a relief. That was a very scary situation. (Pitching coach) Chuck (Hernandez) and I were just talking how much we'd love to have him this series with all the lefties they have on their team. To see that ball hit him where it did and for him to be fine is just a huge relief."
You can follow Christina De Nicola on Twitter @CDeNicola13 or email her at cdenicola13@gmail.com.
---