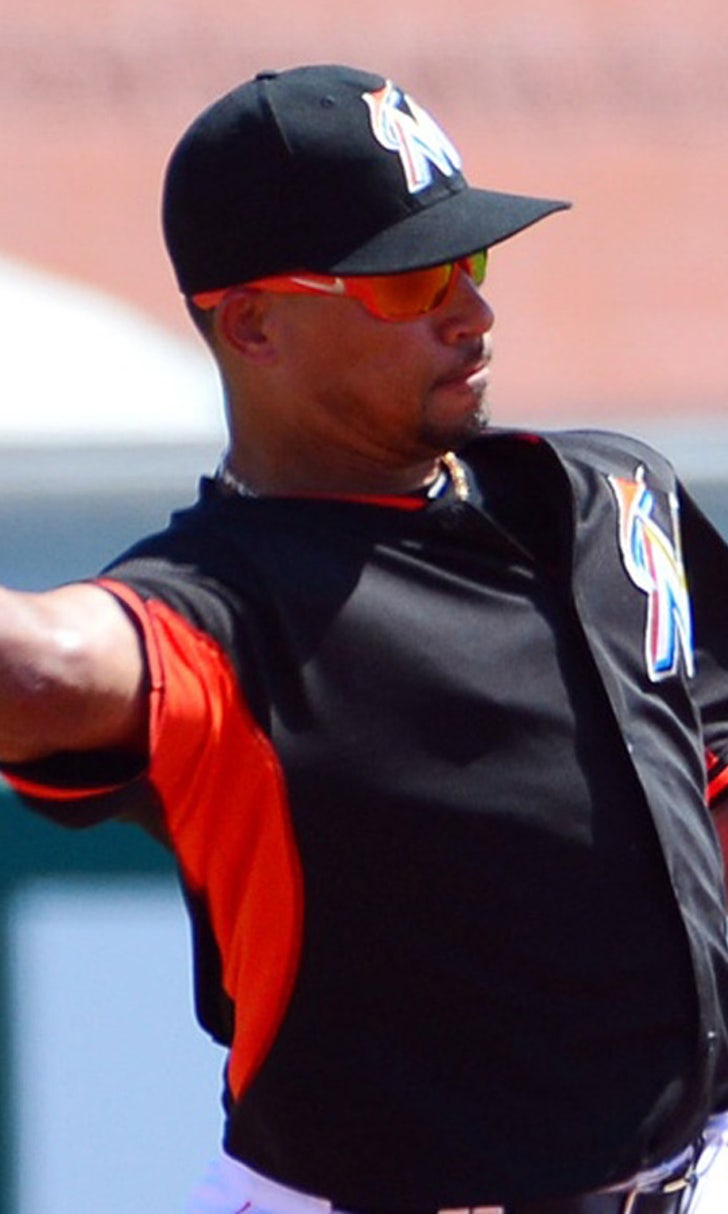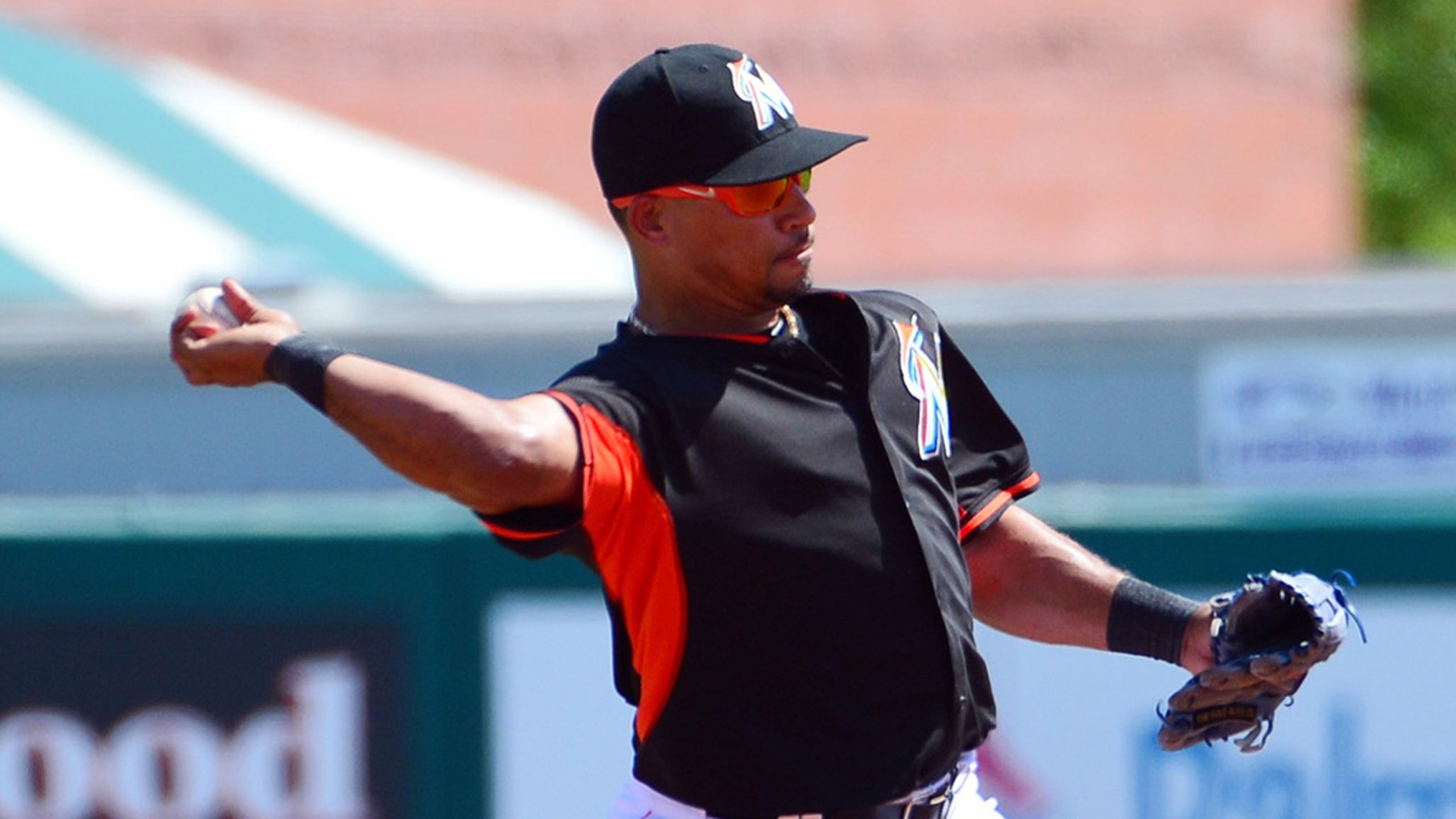 Marlins notebook: Furcal expects to be ready by Opening Day
BY foxsports • March 20, 2014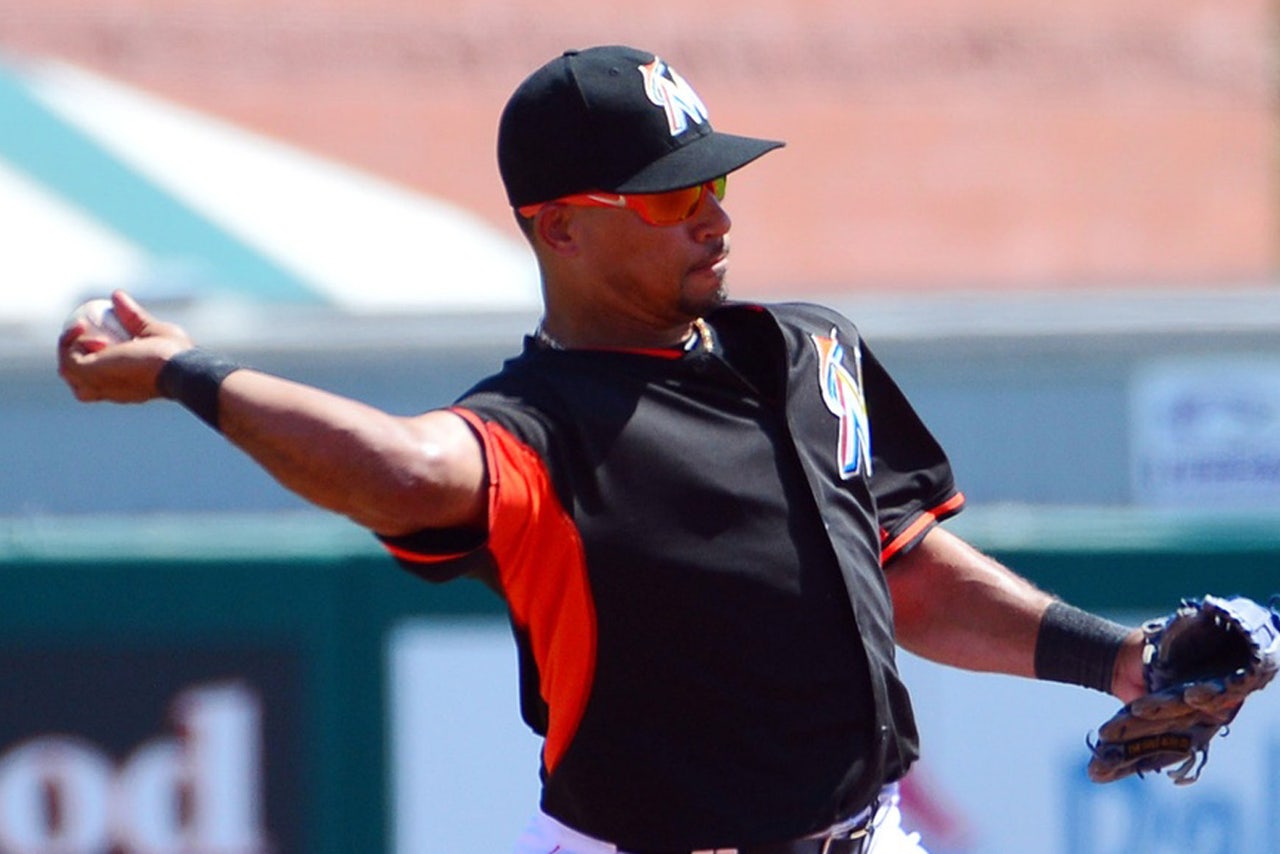 JUPITER, Fla. -- Second baseman Rafael Furcal remains optimistic about his readiness for Opening Day on March 31.
Furcal hurt his left hamstring March 10 and re-aggravated it last Saturday in his return to the lineup. The 36-year-old has just 18 spring at-bats.
''I think so,'' Furcal said of whether he'd be ready. ''I don't think about at-bats. As soon as I'm healthy and practice a lot and seeing (the) ball pretty good. I feel good right now. That's the only thing bad with me but everything else is good.''
Marlins manager Mike Redmond said Furcal would play in minor-league games before being inserted into a Grapefruit League game. Furcal would like to do so by the weekend so he could get an at-bat every inning.
What bothers him most is pushing off while running straight. Hitting and fielding have not given him trouble.
''We're all still hopeful that he'll be available for Opening Day, but we're not sure,'' Redmond said. ''It kind of depends on how his running goes over the next several days to see if he'll be available.''
Derek Dietrich started at second in Furcal's place for Thursday's game against the Cardinals.
LINE DRIVE A STARTLING REMINDER
News of Reds pitcher Aroldis Chapman sustaining a fracture above his left eye on a line drive reminded Marlins manager Mike Redmond of what he witnessed during a game in 2003.
Redmond was behind the plate at Fenway Park when a Todd Walker liner hit Marlins pitcher Kevin Olsen in the temple. The ball landed in the dugout.
''It's scary. I can still picture that,'' Redmond said. ''He was down for a long time. I still envision that ball slowed down. He was just down, his eyes were closed and he was bleeding out of the side of his ear. That messed him up. He wasn't the same after that.''
Each time Giancarlo Stanton steps to the plate Redmond is reminded of the incident because of how hard the slugger hits the ball. Pitchers' reaction times aren't fast enough.
Entering spring training, Major League Baseball approved a padded cap manufactured by 4Licensing Corporation subsidiary isoBlox that provides ½-inch additional protection in the front and an inch on both sides to shots in the 80-mph range.
Marlins players and coaches have not seen one in person.
''I don't really know what you could do outside of wearing a helmet out there,'' Redmond said. ''It's hard because if they could come up with something that could be comfortable for them to wear then I'm all for it protection-wise. I just don't know what they could do. You don't see it a lot but it only takes one time for it to be super scary.''
MATHIS FAVORS WICHITA STATE
Like the rest of America, the Marlins have caught March Madness.
Players finished filling out brackets Thursday morning while Jeff Mathis encouraged teammates to sign up for a pool.
''It's more for March Madness, but I'll watch it if a game is on,'' Mathis said of his college basketball knowledge.
Mathis thinks Wichita State, which finished in the Final Four last year, will win the championship. He admitted to a vested interest -- assistant coach Greg Heiar is a friend.
But many doubt the Shockers can pull it off despite the first undefeated season in a decade. They cruised through their Missouri Valley Conference slate.
''I feel like the Shockers are going to go all the way,'' Mathis said. ''They play good defense, very physical. Everybody's downplaying them because of their schedule and all and I don't see it.''
Top-seeded Wichita State (34-0) opens play against 16th-seeded Cal Poly (14-19) on Friday night.
WORTH NOTING
-- Ed Lucas (hamstring) started as designated hitter in a minor-league game in Port St. Lucie on Thursday. Redmond hopes to get him into a Grapefruit League game as soon as possible.
-- A tweak in the spring rotation: Lefty Brad Hand will start Saturday's split-squad game in Jupiter, while righties Henderson Alvarez and Kevin Slowey will travel to Viera, Fla.
-- Righty Tom Koehler pitched 4 1/3 scoreless innings (74 strikes) in a minor-league start on Wednesday. Hand needed just nine pitches for a shutout inning of relief. The pair is battling for the fifth spot in the rotation.
-- Greg Dobbs (quad, lower back) will take part in baseball activities over the next couple of days. He has not played in a Grapefruit League game since March 11. ''The plan for him is like Rafy,'' Redmond said. ''When he says he's ready to be able to play in a game we'll get him over some at-bats in a minor-league game.''
You can follow Christina De Nicola on Twitter @CDeNicola13 or email her at cdenicola13@gmail.com.
---