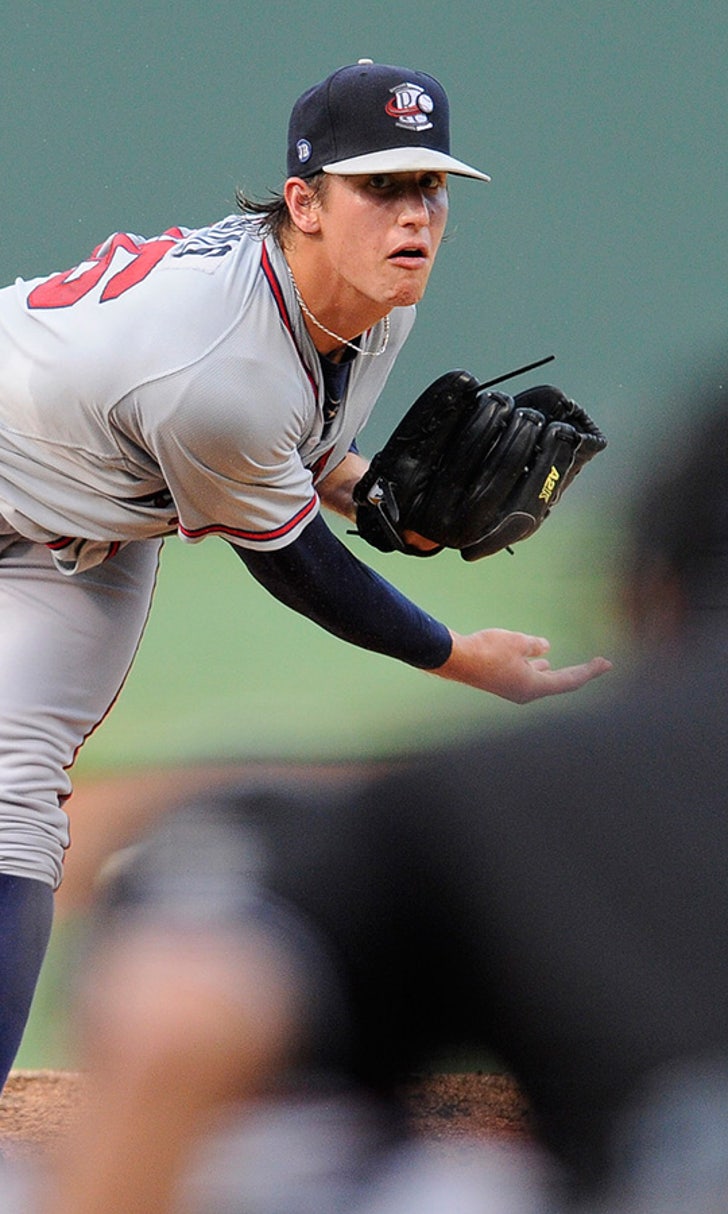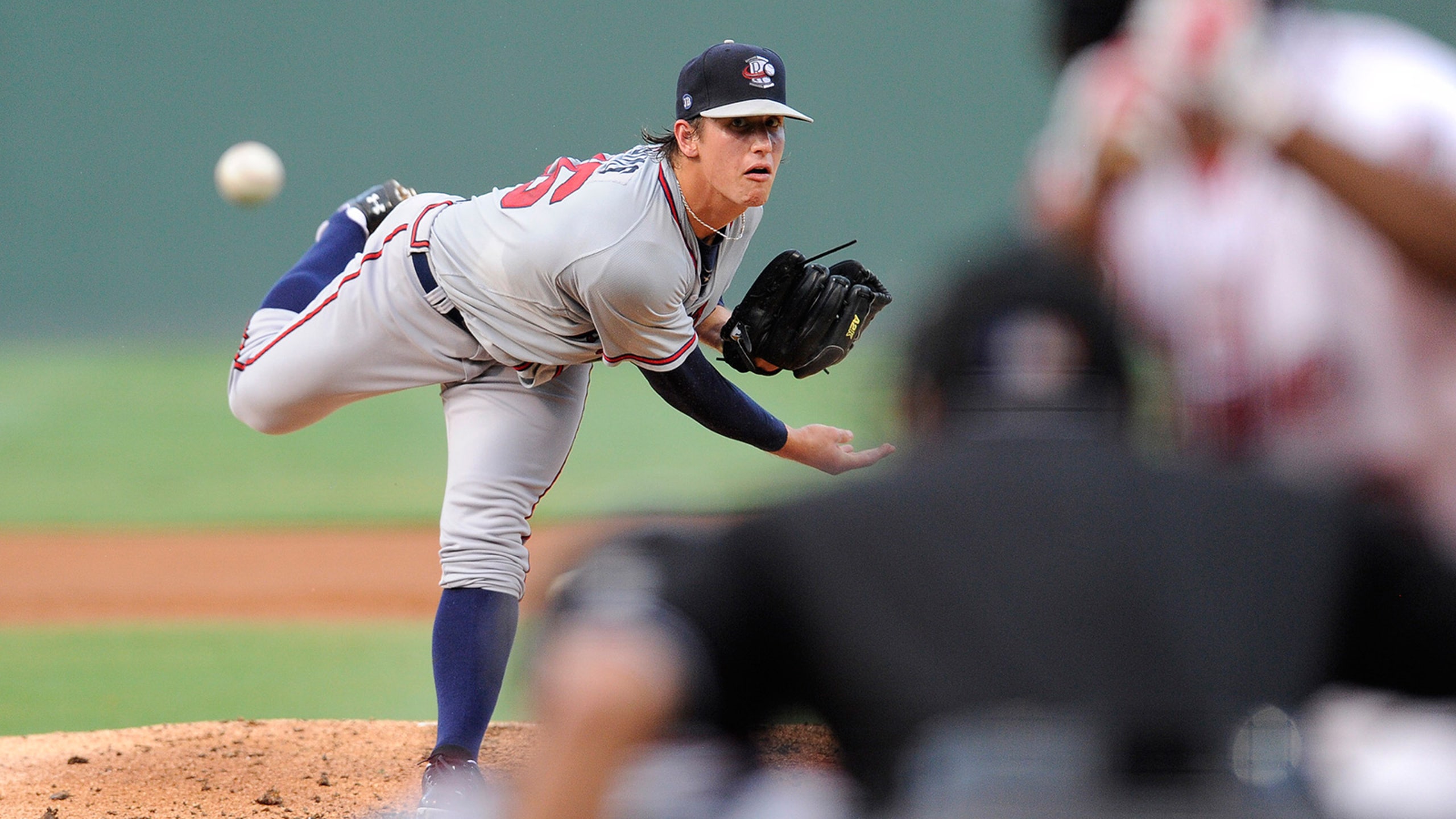 Lucas Sims stepping into No. 1 prospect spotlight
BY Zach Dillard • January 24, 2014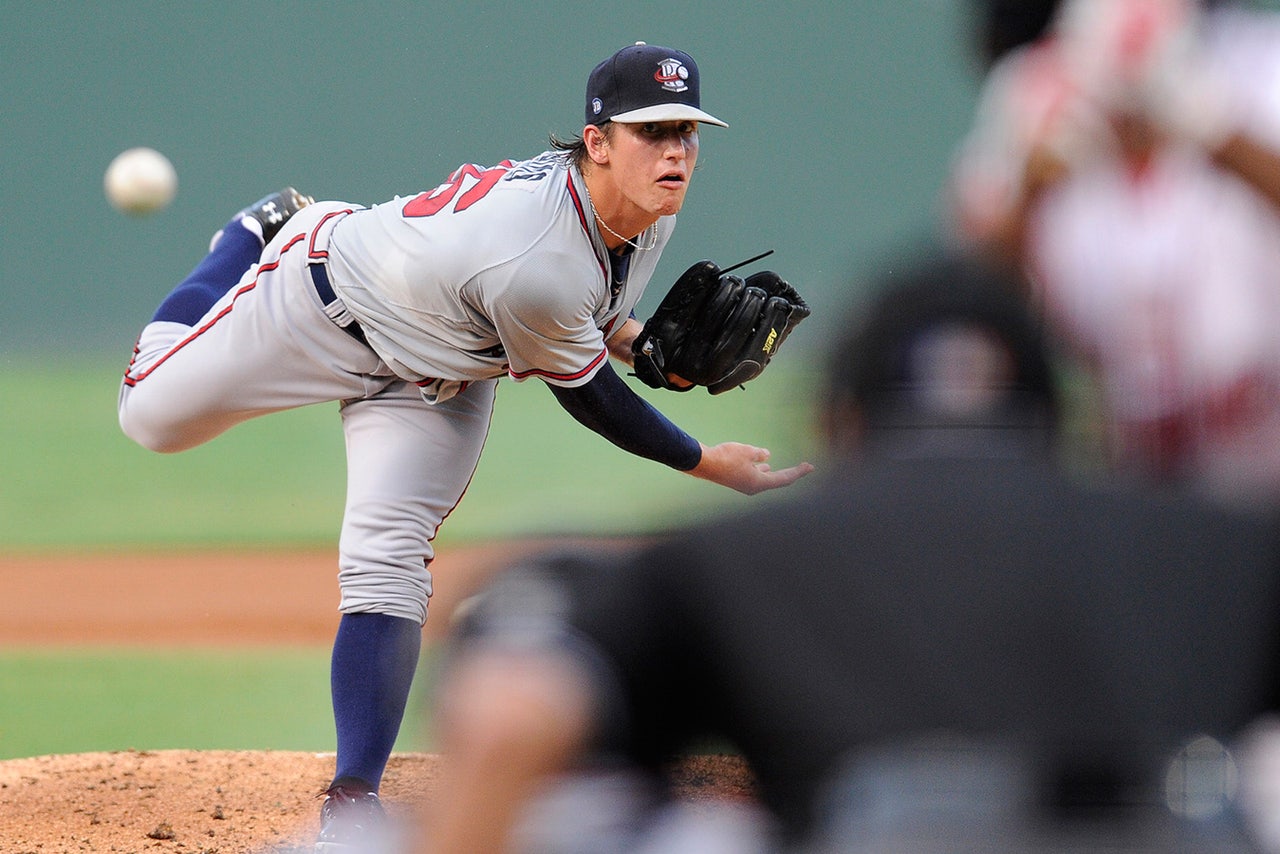 LAWRENCEVILLE, Ga. -- Tucked into the overlapping suburban sprawl that is Gwinnett County, just 40 minutes northwest of Atlanta's Turner Field, Lucas Sims grew up a short car ride from his best-case scenario. And for as long as he can remember, that scenario centered around playing baseball for the team on his parents' TV, watching and watching until he couldn't watch anymore.
Night games in the Sims household were typically five- or six-inning affairs for those who couldn't stay awake to watch Maddux or Smoltz or Glavine, or their bullpen, put the finishing touches on opponents. A younger Lucas Sims, the eventual No. 1 draft pick of the hometown club in 2012, usually called it a night around 8 p.m., maybe 9.
But not before dreaming.
"I was a tired kid," he said, "but watching those guys do what they did, they're a huge reason I am who I am today."
This winter has brought back some of those memories, with Sims, the 19-year-old right-handed pitching prospect, gearing up for his first season carrying the "Atlanta Braves' Top-Rated Prospect" title while tuning in to see two of his childhood heroes, Greg Maddux and Tom Glavine, get voted into Cooperstown. He's getting closer and closer to the dream those guys and John Smoltz -- his true personal favorite for maternal reasons: "My mom, that was her favorite player. And then once I started growing up and maturing as a baseball player, I started looking at his stuff and I kinda could relate to him." -- helped set in motion not so long ago.
Sims took another step in that general direction, albeit symbolic more than literal, on Thursday morning when he pitched at the Ted, the ballpark he's been visiting since he was a child, for the first time, working with the Braves' new minor league pitching coordinator Rich Dubee as part of the organization's offseason pitching program. He called the experience "special." It's all been special.
This, of course, is the type of storyline that's an easy sell in the shadow of Atlanta; "Local Kid Makes Good" sells just about anywhere. The Braves, perhaps more than any other MLB franchise, embrace it.
Since 2000, the franchise has drafted nine players straight out of high school in the first round -- six of them came from high schools in Georgia, including Sims, Jason Hayward and Adam Wainwright. It helps that the state, specifically the metro Atlanta area, is a breeding ground of baseball talent. But so are California, Texas and Florida. The Braves just tend to stay closer to home.
By following that route in the '12 draft, Atlanta may have landed a future top-of-the-rotation arm in the Brookwood High School product.
Armed with a plus fastball and the best curveball in the organization, as rated by Baseball America, Sims did not disappoint in his first full season in the minors, going 12-4 with a 2.62 ERA in 116 2/3 innings pitched at Class-A Rome. He struck out 10.3 batters per nine over that stretch en route to being named the franchise's Minor League Pitcher of the Year. You can't put up those types of numbers without a bump in the prospect rankings. He's rated the 60th-best prospect in baseball entering the '14 campaign.
For the first time since Jason Heyward in 2010, a Braves prospect not named Julio Teheran is claiming the No. 1 pedestal in the farm system. Teheran held onto the spot for three seasons -- even following a troublesome stretch in 2012 -- before exploding onto the major-league scene last season, cementing himself as one of the top rookies in baseball and a potential future No. 1 guy in the Braves' rotation. Being the top-rated guy in the Atlanta farm system offers few guarantees, but every single No. 1 prospect of the past decade has made it to the big leagues: Teheran, Heyward, Tommy Hanson, Jordan Schafer, Jarrod Saltalamacchia, Jeff Francoeur and Andy Marte.
Those are positive signs, but Sims isn't biting.
"Personally, to me, it's just a number. All of us in this room are chasing after that same dream: playing in the big leagues, no matter what the ranking is," Sims said at an introductory press conference for the Gwinnett Braves and their new manager Brian Snitker, which included a number of the organization's top prospects. "It's cool and it's an honor, but I don't really feel any pressure from it. I'm still gonna train the same, get myself prepared for the next season. I try not to look to far ahead of things."
He says he's prepared for the learning experiences that are sure to come. All young pitchers need to be. When he first started working with sports psychologist Geoff Miller, the organization's mental skills coach, one of the first things Sims revealed about himself was that Smoltz was his favorite player growing up. Miller posed a question: "How many games did John Smoltz lose in A-ball?" Sims had no idea. That was Miller's point.
"That (statistical) stuff doesn't matter here," Sims said. "It's about what happens up there."
Looking ahead, always. It's a crowded street, though.
The good problem (for the Braves) that goes hand-in-hand with stocking the cupboard with so much young pitching talent -- 2014 Opening Day rotation probables Teheran, Kris Medlen, Mike Minor, Brandon Beachy and Alex Wood are still in arbitration or pre-arbitration; the bullpen is in a similar boat -- is that decisions must be made when arms like Sims or his highly-regarded teammate Mauricio Cabrera start to mature and bubble their way up through the minors. That time has not come yet, but with another dominant season, Sims, who does not turn 20 until May 10, will be knocking on the door.
Not that he's pushing the envelope just yet. When asked about what he hopes to accomplish in his second full season, the 6-foot-2 righty kept it simple.
"Stay healthy and learn a lot. That's a productive season for me. ... You can only control what you can control."
---