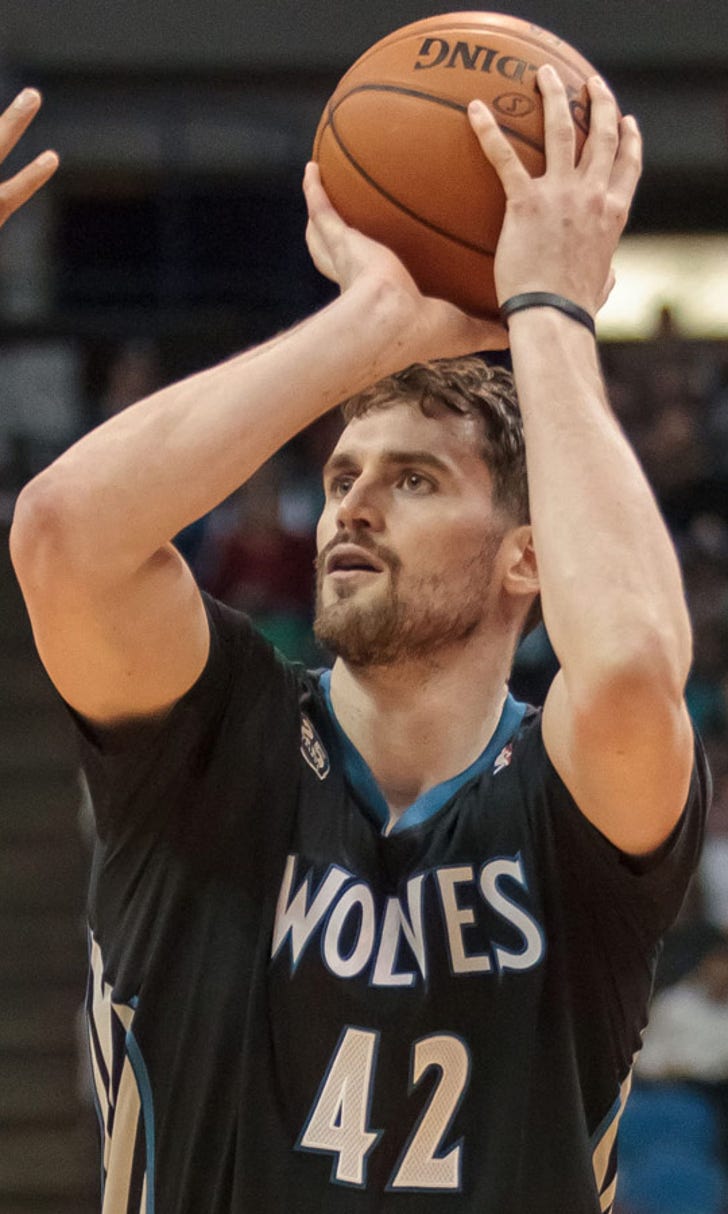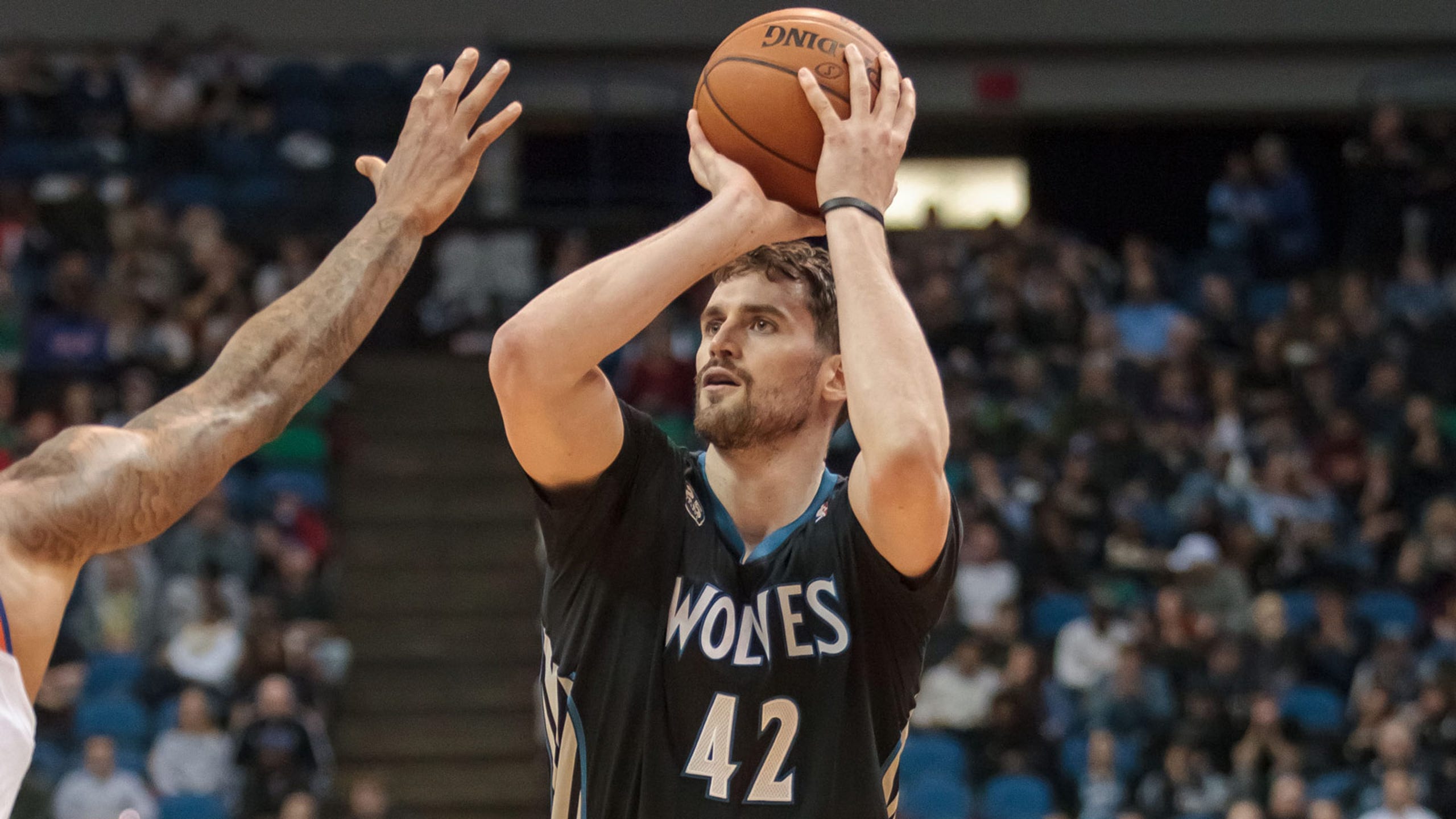 Love channels emotion from death of grandmother to excel on court
BY foxsports • March 19, 2014
MINNEAPOLIS -- Stashed away in Kevin Love's suburban Twin Cities apartment sits a stack of handmade greeting cards.
The Timberwolves power forward thumbs through them every once in a while, recalling Christmases, Easters and Sept. 7 birthday celebrations from throughout the past 25 years. Each one conjures a different memory of his maternal grandmother, who authored and illustrated this paper collection of benchmarks commemorating important days in Love's life.
But Carol Lee Craig was more than just a doting grandma. In some respects, she acted as a second mother. In others, she was Love's biggest fan.
While sitting out most of last season with hand injuries wore heavily on the three-time All-Star, 2013-14 has been fraught with challenges of a different variety. On the Target Center floor and NBA courts around the country, Love's been banged up, bullied and has a non-playoff franchise with his name stamped on it to show for it. Outside of the professional hoops palaces, the duke of stretch four-ism and rebounding muscle has faced  constant questions surrounding his future, relationships with teammates and thoughts on the organization that drafted him fifth overall in 2008 but has yet to build a winner around him.
Yet one of the obstacles -- and perhaps the greatest personal burden -- has also been Love's sanctuary, a way to stay grounded among the chaos of professional stardom.
Need a hint? Look at his left wrist. Gone is the "Spread Love" band, replaced by a black ring of plastic with the words "Grandma Carol" inscribed in metallic gray.
"She's always on my mind," Love told FOXSportsNorth.com, speaking of his deceased grandmother. "I wear her on my wrist here every game, every day, never really take it off.
"I know she's watching over now, so that helps me put that other . . . "
Love paused, breaking off from the robotic tone he often takes with the local media.
". . . BS stuff to the side."
Craig passed away Dec. 4, the day Love and the Timberwolves flew back from Mexico City after their game against San Antonio there was canceled. He missed Minnesota's home contest against Miami three days later to grieve with his family in Portland, Ore., and attend her funeral.
Then he came back and had one of the best Decembers professional basketball has ever seen.
Love led the league in scoring with 30 points per game and became the fifth NBA player since 1985-86 to record 350 points, 150 rebounds, 30 3-pointers and 50 assists in a single calendar month. His first game back -- Dec. 10 at Detroit -- he scored 26 points, pulled down 16 boards and dished out seven assists.
Love's never really let up since then, earning his first All-Star start and ranking fourth in the league in scoring and second in rebounding. He was even better last month in the wake of center Nikola Pekovic's absence; Love averaged league highs in points (34 per game) and rebounds (14.1) during February.
The last man to put up such numbers in a single month was Moses Malone. In 1982.
On pace to become the first player since Kareem Abdul-Jabbar in 1975-76 to average 25 or more points, 13 or more rebounds and four or more assists in a season, Love owes his terrific 2013-14 to a handful of factors -- drastically improved health, the continued development of his 3-point game and passing skills, and a drive to disgrace his detractors, to name a few.
But there's more here than the typical motivators found in professional sport. There's a human side, the kind a death in the family can painfully but revealingly bring to the surface.
"It's something to play for," Love told FOXSportsNorth.com. "That'll continue throughout my whole career, because if I'm ever feeling down, I've just got to look down at my wrist."
Throughout Love's childhood, Craig lived in the guest house on his family's Lake Oswego, Ore., property. When Kevin wasn't poring over taped games from the Celtics-Lakers rivalry or instructional videos by Hall of Famers Michael Jordan, David Robinson, Hakeem Olajuwon and Charles Barkley, the son of former NBAer Stan Love spent plenty of time conversing with his grandmother.
Craig attended most of Kevin's games when he starred at Lake Oswego High School and won three state player of the year awards. When Love led UCLA to the 2008 Final Four, she watched every game she wasn't able to make in person. Same with his first five-plus seasons with the Timberwolves and his trip to London for the 2012 Olympic Games.
"I always say she was my lucky charm," Love said with a smile.
So when she died at the age of 83, Love took it hard. He didn't open up much about it -- he doesn't about much these days, especially with his contract expiring after next season and fans and media the league over wondering what his next move will be.
"It's tough when you lose a family member," said Minnesota small forward Corey Brewer, whose father passed away in February 2012. "You try to play through it. You try not to think about it, but you're still always gonna think about them no matter what. That's tough on (Love), but I think he did a good job this year."
That may be an understatement. But there have been other hurdles, too.
Love spent training camp in a sour mood, curtailing questions about the previous season in which he broke his hand twice and spouted off on the organization for not giving him a maximum contract extension.  Less than three months into the season, he called out reserve J.J. Barea and Dante Cunningham for their in-game demeanor and the rest of the Timberwolves bench for lacking consistency. Then near last month's trade deadline, he had to answer to claims by longtime New York sportswriter Peter Vescey that Love was for sure skipping town after next season.
Oh, and Minnesota has fallen in close game after close game and is all but assured it won't make the playoffs for a 10th straight season.
They're pains the sometimes-moody superstar has had to deal with, some of them self-inflicted. Still the age of an entry-level professional or graduate school student, Love has some growing to do.
But personal development is often the fruit of personal loss; Brewer has observed it in Love already.
"He's matured a lot, especially since the first time I was here," said Brewer, who spent 2 1/2 seasons here with Love before being traded. He signed with Minnesota as a free agent last summer. "It comes with being a superstar; you're gonna have distractions on and off the court."
And, at some point, the need to mourn. Yet Love hasn't let the hardship derail him.
Only fuel him.
"A lot is on his shoulders, and that's hard," coach Rick Adelman said. "It's hard to keep moving night after night . . . but I think he's handled himself really well.
"He'€™s had himself a heck of a year."
Follow Phil Ervin on Twitter
---