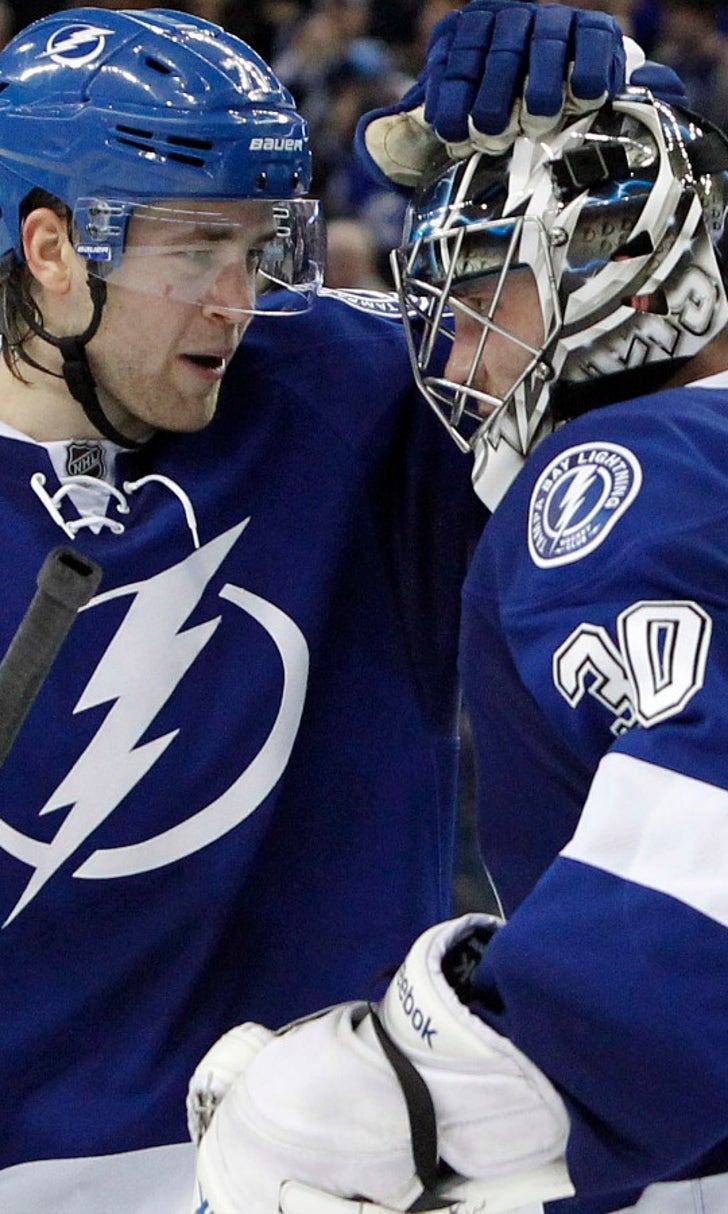 Lightning have grown stronger in Steven Stamkos' absence
BY foxsports • January 28, 2014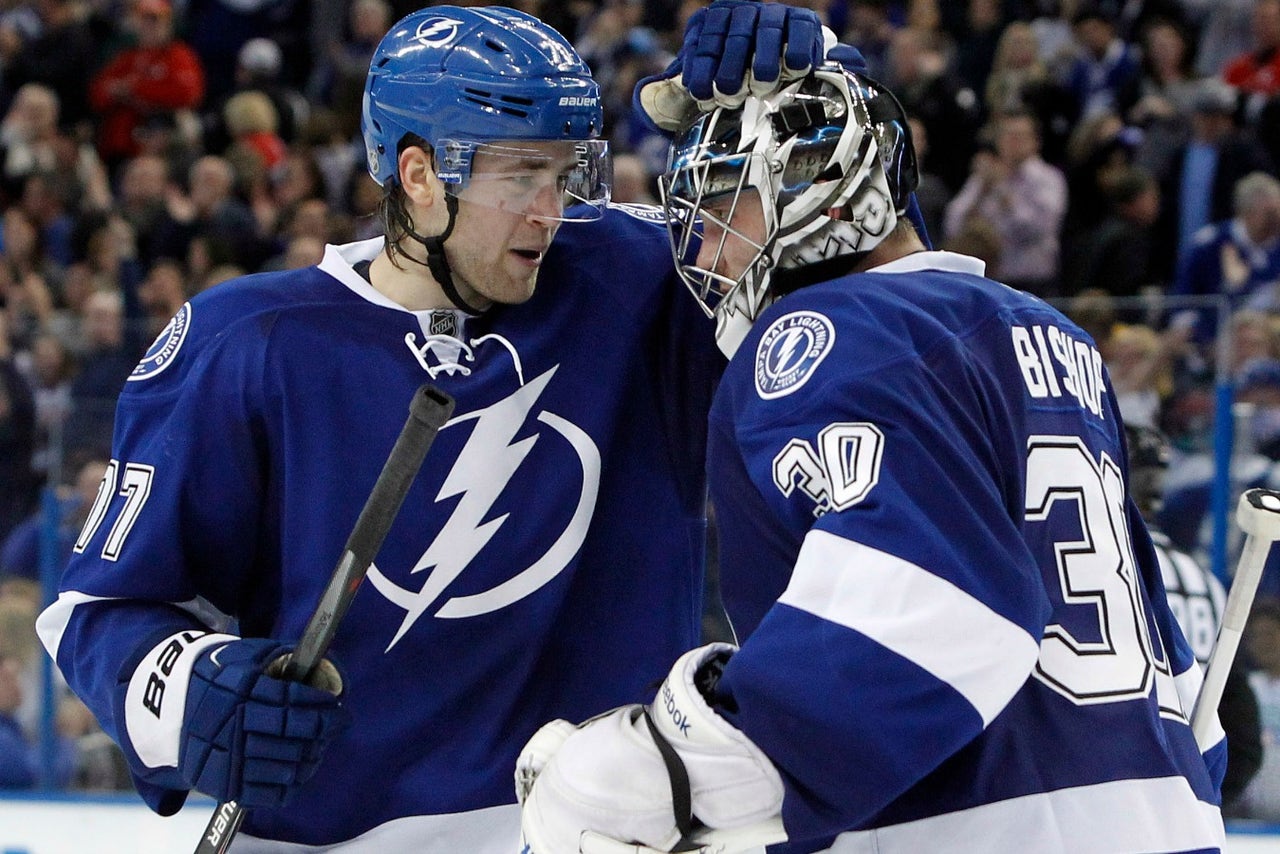 TAMPA, Fla. -- Each day until Steven Stamkos returns, whether he comes back before or after the Olympics, will pass with a hint of absurdity.
This is the reality of his stature within the NHL.
The brightest stars -- from Stamkos to Sidney Crosby to Alex Ovechkin -- are studied with the most glaring spotlights. No detail is too inconsequential within the airtime or column inches devoted to their names.
Stamkos is close to wearing a Tampa Bay Lightning uniform in game action again. That much is known after seeing him slip on a yellow, limited-contact jersey at practice for the first time last Saturday. He glided along the Tampa Bay Times Forum rink and took part in faceoff drills in addition to some light checking from Marty St. Louis.
The Stamkos Watch has reached the point of tracking jersey colors. Coach Jon Cooper said he preferred to call the look "gold," not yellow, so that in itself should show the hours ahead will be filled with breathless updates about the young center's progress from a broken right tibia. Some headlines will be substantial, while others will be necessary only because they show something new.
"Of course it's a bigger story because there's a deadline," Stamkos told reporters Monday.
The deadline, of course, is the Sochi Olympics. Stamkos and Steve Yzerman, Team Canada's general manager, remain encouraged by the healing leg's progress. By all accounts, Stamkos is eyeing a return to the Lightning in the days before the Olympics, with a vision of skating at full-strength in Russia.
So it's appropriate to consider how far Tampa Bay has come without him. When Stamkos crumpled to the ice Nov. 11 at TD Garden, wincing in pain as medical personnel tended to him near the goalpost where the injury occurred, the Lightning's season looked over.
Not only was Tampa Bay losing a significant offensive threat -- he had 14 goals and nine assists in 17 games -- but his absence was an immeasurable blow to their identity.
How is the loss of a superstar captured in words or numbers?
It's a hit to a team's psyche, one that shakes the core of chemistry that has developed over time. It's similar to what the Los Angeles Lakers have experienced without Kobe Bryant, or what the Miami Heat would confront if they ever lost LeBron James.
The Lightning were one team before Stamkos' absence. They became another without him.
"I'm not really surprised," Lightning defenseman Radko Gudas told FOX Sports Florida. "I don't want to say I was expecting it, but I thought we had the ability to keep going."
There are many reasons why the Lightning kept going, and even when Stamkos returns, the team's recovery will stand as their season's true narrative.
St. Louis, 38 years old but playing like someone half his age, leads Tampa Bay with 52 points and 25 goals. Center Valtteri Filppula, signed as a free agent last July, has 40 points and 19 goals. Rookie Tyler Johnson, only 66 games into his NHL career, has added 34 points and 16 goals. Defenseman Victor Hedman, a physical presence, has established himself at his position in his fifth Lightning campaign.
And then there's goaltender Ben Bishop, whose .934 save percentage leads the league. He's also tied for third in the NHL in wins with 26.
It's as if Stamkos' injury served as a catalyst for the Lightning to evolve, to discover a higher performance level without their young superstar's security blanket.
Would Filppula, Johnson, Hedman and others be difference-makers if Stamkos had played all season? Possibly.
But the Lightning, in a revealing way, have become stronger without him. They have formed a new bond.
"When an injury like that happens, it can go one of two ways," Lightning defenseman Mark Barberio told FOX Sports Florida. "Luckily for us, we took it as a positive, as a chance to come together, to try to show that despite missing Stammer -- obviously we want him -- we can still be competitive, and we can still win hockey games. It has been a real good test for us.
"I think it speaks volumes to our depth."
It also speaks to the idea that this is only Tampa Bay's beginning. As Cooper said Saturday, "Time is ticking away here."
Soon, Stamkos will be re-introduced into the lineup, and if the Lightning can marry their new identity with Stamkos' impact, then they will be dangerous late in the season and into the playoffs.
"Obviously, (the injury) helped out our young players, even myself," Gudas said. "We got more opportunities to play. ... Our confidence got up. When he gets back, we'll be more complete than we were in the beginning of the season."
The evolution is somewhat stunning, if not telling, of what the Lightning have become in Cooper's first full year. No matter the league, a season is a collection of mental and physical hurdles -- some predictable and others unforeseen -- that define a group's legacy.
Sports, much like life itself, are an emotional grind that force everyone involved to adapt.
Back on that eerie afternoon in Boston, it was easy to see the Lightning's hopes ending then and there. A promising start appeared to fold with Stamkos' wounded right leg, a visual that seemed to deflate everything Tampa Bay was about.
Good teams move on. Memorable ones become better.
With Stamkos' return drawing near -- update after update to come -- the Lightning have become hard to forget.
You can follow Andrew Astleford on Twitter @aastleford or email him at aastleford@gmail.com.
---