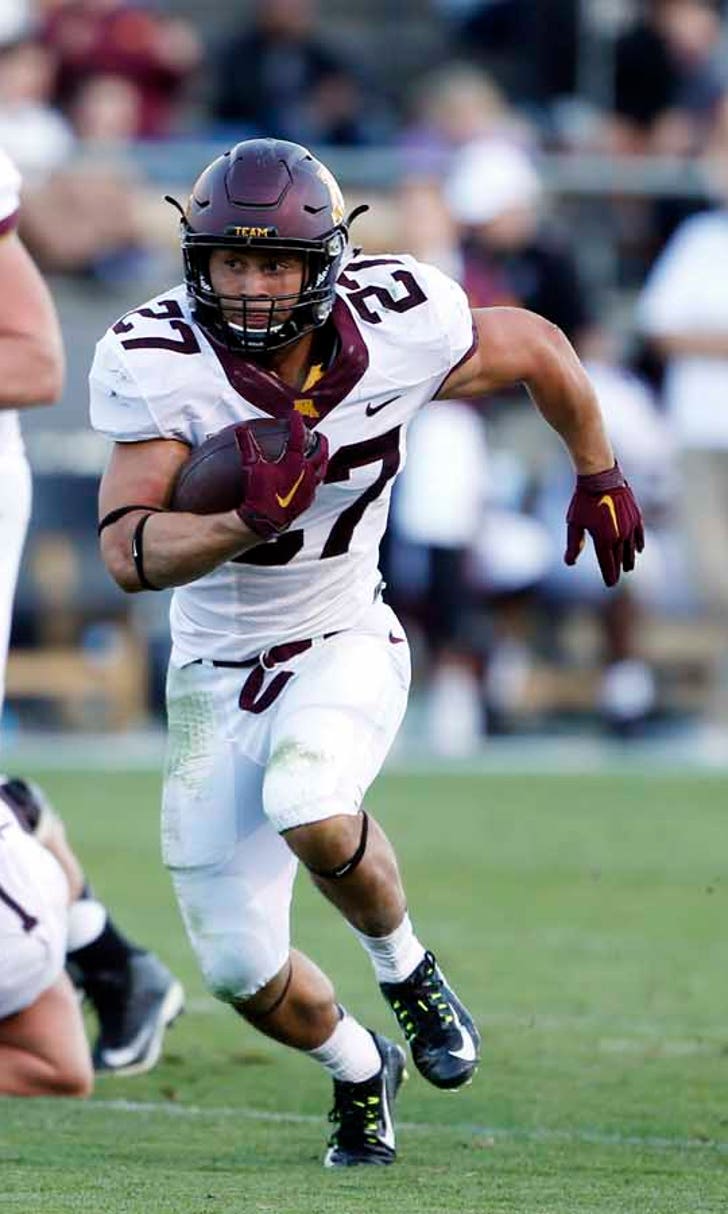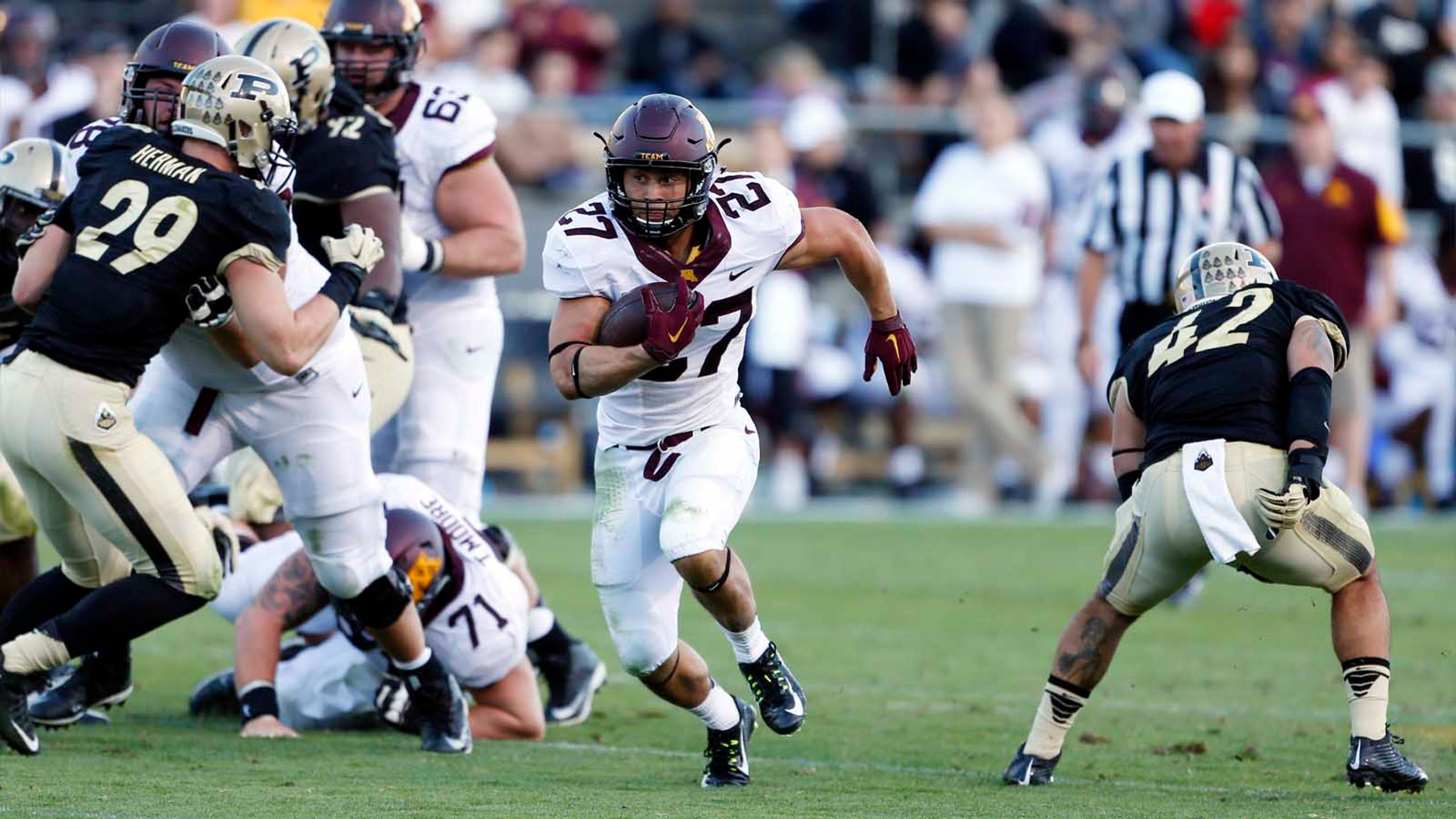 Lightly recruited Gophers freshman RB Shannon Brooks now turning heads
BY Dave Heller • October 13, 2015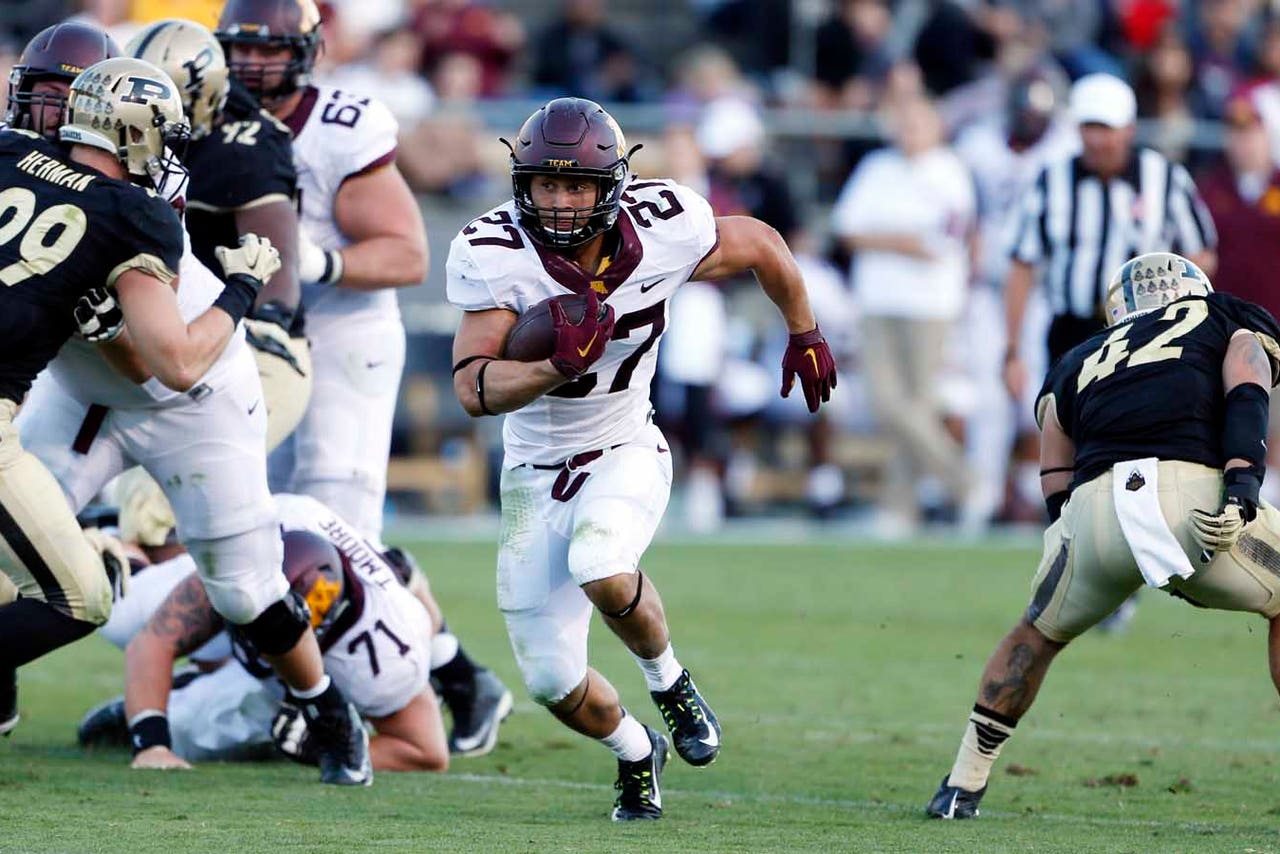 If you didn't know who Shannon Brooks was before last week, the Minnesota Gophers freshman running back certainly made a name for himself following his 71-yard touchdown run against Purdue in which he avoided a number of tacklers.
Brooks, though, wasn't a known commodity down in SEC country, however. Despite rushing for 2,223 yards for Pickens High School in Georgia and being named Class AAAA Region 7 Player of the Year, FBS schools weren't exactly knocking down his door. In fact, Gophers head coach Jerry Kill said Brooks was a "late take" for Minnesota on the recruiting trail.
Turns out, Minnesota was one of only two Power 5 conference teams to offer Brooks a scholarship, the other being Georgia Tech, which is just over an hour away from Brooks' high school. Buffalo and Georgia State were the only other FBS schools to offer Brooks.
"From an SEC standpoint, I just don't know if he passed the look test," Minnesota offensive coordinator Mat Limegrover said of the 6-foot, 206-pound Brooks. "I think probably coaches saw him on film, saw that he was a good player, went by and saw him, saw that he wasn't 6-2, that he wasn't 240, so they moved on."
Said Kill: "We knew he was fast.  I thought he had a chance coming in that he had a chance to play." In fact, Kill said he knew during camp he wouldn't be redshirting Brooks.
After playing the first five games on special teams, Brooks got his chance to help an inconsistent running game and quickly established himself as a go-to back. He rushed for 82 yards on 10 carries with two touchdowns in his debut against Ohio then two weeks later had 176 yards on 17 carries, including that 71-yard touchdown, versus Purdue. That was the most yards by a Gophers freshman since 2003 and tied for the eighth-most by a Minnesota freshman.
"He was unbelievable Saturday (against Purdue)," Kill said. "I've coached a long time and I've never seen a freshman running back run around people, run through 'em. He was just unbelievable some of the runs he's made."
Of Brooks' 37 carries, five have been for 20 or more yards. He is averaging 7.9 yards per carry. Only three Minnesota players have ever eclipsed 7.0 yards per carry over the course of the season and all occurred over 70 years ago. The last Gophers running back to average 6.0 yards per rush was Laurence Maroney (6.2) in 2004.
"He's a very, very good football player," Kill said. "We just need to get him the football and get a body on a body and let him play."
When Minnesota plays Nebraska this Saturday, expect the Gophers to do just that -- get Brooks the football and look for him to make even more big plays against a defense that has been fairly stout against the run this season, allowing just 3.3 yards per carry.
"(Nebraska is) strong and physical in the front four and they are going to make you earn every yard," Limegrover said.
Follow Dave Heller on Twitter
---