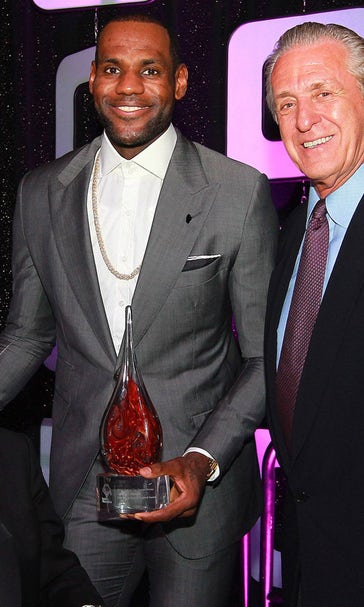 LeBron honored by Shula, Riley at Reid & Fiorentino Call of the Game dinner
March 18, 2014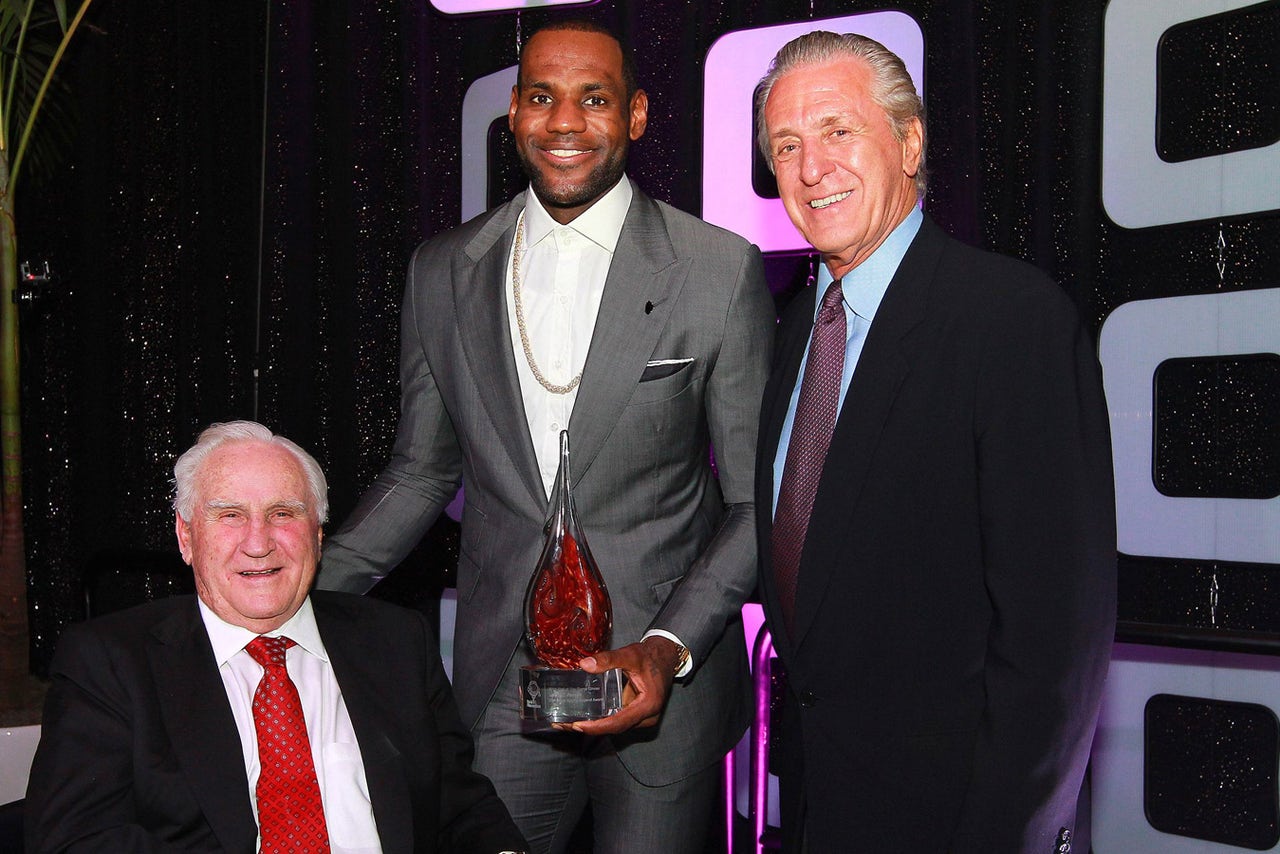 MIAMI -- Sun Sports HEAT TV broadcasters and two of South Florida's leading sports media personalities, Eric Reid and Tony Fiorentino celebrated the eighth annual Reid & Fiorentino Call Of The Game Dinner & Celebrity Golf Classic, alongside today's sports icons and philanthropic heroes of our community, and with two of the most celebrated local charity organizations and beneficiaries -- Lauren's Kids and the Dade Schools Athletic Foundation. The two-day fund raising event once again attracted some of the region's biggest names in sports and entertainment while honoring the achievements by some of the today's most acclaimed community leaders, and marked an unprecedented acceptance by one of the world's most renowned champions.
For the first time since arriving in Miami, MVP and World Champion of The Miami HEAT, LeBron James, accepted the evening's most prestigious accolade in front of a star-studded capacity crowd, that included Miami HEAT coach Erik Spoelstra, owner Micky Arison, Dwyane Wade, Gabrielle Union, Alonzo Mourning and Tracy Mourning, at the Reid and Fiorentino Call of the Game Dinner presented by Publix, on Saturday, March 15th, hosted by the Seminole Hard Rock Hotel & Casino in Hollywood, Fla. Miami HEAT President, Pat Riley, took to the stage to give a moving tribute and introduction to the legendary Miami Dolphins Coach Don Shula, before both Riley and Shula presented James together with The Don Shula Sports Legend Award. This was the first time the Miami HEAT star forward has accepted an award in-person and in South Florida. James was honored for his achievements on the court and for his work in the community with The LeBron James Family Foundation. James touched on his personal history of being raised by a single mother and the rewards of overseeing his foundation, while also noting the work of Lauren Book and her own foundation, Lauren's Kids, towards healing the survivors of child sexual abuse.
"Thank you for this award, but all of these awards should go to you," James said, as he looked towards Lauren Book on-stage. "The real hero and the real superhero and the real great person is this woman right here." Past winners of the Don Shula Sports Legend Award include inaugural honoree, Coach Don Shula, as well as Bob Griese, Dr. Jack Ramsay, Alonzo Mourning and The Miami HEAT's, Ron Rothstein.
LeBron James (center) was honored at the annual Call Of The Game Dinner hosted by Miami Heat television analysts Tony Fiorentino (left) and Eric Reid (right).
Additional high profile honorees were awarded throughout the night, during which, acclaimed Hollywood actress and the evening's Master of Ceremonies, Gabrielle Union, gave the audience a glamorous and memorable on-stage performance, that included stories of her own experience with childhood sexual abuse as a 19 year-old teenager. Eric Reid awarded The Sonny Hirsch Excellence in Sports Broadcasting Award to Miami's Channel 7 broadcaster, Steve Shapiro, for his work as an outstanding sport broadcaster. Shapiro made quite the humorous speech with anecdotes about various individuals in the audience that were received with waves of laughter. Miami HEAT veteran and NBA All-Star 3-point champion, James Jones, was presented with The Ted Arison Community Service Award by Lauren Book and Tony Fiorentino, for outstanding work throughout South Florida. This award honors exceptional individuals or organizations that have shown a great love and passion for improving our community, with past award winners that have included Bill Fauerbach and Publix, Dwyane Wade, Tracy Wilson Mourning and Dr. Barth Green with daughter Jenna Green and former Miami Dolphins linebacker, Twan Russell.
For the third year, and to commemorate the legendary broadcaster, Jim Mandich, The Jim Mandich Courage and Commitment Award was presented to Congresswoman Gabrielle Giffords by Ron Book, for which Chair of the National Democratic Party, Congresswoman Debbie Wasserman-Schultz made an acceptance speech on Giffords' behalf. In 2011, Giffords survived a shooting near Tucson, Arizona, at a supermarket where she was meeting publicly with constituents. She was critically injured by a gunshot wound to the head, but miraculously recovered her ability to walk, speak, read and write. Past Jim Mandich Courage and Commitment Awards have been presented to Nick Buoniconti and Marc Buoniconti, for their outstanding work with The Miami Project to Cure Paralysis and The Buoniconti Fund to Cure Paralysis, and CNN Correspondent Sara Ganim, for breaking the story on Jerry Sandusky.
The 2014 Reid & Fiorentino Call of the Game Dinner also featured an exceptional live performance on-stage by Sony Music Latin America artist, Arthur Hanlon, a silent auction throughout the evening, and a Live Auction presented by the annual auctioneer and FOX Sports' Miami HEAT analyst, Jason Jackson. All proceeds raised throughout the night benefit Lauren's Kids and the Dade Schools Athletic Foundation.
Prior to the Call of the Game Dinner, The Celebrity Golf Classic Presented by SHARP Business Systems took place on Thursday, March 13th at the prestigious Turnberry Isle Miami. A record 56 foursomes converged on the championship courses for an exhilarating day of competitive golf, with each team paired with a celebrity team captain and forecaddie vying to win a series of prizes awarded at the end of the day during the post-golf awards reception. Players were invited to participate in the "Beat The Broadcaster" Hole-In-One Challenge, for a chance to win a 2-year lease on a new vehicle, courtesy of AutoNation. Golf Classic celebrity participants included: Eddie Jones (former MIAMI HEAT player), Footy (legendary DJ), Alonzo Mourning (MIAMI HEAT icon), Jim McMahon (former Chicago Bear & Super Bowl champion), Randall Hill (former Dolphin), Val Ochoa (former pro golfer), Dan Carpenter (former Dolphin), Cornelius Bennett-Bama (Buffalo Bills), Darrell Malone (former Dolphin), John Denny (former MLB player), Ki-Jana Carter (former NFL player), Nat Moore (former Dolphin), Eddie Hill (former Dolphin), Jesse Solomon (FSU, Dolphins, Vikings), Duane Starks (Ravens), Edgar Lopez (Telemundo), Nicko McBrain (Iron Maiden), Quadtrine Hill (Texans), Darryl Williams (Bengals), Jed Weaver (Dolphin alumni), Terry Kirby (Dolphin alumni), Derrick Rodgers (former Dolphin), Roy Foster (former Dolphin), Kenny Glenn (former Dolphin), James McKnight (former Dolphin), Benny Blades (Lions), Mark Duper (former Dolphin), Mike Williams (former Dolphin), Steve Whitaker (Yankees), Mike Inglis (MIAMI HEAT Radio), Lorenzo Hampton (Dolphin alumni), Joey Cornblit (Jai Alai), Lawrence Taylor (NY Giants/Hall of Fame), Jeff Dellenbach (Dolphin Alumni), Froggy (Y100 radio), Oronde Gadsden (former Dolphin), Jose Paneda (radio broadcaster), Sean Hill (Dolphin alumni), Tom Shopay (Baltimore Orioles), Anthony Carter (Lions), Wanynsworth Jackson (former Los Angles Raider), Tony Fasano (former NFL player), Jason Jackson (MIAMI HEAT/Fox Sports), Woody Bennett (former Dolphin), Mark Higgs (former Dolphin), Tommy Hutton (former Phillies), John Crotty (former Miami HEAT & announcer), Sedric Toney (former Atlanta Hawk), James Pruitt (former Dolphin), Keith Byars (former NFL player), Cecil Johnson (former Bucaneers) and Darrell Fullington (former Canes/Vikings).
"This year's Call of the Game Dinner and Celebrity Golf Classic has been the most popular in the eight-years Eric and I have been hosting these two wonderful events," said Tony Fiorentino. "Each year we draw some of the region's most celebrated names in sport and community leadership who continue to support two of the most remarkable charity organizations - Lauren's Kids and the Dade Schools Athletic Foundation - that ultimately benefit our kids in the community and throughout the region. Having the honor and privileged to welcome LeBron James and Gabrielle Giffords in to our family is going to be hard to beat in the future. We are proud to be honoring such outstanding individuals for their magnificent work, and we thank all of our sponsors and patrons for their continued support."
Lauren Book, founder of Lauren's Kids, comments: "This year's Call of the Game Dinner and Celebrity Golf Classic was a perfect way to launch our 1500 mile statewide "Walk In My Shoes" walk. This year marks the fifth anniversary of the walk over 42 days during March and April, National Child Abuse Prevention Month and National Sexual Assault Awareness Month, in honor of the 42 million survivors of child sexual abuse in the U.S., and we have received tremendous kindness from all our supporters. Lauren's Kids seeks to end child sexual abuse through education and awareness and help survivors heal through guidance and support, because it shouldn't hurt to be a child. Eric and Tony have been phenomenal in helping to raise awareness for our cause and we thank everyone involved with helping make the event such a success."
The eighth annual Reid & Fiorentino Call Of The Game Dinner & Celebrity Golf Classic was also supported by Ron L. Book, PA, Doctors Hospital Center for Orthopedics & Sports Medicine, Acordis, Community Bank of Broward, American Airlines, Turnberry Isles Miami, Bloomingdales, Dade Media, Metrosigns and Weston Lifestyles Magazine.
For further information on The Reid & Fiorentino Call of the Game Dinner and Celebrity Golf Classic, visit www.reidandfiorentinoevents.com.
---