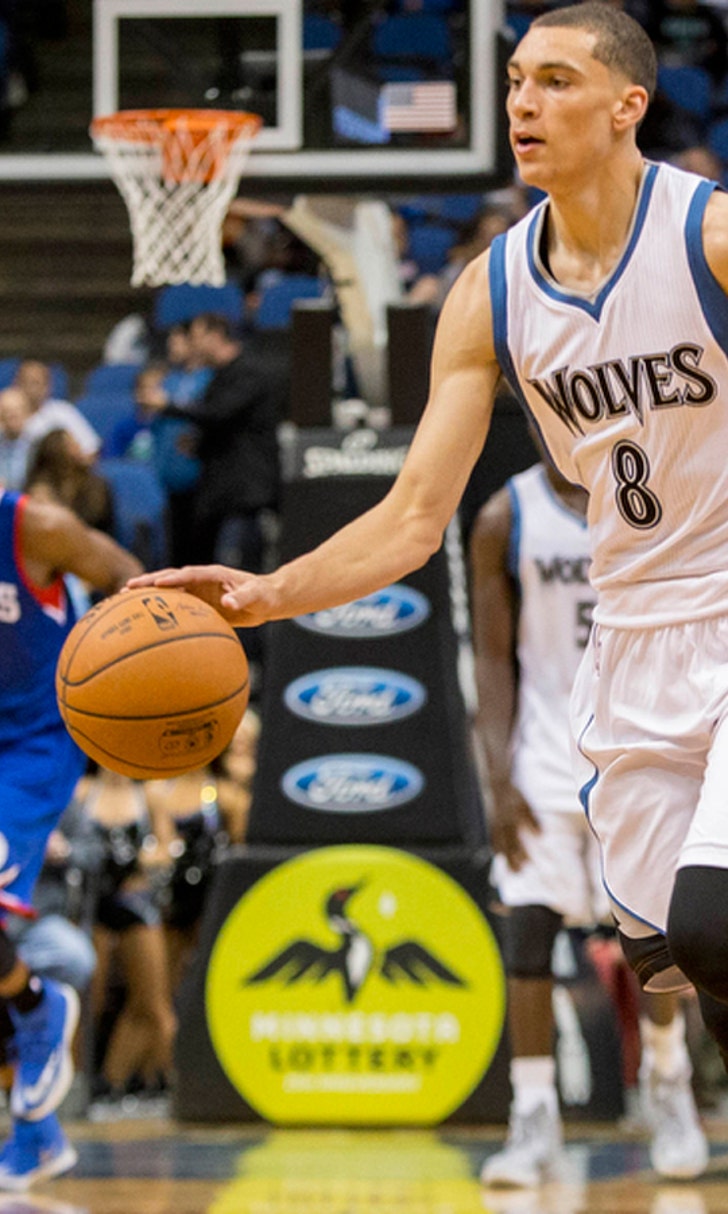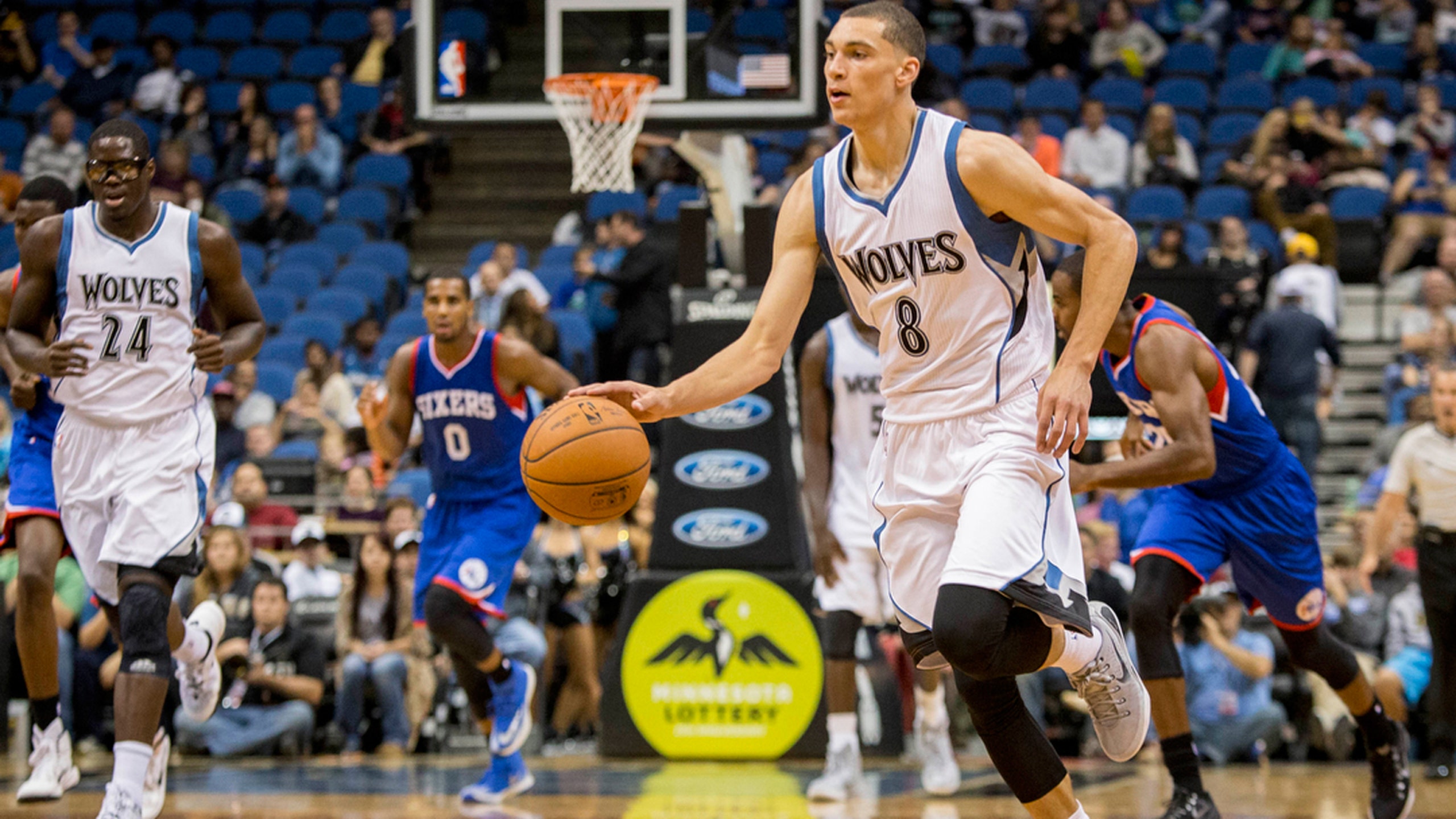 LaVine hoping practice makes perfect
BY foxsports • October 23, 2014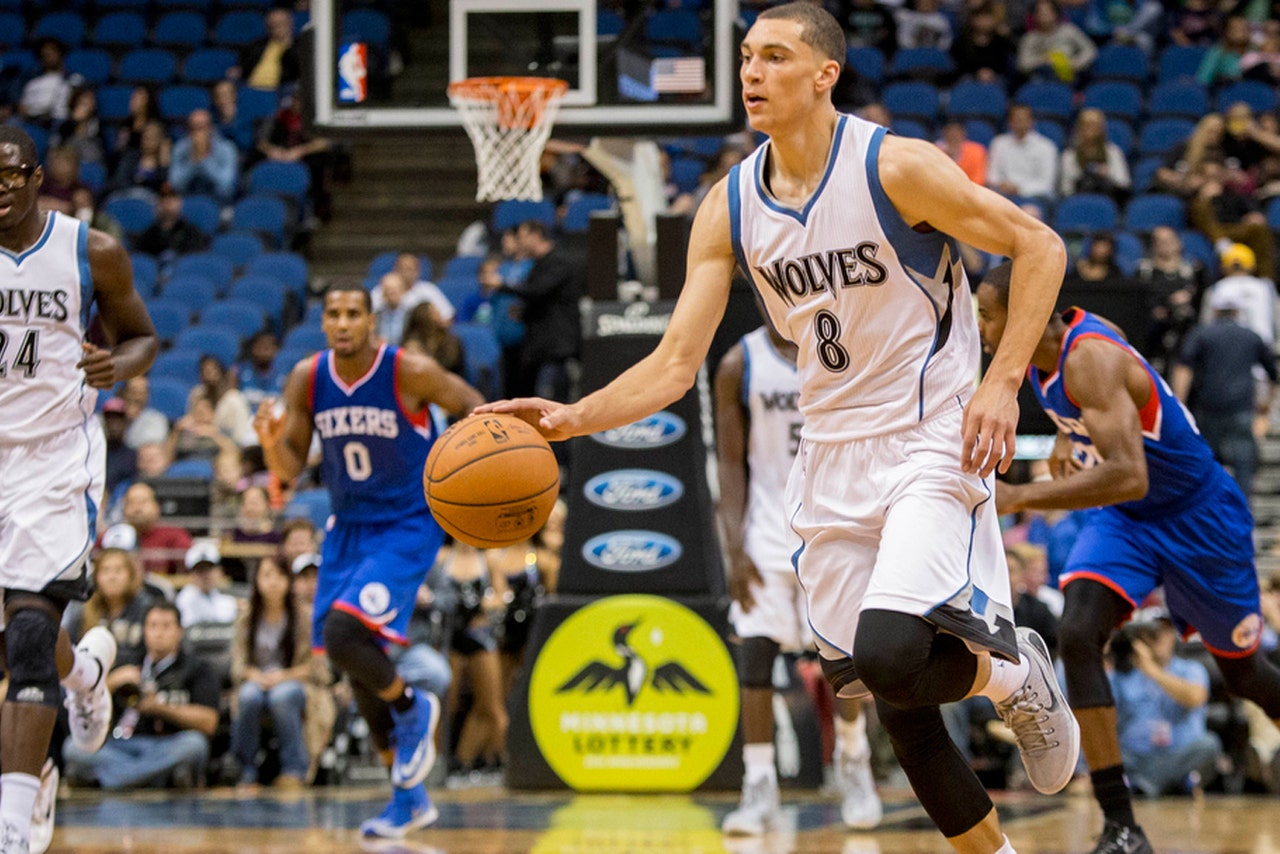 MINNEAPOLIS -- When Flip Saunders abruptly canceled practice Oct. 12 and surprised the Timberwolves with an outing to the Vikings game that day, one player wasn't immediately enthused.
Rookie guard Zach LaVine, in an outlook that might seem borderline-maniacal, had been looking forward to that Sunday's workout. He wasn't complaining about an afternoon in Gophers football coach Jerry Kill's TCF Bank Stadium suite, but the 13th overall pick in this year's NBA draft would've rather been getting extra shots up and cycling through film in Minnesota's video room.
"He wants to be in the gym 12 hours a day if he can," Saunders, the Wolves' coach and president of basketball operations, said.
That's the rap LaVine's earned since setting himself up in a Minneapolis apartment and delving into the challenges of becoming an NBA combo guard -- a hard-working, supremely confident gym rat.
He performs well during practice, Saunders said, displaying the athleticism that comes with a 41.5-inch vertical leap and lightning-quick speed. But with one preseason game to go, the big-league learning curve holds a huge advantage over the 6-foot-5, 180-pound UCLA product.
He's still well behind it. Probably will be for a while, too.
"We love him or we hate him," Saunders smiled, "sometimes on the same play."
At the point, LaVine might make the right read then the wrong pass, or pass up a playmaking opportunity for his own shot. When he's at shooting guard, the position he finds more comfortable, he often makes things more difficult than necessary.
Appearing in all six of the Wolves' preseason games, LaVine is averaging 5.5 points on 38.9 percent shooting and 2.7 turnovers to 1.2 assists per game.
"It's been a little bit of an adjustment, but I feel like I've been going through it pretty well," LaVine said. "You're going to have your ups and downs, but it's an 82-game season. You can't expect to be perfect on everything."
Problem is, LaVine does.
He succeeded in more off-the-ball and transition situations than anything else during his one year of college ball, so shooting guard is coming a bit more naturally for him. His biggest struggles come when he's in charge of the offense; Lavine isn't the best at creating his own shot, and shifting from attacking to delegating doesn't come naturally for him.
Until last year, he was the fastest player on pretty much every floor he touched. But blowing by defenders at will is no longer an option -- not when the defenders might be named LeBron or Kawhi.
Saunders likes to use two-point-guard sets, too, meaning LaVine will instigate the offense on one possession then cut and move without the ball during the next.
"He's got the most difficult position to play in that he's trying to play the one and also play the two," Saunders said. "At the two, you have to be more of a scorer, and as a one, you want to maintain aggressiveness, but yet you've got to get everybody else involved."
LaVine's response to malperformance entails extra hours at the Target Center poring over film and taking extra shots. Sometimes, though, he can mentally overcorrect.
"I get so mad when I miss shots in a game; I'm like 'I just took a thousand of these,'" LaVine said. "Sometimes, you've got to step back and just enjoy the process, but I'm a little bit of a perfectionist, so I just try to do everything right very fast."
That's how he plays, after all. Find LaVine in the open court, and there are few players that can keep up with him or out-leap him.
So his trademark, youthful confidence hasn't sagged.
"There's no change in my demeanor," Lavine said. "I feel like I'm going to go out, I'm going to have a great game every time I go and step on the court. It's not going to happen, but . . . "
But there's a recognition his chances will improve as time goes on. After all, veteran Kevin Martin is in line for most of the shooting-guard minutes this year, and Minnesota has a glut of wings with more experience and polish than LaVine.
So the rookie, despite his instincts, has time to mature.
"That's what I tell him, 'Just stay active for me. Let's try and get you some easy ones,'" said backup point guard Mo Williams, who frequently works alongside LaVine in preseason games and in practice. "When you're young, it's amazing when you see it go through the hole how your game kind of change. I try to get him some easy ones, especially on the break. It'll help him especially on the defensive end; he can kind of relax and just play basketball."
Follow Phil Ervin on Twitter
---