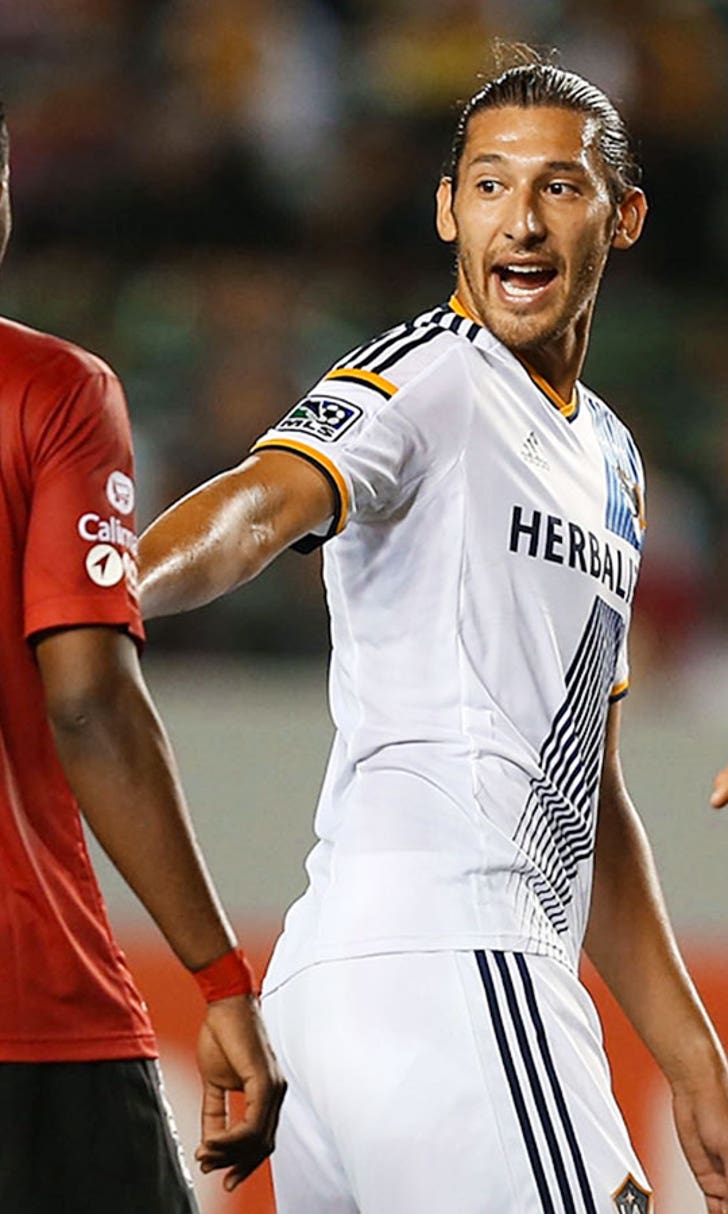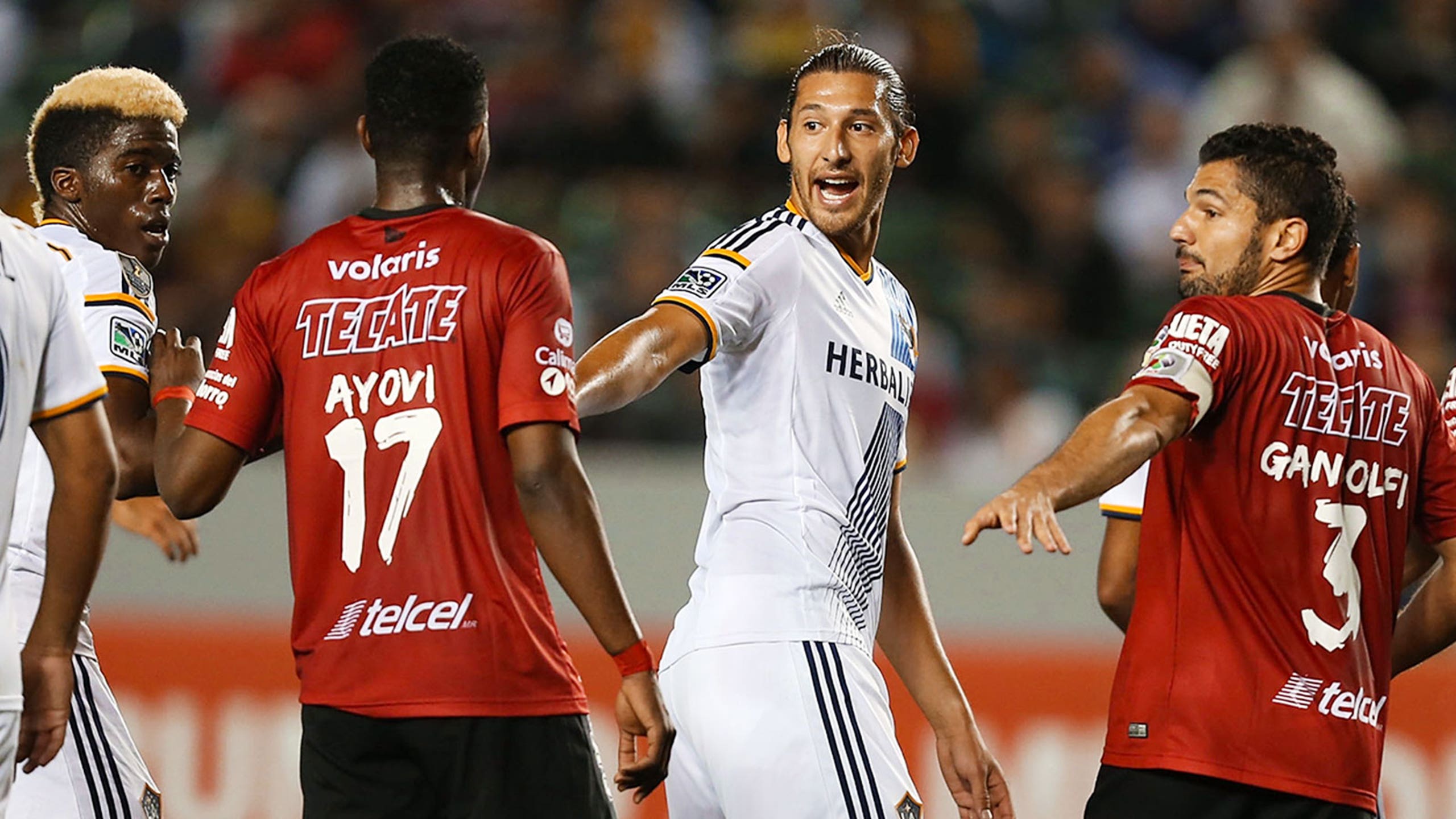 LA Galaxy face fight for CONCACAF Champions League survival at Club Tijuana
BY Kyle McCarthy • March 18, 2014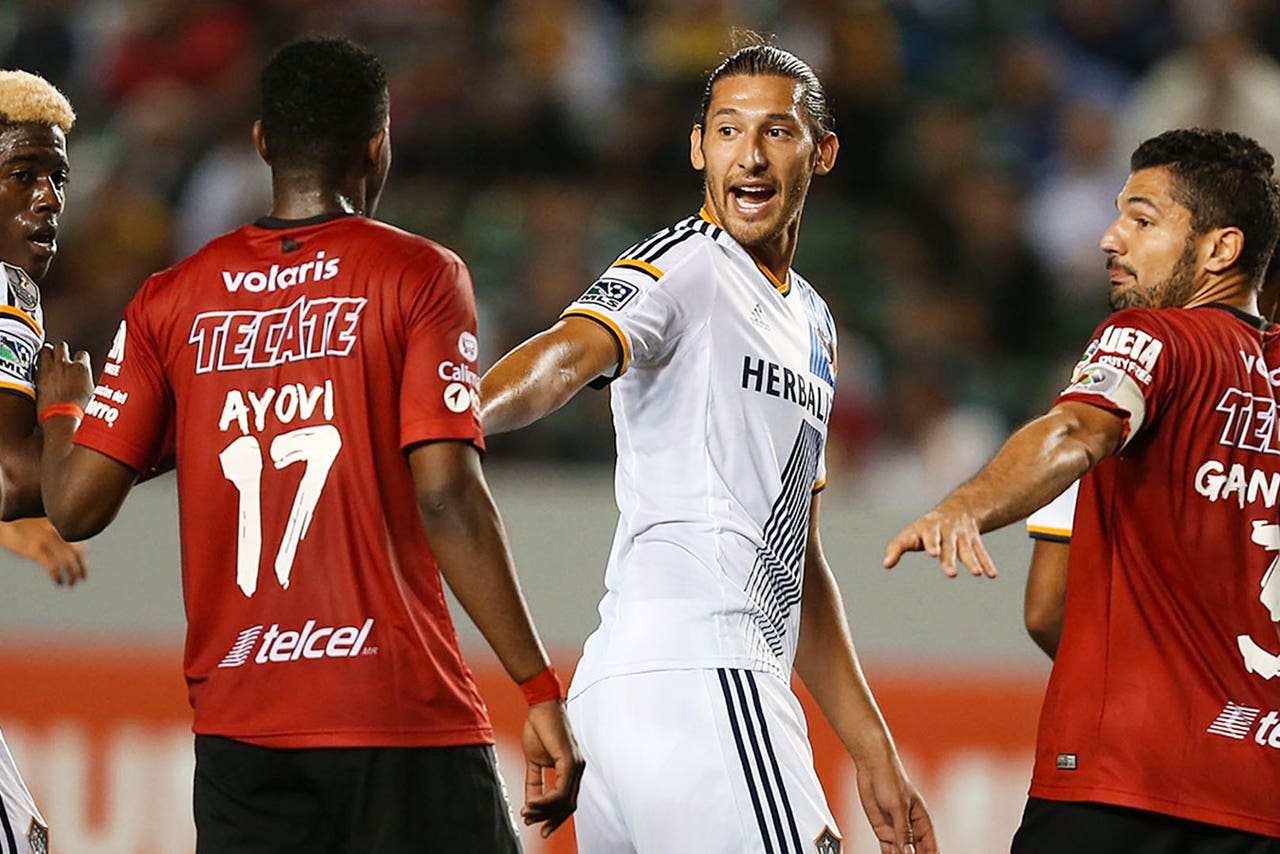 CARSON, Calif.
LA Galaxy atoned for its CONCACAF Champions League missteps of a year ago with its first-leg victory over Club Tijuana last week. Samuel's early goal and a resolute defensive display averted the danger of conceding an away goal or succumbing to defeat.
By meeting the necessary standard with the 1-0 triumph on home soil, the Galaxy traveled to Tijuana on Sunday with realistic hopes of emerging from the second leg of their quarterfinal unscathed.  
Make no mistake about the toil ahead, though: the Galaxy faces a difficult task against Club Tijuana (10:00p.m. ET, FOX Sports 2) even with the one-goal advantage in hand. The successful first leg at the StubHub Center on Wednesday offers a promising starting point. Nothing is accomplished. Nothing is settled. Not with MLS teams boasting an all-time record of 3-28-5 in Mexico.
"The beauty of it is that it is a two-game series," Tijuana forward Hérculez Gómez said. "I've been in this situation before. It is very distinct. I'm looking to get out in the second leg and be a part of something special."
Tijuana manager César Farías struck a defiant tone in the wake of his side's first-leg defeat with good reason. It isn't easy to procure an away result in Tijuana. Chiapas ended the Xolos' 17-game unbeaten run on home soil in all competitions with a surprising 3-0 victory in Tijuana last month. The defeat marked the first and only time Tijuana failed to procure maximum points at Estadio Caliente since Farías took charge prior to the Clausura.
Away form presented a bit of an issue for the Galaxy last season. Bruce Arena's side collected nine defeats on their travels in domestic play. This excursion to Tijuana presents a more formidable challenge than many of those trips and a daunting examination of those road credentials.
"We'll find out. There are few places in MLS that are as difficult as going to Tijuana," Donovan said. "This will be a good test for us. Fortunately, we have a lot of guys who have played in games like this and know what they're doing. We expect they're going to throw everything at us and we want that. We want a good test and a good challenge."
Tijuana will certainly provide it after resting many of its starters in the 2-1 defeat to fellow CCL participants Cruz Azul on Saturday. Farías – following in the footsteps of former boss Antonio Mohamed during the Copa Libertadores run last year and reflecting the ambitions of the club on the whole – opted to prioritize international commitments over domestic pursuits.
Farías' choice ensures the Xolos will enter the second leg with ample options at their disposal to turn over the tie. The likely inclusion of Dario Benedetto (Achilles) from the start offers more incisiveness as the home side presses the initiative from the outset.
"The team is focused," Tijuana midfielder Joe Corona said. "Going to Tijuana, we know that they have an advantage now, but we come out strong at home with all of our fans. We know our field, too. We have to look for the first goal and then try to be desperate for the second goal."
If the match unfolds according to plan for the home side, then the Galaxy will need to find a way to snatch an away goal. Tijuana's endeavor will leave gaps for the Galaxy for Donovan and Robbie Keane to exploit on the counter. One tidy piece of play on the break could mean the difference between a berth in the semifinals and a quarterfinal exit, but the Galaxy cannot afford to search wantonly for it.
In this sort of atmosphere, the Galaxy must focus first and foremost on protecting the gains acquired during the opening leg. A shutout – improbable as it may be – will send the MLS side through. Any slip opens the door for Tijuana to continue Mexican dominance on home soil in this competition and seal a place in the semifinals.
The visitors will hope to avoid that scenario entirely and book their own place in the last four. They traveled to Tijuana with a goal in their favor and a large assignment waiting for them upon arrival. It is now down to them to figure out a way to navigate through the thicket and secure the desired result to keep their CCL dreams alive.
"We've set ourselves up in the first game," Galaxy defender A.J. DeLaGarza said. "We have to finish it off."
---