Killer combo: Koenig, Hayes help propel Wisconsin past Minnesota
BY foxsports • March 14, 2014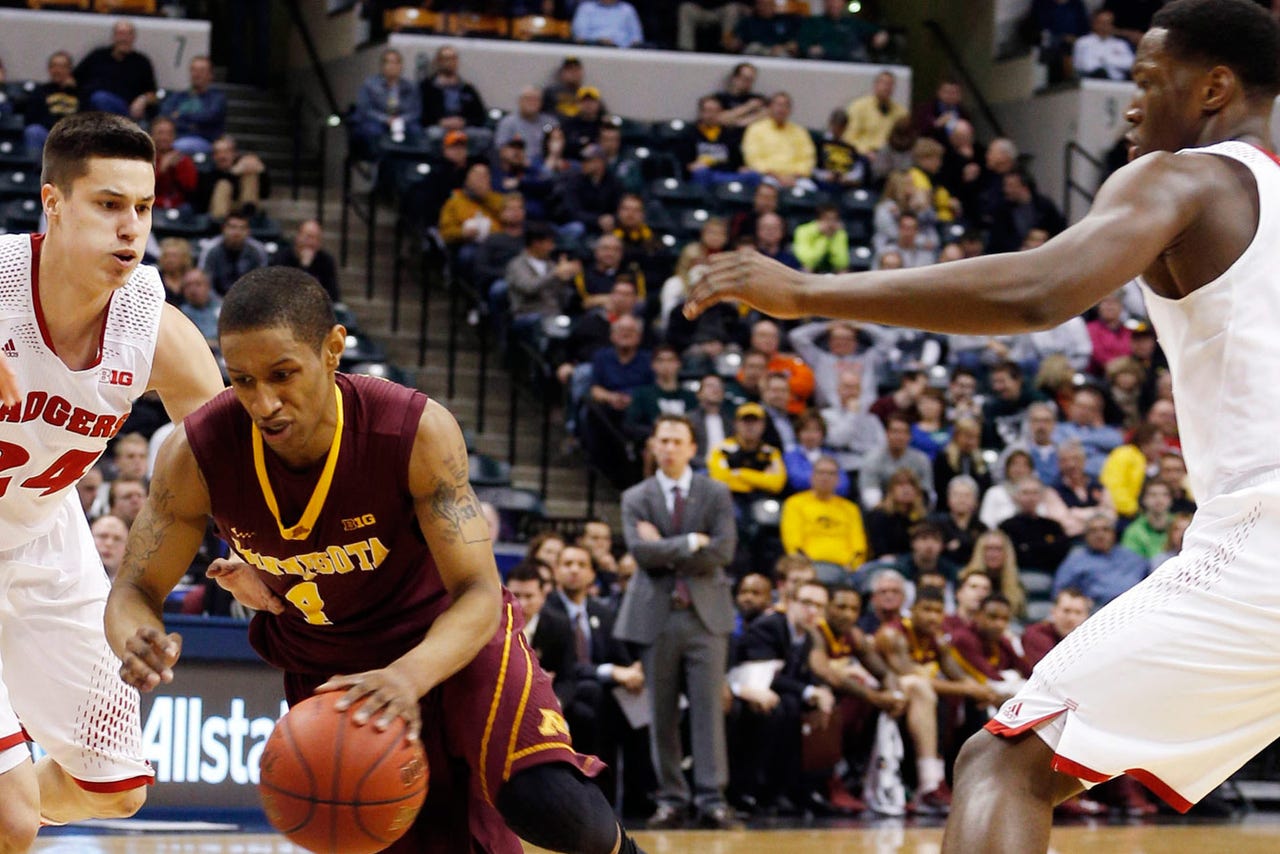 INDIANAPOLIS -- Sam Dekker was lounging on a chair in front of his locker late Friday night, when he turned to teammate Bronson Koenig with what seemed as if it might be a semi-serious question.
"Bronson," Dekker said, before pausing. "You hit the rim today?"
"No, actually I didn't," Koenig replied.
And then the two laughed because they couldn't help themselves in the aftermath of No. 2 seed Wisconsin's 83-57 drubbing of No. 7 Minnesota during a Big Ten tournament quarterfinal game at Bankers Life Fieldhouse. Koenig had buried all five of his shot attempts, including four 3-pointers, without so much as a nick of the rim on the way to a career-high 14 points.
It was a sparkling performance few freshmen are capable of producing on the big stage. Except that, just a few feet away, freshman forward Nigel Hayes was fielding questions from reporters after recording 15 points and six rebounds.
The Koenig-Hayes combination served as yet another illustration as to why this could be a special season for Wisconsin (26-6), which advanced to face third-seeded Michigan State (24-8) in a Big Ten semifinal at roughly 3:05 p.m. CT Saturday.
"This is one game, so I won't get carried away," Badgers coach Bo Ryan said. "They've learned things through trial and error. They happened to fall into place today with the shots going down, but more important on the defensive end, I thought the two of them did a really good job of some things that they're still working on and learning because of the lack of possessions.
"Some of our guys have been through a lot more possessions than others. So they're improving, and that's what we like to see. I don't know how often you can have two freshmen have that kind of night shooting-wise, but I'm impressed with what they were doing defensively."
Both players were highly regarded recruits out of high school, though few likely foresaw the type of impact each would have on Wisconsin this season. Koenig was the third point guard in the rotation when the season began, but that was before George Marshall transferred and Koenig wowed with his smarts and passing ability. Hayes was expected to play, but he became so vital that he was voted as the Big Ten's Sixth Man of the Year.
On Friday, each player starred alongside senior Ben Brust, who scored a career-high 29 points.
Koenig entered the night averaging 2.9 points and had struggled with his 3-point shot this season (13 of 48, good for 27.1 percent). He found his rhythm early Friday, however, and buried back-to-back 3-pointers to turn a four-point lead into a 10-point advantage, at 32-22 with 2:02 left in the first half. The Badgers took a 12-point halftime lead, and Minnesota never crept closer than nine points the rest of the game.
"I just try to be aggressive and the past few days at practice, I've been trying to get back to the fundamentals and everything," Koenig said. "It's been feeling good. So I'm just trying to carry it over, and hopefully I keep that rhythm."
During one particular stretch in the second half, Hayes and Koenig were responsible for nine straight points and 15 of 20 overall. Hayes converted three consecutive layups, and Koenig buried a pull up jumper at the free throw line to put Wisconsin ahead 64-45.
Even before Friday's game, Minnesota centers Elliott Eliason and Maurice Walker talked about the difficulty in trying to defend Hayes, who is talented enough to hit jump shots, yet strong and quick enough to score at the rim. Hayes downplayed his performance and instead credited the Badgers' coaching staff.
"They do a great job of preparing us for this as well as upperclassmen, such as Ben Brust right here next to me," Hayes said while sitting at the post-game podium. "They do a great job of talking to us and explaining to us how situations would be. When we get out there and see that situation, we're already prepared to handle it."
Badgers guard Josh Gasser said he wasn't surprised to see both freshmen come up big in a key game.
"You've got two guys off the bench who not only give you a spark offensively but just energy," Gasser said. "Nigel is a different type of player. Bronson is such a great scorer when he's aggressive. They showed tonight how good they are and can be. We see it all the time in practice. We know what they can do."
Given the team's offensive output this season, there is reason to believe this Wisconsin team can achieve something special. The Badgers remain in the hunt for a No. 1 seed in the NCAA tournament and have the scoring capabilities to ride a hot streak all the way to the Final Four in April.
Not that Ryan would ever be caught thinking ahead.
"I never answer anything about seeds," Ryan said. "Sunflower seeds, when I used to play baseball, I chewed them. That's the only seeds I know anything about."
With Hayes and Koenig, Wisconsin's basketball future intersected with its present Friday night to more positive results. And those are two young seeds Ryan can't wait to see grow.
Follow Jesse Temple on Twitter
---