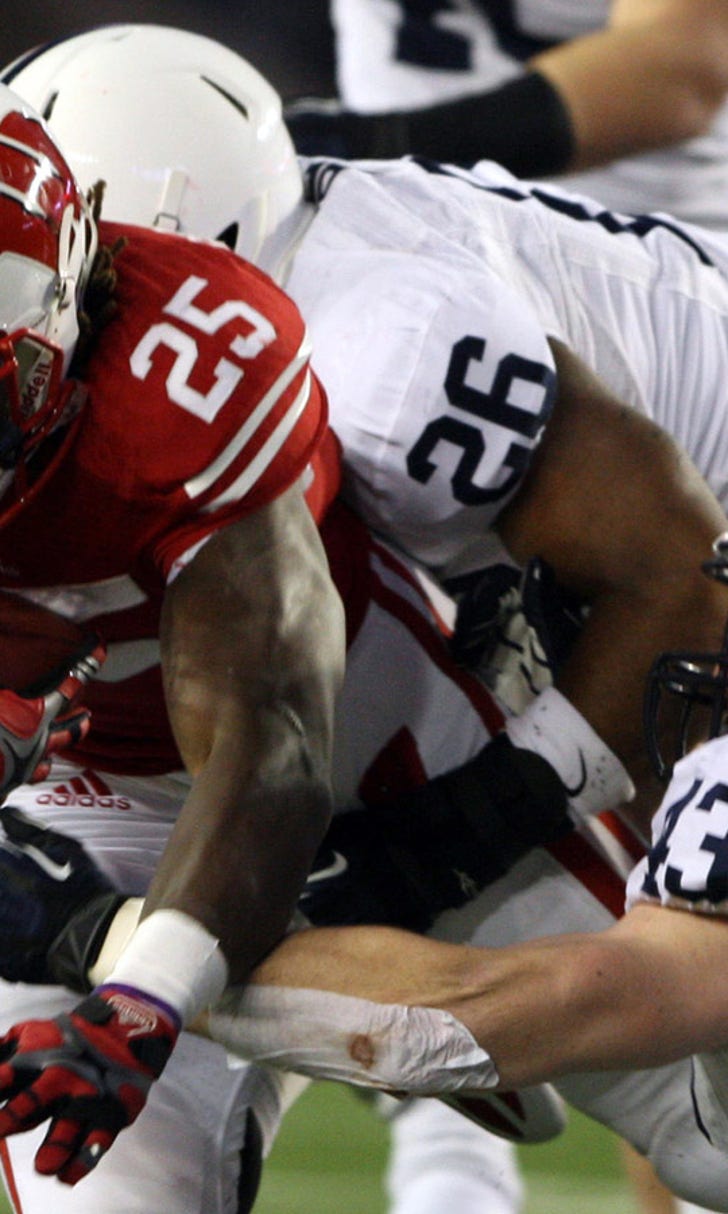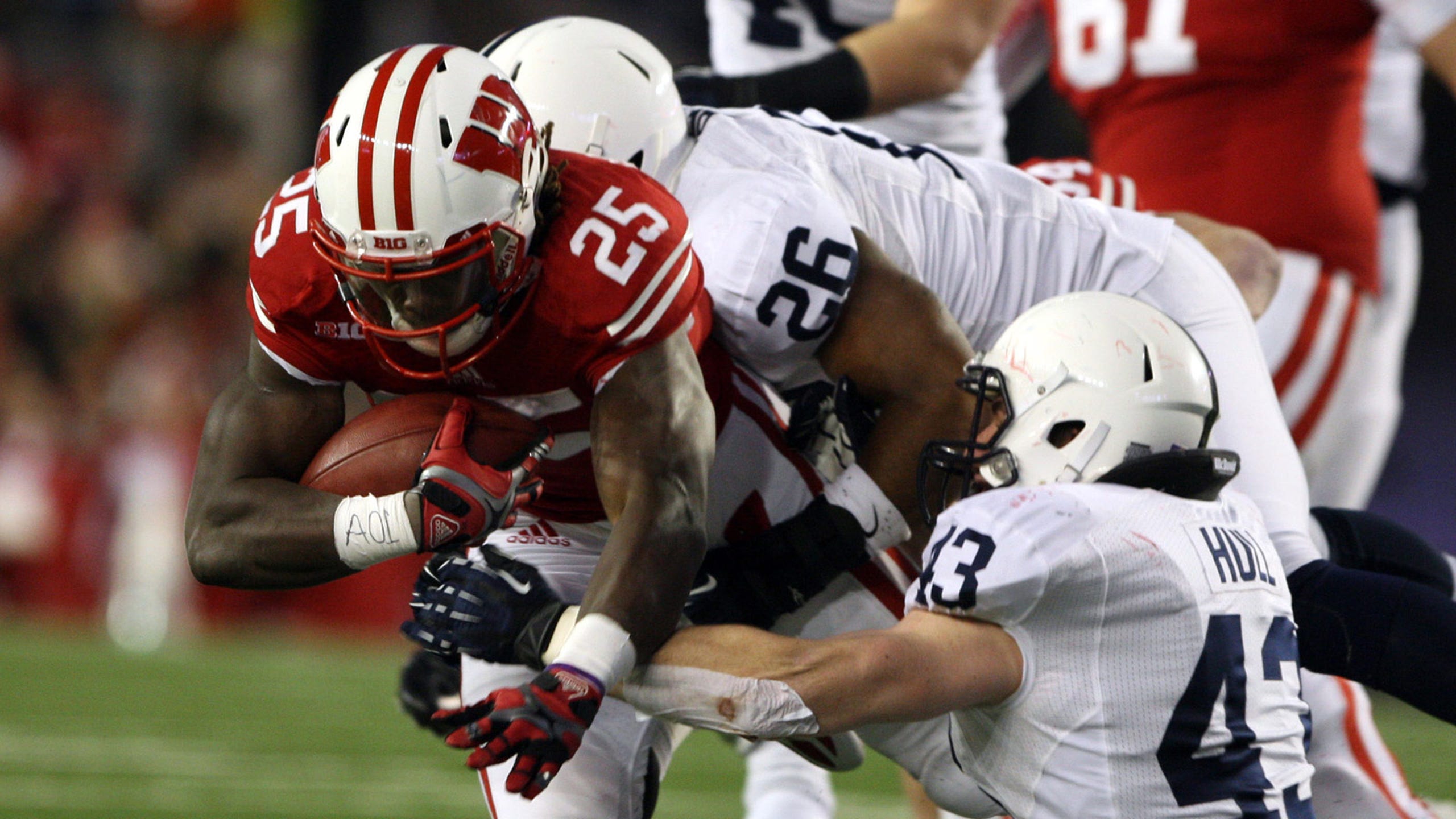 Jesse Temple revisits his (near-perfect) Badgers preseason predictions
BY foxsports • December 16, 2013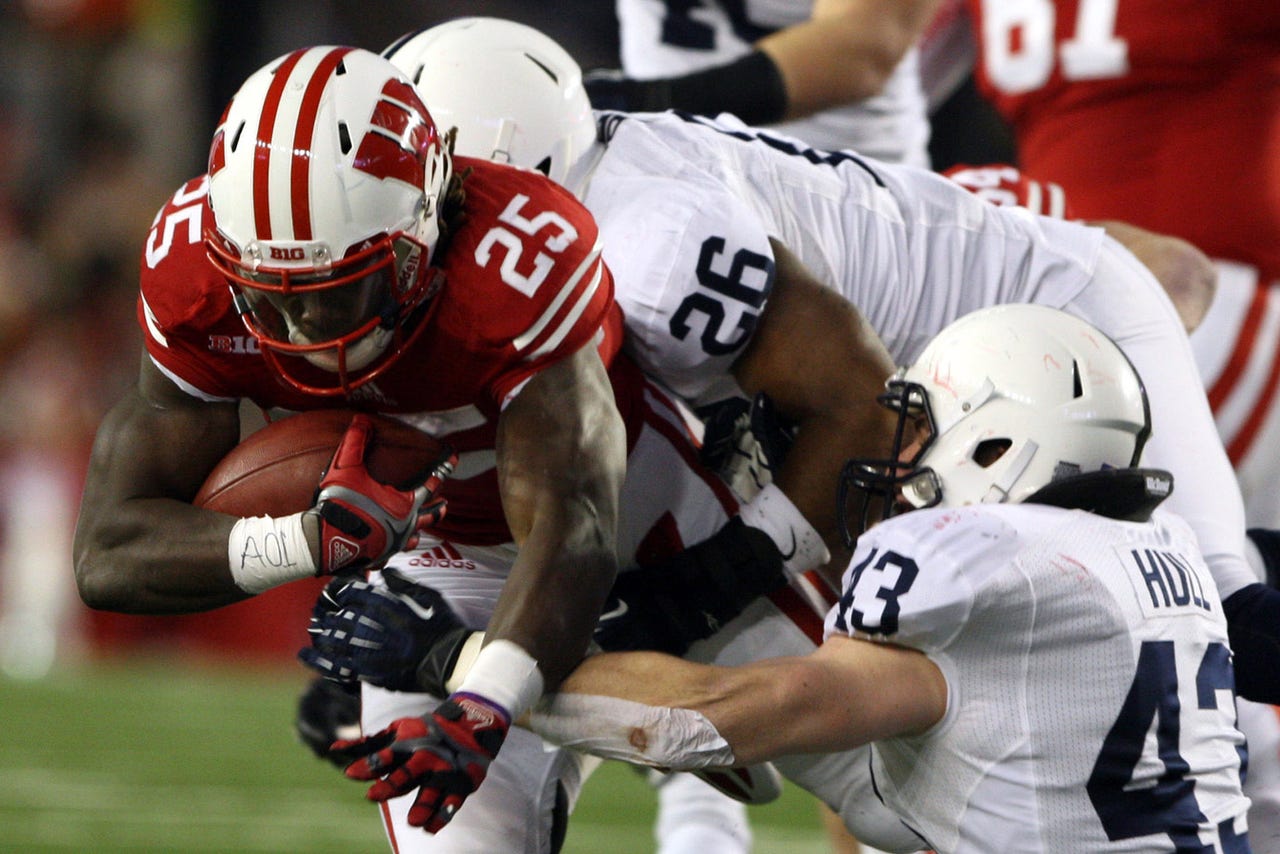 Before the 2013 season began, I offered predictions on what might happen during all 12 of Wisconsin's regular season games for our "Know the Foe" series. As it turned out, predicting the results went relatively smoothly since the Badgers won most of the games they were supposed to and lost the games in which they weren't favored.
Overall, I finished 11-1, with pesky Penn State serving as the lone mistake. Don't ask how things went against the spread, where I surely was considerably worse.
Now that the regular season is over and Wisconsin is busy preparing for its Capital One Bowl appearance against South Carolina, it seems like a good time to revisit the preseason predictions, hold myself accountable and see just how close these scores were to the actual mark. This was probably a better year than others, but I still won't be taking my (lack of) talents to Vegas anytime soon.
Game 1
Prediction: Wisconsin 45, UMass 7
Actual final score: Wisconsin 45, UMass 0
My take then: The Minutemen will begin their second season as an FBS team, and they surely hope it goes better than the first. UMass finished the 2012 season 1-11, surrendered at least 40 points six times and was outscored 482-152 in total. UMass's only victory came against Akron, another team that finished 1-11.
My take now: Well, the second season as an FBS team was about as bad as the first season. UMass again finished 1-11 but was "only" outscored 396-140. Wisconsin dominated the Minutemen as most expected. Melvin Gordon (144 yards), James White (143) and Corey Clement (101) each rushed for more than 100 yards in what became something of a theme during the early season.
Game 2
Prediction: Wisconsin 49, Tennessee Tech 7
Actual final score: Wisconsin 48, Tennessee Tech 0
My take then: If nothing else, Tennessee Tech just might be one of the most entertaining teams in the FCS because of an up-tempo spread offense that keeps opponents on their toes. Last season, the Golden Eagles ranked 115th out of 121 FCS teams in scoring defense (39.4 points per game). They also ranked 29th in scoring offense (31.6 points). Tennessee Tech has dubbed its offense as "The Fastest 60 Minutes in Football," but it's easy to envision the Golden Eagles grinding to a halt against a defense as talented as Wisconsin's.
My take now: That up-tempo spread wasn't all that entertaining against Wisconsin, although most could have guessed that would happen well before the game. The Golden Eagles managed 113 total yards of offense, while Wisconsin rolled to 606 yards of total offense. For the second straight game, Gordon, White and Clement each rushed for at least 100 yards. The defense, meanwhile, pitched a second consecutive shutout.
Game 3
Prediction: Arizona State 27, Wisconsin 21
Actual final score: Arizona State 32, Wisconsin 30
My take then: A year ago, Oregon State stunned Wisconsin, 10-7, in Corvallis, Ore., leading to the firing of an assistant coach, a reshaping of the offensive line and a quarterback change. Wisconsin should be better equipped to handle its first road game of the season this year, but Arizona State could be a legitimate Pac-12 title contender.
The Sun Devils finished 8-5 in 2012 and destroyed Navy, 62-28, to win the Kraft Fight Hunger Bowl. Arizona State ranked No. 25 nationally in total offense (464.5 yards per game) and 14th in scoring offense (38.4 points). So if the Badgers aren't careful, they could be in for a shootout.
My take now: We all know this turned out to be one of the most controversial games of the entire college football season, when referees botched the end and didn't allow Wisconsin time to attempt a game-winning field goal attempt. Unfortunately, we'll never know if Kyle French would have made the 32-yard try. Arizona State did go on to win the Pac-12 South and lose in the conference title game to Stanford. If Wisconsin would have won, the BCS picture could have been much different for the Badgers.
Game 4
Prediction: Wisconsin 38, Purdue 17
Actual final score: Wisconsin 41, Purdue 10
My take then: In 2013, Purdue begins a new era with coach Darrell Hazell, who spent the past two seasons in charge of Kent State. Changing the Boilermakers' fortunes may take some time because Purdue isn't exactly stocked with all-conference talent this year.
Purdue loses its top rusher from last season (Akeem Shavers, 871 yards), its top quarterback (Robert Marve, 1,734 yards passing) and No. 1 receiver (Antavian Edison, 652 yards and eight touchdown catches). So even though the Boilermakers made two low-level bowl games the past two seasons, fans should be pleased if they can squeeze their way into a third.
My take now: There's a reason clicking on Purdue's football schedule on the school website already yields the 2014 slate. It's because the Boilermakers were absolutely terrible in 2013 and finished 1-11. Purdue lost its final 10 games, and Wisconsin obliterated the Boilermakers on the ground. Melvin Gordon (147 rushing yards) nearly matched Purdue's total offense output of 180 yards, and teammate James White (145 rushing yards) wasn't far behind, either.
Game 5
Prediction: Ohio State 28, Wisconsin 20
Actual final score: Ohio State 31, Wisconsin 24
My take then: The Buckeyes have won five of the last six meetings against the Badgers, and three of Wisconsin's losses have come by single digits. In many respects, Ohio State has become a more important game for Wisconsin fans than even the Minnesota game because the Badgers have hammered the Gophers nine straight times.
My take now: Even before Wisconsin and Ohio State met this season, most considered it to be a de facto play-in game for the Big Ten championship because the rest of the Leaders Division wasn't very good -- and Penn State was ineligible for postseason play. When Ohio State escaped with a victory, it all but sealed the Buckeyes' trip to the conference title game. It's too bad these teams won't play the next few seasons with the division switch. Then again, given the way Ohio State has owned the rivalry, perhaps it isn't the worst development.
Game 6
Prediction: Wisconsin 31, Northwestern 28
Actual final score: Wisconsin 35, Northwestern 6
My take then: By the time Northwestern finishes its Oct. 12 game at Camp Randall Stadium, we'll know whether the Wildcats can be considered a Big Ten championship-caliber team. Northwestern's first two conference games come against Leaders Division frontrunners Ohio State and Wisconsin.
My take now: Who knew Northwestern would fall into one of the most epic season-long collapses we've seen in years? The Wildcats were once 4-0 and on the cusp of beating Ohio State in Evanston. Then, they proceeded to lose seven consecutive games -- including a stinker of a performance against Wisconsin. Northwestern ran the ball 25 times for 44 yards. Yeesh.
Game 7
Prediction: Wisconsin 31, Illinois 14
Actual final score: Wisconsin 56, Illinois 32
My take then: Illinois, which finished 2-10 last season and 0-8 in the Big Ten, will have to show some improvement in 2013. Otherwise, don't be surprised if coach Tim Beckman finds himself out of a job in November. In the world of big-time college football these days, a win-now attitude permeates across the country. And fans will be clamoring for Beckman's ouster with another bottom-of-the-barrel finish.
Realistically, Illinois would do well to win five games this season. But with a Big Ten schedule that includes Nebraska, Wisconsin, Michigan State, Penn State, Ohio State and Northwestern, there will be little margin for error anywhere else.
My take now: Hey, the good news for Illinois is that Beckman is still the coach! Or maybe that's the bad news. Either way, the Illini doubled their win total from two to four. Still, Illinois finishing 1-7 in Big Ten play doesn't exactly inspire the masses. Wisconsin's 56 points scored was the second-highest total Illinois surrendered. Ohio State crushed Illinois by scoring 60 points.
Game 8
Prediction: Wisconsin 20, Iowa 14
Actual final score: Wisconsin 28, Iowa 9
My take then: The Hawkeyes will open the 2013 season on a six-game losing streak. Now Kirk Ferentz, the longest tenured Big Ten coach entering his 15th season, must find a way to turn the program around again. Iowa wouldn't be the first Big Ten team in recent memory to make a bowl game after an unusually poor season. Michigan was 3-9 in 2008 and 5-7 in 2009 before reaching the Gator Bowl in 2010. Penn State went from 4-7 in 2004 to an Orange Bowl appearance in 2005. Ohio State was 6-7 in 2011 and 12-0 in 2012. Michigan State was 6-7 in 2009 and 11-2 in 2010.
My take now: Good for Ferentz for guiding Iowa to yet another bowl game -- his 11th in 15 seasons there. Iowa finished 8-4 to reach the Outback Bowl. That should make Wisconsin's performance in Iowa City even more impressive, especially considering it marked Iowa's lowest point total of the season, and the Badgers played without linebacker Chris Borland. This was one of Wisconsin's two best wins, alongside the victory at Minnesota.
Game 9
Prediction: Wisconsin 14, BYU 10
Actual final score: Wisconsin 27, BYU 17
My take then: BYU plays as an independent football program and has put together one of the toughest schedules in program history. The Cougars will play Virginia, Texas, Utah, Utah State, Georgia Tech, Houston, Boise State, Wisconsin and Notre Dame, among others.
Last season, BYU finished 8-5 and won the Poinsettia Bowl against San Diego State, 23-6. So the Cougars are used to recent success and likely won't be intimidated in Camp Randall Stadium after playing such a demanding schedule.
My take now: BYU certainly wasn't afraid of the atmosphere against Wisconsin and kept the game close most of the way through. The Cougars finished the regular season 8-4 and made the Fight Hunger Bowl, so this was another solid victory for the Badgers. Running back James White began to take some of the spotlight from Melvin Gordon at this point in the season and carried the ball 23 times for 147 yards and two touchdowns.
Game 10
Prediction: Wisconsin 42, Indiana 21
Actual final score: Wisconsin 51, Indiana 3
My take then: During a season in which the Hoosiers averaged 30.8 points per game -- fourth in the Big Ten last year -- they managed to surrender 35.2 points per game, which ranked dead last in the conference. Will 2013 be any better? It probably has to for coach Kevin Wilson to feel secure about his job. Wilson's reputation as an offensive genius was solidified last season at Indiana, when the Hoosiers improved their scoring average by 9.4 points over the previous season.
The points are nice, of course. But what good are they if it doesn't result in a victory?
My take now: Clearly, I either overestimated Indiana's offensive capabilities or underestimated how good Wisconsin's defense would be because the Badgers obliterated the Hoosiers. Wisconsin rushed for 554 yards, which was second in program history only to a 564-yard performance against Indiana last season. On the season, Indiana's defense was terrible yet again. The Hoosiers allowed 38.8 points per game this season to rank No. 114 out of 123 FBS teams. But hey, at least the offense was exciting most games.
Game 11
Prediction: Wisconsin 38, Minnesota 21
Actual final score: Wisconsin 20, Minnesota 7
My take then: Yes, Wisconsin-Minnesota is still considered a college football rivalry game. The teams do play, after all, for Paul Bunyan's Axe every year. Yet the scores in recent years have been so laughably one-sided in Wisconsin's favor that it makes one want to reconsider the true definition of a rivalry. This season, Minnesota will once again be considered an underdog in the annual rivalry series despite hosting the game in Minneapolis. The Gophers are coming off a season in which they saw improvement -- but not enough to be considered a serious player in the Big Ten.
My take now: This game proved to be much more intriguing than initially thought because the Gophers strung together four straight wins and were ranked No. 25 in the BCS standings. Wisconsin had no easy task beating Minnesota -- and quarterback Joel Stave's interception that was returned for a touchdown didn't help. Still, this was probably the Badgers' most satisfying victory, even if they didn't get to chop down both goal posts. Wisconsin has now won 10 consecutive games in the series.
Game 12:
Prediction: Wisconsin 20, Penn State 14
Actual final score: Penn State 31, Wisconsin 24
My take then: The Nittany Lions can't play in a bowl game for the next three seasons because of NCAA sanctions, but that doesn't mean they can't derail the hopes of other teams along the way. Penn State's offense, which averaged 29.1 points per game last season, could be even better in 2013 given the weapons on the field. They just need to find a quarterback to provide them some consistency.
My take now: Penn State came into Camp Randall Stadium and shocked everybody. The Nittany Lions also prevented me from a perfect season in the prediction category. They did it on the strength of freshman quarterback Christian Hackenberg, who showed he's going to be a Big Ten star. Hackenberg threw for 339 yards with four touchdowns and no interceptions, and Penn State embarrassed Wisconsin's defense for one of the few times all season. Wisconsin has one month to figure out the problems Penn State exploited or risk another embarrassing loss against South Carolina in the Capital One Bowl.
Follow Jesse Temple on Twitter
---