Arizona Cardinals
Arizona Cardinals
Jen Welter blazes trail as coaching intern for Cardinals
Published
Jul. 28, 2015 6:43 p.m. ET

TEMPE, Ariz. -- Jen Welter wasn't willing to label herself a trailblazer until Cardinals coach Bruce Arians did so for her, but she said her presence on the team's coaching staff during training camp and the preseason could crack the glass ceiling for women in the professional sports.
Welter is believed to be the first female coach in NFL history.
She will work with the Cardinals inside linebackers for the next six weeks, like the team's six other coaching interns. It is a position she never dreamed of attaining as a child let alone six months ago. But she embraces the opportunity to be a role model for young girls.
"I could not have dreamed big enough to imagine that this day would ever come," the 37-year-old Welter said Tuesday during an introductory news conference that drew national attention both in and outside the sports world. "I think the beauty of this is that, though it's a dream I never could have had, now it's a dream other girls can grow up and have. So I guess if that makes me a trailblazer, then ..."
Arians finished the sentence.
"She's a trailblazer," he said.
The NFL in April announced Sarah Thomas as the league's first full-time female official. Becky Hammon is an assistant with the San Antonio Spurs and recently was head coach of the Spurs team that won the Las Vegas Summer League championship.
"We show (women) as accessories, for no other better way to put it," Welter said. "We teach them very early on to be pretty, marry well and then act badly and you'll get on TV, and that's what they grow up thinking what fame is or success is.
"I want little girls to grow up knowing that when they put their minds to something, when they work hard, they can do anything."
Welter brings with her a 14-year playing career, mostly with the Dallas Diamonds of the Women's Football Alliance but also as the first woman to play a non-kicking position on a men's professional football team when she played running back and special teams for a season with the Texas Revolution of the Indoor Football League.
She won two gold medals with the U.S. team at the International Federation of American Football women's world championships and spent the past season coaching linebackers for the Revolution.
"Our players only want to be taught how to be better," Arians said. "They really don't care who teaches it to them."
And Arians expects Welter and the rest of his interns to do just that.
"They're here to work," he said. "Get better, coach, correct things when they're wrong and pat people on the back when they do it right."
The hiring was the result of comments Arians made at the NFL owners meetings in March. He was asked about the possibility of women coaching in the league.
"The minute they can prove they can make a player better, they'll be hired," Arians said.
Not long after, Revolution coach Devin Wyman reached out to Arians and said he knew someone who might fit that description. When Arians and Welter met during the team's OTA workouts, "I knew this was the type of person I was looking for to start this," Arians said.
Reaction of Welter's hiring reached as far as the White House. Vice President Joe Biden offered congratulations via Twitter. Cardinals President Michael Bidwill said NFL Commissioner Roger Goodell extended congratulations via a phone call Monday.
"The best phrase that's been used is really what Bruce said: 'opening the door.'" Bidwill said. "It's probably opened the door for many other opportunities for women across not only our league but other leagues as well and other traditional male-dominated industries."
Welter, who played rugby at Boston College and earned a PhD in psychology from Capella University in Minnesota, still has the first check she earned from playing football. It was for $12 -- $1 per game because that's what made them professional.
She credited her coaches and players with the Revolution as well as the Cardinals coaching staff for helping her get to this point and "hopefully" land a full-time coaching position in the NFL down the line.
"You can't blaze a trail alone," Welter said, "otherwise you'll get stuck in the woods."
In addition to Welter, the Cardinals introduced former Steelers linebacker Levon Kirkland as the first recipient of the Bill Bidwill Coaching Fellowship. The two-year fellowship is named for the Cardinals owner. The position was created to help recently retired players transition into coaching.
Kirkland spent 11 seasons in the NFL and was an intern with the Cardinals during the offseason."Hopefully 31 other clubs will copy this and start fellowships to get former players involved in coaching and give them an opportunity to figure out if this is what they really want to do," Arians said.
---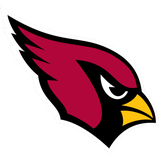 Get more from Arizona Cardinals
Follow your favorites to get information about games, news and more
---