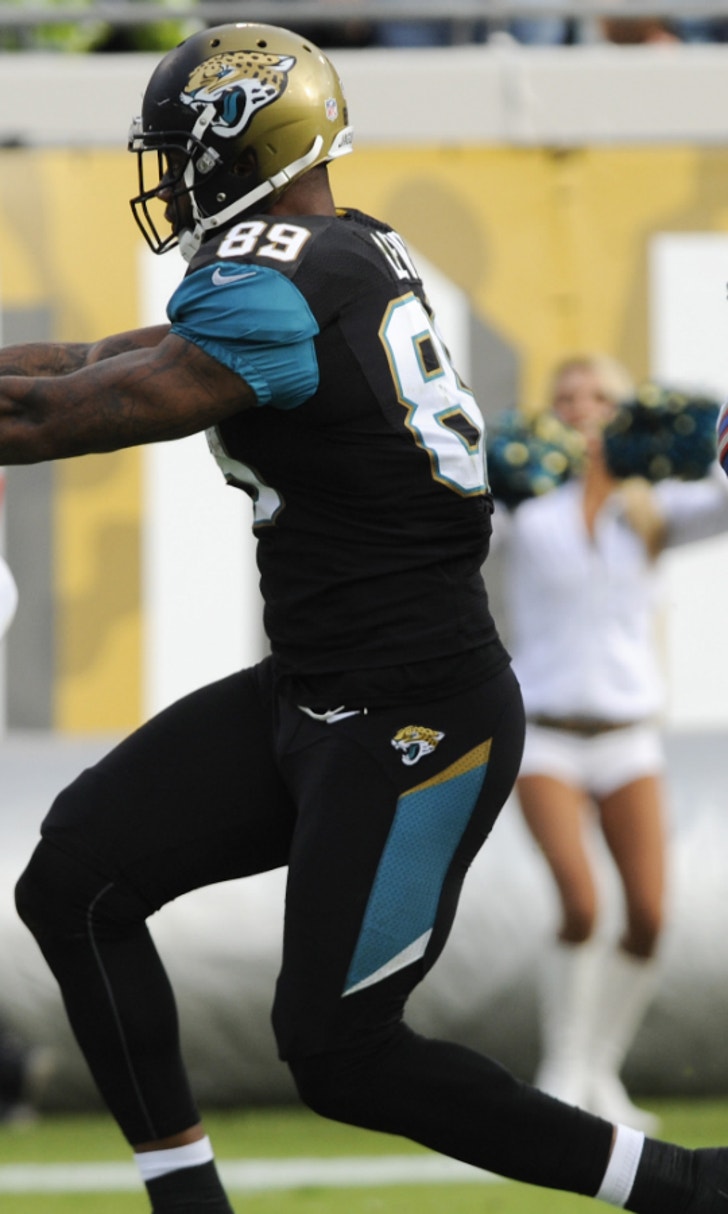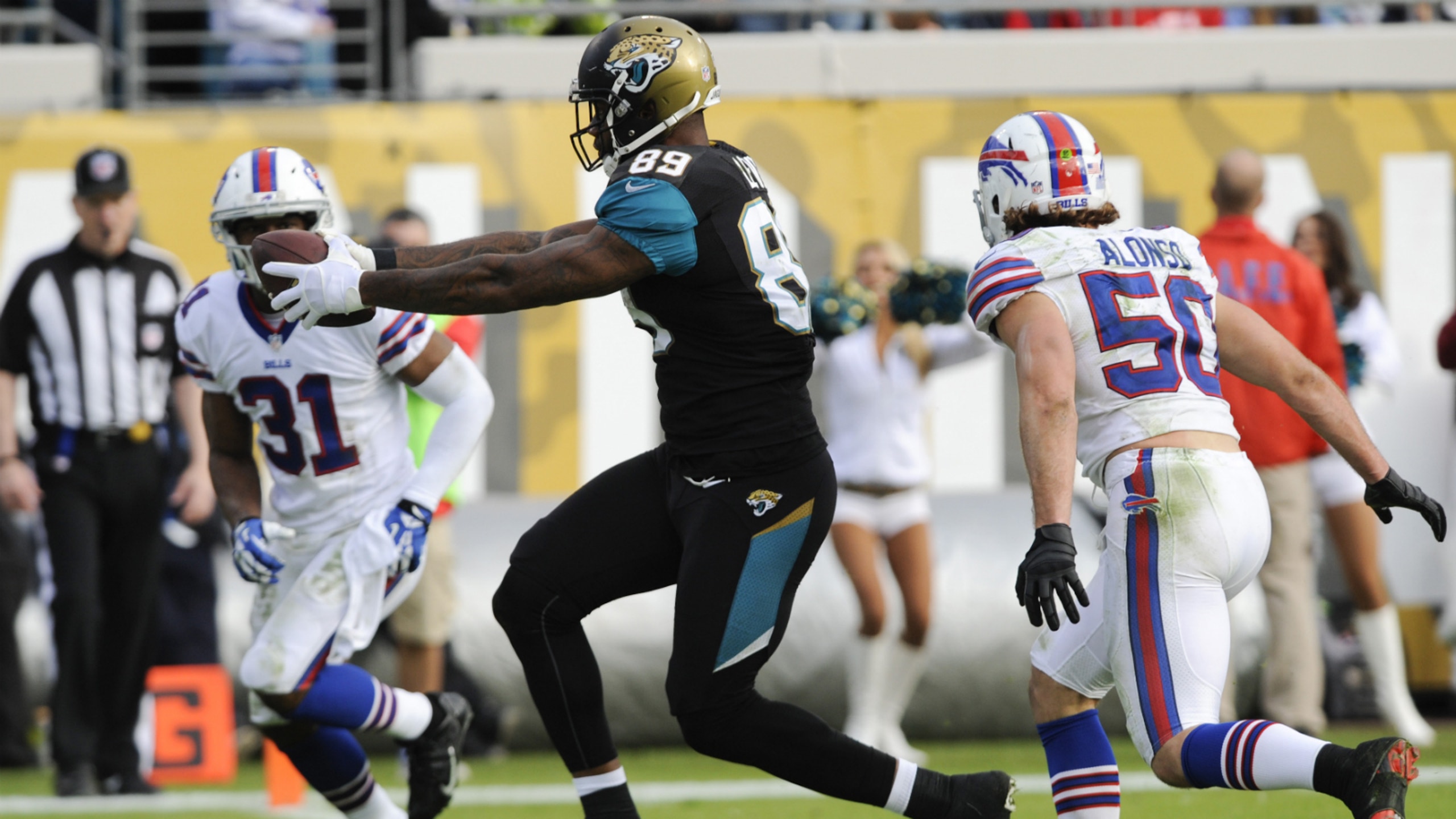 Jaguars' offense turning things around despite turnover
BY foxsports • December 19, 2013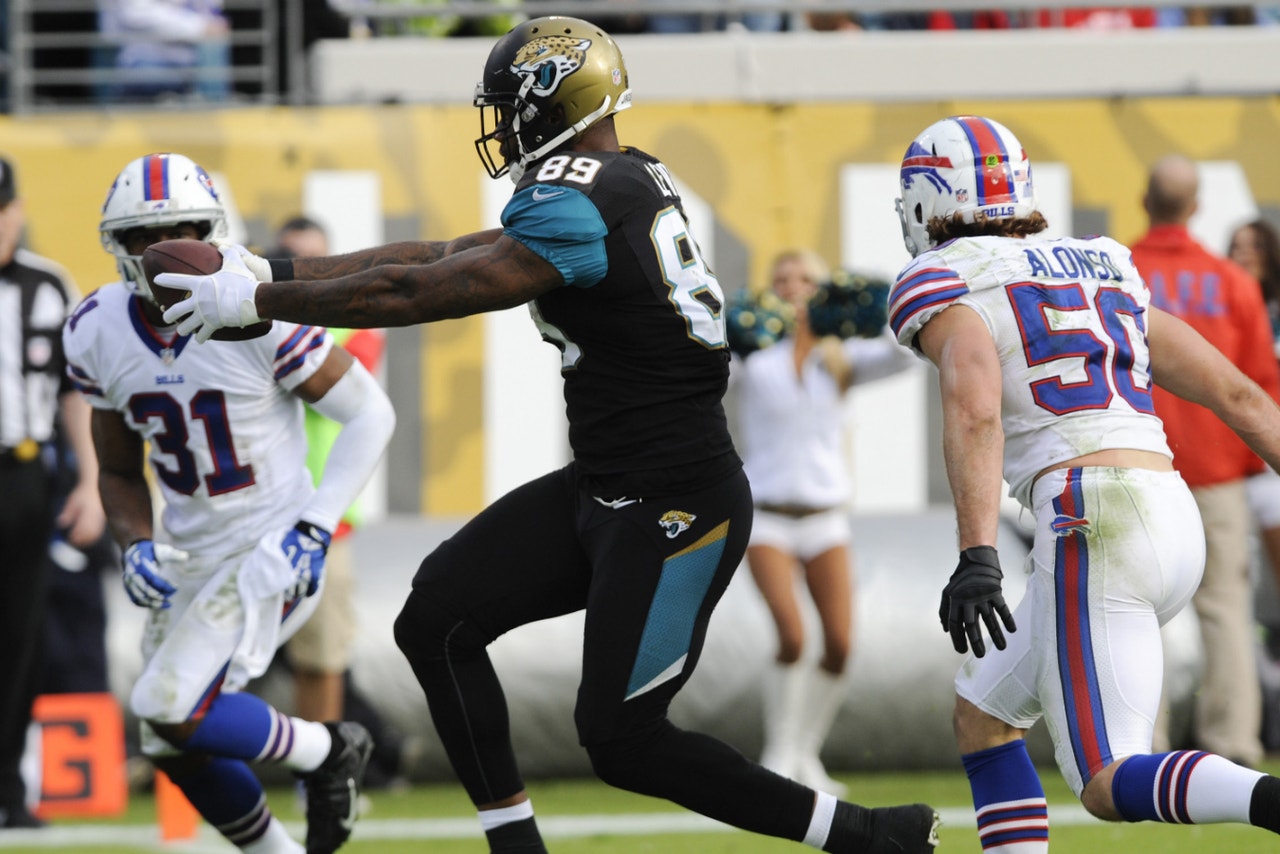 Jacksonville tight end Marcedes Lewis missed five of the season's first six games with a lingering calf injury.        
JACKSONVILLE, Fla. -- Nobody is about to confuse the Jacksonville Jaguars with the Denver Broncos, much less Chad Henne with Peyton Manning.
But after a dizzying assortment of transactions during the offseason and preseason, and despite a near-total turnover in starting personnel since the regular season began, the Jaguars' offense is turning things around.
Even without their leading rusher (Maurice Jones-Drew) and receiver (Cecil Shorts III), the Jaguars finished with 354 total yards last Sunday in their 27-20 loss to the Buffalo Bills. That figure was only nine yards shy of their season high set Oct. 6 at St. Louis when Henne took over for good at quarterback for Blaine Gabbert during the second quarter. He still had Justin Blackmon available as a target to go with Shorts.
In its four games prior to losing to the Rams, Jacksonville never had more than 265 yards of total offense. That explains in large part why they're still near the bottom of the NFL in several major statistical categories. At 290.1 yards a game, the Jaguars are ranked ahead of only the Tampa Bay Buccaneers. Only the Pittsburgh Steelers and Atlanta Falcons, two of the league's biggest disappointments, have rushed for fewer yards.
Yet that 82.5-yard figure is misleading. In their first eight games of the season, the Jaguars went 0-8 and averaged 66.4 yards rushing a game. Since the bye week, they are averaging 104 yards and have gone over the 100-yard mark each of the past four weeks.
Trying to extend that streak to five in a row this Sunday against the Tennessee Titans will present a formidable challenge.
Although the Jaguars won the earlier meeting to finally give coach Gus Bradley his first victory, the Titans held them to 54 yards on the ground. Jones-Drew, who could miss a second consecutive game because of a hamstring injury, managed only 41 yards on 21 carries.
Other than center Brad Meester and right guard Uche Nwaneri, the Jaguars started a completely different group of players on offense against the Bills than they did in their opener to the Kansas City Chiefs. While they went with two tight ends to begin the game against the Chiefs, neither one was Marcedes Lewis, who was inactive for five of the first six games due to a lingering calf injury.
Earlier this week, Bradley cited the return to health of Lewis as a big reason why Jones-Drew and now Jordan Todman have found more room to run.
"The offensive line is playing better," Bradley said. "But he's been a key."
Lewis' blocking hasn't come at the complete expense of his receiving ability. Not even when he caught 10 touchdown passes and reached the Pro Bowl in 2010 did he have a scoring catch in three consecutive games like he has now.
"Just being able to contribute and help the offense move so we're able to click," he said. "That's how it's supposed to be, and it's good that we're starting to move in that direction."
The offensive line is perhaps the most interesting case study on the team.
Meester, who announced Tuesday that he's retiring at the end of the season at age 36, and Nwaneri, have been the only constants while the spots around them have gone through upheaval. Left guard Will Rackley (concussion) was placed on injured reserve, along with Shorts, earlier this week. Mike Brewster started in place of him for the third time this season against the Bills, but he fractured his left ankle during the second quarter. That left the Jaguars little choice but to go with second-year pro Jacques McClendon, who had been waived by them in September and again in early October.
First-round draft pick Luke Joeckel began at right tackle and was moved to the left side when Eugene Monroe was traded to the Baltimore Ravens. His season ended with a broken ankle against the Rams, but Cameron Bradfield and Austin Pasztor have made the most of their opportunities at the tackle spots. A case can be made for Pasztor, who spent most of 2012 on the practice squad before starting at left guard for the final three games, being the most improved player on the Jaguars.
"That's how this game is," Nwaneri said. "When a guy goes down, another one steps up and plays his butt off. That's what was got out of guys (against the Bills)."
Rookie Ace Sanders and first-year players Mike Brown and Kerry Taylor opened at wide receiver as offensive coordinator Jedd Fisch has gone away from primarily using two tight ends and Will Ta'ufo'ou at fullback. Sanders is second on the team with 41 receptions, but Brown and Taylor had a total of only 24 catches between them through the first 14 games.
The Jaguars have used 32 different players in all on offense, tying them with the Bucs and the Cleveland Browns for the second-highest total in the league. The Indianapolis Colts lead with 35.
Signs of a team in flux remain.
The five times Henne got sacked against the Bills raised the Jaguars' total in that category to 45, more than everyone except the Miami Dolphins and the New York Jets. And while they have lost only five fumbles, two were by Denard Robinson, who has a total of just 19 carries, four kickoff returns and no receptions in his rookie season.
Along with the shortcomings, there are success stories like Todman, who is coming off a 109-yard outing in his first start.
"I knew I had the ability to go over 100 yards, and they helped me," he said of his blocking. "They did their job, and we put it together."
You can follow Ken Hornack on Twitter @HornackFSFla or email him at khornack32176@gmail.com.
---