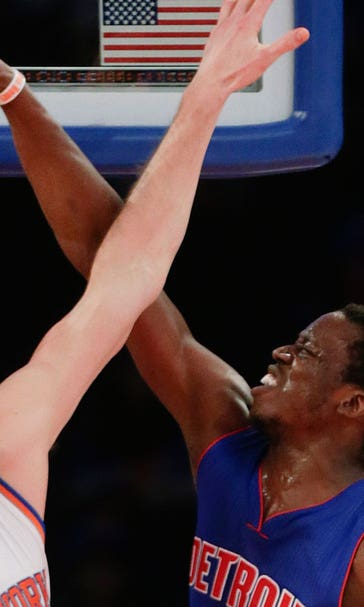 Jackson leads Pistons past Knicks in season finale
April 15, 2015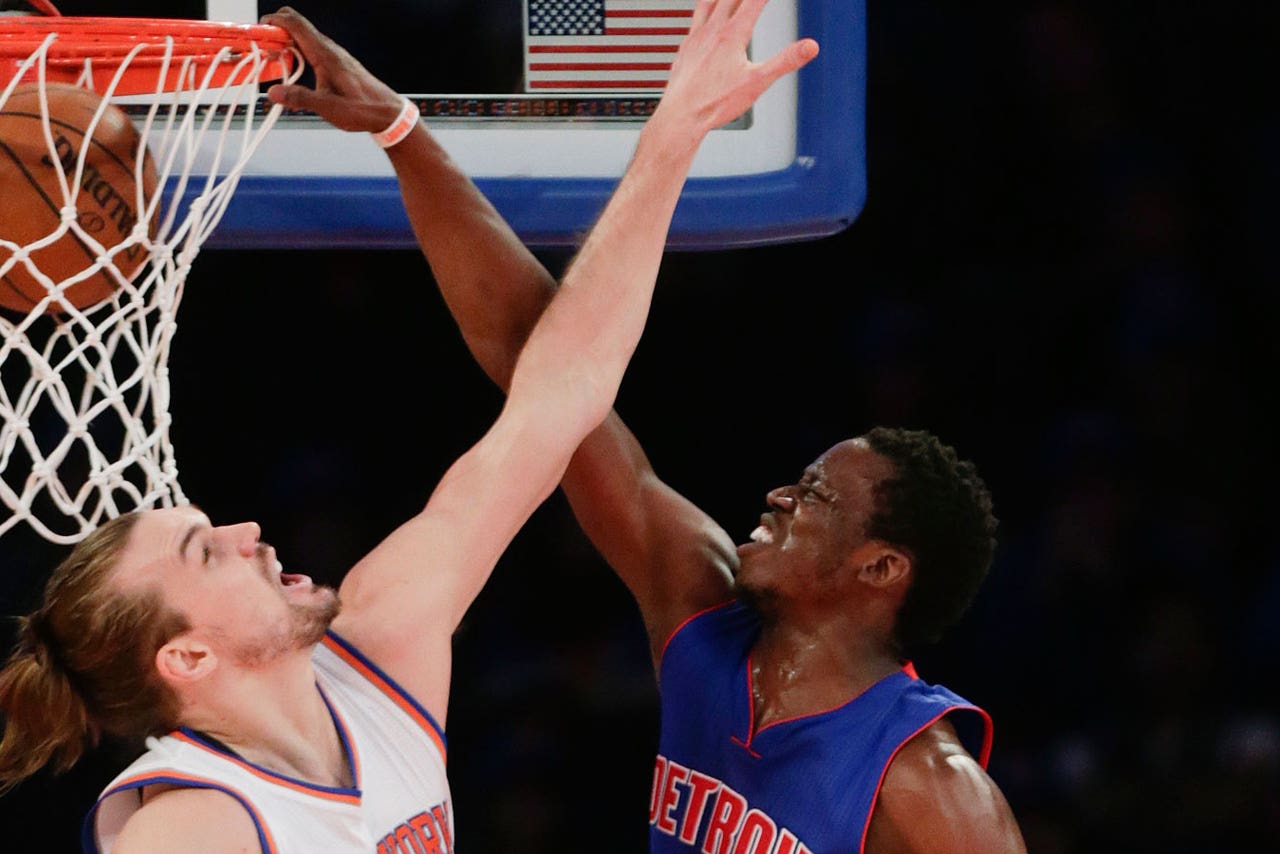 NEW YORK (AP) -- The Detroit Pistons finished their season on a high note while the New York Knicks completed their worst season ever.
Reggie Jackson had 24 points and 11 assists in the Pistons' 112-90 victory on Wednesday night. Andre Drummond and Kentavious Caldwell-Pope each had 17 points for Detroit. Caron Butler had 14, and Greg Monroe, Anthony Tolliver and Jodie Meeks each had 10.
Tim Hardaway Jr. led the Knicks with 25 points, and Cole Aldrich added a career-high 24.
The Pistons (32-50) finished with their most wins since going 39-43 in 2008-09, the last season that they made the playoffs.
"The last two-thirds of the year I thought was pretty good," said coach Stan Van Gundy. "We were 27-27 over the last two-thirds, which put us in the top four or five in the East. To go from 5-23 to that is a remarkable improvement."
On the other end, the Knicks (17-65) set a franchise record for fewest wins and finished with the second-worst record in the NBA. They have a 19.9 percent chance of getting the first pick in the lottery and can't pick lower than fifth.
"It obviously was a difficult season for us. We were forced to deal with some realities," said coach Derek Fisher. "We got a lot accomplished internally, and I think we set some new standards on what we expect from players who play for this organization."
The Knicks (17-65) also set the franchise record for most losses and worst winning percentage (.203). The team's previous worst record was 21-59 (.263) in 1962-63.
Drummond, who finished with 12 rebounds, hit the game's first basket and Detroit never trailed.
"We had our ups and downs this season, but the team stayed together," Drummond said. "It was a long year. A lot of things happened, but I'm happy how we responded."
After Aldrich tied it at 11 on a putback layup with 7:59 to go in the first quarter, the Pistons scored the next four points and never surrendered the lead.
The Pistons took their biggest lead of the first half, 50-35, on Drummond's layup with 4:58 remaining in the second quarter.
The Knicks pulled within eight at 54-46 on Hardaway's two free throws with 43 seconds left, but followed that with two of their 14 first-half turnovers on their last two possessions. Caldwell-Pope's free throw with 2 seconds left gave the Pistons a 55-46 lead at intermission.
After the Pistons built their lead back up to 13 points, 59-46, the Knicks put together a 15-2 run and pulled to 63-61 on Jason Smith's free throw with 7:07 left.
However, that was as close as the Knicks got as the Pistons responded with a 21-9 streak to take an 84-70 lead after three quarters.
"They came out and hit us in the mouth. They did the same thing the last time we played them at home," Jackson said. "We didn't want that same salty taste in our mouth so we decided it was time to lock in and not let up easy shots."
TIP-INS
Pistons: Greg Monroe (16.0 ppg, 10.3 rpg) and Andre Drummond (13.7 ppg, 13.5 rpg), are one of only two pair of teammates who are averaging double-doubles in the NBA this season. The only other twosome is DeAndre Jordan (11.5 ppg, 15.0 rpg) and Chris Paul (19.1 ppg, 10.2 apg) of the Clippers.
Knicks: Seven of the Knicks' top nine scores in 2014-15 did not play in the season finale. Carmelo Anthony (24.2 ppg), Andrea Bargnani (14.8), Alexey Shved (14.8), and Jose Calderon (9.1) are all injured, while Amare Stoudemire (12.0), J.R. Smith (10.9) and Iman Shumpert (9.3) were all traded. Jason Smith is the only Knick to play all 82 games, while Calderon (42), Langston Galloway (41) and Anthony (40) are the only Knicks to start at least 40 games this season.
---