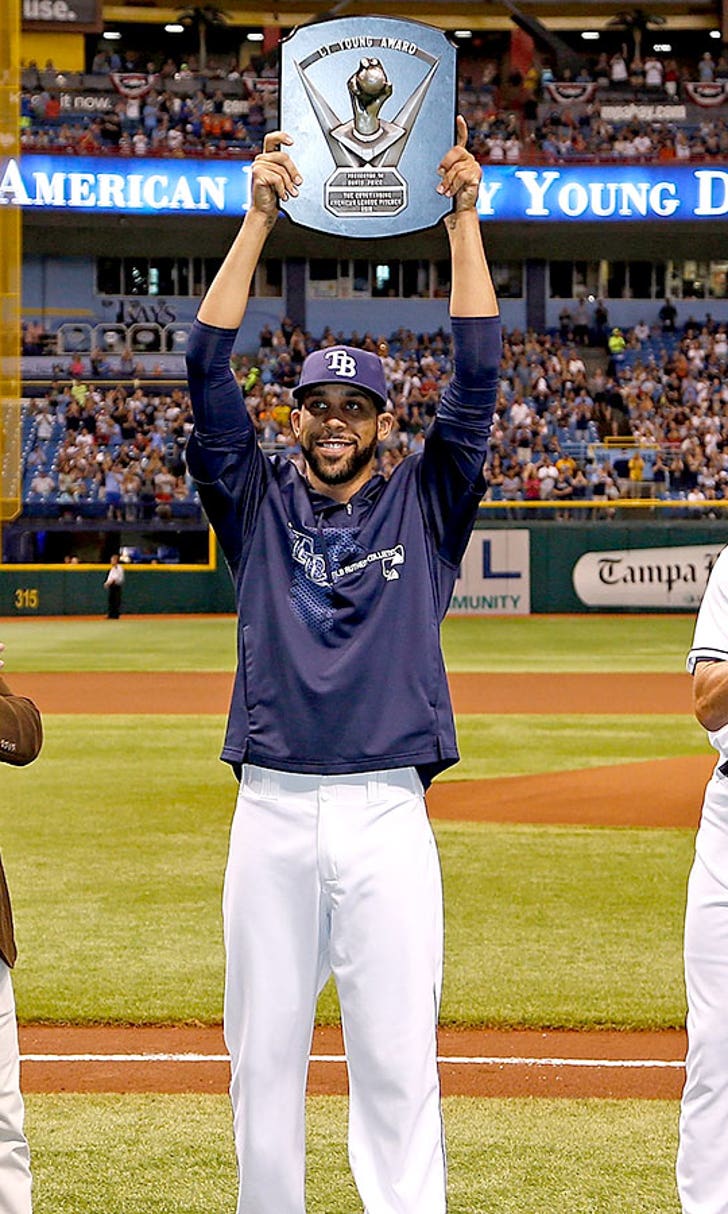 In Rays we trust
BY foxsports • August 3, 2014
The Tampa Bay Rays determined that it was the ideal time to move David Price and received the top package the market would bear. To call the Rays losers at the trade deadline is to blindly ignore their track record and irresponsibly overvalue the power of players with sexy names.
The perception that the Rays received a paltry haul is based on the precedent set by the 2012 deal in which they acquired Wil Myers, Jake Odorizzi, Mike Montgomery and Patrick Leonard from the Royals. We are now two years down the road, and prospects are overvalued by the industry.
My grandfather remembers when he could buy a bottle of Pepsi for a nickel. He's still pissed off about the price hike. Regardless of how he feels about it, when he walks into a 7-Eleven, he will leave thirsty if he's not willing to pony up a buck fifty. When he does crack, everyone his age points and yells "How could you spend six quarters on soda!"
Now, back to the future.
This column isn't meant to draw attention to the value of Drew Smyly, Nick Franklin and Willy Adames. Many others have done that already. We've seen comparisons to David Price from the perspectives of both wins and monetary value. I don't need to tell you that the perceived winners of deals don't necessarily hold up in hindsight. We already know that. Yawn.
Let's step back from baseball for a moment. When elite companies - like Apple or Annie's Natural Foods - release less than stellar earnings reports or unsavory news, as investors, we have a choice. We can panic and sell our positions at a loss or we can examine why the landscape seems less fruitful than before. Stepping back from the ledge, we should trust the history of the company and remember why we invested in the first place. Sometimes, taking a small step back is needed for bigger steps forward.
Historically, exceptional companies are built by the actions of stellar executives and employees. We learn to trust them based on their body of work. We aren't necessarily privy to their proprietary information, but we know their job is to be smarter than us when it comes to their strategies. I'm not advocating blind faith. We should always question and challenge the process. However, I am suggesting that we display some level of confidence in the men and women steering the ship if they've continually given us reason to.
Turning back to baseball, I remember watching the great Todd Helton work in the cage in the early 2000s. He would tweak his swing for reasons incomprehensible to casual fans. In the immediate plate appearances after, his timing and rhythm looked off. The spike in production would come, but only after a few days of growing pains. Helton put up better than 160 wRC+ in the two previous seasons. We, as a team, trusted him to make the adjustments he needed. He was going to produce because by that point, he knew how to do so and was willing to work tirelessly and efficiently. He'd proven that throughout his career.
The Rays, and a few other elite baseball teams, are like Helton – proven and trustworthy.
If you're listening to talk radio, you may think Andrew Friedman watched a few Nick Franklin highlights, checked out Drew Smyly's projections for the next five years, and perhaps called up a scout who saw Adames in the Midwest League for a game or two. A quick note to Rays' president Matt Silverman for approval, a phone call to Dave Dombrowski to execute the deal, and you're envisioning Friedman leaning back in his office chair, satisfied and smug.
This scenario couldn't be farther from the truth. The baseball community suggesting that the Rays took pennies on the dollar for David Price is akin to assuming that we know scouting, player development, and our sport's analytics better than a group which has historically outperformed the industry.
Friedman and the Rays don't mind. They are not looking to tell us how they get from point A to point B. When you have a machine that runs on a more efficient, cheaper fuel, it's not prudent to show your competition the blueprint.
We do know a few things. These elements, crucial to the Rays' success, are not proprietary, but certainly aren't universally understood. Countless scouts, front office personnel, player development employees, and analytics specialists worked tirelessly to determine if this deal was the best available.
The Baseball Operations department lost sleep poring over possible outcomes. Studies were performed. Packages were weighed against each other. Qualified baseball men sat in AL Central ballparks watching Smyly pitch and in the Northwest observing Franklin. Adames was thoroughly scrutinized. Teammates were polled. Character checks were performed. Data was utilized not only from 2014, but many years before.
Perhaps someone outside the Rays organization has a better read on David Price. Remember though, this is a group that has had him since his baseball infancy. They've watched him develop as a pitcher, a teammate, and a man. They supported him publicly through some PR hiccups and assisted in his growth process. Ask yourself this: Who is better equipped to evaluate the piece they parted with and his value?
Have the Rays earned your faith? They've had six straight winning seasons out of the last six, a feat only two other clubs can claim - the Cardinals and Yankees. We know about the loot those two organizations have dropped. Of course, the Rays have done this without their payroll ever eclipsing $79 million.
As an investor, blind faith is never worthy of applause, but paying attention to the companies Warren Buffett is buying and selling is an exercise with merit. When he makes a move that doesn't immediately hit home, I don't throw my hands up in frustration, I lean in and pay attention.
I haven't seen Willy Adames play yet, but I just bought a bunch of shares.
---