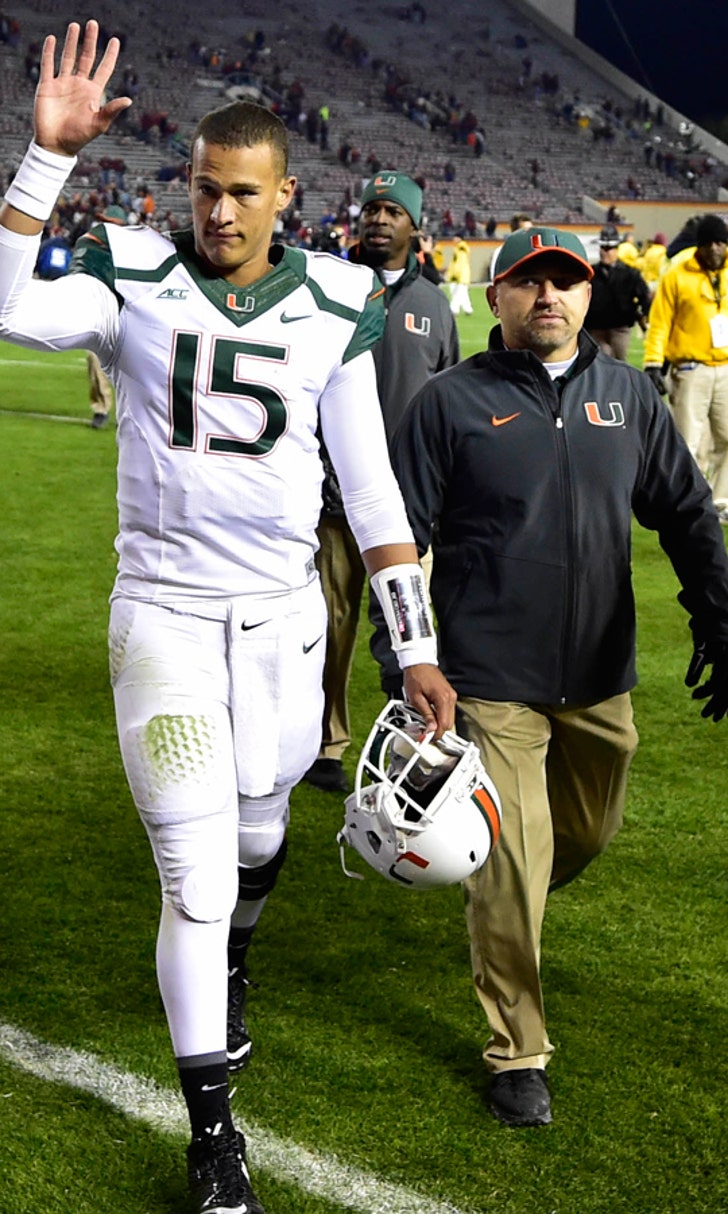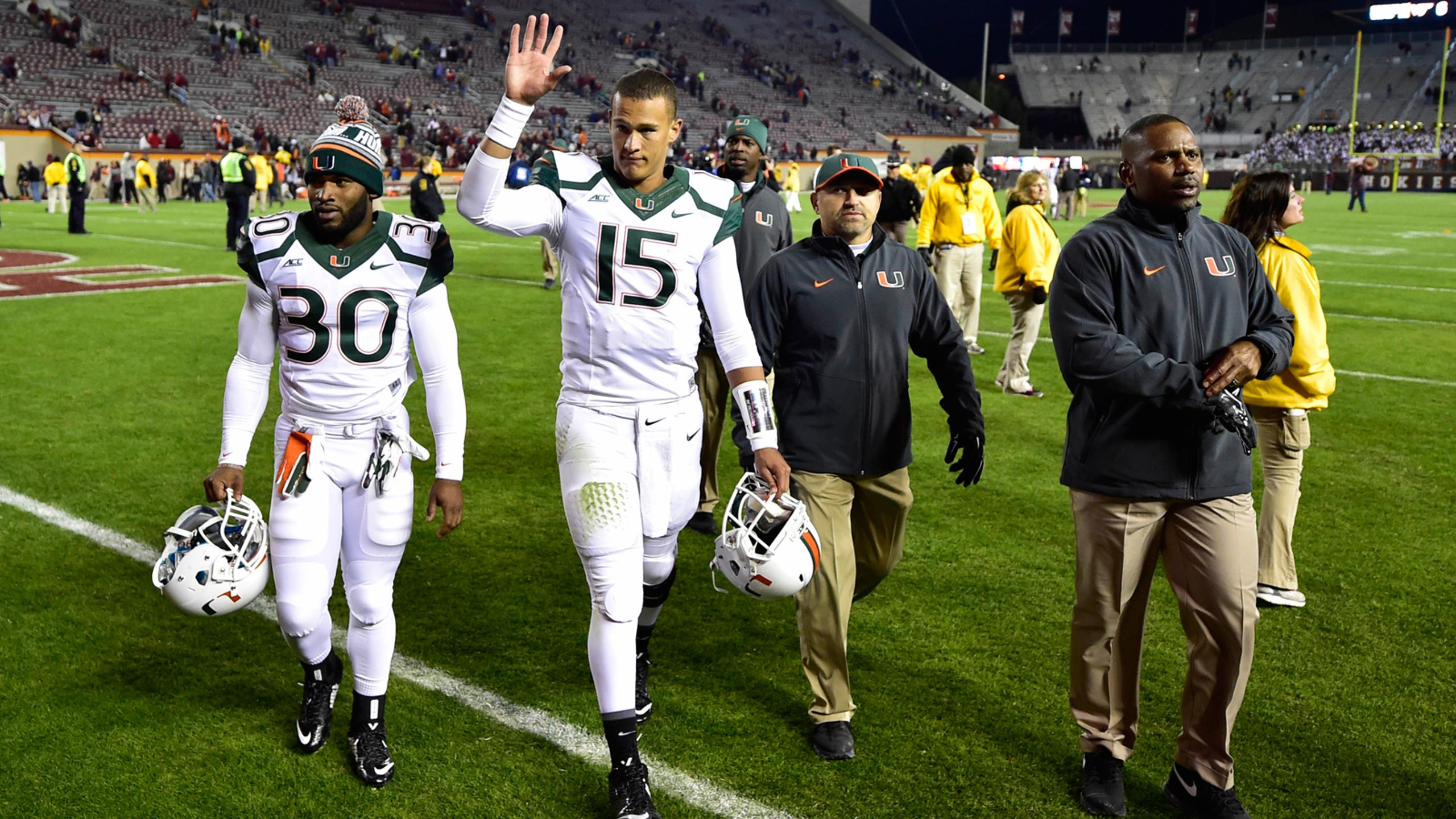 Hurricanes notes: Eight games in, Miami finally turns in complete effort
BY foxsports • October 24, 2014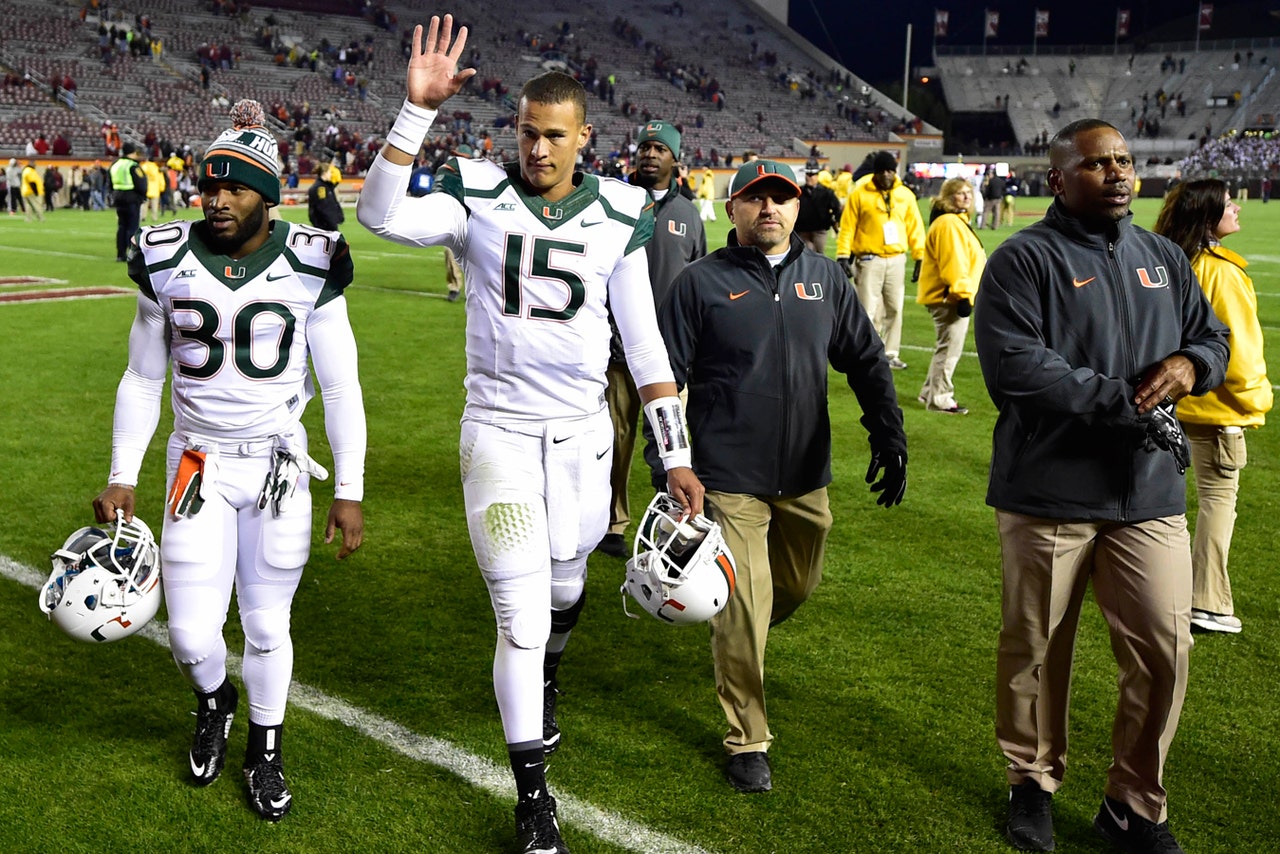 It took the eighth game of the season for the Miami Hurricanes to execute their most complete effort, but it quickly became one of the more dominant wins in recent memory.
During Thursday night's 30-6 victory on the road over the Virginia Tech Hokies, all three phases performed their jobs at a near-flawless level.
"I think obviously it was the most complete game we played this year, and I thought Cincinnati we played really well in all three units for three quarters and this one I thought we played real well," Golden said Friday afternoon via teleconference. "We could've done a few things better late in the game, but again your mindset changes a little bit when you're up 24 or 31 late in the game. ... I thought it was a good performance."
The offense tallied 456 yards and a season-high 37:52 time of possession. The defense held the Hokies to just 262 yards, forcing fumbles on three consecutive second-half possessions. Sophomore Justin Vogel pinned Virginia Tech inside its 20-yard line on three punts. He also notched a touchback. Freshman Michael Badgley connected on his lone field goal.
Miami hadn't won in Blacksburg since 2005. The victory marked its first on the road this season after losses at Louisville, Nebraska and Georgia Tech.
Asked whether this result proved to be one of the program's bigger wins, Golden pushed aside that notion.
"I don't get into all that respectfully," Golden said. "You guys analyze that. We're pretty much putting a bow on this thing by 6:30 tonight and then moving on to North Carolina. I'll leave that analysis up to you. A year ago we needed a two-minute drive to win at Chapel Hill.
"It seems like the last two years we've won big games on Thursday nights in really tough environments. I think from that standpoint our team had a good look, a lot of confidence and again there's a lot of teams that go into that place and fall victim. I was glad we didn't."
After opening the season with seven straight games, the Hurricanes used the open week to recuperate. Golden believed Thursday's performance could also be attributed to the extra rest.
Rather than overwork his players, the team practiced just once last week. It didn't have a tactical advantage, as Golden put it. The previous three road games also took place at night, with the team not arriving back in Miami until 5 a.m.
Golden said the team would be holding a meeting late Friday afternoon to watch film before getting the weekend off. Everyone would return to the Greentree Practice Fields Monday morning.
"Whenever you get a big win some guys want to sweep stuff under the rug," Golden said. "We don't want to do that. We want to make sure if we make mistakes whether it's technique or assignments or mental errors -- whatever the case may be -- depending on your position that we clean it up."
ON THE MEND
Hamstring injuries to freshman running back Joe Yearby and freshman linebacker Juwon Young appear to be short-term deals.
Yearby didn't play on Thursday, leaving the Hurricanes with junior Duke Johnson and sophomore Gus Edwards as the two guys out of the backfield. Young didn't get on the stat sheet before his setback.
"I think Joe Yearby will be fine, I think Juwon Young will be fine," Golden said. "Both of those guys. Obviously (Yearby) didn't play. Juwon got hurt in the first half. Everybody else is good to go."
GOOD LUCK CHARM?
Carter Hucks, the 8-year-old from South Carolina who visited during Cincinnati week thanks to the Make-A-Wish Foundation, hung out with the team before and after Thursday's game.
Hucks, whose bone-marrow transplant was postponed this week, made the trip to Blacksburg, Virginia to watch the Hurricanes play. He was in the middle of the pregame huddle on the field and postgame celebration in the locker room.
"That was awesome," Golden said. "We have an opportunity to bring joy and fulfillment of Carter's dream to he and his family and at the same time we think he's doing the same to us. He's been a lot of fun, a lot of joy to be around. Great attitude, great personality. Obviously we're blessed to have him around. Hopefully we'll see him again soon."
You can follow Christina De Nicola on Twitter @CDeNicola13 or email her at cdenicola13@gmail.com.
---