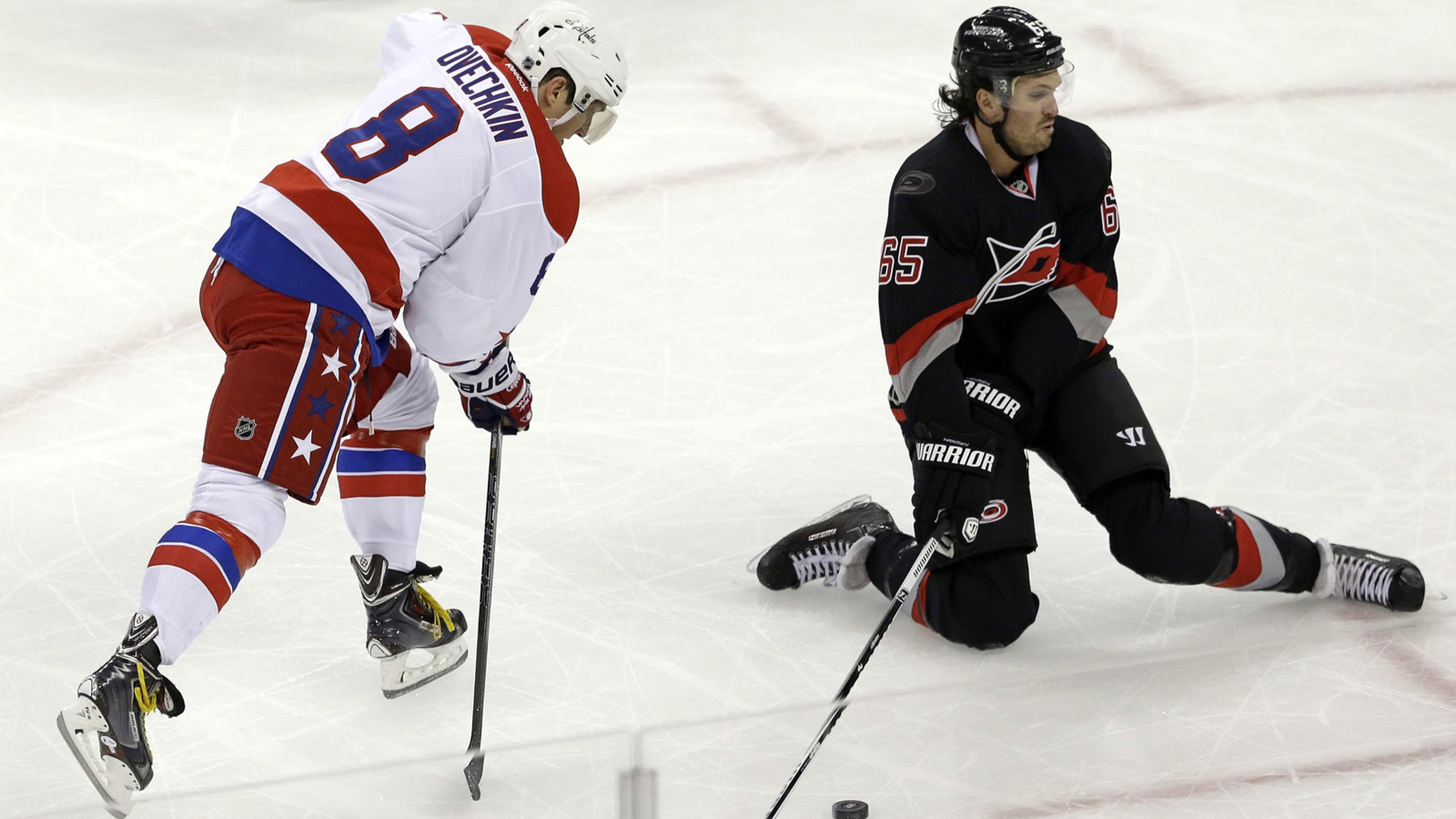 Hurricanes fail to convert chances in loss to Capitals
BY foxsports • December 21, 2013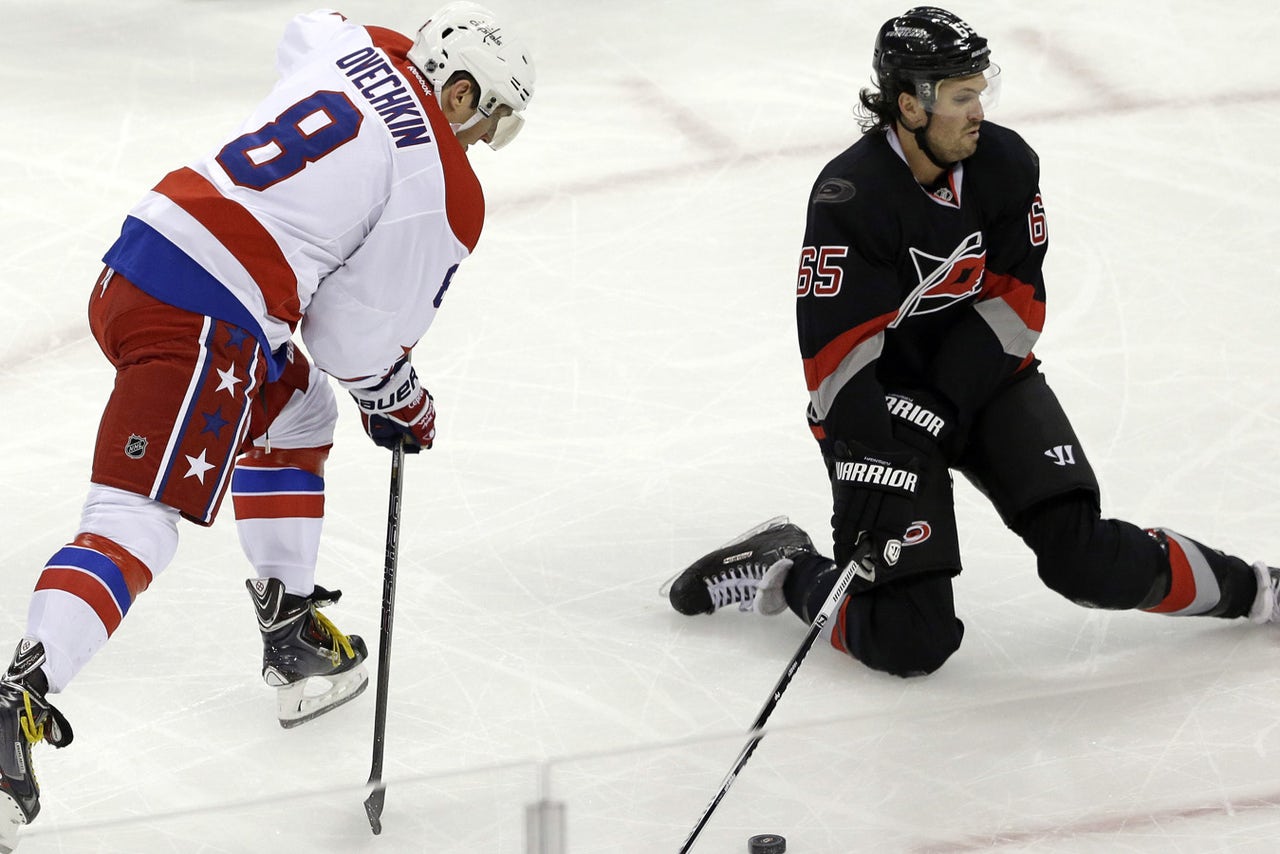 RALEIGH, N.C. -- On a night when nothing seemed to come easy for the Carolina Hurricanes, it seemed somehow appropriate that the Washington game-sealing goal was an empty-netter. Alex Ovechkin scored his 400th NHL goal against an empty net to make it 4-2 at the 19:35 mark of the third. 
It was a tale of two very different power plays coming into the game, but not so much during. Carolina has struggled with its power play all season and converted just two of five power play chances. Washington, meanwhile -- one of the best teams in the NHL on the power play -- was true to form, scoring its first three goals with a man advantage. 
Philipp Grubauer, Washington's rookie goalkeeper, moved to 4-0-1 on the season with the win and he had a number of key stops on what seemed like easy scoring chances for the Hurricanes. 
"He made big saves. We had 40-plus shots, we had quality opportunities, breakaways, shots in close -- we had enough chances to score," Carolina Hurricanes head coach Kirk Muller said. "But he did the job and he got the job done."
A number of the chances just missed. And the Capitals' goal to make it 3-2 in the second was on a play where Mike Green broke his stick and his teammate Troy Brouwer got his stick on it, deflecting it into the goal on kind of a freakish play. 
From the Canes' perspective, though, those were all missed opportunities that they'd like to have had back. 
"Just didn't seem to be getting a few bounces either. How many pucks rolled behind him that somehow end up in the net?" Jordan Staal said. "We did a good job of getting after him and getting shots and getting opportunities, I don't know how many opportunities to score goals, they just didn't go in."
Ultimately, though, Staal didn't want anyone on the team feeling sorry for themselves. They had chances to win the game, or at least tie it, and couldn't do it. And more importantly, they couldn't kill Washington's power plays. 
We could go with the (bad) bounces ... or go with our (penalty kill) and what we did wrong," Staal said. "If our PK was better, we could've found a way to win that game."
At 14-14-7, the Hurricanes have managed to fight their way back into almost every game they seemed out of this season to at least get a point out of it. That wasn't the case on Friday. In spite of looking as crisp offensively as they have all season in the 5-on-5, they couldn't get anything out of it with actual goals. 
"That's just the way it is," Jeff Skinner said. "I think we've got enough guys that have been around a long enough time to know that that's the way it goes sometimes. You're going to have games where you deserve to lose and you win, and you're going to have games where you deserve a little bit more than you get. I think that's why we play 82 games. So we've got to find a way to regroup, take some of the positives and bring them tomorrow."
Now, they will have less than 24 hours off before traveling to Tampa to face the Lightning on Saturday night. 
But Muller said his team has responded well in situations like this all season. This is just one more. 
"Our guys have been really resilient. You've got to look at that whole road trip. You're not going to always get the outcome that you want, but we've been battling like this for awhile, picking up points here and there," Muller said. 
"I think they understand that they just stay the course, go right back, play the same way in Tampa. It'll be another tough game but over time if you keep playing like that, the results are generally in your favor. We're playing good hockey. We've just got to find ways to pick up points when we are playing well."
---