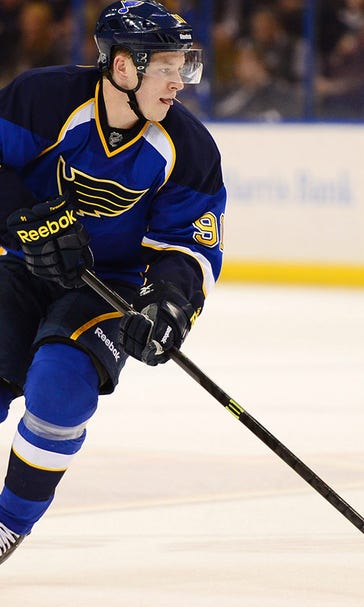 How will Blues handle loss of Tarasenko? Much like they've handled all their other injuries
March 17, 2014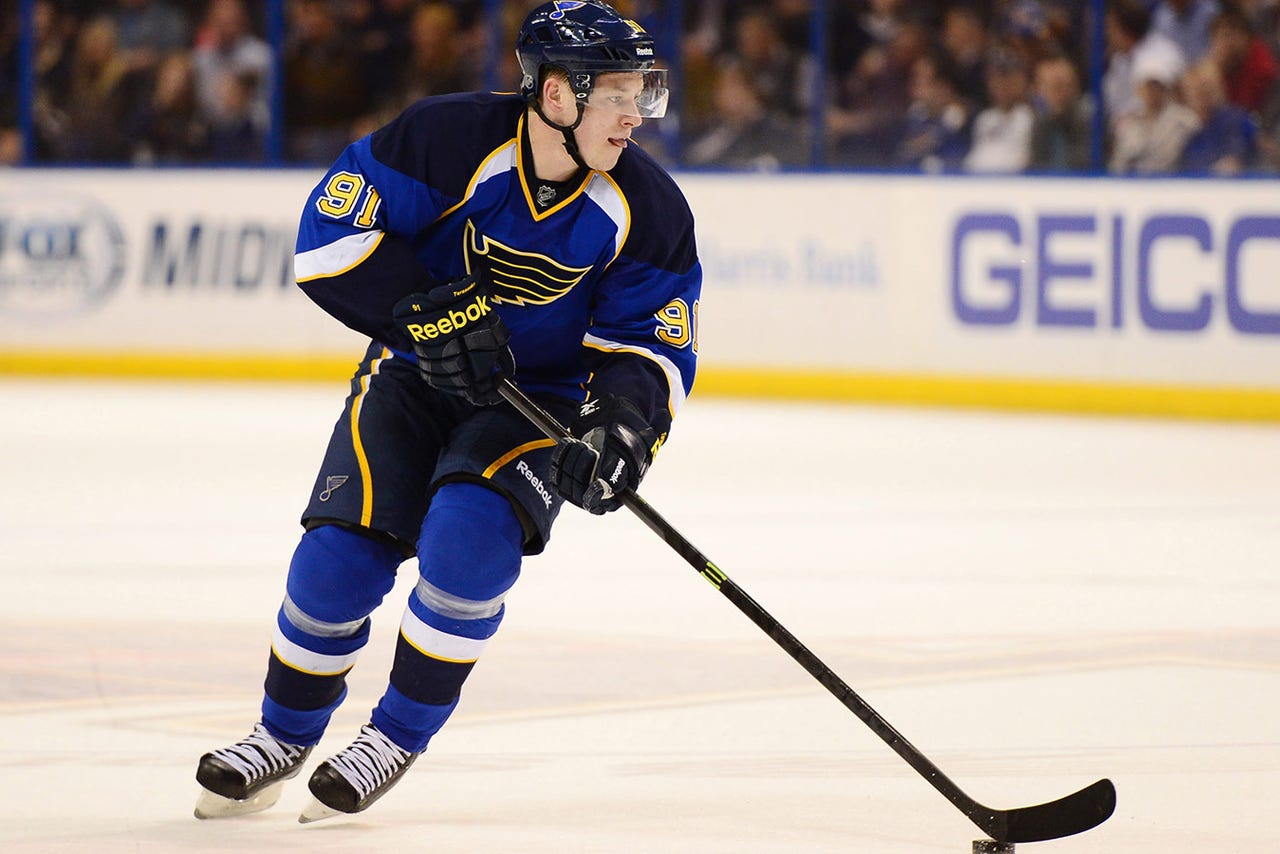 ST. LOUIS -- The news broke Sunday evening that St. Louis Blues forward Vladimir Tarasenko would undergo surgery after injuring his right hand in Saturday's win in Nashville. By Monday morning, the Blues were already talking about how to replace the Russian winger.
Tarasenko will have surgery Wednesday and then be reevaluated in six weeks.
"The positive part for Tarasenko is he's going to come back as fast as he can," Blues coach Ken Hitchcock said. "Because it's a hand injury, he's going to come back in amazing shape and he's going to be able to hit the ground running. He's going to be a guy that is hopefully able to help us (in the playoffs). Knowing him, he's going to get back as soon as he can and work his tail off. Probably six-seven days post-surgery he's going to be able to start skating full-blast, so he's going to be in great shape.
"We can turn this into a positive. Guys like (Dmitrij) Jaskin and (Magnus) Paajarvi, young players, are going to be able to show us what they've got."
The Blues have dealt with some key injuries this season but have been able to keep rolling. St. Louis, which hosts Winnipeg on Monday night, is 46-14-7 with 99 points after 67 games.
Only three players -- T.J. Oshie, Alex Pietrangelo and Jay Bouwmeester -- have played in every Blues game this season.
Jordan Leopold has missed most of the season with a hand injury and then more recently a high-ankle sprain. Ryan Reaves missed 17 games with a broken hand. Vladimir Sobotka just returned after missing 12 games with a broken kneecap and missed time with an upper-body injury earlier in the season. Alexander Steen, who has a team-high and career-high 30 goals, missed 11 games with concussion symptoms. Roman Polak missed 10 games with a lower-body injury. David Backes missed five games with an upper-body injury.
Watch the 'Blues Live' pregame and postgame shows before and after every St. Louis Blues game on FOX Sports Midwest.
"We had some injuries with Steen and Backes earlier in the year and we were able to sustain our momentum and keep winning games -- and nothing changes now," defenseman Kevin Shattenkirk said. "I think it's just a matter of keep playing the way we have been and playing smart hockey and the goals will go in for us."
Tarasenko ranks sixth on the Blues in scoring with 43 points (21 goals, 22 assists) and had a plus-20 ranking in 64 games. He scored a goal in the win at Nashville, giving him nine points in his last eight games.
"It's tough," forward Brenden Morrow said. "He's been a heck of a player for us, but I think coming into this season one of the things we talked about was our depth and this is where we need it to come through for us. It's obviously a tough loss and a teammate we wish was in the lineup, but somebody's gotta find a way to step up and pick up the slack."
That depth again will be tested during the 15 remaining regular-season games and then into the Western Conference playoffs. Younger guys such as Paajarvi and Jaskin will be able to earn more opportunities, and such veterans as Morrow, Derek Roy and Steve Ott will be asked to step up their games even more.
"It's always hard to replace such a talent," Ott said. "He's got 20-something goals now on the year. It's not one guy comes in and just replaces a guy like that. You have to do it collectively. I think we're capable with bringing up Jasks and now Roysie (Derek Roy) coming back in the lineup. Guys have to collectively bring up their game."
OSHIE BABY
Oshie missed the morning skate Monday while he and his fiancee, Lauren Cosgrove, were headed to the hospital for the birth of a baby girl. The Blues later announced that Lyla Grace Oshie was born at 9:57 a.m.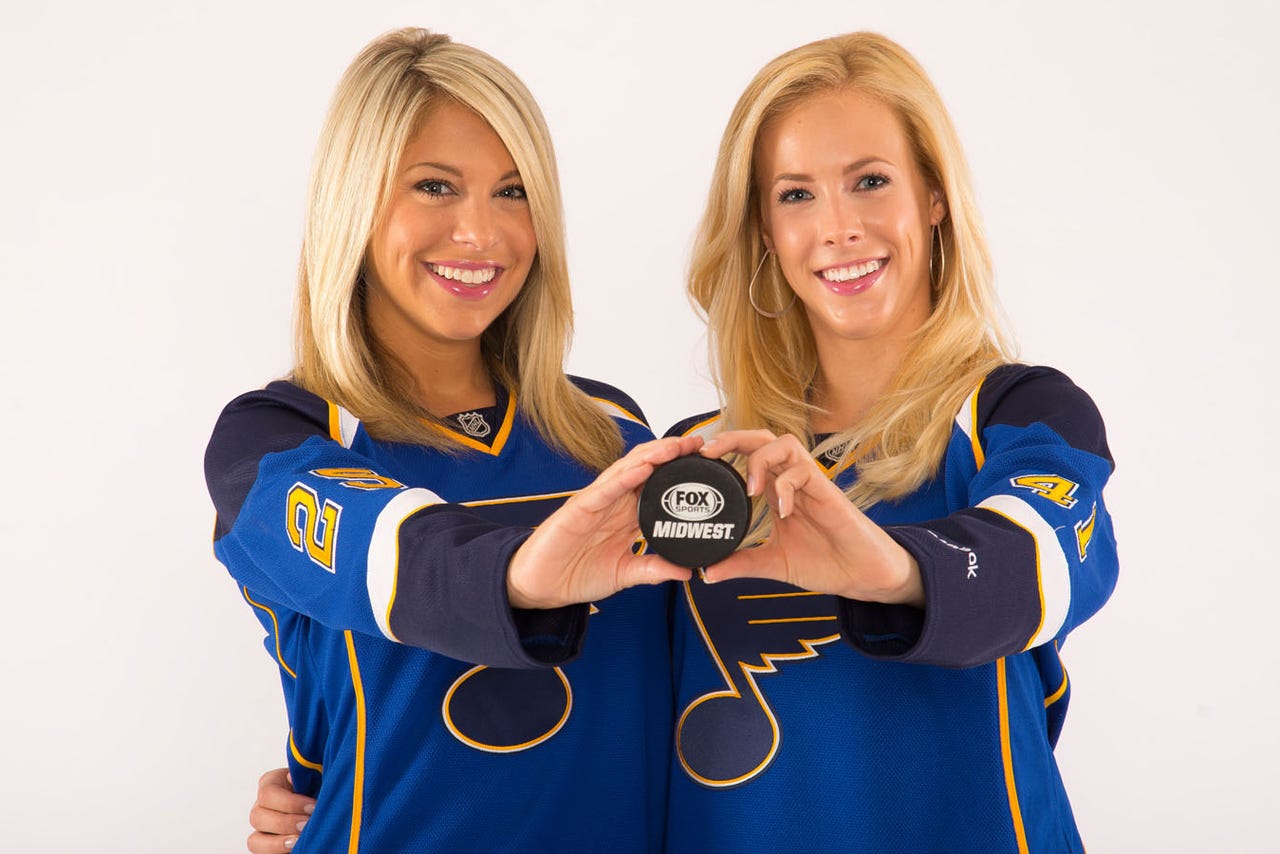 FOX SPORTS MIDWEST GIRLS: Read their bios, check out their upcoming appearances and view their photo galleries and videos.
The status of the Blues' leading scorer for Monday night's game against visiting Winnipeg was still up in the air.
"It's up to him," Hitchcock said. "It's 100 percent up to him. Whatever Osh wants to do, we're fully supporting him. So if he wants to play, he can play, and if he wants to stay with his new family, he's welcome to do that, too."
ROOKIE JASKIN RECALLED
Jaskin, the rookie winger from Russia, has been recalled from the Chicago Wolves so many times this season it's difficult for him to remember the exact number. Officially, his recall on Sunday in response to Tarasenko being put on injured reserve is his sixth such move of the season.
He has impressed the St. Louis coaches and his teammates during his call-ups this season even though he has appeared in only nine games.
"He's a different player than Tarasenko," Hitchcock said. "Tarasenko is a rush-attack player. Jaskin is more of a down-low player. But both got great shots, great hands and are big guys.
"I think we'll look at Jaskin on what we think fits roster-wise. I think the one thing we want to do with Jask is get him up to speed. He's had so much success at the American Hockey League on the power play, running it, being able to be the control guy there. We want to get him up to speed here in the next seven or eight days working on our power play. So we'll spend extra time with him on that.
"But I'm not sure where he fits roster-wise. Paajarvi (upper-body injury) is going to be back in a few days, hopefully. Obviously, Osh will be back. If he's not back tonight, he'll be back in Chicago. So it's going to put him in a different position, but we still want to get him some power-play time and take advantage of his skill set."
Morrow called Jaskin a big, skilled guy who has confidence in himself and has played well for the Blues whenever he's been with them. Shattenkirk described Jaskin as a guy who plays a big, heavy game, protects the puck very well in the corners, has a good shot and creates a lot of rebounds and second chances.
Jaskin has accounted for two points (one goal, one assist) in nine games with the Blues. He figures to get a look Monday night with Paajarvi still on the mend.
"I don't think it's changed my role, but I'm going to get more opportunities and maybe more scoring chances and more time on the ice, so that's maybe what's going to change, but I don't think my role is going to change," Jaskin said. "My role is going to be the same. Just hard work for the guys and try to make some chances for them, and maybe they will make some chances for me."
During Monday's morning skate, Jaskin was paired on a line with Sobotka and Patrik Berglund. But that could change against the Jets if Oshie returns for the game.
"He's a down-low guy," Hitchcock said of Jaskin. "The line of Oshie and Sobotka and Tarasenko was more rush-attack, so I don't know how that's going to fit. But I don't think we can judge that until Osh and Paajarvi get back in and then we'll see how the roster looks.
"But I know Jaskin's strength and all his scoring chances and opportunities are because he is just so strong on the puck. So we have to see who fits that mold. The couple times we've played him with Bergie, it's been great. So we might look at something like that here in the next few days."
BLUES SIGN DRAFT PICK
The Blues announced Monday morning that they had signed defenseman Thomas Vannelli to an entry-level contract.
Vannelli, 19, was the team's second-round pick (No. 47 overall) in the 2013 draft. He has played in 59 games for the Medicine Hat Tigers of the Western Hockey League this season and has 41 points (14 goals, 27 assists) and 34 penalty minutes. The 6-foot-2, 165-pounder is a native of Minnetonka, Minn.
LEOPOLD HAS FLU
Leopold's first full season with the Blues has not gone according to plan.
The veteran defenseman, whom St. Louis traded for late last season from Buffalo and then re-signed to a two-year deal, has appeared in just 24 of the team's 67 games this season. Leopold, 33, can't seem to catch a break this winter as he was expected to return from the ankle injury but will now miss tonight's game with an illness.
"Leopold was going to play today but he got the flu," Hitchcock said. "So he'll be ready to go in Chicago. He was green-lighted to go and then got sick yesterday."
You can follow Nate Latsch on Twitter (@natelatsch) or email him at natelatsch@gmail.com. 
---