Hosmer's two-run moon shot sends Royals to 4-1 win over Angels
BY foxsports • August 14, 2015
KANSAS CITY, Mo. -- Before every game, Royals pitching coach David Eiland checks on each of his relievers, just to see how they're feeling and make sure they would be available if called upon.
Not only did Greg Holland say he was available, he practically demanded to pitch.
The former All-Star closer rebounded from a disastrous blown save with a breezy ninth inning Friday night, helping a strong start by Danny Duffy and a two-run homer by Eric Hosmer stand up in a 4-1 victory over the Los Angeles Angels.
"I knew when we left here yesterday he wanted to pitch," Royals manager Ned Yost said. 'then he told Dave in batting practice, he said, 'I'm great. I want back in there if it's a save.'"
Holland earned his 26th save after a scoreless inning apiece from Ryan Madson and Kelvin Herrera, finishing off a solid bounce-back performance by the normally staunch Royals bullpen.
All-Star reliever Wade Davis and Holland combined to cough up a four-run lead in a 7-6 loss on Thursday night, with Holland surrendering four runs without recording an out.
"We're a good enough team to bounce back. Greg went out and did his thing tonight," said Duffy, who allowed five hits without a walk in six innings -- though he did hit three batters to match a franchise record. "We're a very confident group. We just erase and re-record."
Duffy (6-5) managed to wiggle out of a handful of jams, leaving six Angels on base -- three in scoring position. Los Angeles wound up leaving 10 stranded in the game.
The Royals mustered just one hit off Jered Weaver (4-9) until the sixth, when Ben Zobrist led off with a double to right. He tied the game moments later when first baseman Albert Pujols let a sharply hit grounder by Lorenzo Cain through his legs for an error.
"A tough hop, nothing I could do," he said.
Hosmer followed with his 406-foot shot over the bullpen in right field.
The Angels, meanwhile, resumed their losing ways on the road. Their victory in the opener of the four-game series had snapped their nine-game skid away from Anaheim.
The last time Angels won consecutive road games was July 3-8.
Things looked promising for them in the first inning, when Shane Victorino hit a leadoff triple and trotted home on Mike Trout's double. But the Angels' slumping offense managed three singles off Duffy over the next five innings, failing to take advantage of three hit batters.
Taylor Featherstone and Victorino were plunked back-to-back in the second to load the bases, but Kole Calhoun flied out to end the inning. Calhoun was plunked in the fifth.
The Angels also got a pair of base runners caught in rundowns in the seventh inning, which proved costly when Madson issued back-to-back walks to load the bases. But the veteran reliever eventually got Pujols to ground out to end the inning.
Weaver looked like he might make his meager run support stand up anyway. In his second start since missing a month with a hip problem, the soft-tossing right-hander beguiled the Royals with a fastball that never eclipsed 85 mph and off-speed stuff that frequently dipped into the 60s.
The Royals didn't get their first hit until Cain's weak single leading off the fourth, and didn't hit a ball hard until Zobrist's double in the sixth inning.
That proved to be the hit that got Kansas City's offense on track.
"Just one bad pitch (to Hosmer)," Weaver said. "I'm trying to drop something in there to get back in the count and he was kind of waiting for it and it's a home run."
TURNING TURNSTILES
The crowd of 36,926 pushed the Royals' season attendance 2,007,638, setting a franchise record for the fastest to reach 2 million. Kansas City has done it in 60 games, while the 1991 team needed 63 games to reach the mark.
TRAINER'S ROOM
Angels: SS Erick Aybar (back) was unavailable for the second straight day, though manager Mike Scioscia was hopeful that he will be back soon.
Royals: C Salvador Perez remained out of the starting lineup. The All-Star has not played since Tuesday because of soreness in his wrist.
UP NEXT
Angels: RHP Matt Shoemaker hopes to bounce back from a disastrous start against the White Sox, when he allowed seven runs on nine hits in 5 2/3 innings.
Royals: RHP Johnny Cueto tries to follow up a dazzling home debut with Kansas City. He tossed his sixth career shutout in a 4-0 win over Detroit on Monday.
---
---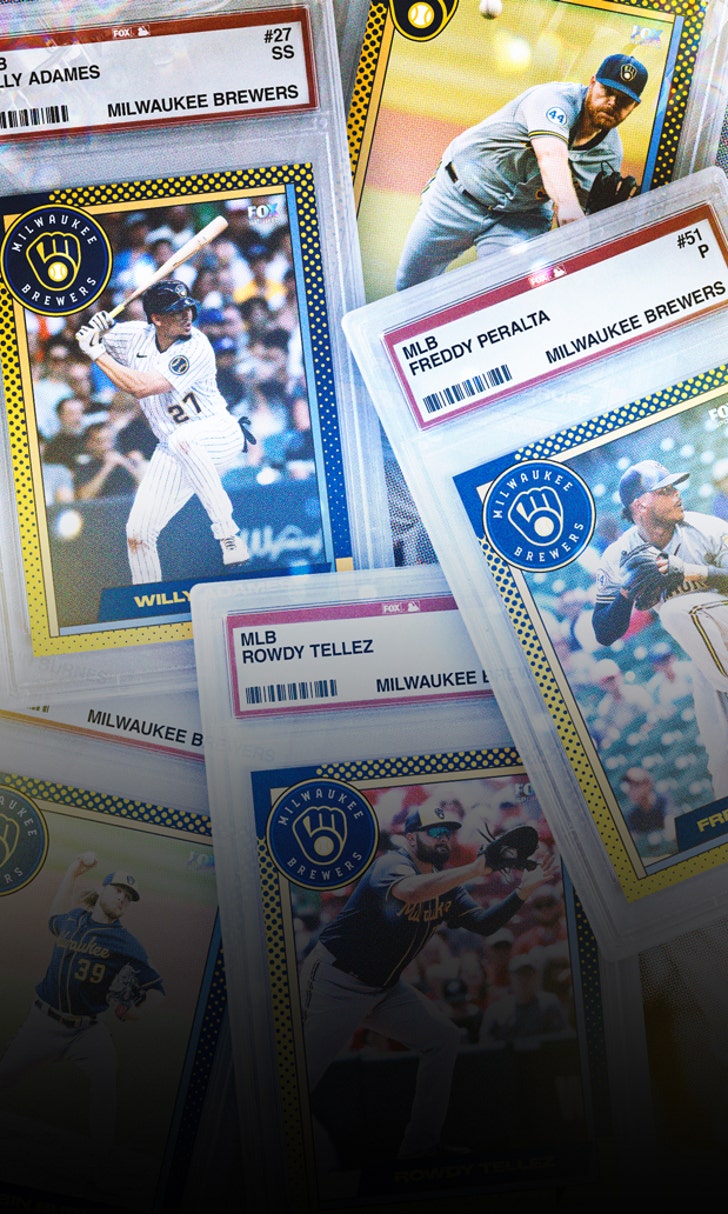 Brew Crew Rising
Brew Crew Rising
The Brewers were expected to contend, but how they've done it is the surprising part, Jordan Shusterman writes.