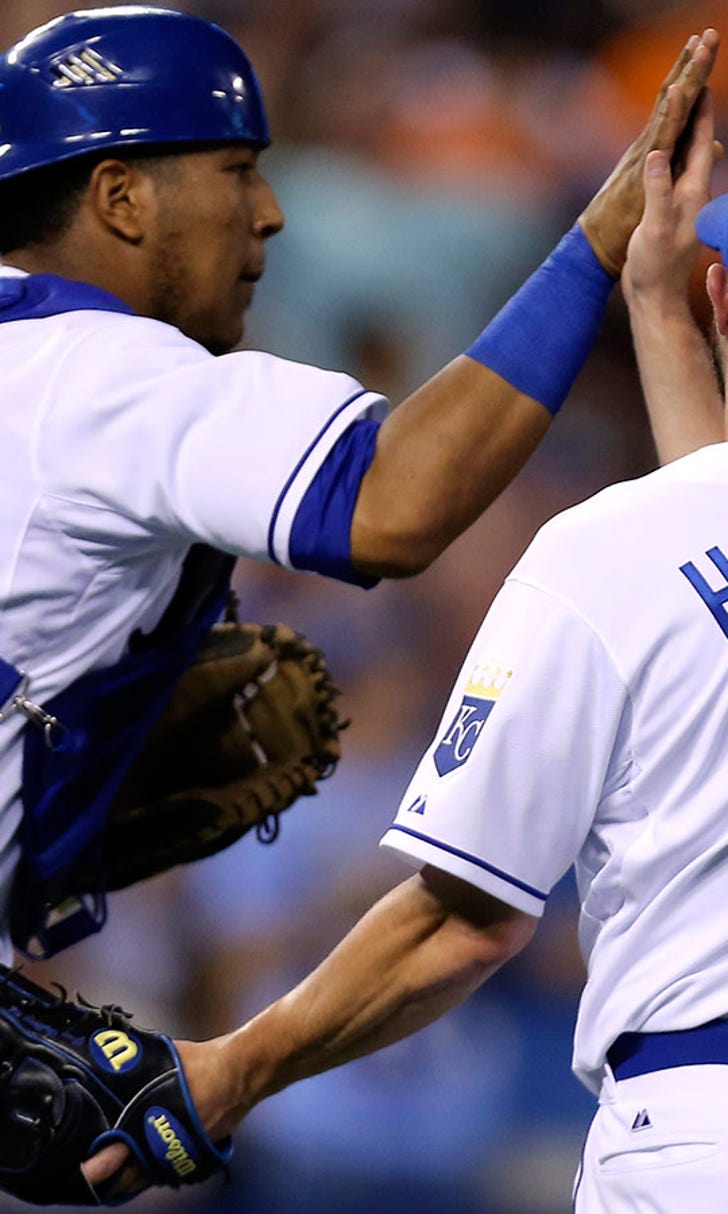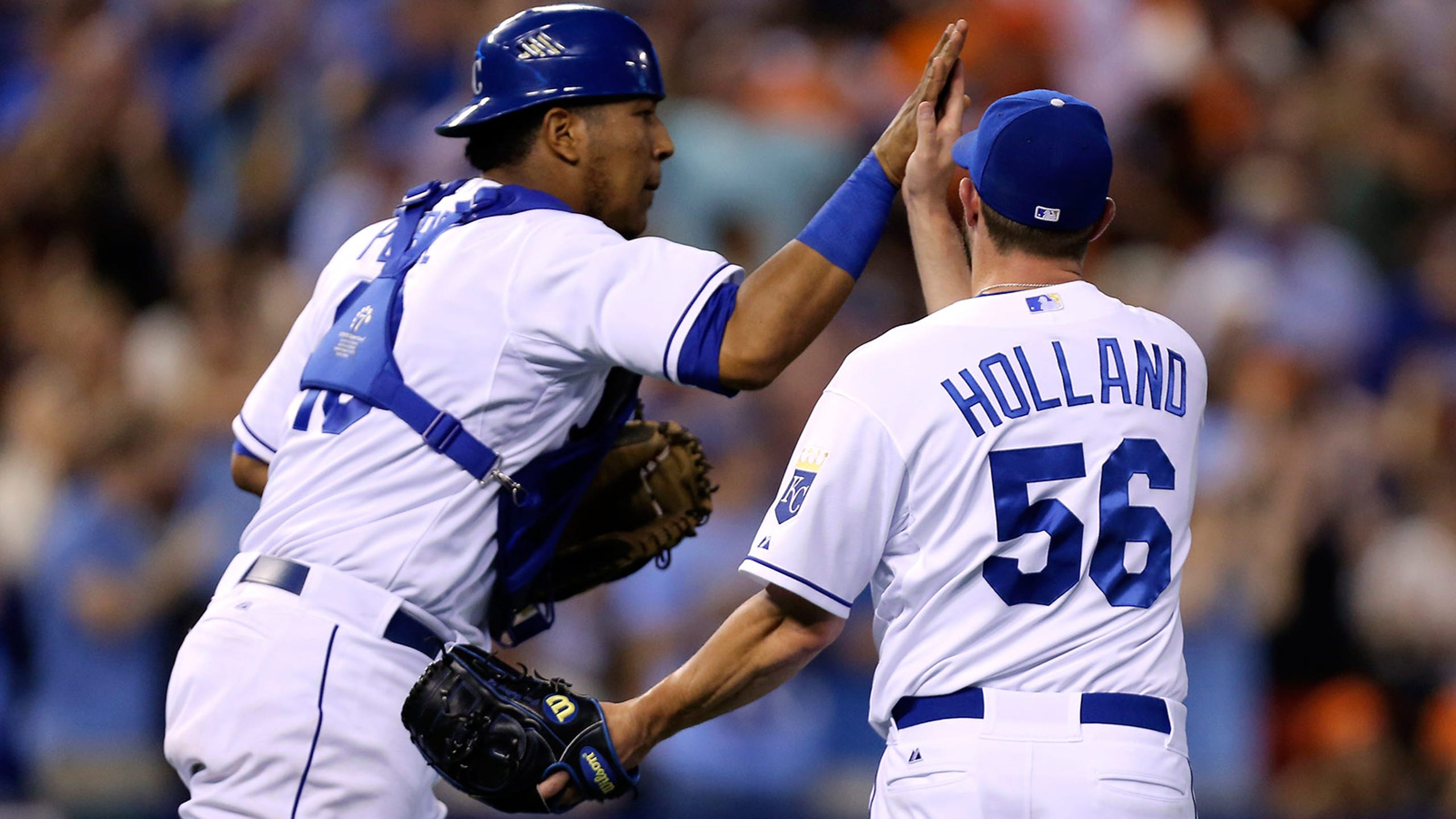 Holland gets career save No. 100 as Royals win fifth straight
BY foxsports • August 9, 2014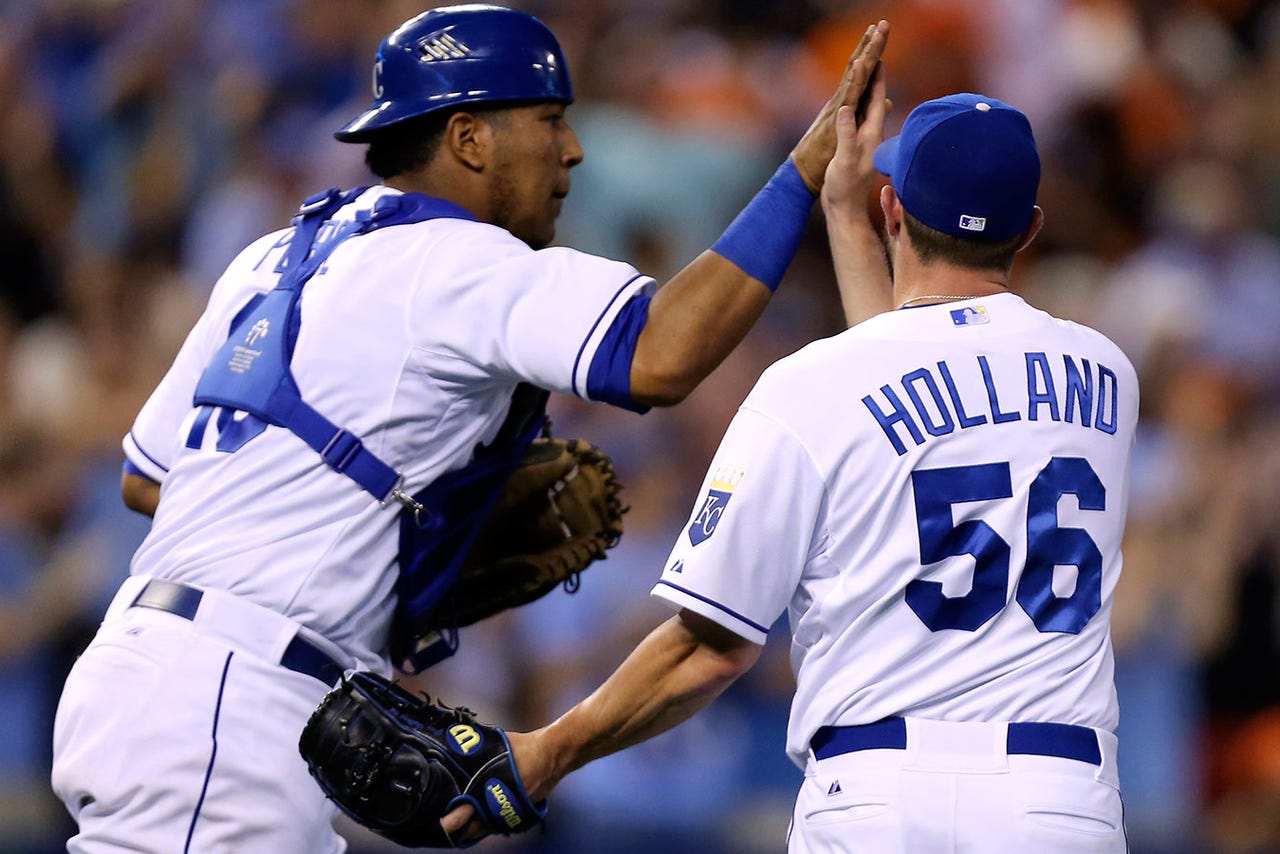 KANSAS CITY, Mo. -- Make that five straight and 13 of 16 as the Royals' train kept rolling Friday night with a tense, 4-2 victory over the San Francisco Giants.
Closer Greg Holland, who notched his 100th career save, put it simply: "It was like a playoff atmosphere out there."
Indeed, the Royals battled one of the best teams in baseball in recent years, and squeezed out an important win. Kansas City remained in the lead for the second wild-card spot, and stayed within 2 1/2 games of first-place Detroit in the Central.
Starter Jason Vargas wobbled through five innings, but then skipper Ned Yost turned it over to his shutdown bullpen in a 2-2 tie, waiting for his offense to gear up again and take the lead.
Jason Frasor got the win, tossing a 1-2-3 sixth. Then it was the familiar trio of Kelvin Herrera, Wade Davis and Holland to close it out after Billy Butler's RBI single in the sixth put the Royals ahead.
"My whole mindset was to just get Vargy through five innings," Yost said. "And I liked my matchups after that."
Davis allowed two men on in the eighth, but got a strikeout and a double-play ball to wiggle out of it. Yost said he was never worried.
"When you're that good you're not always going to have 1-2-3 innings," Yost said, "but you can work out of jams."
Holland set the Giants down in a perfect ninth. Asked what his 100th career save meant, Holland said, "It means we won."
3 UP
-- Nori's cannon. Nori Aoki became just the third outfielder in Royals history to record two outfield assists in the same inning, and the first in over 40 years. Amos Otis was the last Royal to do it -- in 1970. Bob Oliver did it in 1969, the first year of existence for the Royals.
Watch the Royals Live pregame and postgame shows before and after every Kansas City Royals game on FOX Sports Kansas City.
Aoki's first assist in the third inning came when the Giants' Hunter Pence raced from first to third on a single. Pence beat Aoki's strong throw and was ruled safe. The Royals thought Pence bounced off the bag after Mike Moustakas' tag, and thus challenged. The Royals won the challenge and Aoki got his first assist.
"That was really a huge play of the game," Yost said.
Later in the inning, Aoki threw out Joaquin Arias at the plate as Arias tried to score from second on a single. It was another tremendous throw that kept the Giants from taking a 3-2 lead at the time.
-- Billy bomb. Butler's last three homers at The K have landed in almost the identical spot in the seats just below the Royals Hall of Fame in left field -- well over 400 feet from home plate. Butler's two-run blast in the first measured 422 feet.
"I'm just getting good results now," Butler said. "I was having good at-bats early in the year and not getting good results. But over the course of a season, you expect to have things sort of even out."
Butler also came through in the big two-run sixth. With runners on first and third, he sliced a ground single through the right side, giving the Royals a 3-2 lead.
"I was just trying to get the ball in play," he said. "I had two strikes on me and I just wanted to put it fair somewhere."
-- Gordon's tack-on RBI. Yost talks constantly about tack-on runs, and after Butler's RBI single, Alex Gordon came through against tough left-hander Madison Bumgarner by going with a slider and slicing it into the left-field corner to score Sal Perez. That made it 4-2. Nice piece of hitting.
3 DOWN
-- Vargy did not pitch a great game. Moose couldn't use his famous quote after this one -- Vargas did not have great command and left after just five innings, having heaved 101 pitches toward the plate. The Giants didn't exactly hit him hard -- many of the hits were seeing-eye grounders and soft liners. And to Vargas' credit, he did battle to keep the Giants to just two runs.
"He's not been real sharp," Yost said, "but they really didn't hit that many balls hard."
-- Royals' rockets get caught. For the first few innings, it seemed like the Royals were in for a bad-luck night. As the Giants kept bleeding soft hits all over the place, the Royals kept ripping line drives right at defenders. Perez hit two rockets -- one right to the third baseman and one straight to the left fielder. Erik Kratz smoked a liner directly at the right fielder. Alcides Escobar lined hard to short. And Moustakas lined hard on one-hopper right at the second baseman, who was playing in short right field.
-- Billy's legs. OK, it's a little tough to get on Butler after he slammed a two-run homer in the first and delivered the go-ahead RBI in the sixth, so we won't. But we will point out that Billy got cut down going from first to third on Gordon's slicing liner into the left-field corner that got away from Juan Perez. To be fair, Butler had to hold up between first and second on the ball, thinking it might be caught. Then he had to start up again when he saw it drop. And he doesn't get paid for his wheels.
You can follow Jeffrey Flanagan on Twitter at @jflanagankc or email him at jeffreyflanagan6@gmail.com.
---