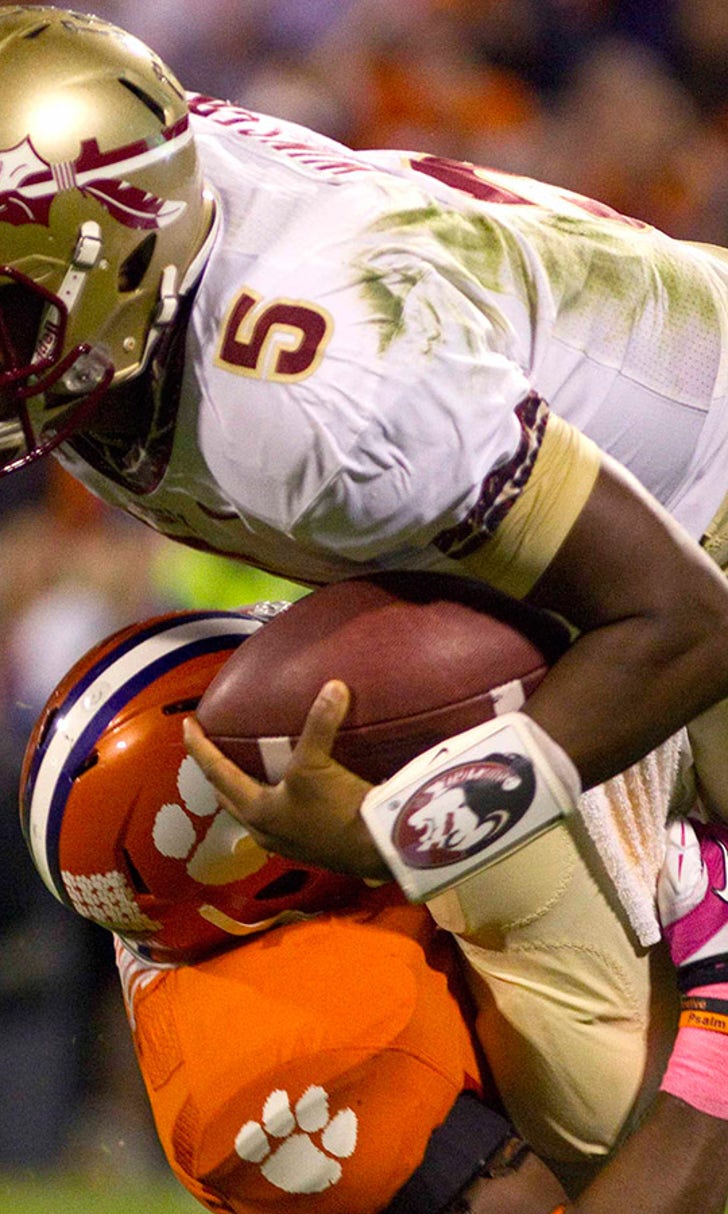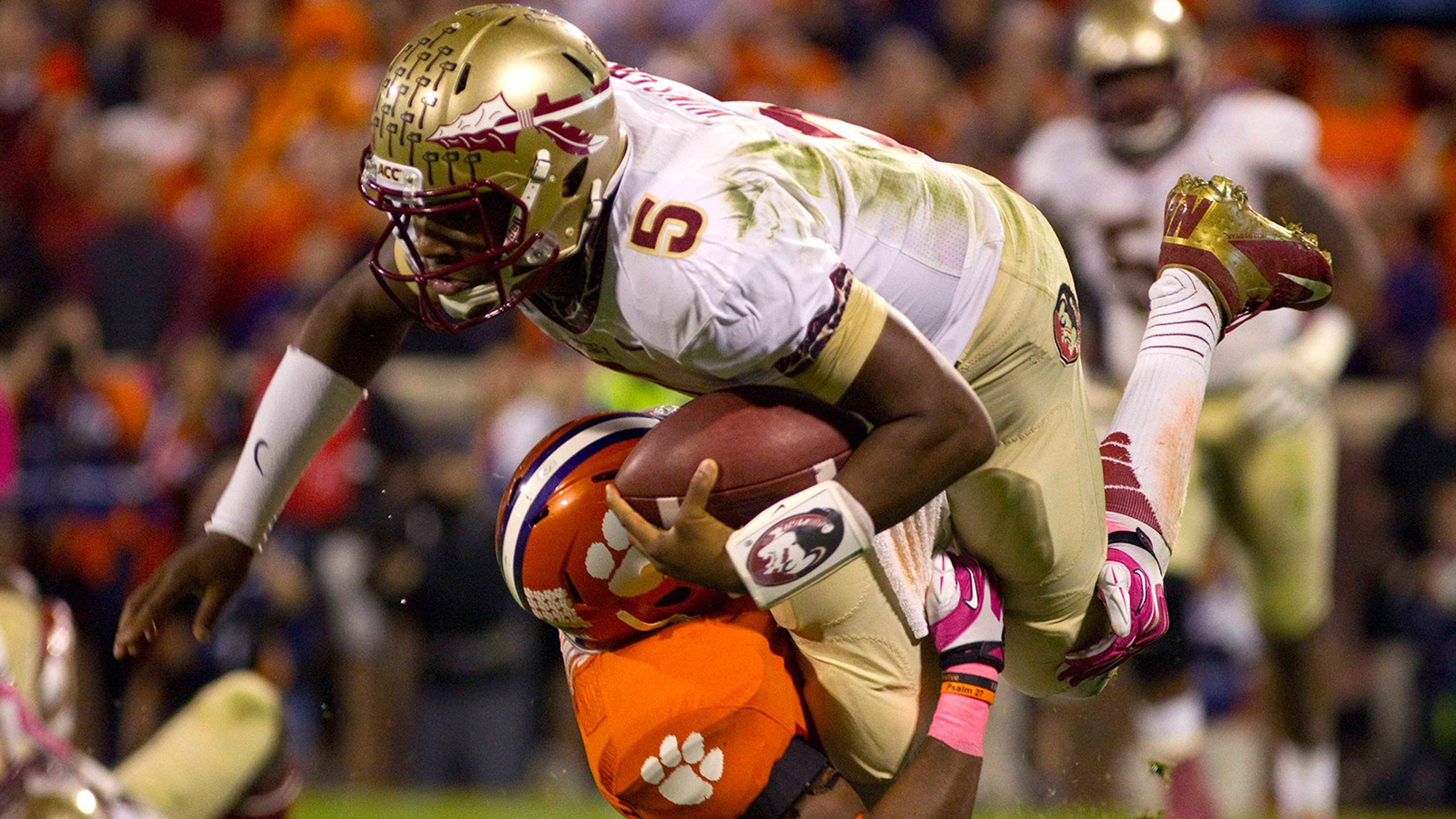 Heisman Viewer's Guide: Ten games that could decide the race
BY Cory McCartney • August 6, 2014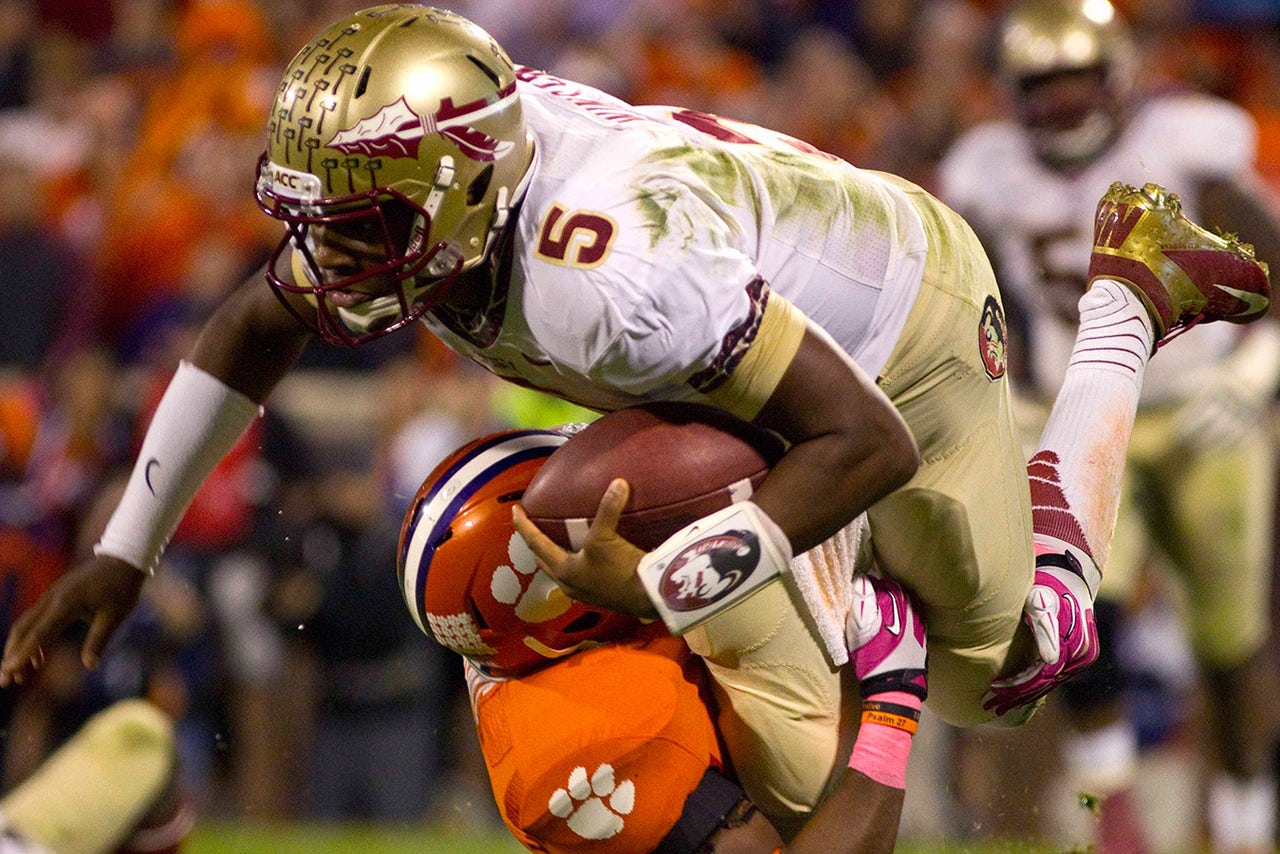 Final impressions have meant everything in recent Heisman Trophy campaigns, with five of the past six winners playing on the last weekend before votes were due (Johnny Manziel in 2012 was the lone exception). But it's the regularly scheduled 12 games that even put a player in position to claim the award.
These 10 games figure to weed out the pretenders and give us the clearest picture of who will be in the running entering the final days of the race for the bronze idol. Consider it your Heisman Viewer's Guide to 2014.
Melvin Gordon can jump-start his campaign -- or see it go up in flames -- considering the Badgers don't have many marquee games as they avoid Michigan, Michigan State, Ohio State and Penn State. Meanwhile, LSU freshman Leonard Fournette, who isn't hurting for hype or lofty comparisons before taking a snap for the Bayou Bengals, has a chance to throw his name into the race on a big stage.
Despite some big losses on defense, Michigan State won't lack for an ability to bring pressure with defensive end Shilique Calhoun. Add in that the Spartans' style of play is similar to noted Ducks killers Stanford and it's a bad combo. It has the makings of a statement game for Oregon quarterback Marcus Mariota, the preseason favorite, who could silence any doubters in Week 2. Of course, a bad outing could bring back memories of last season when he fell out of the race after the loss to the Cardinal.
Two of the SEC's top contenders -- the Gamecocks' Mike Davis and Bulldogs' Todd Gurley -- will be on the marquee. With the league featuring eight players on Bovado's initial trophy odds list, which ties the Pac-12 for the most in the nation, these head-to-head matchups (throw South Carolina's Oct. 25 meeting with Nick Marshall and Auburn into this category) will basically be Heisman eliminators.
The path of a defending Heisman winner is daunting and while Jameis Winston won't hurt for attention, he looks to be short on showcase games. The Seminoles play only two teams in the preseason Coaches' Poll -- No. 17 Notre Dame on Oct. 18 and the Tigers, who are 16th. A rout of Clemson was where Winston became a household name a year ago and he'll get a chance to boost his repeat bid vs. a nasty Tigers D-line led by the ACC's premier pass rusher -- and maybe the top defensive Heisman threat -- in end Vic Beasley.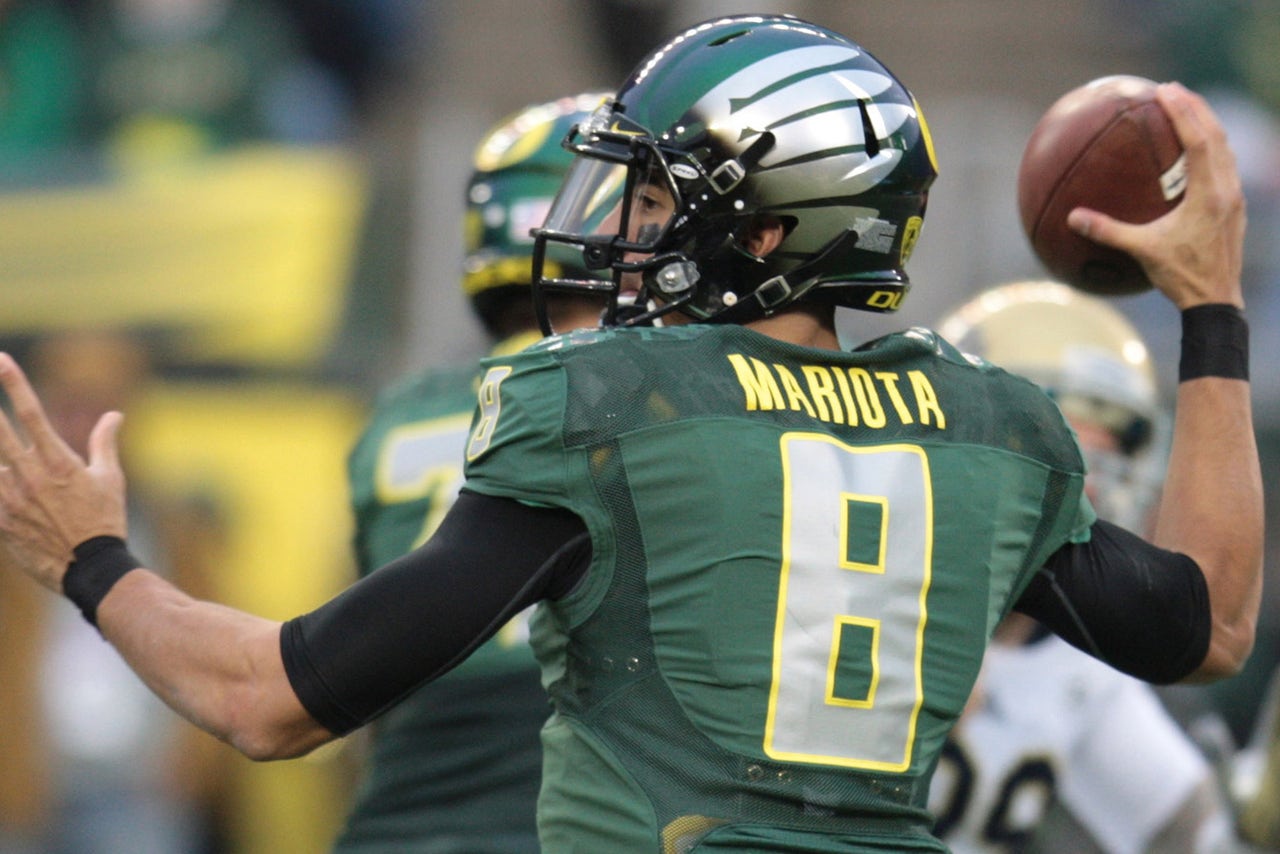 Oregon's Marcus Mariota will go head-to-head with another one of the Pac-12's top contenders when he faces UCLA and Brett Hundley on Oct. 11.
The Ducks' game against Stanford will also figured prominently into this race, but this could be the first of two meetings between Mariota and Bruins QB Brett Hundley, with their squads projected to reach the Pac-12 title game. Basically, it's an opportunity for one of those passers (or even dark horse linebacker/running back Myles Jack) to establish themselves as the conference's best hope at the first non-USC Heisman since the Cardinal's Jim Plunkett in 1970.
Is Trevor Knight a legit contender or a Sugar Bowl-fueled flash in the pan? We may not know the truth about the Oklahoma QB until the game formerly known as the Red River Shootout. Charlie Strong's impact at Texas is expected to be felt first and foremost on the defense and he has a budding star in Cedric Reed at end. This figures to be a proving ground for Knight.
There will be a revenge factor for Buckeyes QB Braxton Miller, whose perfect season ended at the hands of the Spartans in last year's Big Ten title game. Ohio State has a manageable schedule through Nov. 1, making this a game that Miller will need to show growth and put his stamp on this race while so many other contenders square off. One other factor to keep an eye on here: Michigan State's under-the-radar candidate, RB Jeremy Langford. If he comes up big vs. Oregon, this could cement his contender status.
This is all about clarity in the Big 12. The matchup of Coaches' Poll Top 10s should put the winner in the driver's seat to claim the conference title and it should be a coronation for the league's top threat for the Heisman in either Knight or Baylor QB Bryce Petty. This stands to be the biggest and potentially last major test for either of them with no Big 12 title game to look forward to.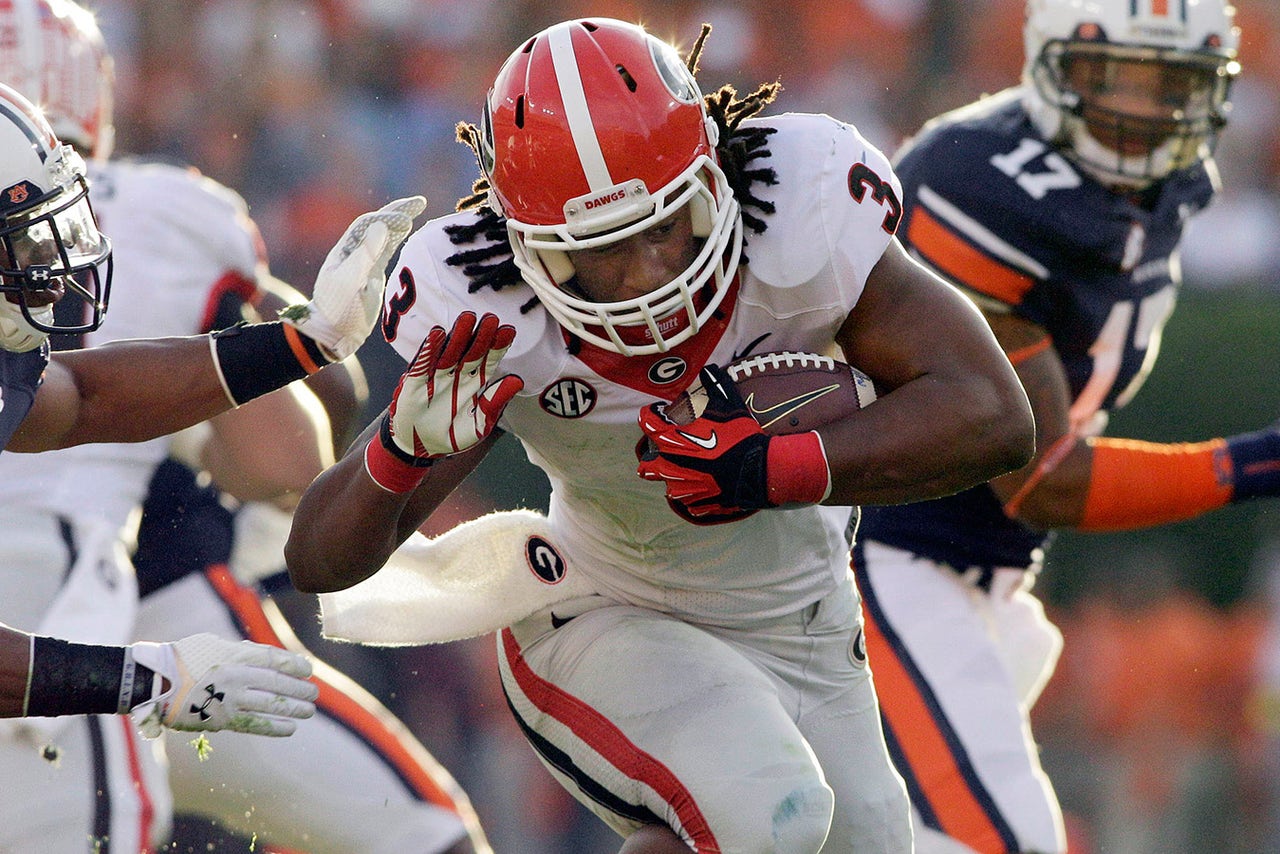 With a litany of candidates from the SEC, games like Georgia and Todd Gurley's Nov. 15 meeting with Nick Marshall and Auburn will take on a Heisman eliminator feel.
The league's best bet at QB in Marshall vs. its top RB threat with Gurley in another of those SEC elimination games. With each team following this matchup with less-than-enticing matchups -- the Tigers face Samford and the Bulldogs get Charleston Southern -- it could be the last time either sees meaningful snaps until the regular-season finale. Who will take advantage at a time when the amount of legit candidates should dwindle?
So deep is the SEC's pool of contenders that No. 2 Alabama's T.J. Yeldon is third in the opening odds despite being the top threat on the league's highest-ranked team. Should this game carry the same weight it did last year, with a spot in the SEC finale on the line, this could help solidify a ticket to New York for either Yeldon or Marshall. At minimum, it's a major resume-builder heading into championship week for the winner.
---