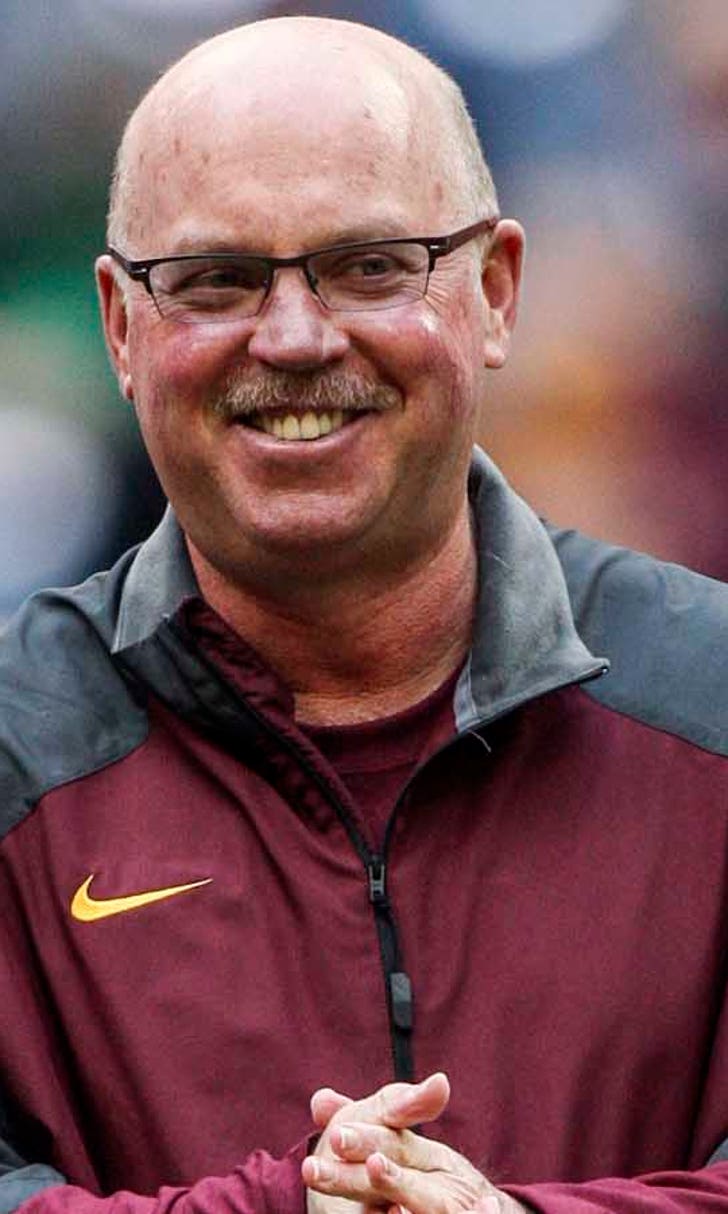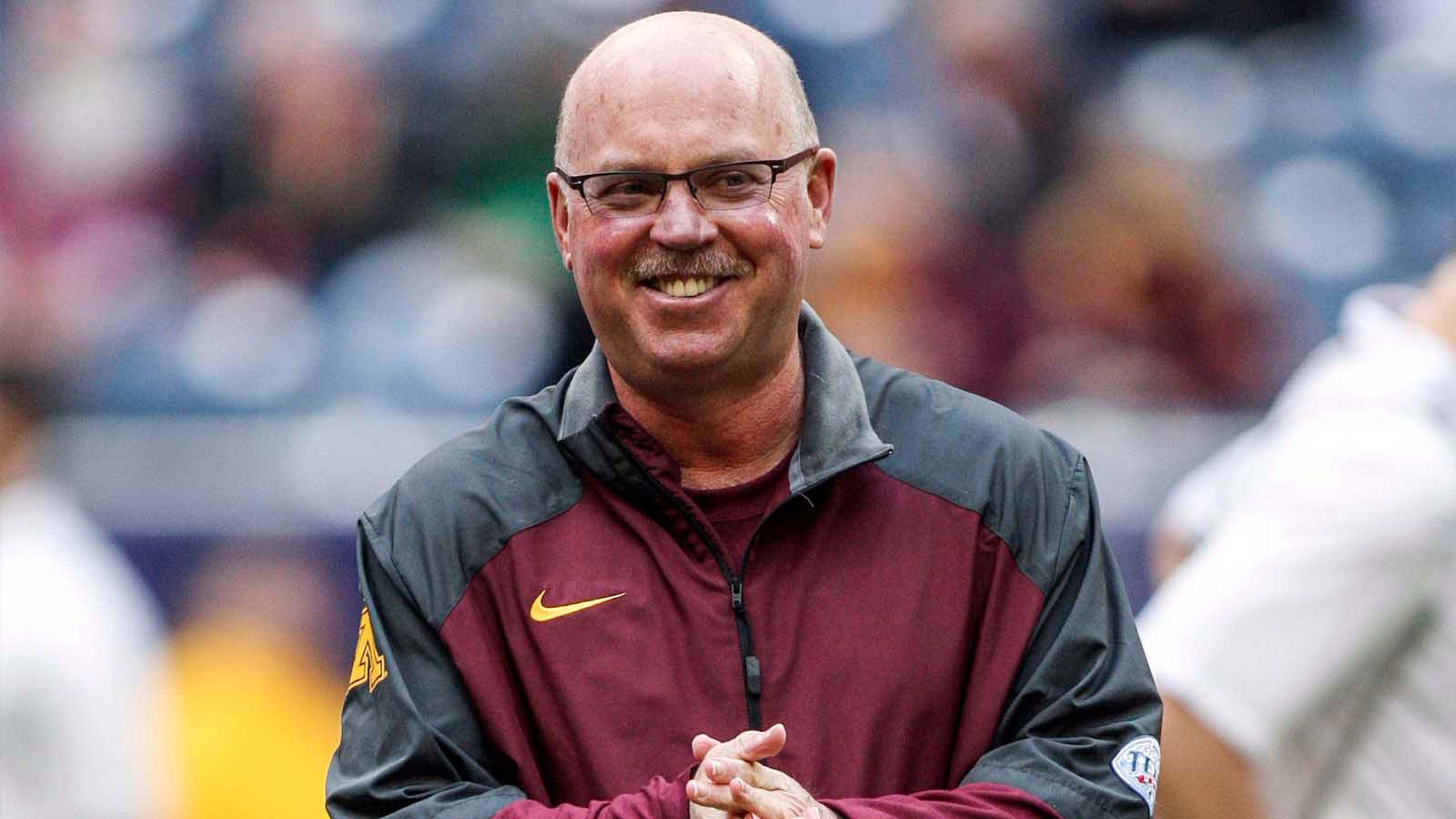 Gophers positional preview: Coaches
BY foxsports • August 1, 2014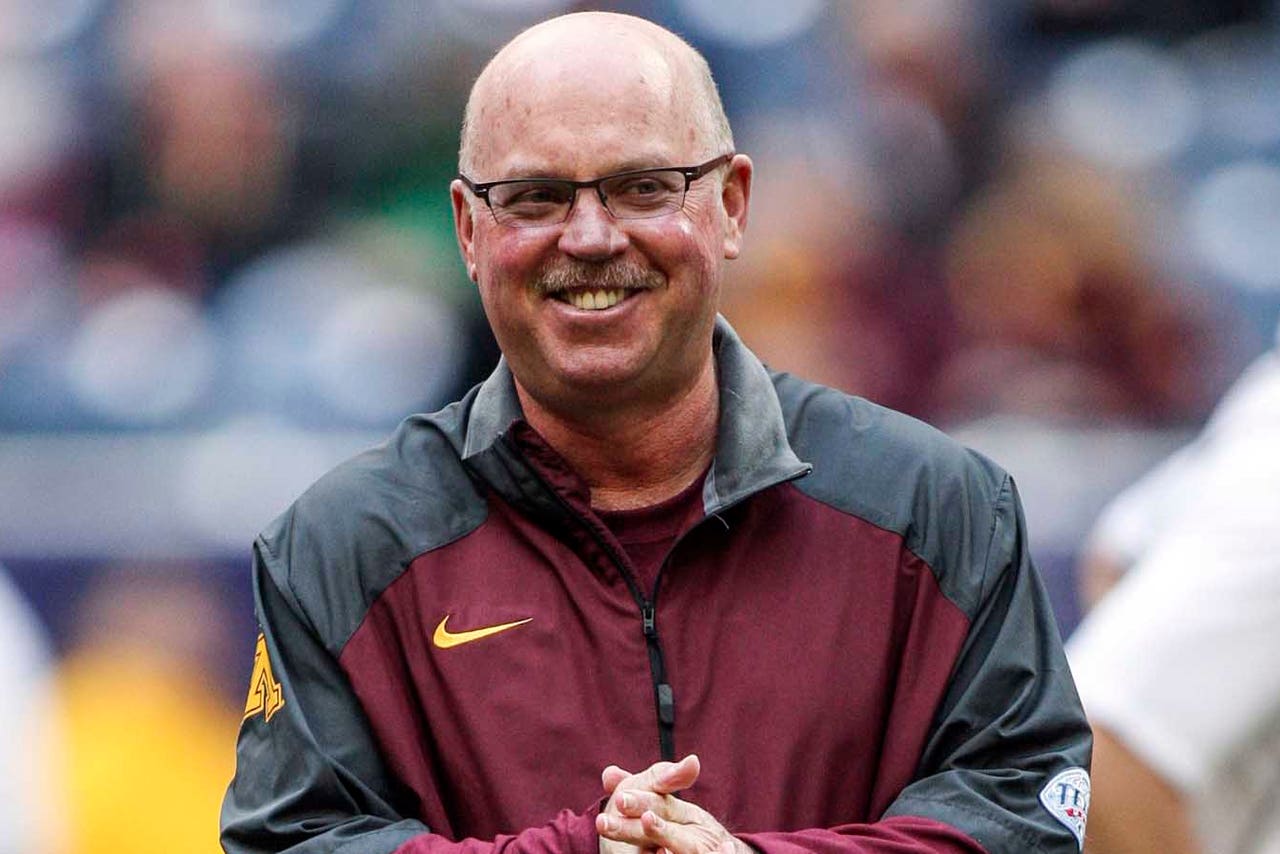 This is the eleventh in a series of 11 previews leading up to the Minnesota football team's Aug. 1 start of practice.
Today's position: Coaches
Rating (1-to-10 scale): 7
Head coach: Jerry Kill (fourth season with Gophers), 144-94 career record, 17-21 at Minnesota
Coordinators: Matt Limegrover, offensive coordinator (fourth season with Gophers), Tracy Claeys, defensive coordinator (fourth season with Gophers)
Position coaches: Brian Anderson, wide receivers; Jeff Phelps, defensive line; Pat Poore, running backs; Rob Reeves, H-backs/tight ends; Jay Sawvel, defensive backs/special teams; Mike Sherels, linebackers; Jim Zebrowski, quarterbacks
From the top down: When Jerry Kill was hired as the head coach of the Gophers before the 2011 season, many Minnesota fans were a bit disappointed their school hired a relatively  unknown name. Even Kill made a joke about how he wasn't his wife's first choice, either.
But since Kill took over a program that was left in shambles thanks to his predecessor, Minnesota's record has done nothing but improve over Kill's first three seasons. After going just 3-9 in 2011, the Gophers improved to 6-7 in 2012 and earned a spot in the Meineke Car Care Bowl. This past season, Minnesota won eight games for the first time since 2003 and played in the Texas Bowl. That trend of winning more games in each of his first three seasons matches what Kill and his coaching staff did when turning around the Southern Illinois and Northern Illinois programs prior to coming to Minnesota.
One thing that has helped Kill's coaching staff enjoy this type of success is the continuity among the coaches. Claeys has been on Kill's staff in one capacity or another since 1995 at Saginaw Valley State. Limegrover has been with Kill since 1999 at Emporia State, where he was the offensive line coach. Kill has managed to maintain most of his position coaches over the years, too. The loyal bunch has stuck with Kill as he's continued to earn better head coaching jobs, and he's rewarded them for their loyalty. Because of that consistency among the staff, things tend to run like clockwork, even when Kill had to miss time for health reasons.
Claeys took over the head coaching duties in 2013 when Kill was gone, and the longtime defensive coordinator made a name for himself nationally. Though Claeys received a few offers for head coaching jobs, he chose to remain at Minnesota and stay loyal to Kill. Claeys now returns as a coordinator on the rise, and could become one of the best defensive minds in the Big Ten.
Health has been the biggest question mark for Kill during his tenure. As a person with epilepsy, Kill suffers seizures occasionally. When you're the head coach of a major college football team and those seizures happen during a game, the significance is magnified. Kill suffered a seizure in his first season late in Minnesota's first home game in 2011. Since then, he's worked with doctors to get the right medication to control his seizures. However, he suffered another one in 2013 that forced him to miss games for the first time in his career. But this spring, Kill said he's feeling as healthy as ever (he gets annoyed when questions of his health come up) and he's even been driving again, a sign that he's been seizure-free for months.
There's no question Gophers fans have thrown their support behind Kill. The student section often chants "Jerry! Jerry!" whenever he runs from the field to the locker room. The school even sells maroon and gold T-shirts that say "Jerrysota" on the front. Now that Kill and his staff have shown the ability to move a program forward, the hope in Minnesota is that the Gophers can take an even bigger step in 2014.
Best of the Big Ten: 1. Ohio State, 2. Michigan State, 3. Northwestern
It's hard to argue with Meyer's success at every school he's coached at, from Bowling Green to Utah to Florida and now in his third season at Ohio State. Meyer won a pair of national titles as the head coach of the Gators, and might have done the same with the Buckeyes in 2012 if OSU was eligible for postseason play. This past year, he and his staff fell just short in the postseason, losing to Michigan State in the Big Ten championship. Still, his 128-25 career record speaks for itself.
The coach that beat Meyer in that conference title game last year, MSU's Mark Dantonio, is one of the Big Ten's best. Dantonio led the Spartans to a Rose Bowl victory and an impressive 13-1 record in 2013. He's experienced just one losing season at MSU (6-7 in 2009) but has been to a bowl game in each of his seven seasons at the helm. He also has arguably the Big Ten's top assistant coach in defensive coordinator Pat Narduzzi. The Spartans routinely have one of the conference's best defenses, and Narduzzi is a big reason why.
Northwestern head coach Pat Fitzgerald is just 39 years old, and he's already one of the longest-tenured coaches in the Big Ten. That consistency is one of the reasons why he makes this list. Though 2013 was a down year for the Wildcats at 5-7, Fitzgerald has proven he can win at a school that doesn't have as much football history as some of the other Big Ten schools. He led Northwestern to a 10-3 record in 2012, earning a spot in the Gator Bowl. In eight seasons, Fitzgerald is 55-46.
Jerry Kill says: "Where I was at when I was at Northern Illinois, we talked about it and we're talking about it now, is that we have to do it the hard way. But that's the way that our coaching staff, that's the culture that we've created, our whole coaching careers, and we know we've gotta do it the hard way and we look forward to it. That's kind of, so to speak, our team image right now."
Follow Tyler Mason on Twitter
---