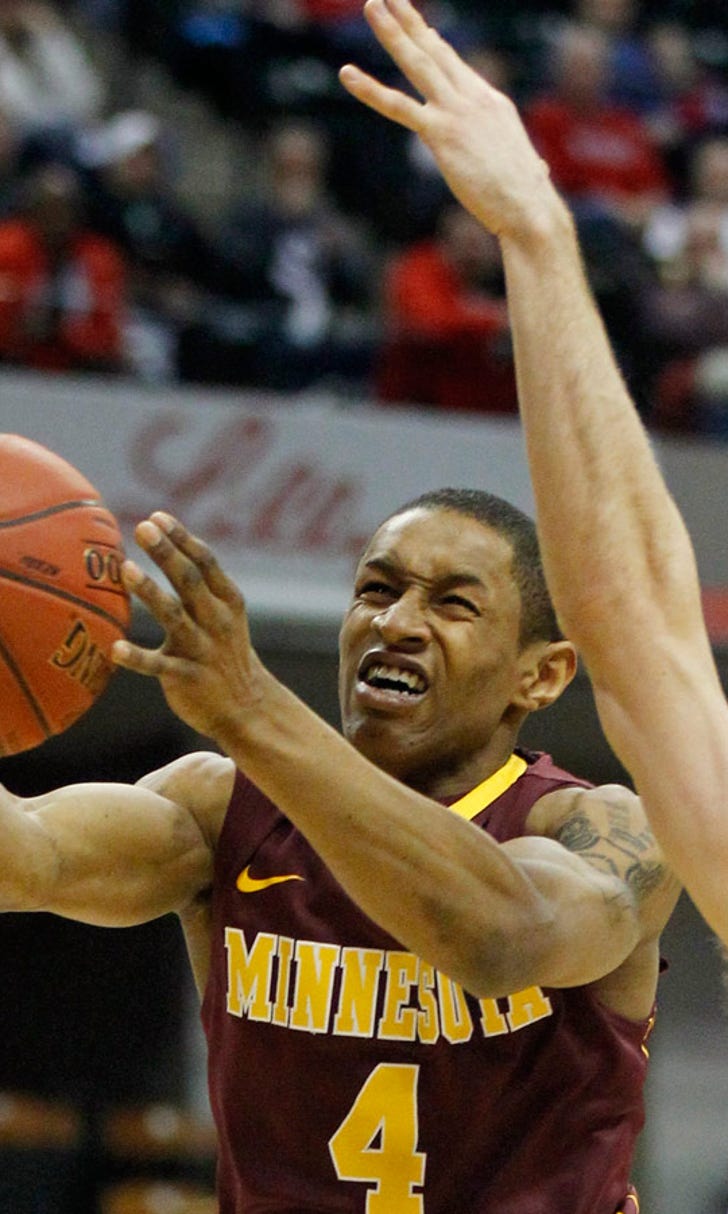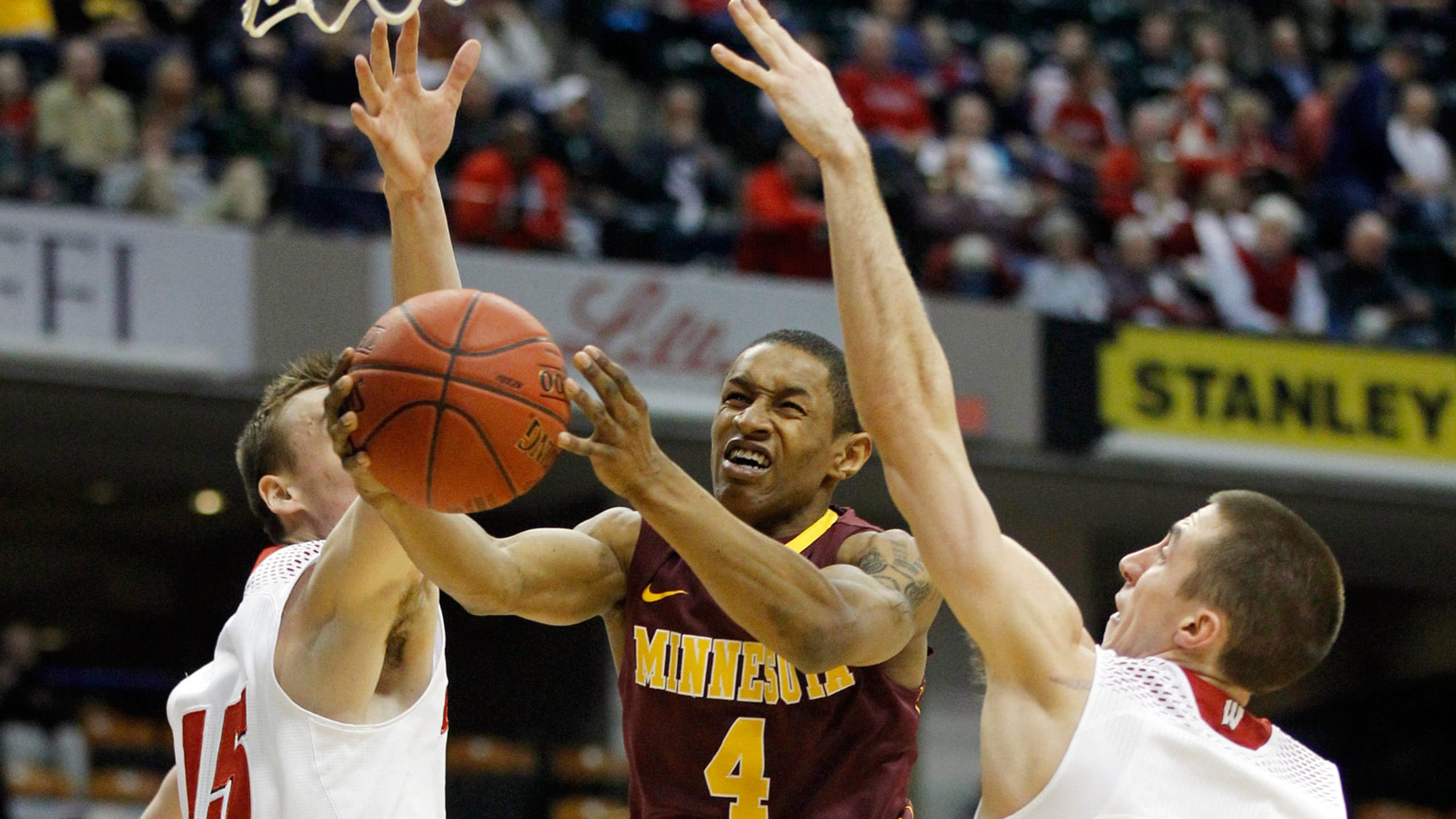 Gophers' next destination unknown after league-tourney ouster
BY foxsports • March 14, 2014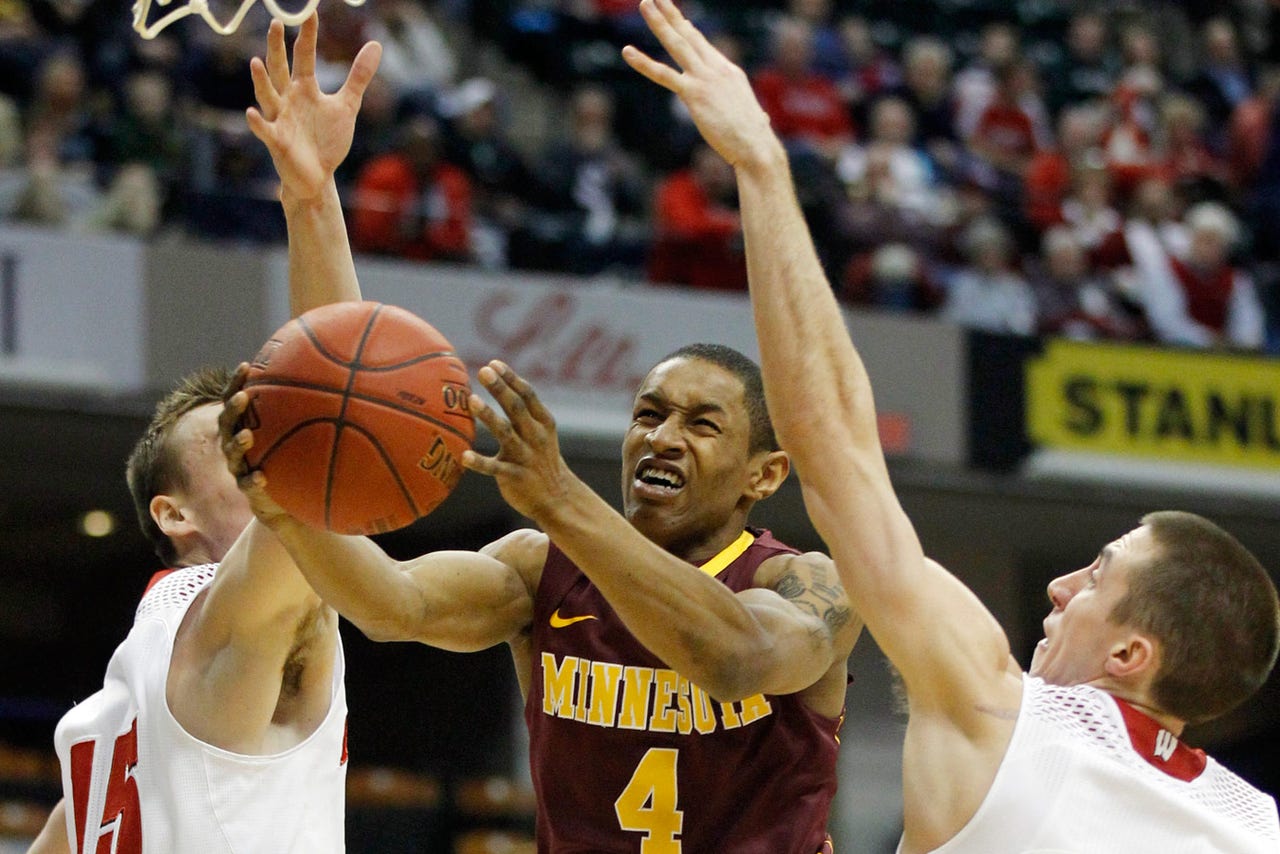 INDIANAPOLIS -- Minnesota coach Richard Pitino is certain the Gophers' basketball team has a place in a postseason tournament next week. But will that place be the NCAA tournament or the NIT?
Well, that's where things get cloudy.
"Who knows?" Pitino said Friday night.
After seventh-seeded Minnesota lost 83-57 to No. 2 Wisconsin in a Big Ten tournament quarterfinal game at Bankers Life Fieldhouse, any answers about the Gophers' fate were put on hold. A victory almost assuredly would have put Minnesota into the 68-team NCAA tournament field one day after the Gophers beat Penn State to reach 20 victories this season. Instead, the Gophers will have to sweat out Selection Sunday with dozens of other teams while hoping for the best.
"We just hope we can get a chance to get in the tournament, and we're going to work hard," Gophers guard DeAndre Mathieu said. "Whether we're playing in the NIT next week or the NCAA tournament, we're going to work hard and try to make a run regardless."
Minnesota's case certainly will be interesting when the committee makes its selections. In many ways, the Gophers exceeded expectations this season. For example, Minnesota was picked to finish ninth in the Big Ten by a preseason poll voted on by 24 league writers. The Gophers finished seventh and nearly reached .500 (8-10) in one of the most difficult leagues in the country. Minnesota also has a strength of schedule that ranks No. 7.
According to the latest edition of the Ratings Percentage Index (RPI), Minnesota ranks No. 46, which is five spots behind fellow Big Ten bubble team Nebraska. Of course, the RPI only means so much. Back in 2006, Missouri State's RPI was 21, and the 20-8 Bears became the highest-rated team to ever miss the NCAA tournament. Minnesota didn't help its cause this season by going 2-8 against teams currently ranked in the RPI top-50.
"Listen, I hope we get into the NCAA tournament," Pitino said. "I feel that we played one of the best schedules in the country, and that's normally what they want you to do. But with that being said, whatever tournament we are in, I'm proud. We're disappointed tonight, but I'm proud of how hard these guys have played this whole year."
On Friday, Minnesota (20-13) was done in by poor shooting on a night when it could ill afford to do so. The Gophers connected on 19 of 58 shot attempts (32.8 percent), and guard Andre Hollins missed his first 11 shots from the field. He finished with eight points on 2 of 14 shooting. Meanwhile, Austin Hollins -- who led Minnesota with 18 points in a 63-56 victory against Penn State on Thursday -- went 1 for 6 and scored five points.
"Those are our two or three main guys, and Austin has been really scoring the ball at a high level," Pitino said. "I thought Andre was getting good looks, just wasn't falling his way.
"You've got to give them credit. They certainly are a very, very good team. But certainly it's always tough when those guys don't make shots, when they go 3 for 20."
It didn't help Minnesota's cause that Wisconsin, a group averaging more points than any team in the Bo Ryan era, found its rhythm early. Four players scored in double figures for the Badgers, who shot 30 of 55 from the field (54.5 percent).
As a result, the waiting game begins for Minnesota.
"I think we've all got to clear our heads a little bit, take a step back, and certainly focus on the mistakes that we made because we are playing next week," Pitino said. "Hopefully, it's in the NCAA. Who knows? But we are going to play next week. And wherever we play and whatever tournament we play in and whoever we play, we're going to hope to win because we're fortunate to be able to play this game. We're lucky, and our guys enjoy it. They love it."
Follow Jesse Temple on Twitter
---