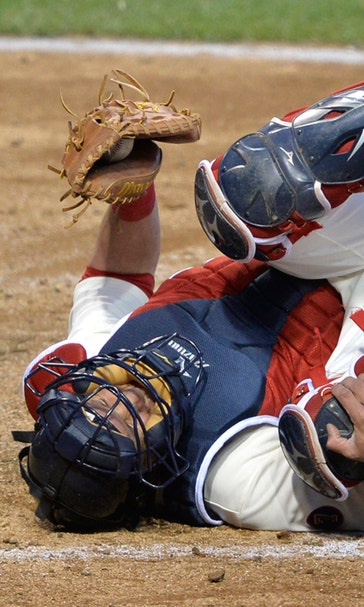 Gomes' injury could create huge void on Indians' roster
April 11, 2015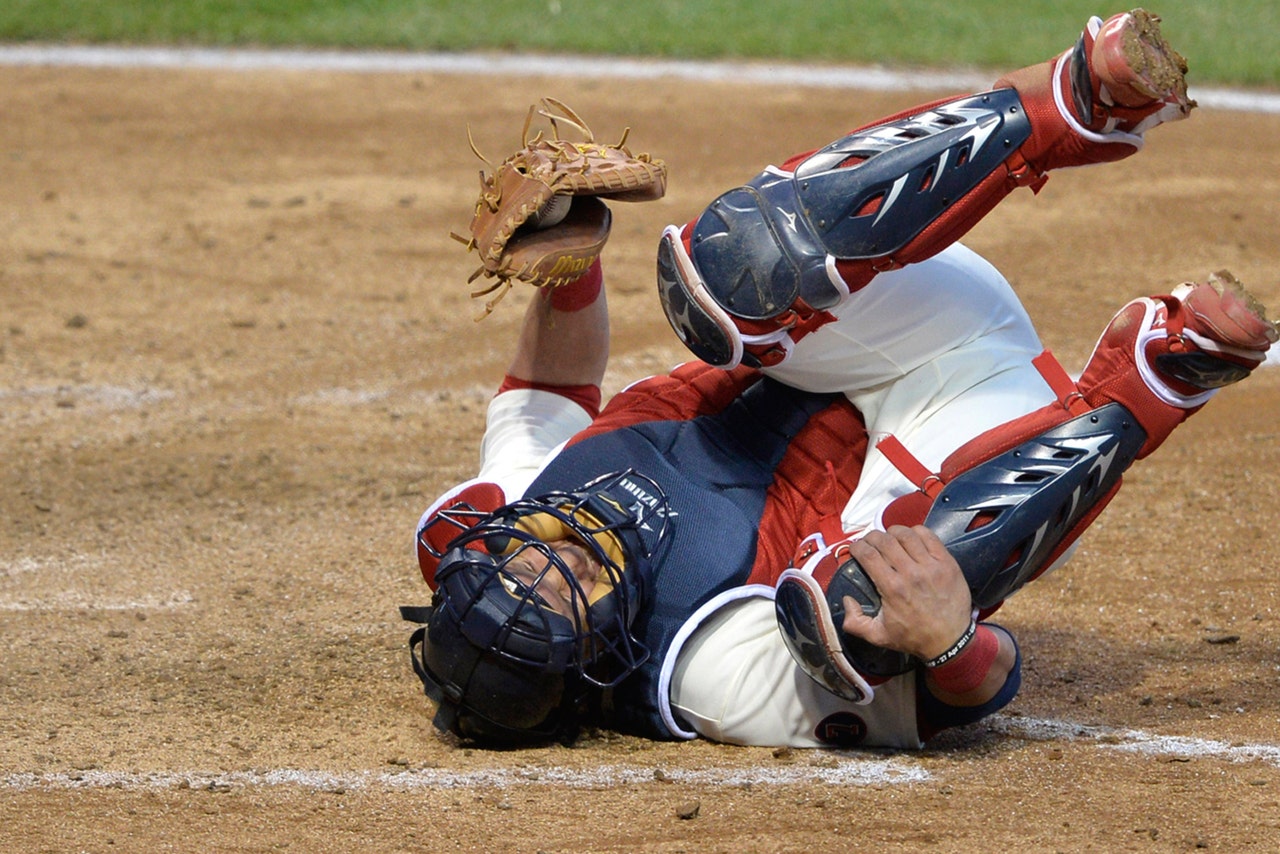 CLEVELAND -- Before Saturday's game against the Tigers, the Indians' biggest worry was about Michael Brantley's back. After a 9-6 loss, their injury concerns got a lot worse.
As the Tigers rallied back in the ninth inning, Yan Gomes was injured at home plate after a force out of Rajai Davis at home when the Tigers' outfielder slid through and struck Gomes' right leg. Gomes remained on the ground and at first clutched his knee after the play before being examined by trainers. He was helped off the field and did not put any weight on the leg.
Manager Terry Francona after the game said that Gomes sprained his knee but that Gomes would undergo an MRI on Sunday morning. With baseball changing the rules over the past couple seasons to eliminate home-plate collisions, there may be some who were wondering if Davis' slide was dirty. One of those isn't Francona.
"Gomer was just trying to hang on to the plate and looked like to me like he (Davis) clipped his heel which turned his knee. I never even gave that any thought," Francona said.
Five games into the season though the Indians have their first major roster conundrum -- they have to call up a catcher since Gomes will be on the disabled list a minimum of 15 days, make a 40-man move and also call up a reliever to help supplement a taxed bullpen.
The reliever part is simple since Austin Adams can be recalled from Columbus. Adams was optioned on Friday and would have to remain in the minors for 10 days unless he was replacing an injured player, which would be the case here. The only reliever who didn't pitch on Saturday was Nick Hagadone and that was because he had seen action in the previous three games. Kyle Crockett and Scott Atchison have pitched in three straight games while Marc Rzepczynski and Bryan Shaw have pitched in three of the last four.
"We need to go through things. Our pitching is thin and look at a lot of stuff," Francona said.
Gomes' injury would leave a huge void for the Indians. Besides his offense he is a huge reason why the rotation was dominant during the final two months of last season. Roberto Perez's offense has improved as he homered in Thursday's win at Houston but no one knows if he can handle the rigors of being an every day MLB catcher. He has drawn good reviews for his ability to handle pitching staffs in the minors.
"It's always tough to see a teammate carried off especially Yan. He's such a leader and a part of what we're doing," reliever Cody Allen said. "We hope he's OK but we want to get him healthy and back out there."
Figuring out who will back up Perez is difficult. Tony Wolters is on the 40-man roster, but has only two seasons of catching experience and is at Double-A Akron. He is also on the 40-man because the Indians did not want to risk losing him in the Rule 5 draft. Brett Hayes and Adam Moore are in Triple-A Columbus but were non-roster invites to spring training.
Hayes has 175 games in the majors, including 27 last season at Kansas City. He struggled though with a .135 batting average. Moore has 86 games in the majors and was a late-season call up last year with San Diego.
To bring either one up, a move to the 40-man roster has to be made. Carlos Santana can be the emergency catcher on Sunday but the Indians don't want him behind the plate unless they absolutely have to. He hasn't caught in nearly 11 months and the last time he ended up on the DL was due to being the backup catcher.
The Indians do have an off day on Monday, so they could wait until having as much information as possible on Gomes. If Gomes would be lost for a large portion of the season, the Indians would have to look elsewhere if they wanted a veteran catcher.
Another concern is Brantley, who has played in only two games due to lower back problems. Brantley started to have back spasms toward the end of Friday's home opener and was held out on Saturday.
Since Brantley has dealt with back issues throughout spring training, Francona was asked if putting Brantley on the disabled list is a possibility. Because of Brantley's impact on the lineup, Francona is trying to avoid that at all costs especially with the Tribe facing division opponents for the rest of the month.
Francona added: "I think we've talked about everything but again I don't think anyone thinks we need to. I'd rather try to sit him for a day or two instead of 12. When you are dealing with injuries you listen to the player and the medical people and try to make good decisions."
---