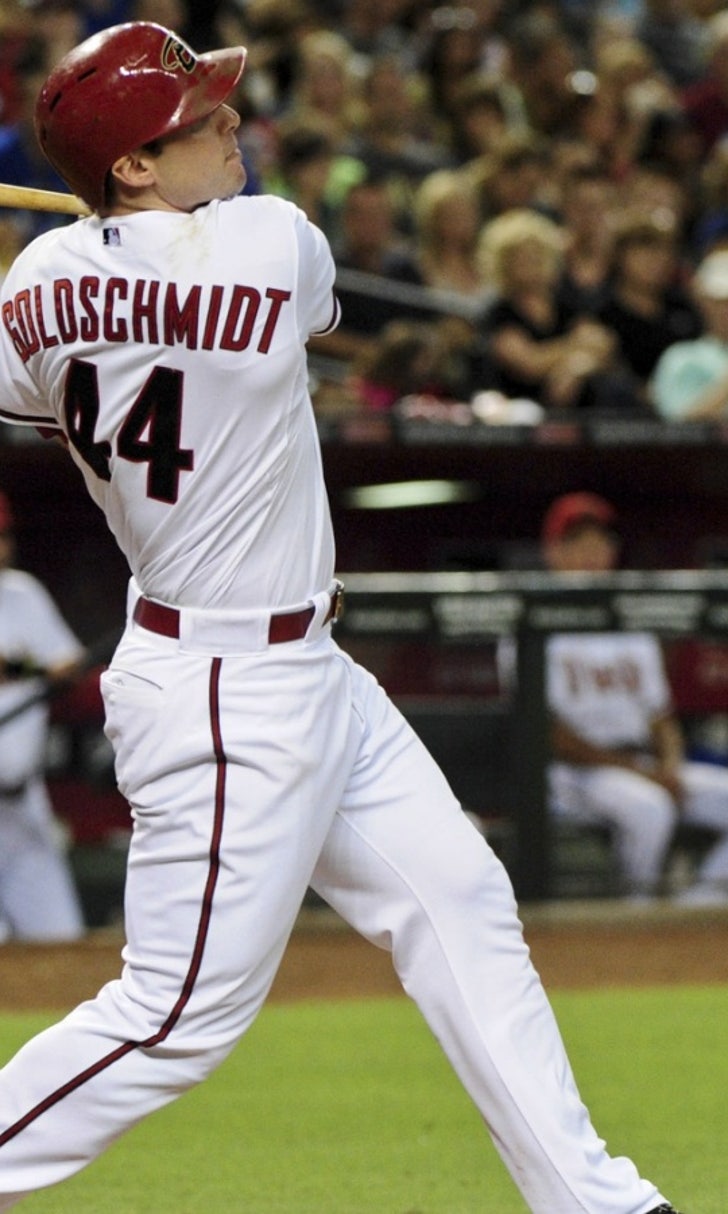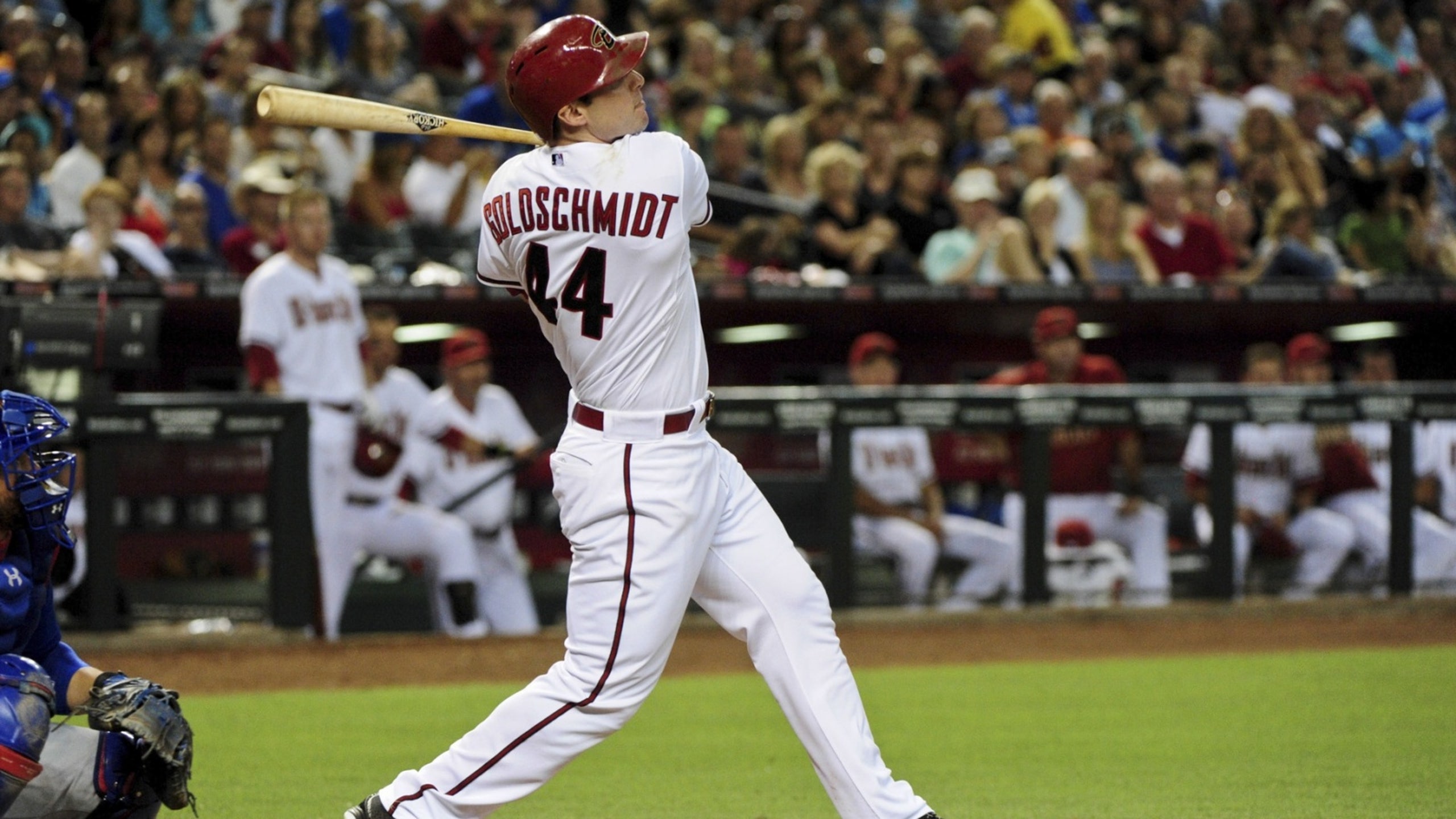 Gold standard? NL managers know
BY foxsports • August 9, 2014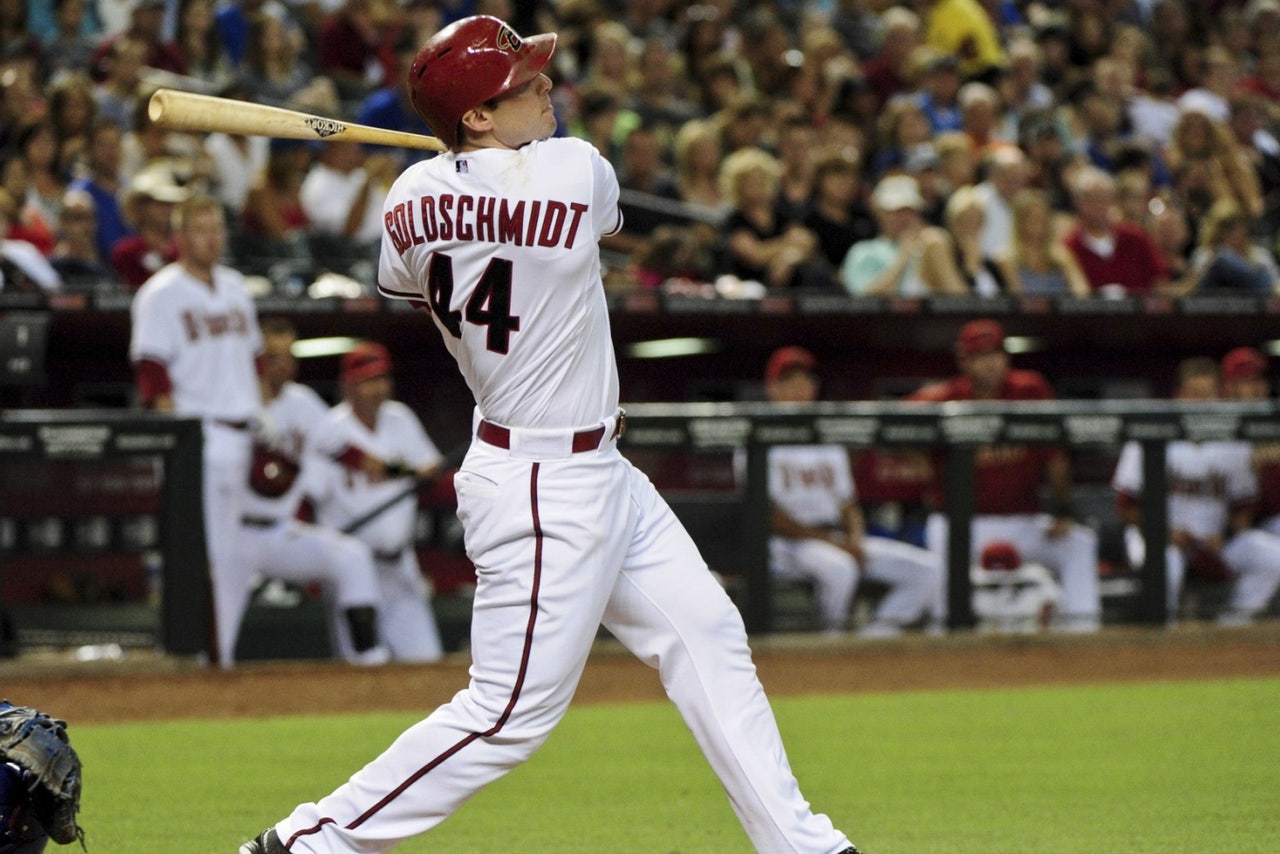 PHOENIX -- Diamondbacks first baseman Paul Goldschmidt is not one to toot his own horn. It is set on permanent mute.
And despite Goldschmidt's remarkable numbers this season and last, he still does not seem to have the national cachet that a two-time All-Star and one of the rising stars of his generation deserves.
So it's a good thing the National League managers are there for balance.
Goldschmidt is all over industry bible Baseball America's "Best Tools" report, selected in a secret ballot among NL managers.
Goldschmidt was rated the second-best power hitter in the league, the third-best hitter and the second-best defensive first baseman.
It was not breaking news in the D-backs' clubhouse.
"Not surprising," D-backs reliever Brad Ziegler said. "We see it on an everyday basis, and so we appreciate it more than people who never see him play do."
Miami's Giancarlo Stanton was rated No. 1 for power and Washington's Adam LaRoche was the top-rated defender at first. Colorado shortstop Troy Tulowitzki and Pittsburgh center fielder Andrew McCutchen were ranked 1-2 as the top overall hitters.
McCutchen, last season's NL MVP ahead of Goldschmidt, was in the top three in four categories in the survey, which includes hitting, pitching, defense and speed sections. Tulowitzki and the Dodgers outfielder Yasiel Puig were mentioned three times.
Goldschmidt likely will miss the rest of the season because of a fractured fourth metacarpal in his left hand, but even a week after the injury he still led the majors with 39 doubles, one more than Milwaukee catcher Jonathan Lucroy. Goldschmidt is slashing .300/.396/.542 with 19 homers and 69 RBI.
Goldschimdt was injured when hit by a pitch from Pittsburgh right-hander Ernesto Frieri on Aug. 1, and D-backs right-hander Randall Delgado hit McCutchen in the back the following night. McCutchen has not played since because of a left rib injury, although Pittsburgh manager Clint Hurdle has said two are not related. The Pirates on Friday designated for assignment Frieri.
NATIONAL LEAGUE "BEST TOOLS" SURVEY
| | |
| --- | --- |
| BEST HITTER | TEAM |
| 1. Troy Tulowitzki | Rockies |
| 2. Andrew McCutchen | Pirates |
| 3. Paul Goldschmidt | D-backs |
| BEST POWER |   |
| 1. Giancarlo Stanton | Marlins |
| 2. Paul Goldschmidt | D-backs |
| 3. Yasiel Puig | Dodgers |
| BEST BUNTER |   |
| 1. Dee Gordon | Dodgers |
| 2. Billy Hamilton | Reds |
| 3. Everth Cabrera | Padres |
| BEST STRIKE-ZONE JUDGMENT |   |
| 1. Andrew McCutchen | Pirates |
| 2. Joey Votto | Reds |
| 3. Matt Carpenter | Cardinals |
| BEST HIT AND RUN ARTIST |   |
| 1. Yadier Molina | Cardinals |
| 2 (tie). Martin Prado | D-backs/Yankees |
| 2 (tie). Jonathan Lucroy | Brewers |
| BEST BASERUNNER |   |
| 1. Billy Hamilton | Reds |
| 2. Dee Gordon | Dodgers |
| 3. Andrew McCutchen | Pirates |
| FASTEST BASERUNNER |   |
| 1. Billy Hamilton | Reds |
| 2. Dee Gordon | Dodgers |
| 3. Ben Revere | Phillies |
| MOST EXCITING PLAYER |   |
| 1. Andrew McCutchen | Pirates |
| 2. Yasiel Puig | Dodgers |
| 3. Carlos Gomez | Brewers |
| BEST PITCHER |   |
| 1. Clayton Kershaw | Dodgers |
| 2. Adam Wainwright | Cardinals |
| 3. Johnny Cueto | Reds |
| BEST FASTBALL |   |
| 1. Aroldis Chapman | Reds |
| 2. Craig Kimbrel | Braves |
| 3. Edinson Volquez | Pirates |
| BEST CURVEBALL |   |
| 1. Adam Wainwright | Cardinals |
| 2. Clayton Kershaw | Dodgers |
| 3. Julio Teheran | Braves |
| BEST SLIDER |   |
| 1. Craig Kimbrel | Braves |
| 2. Clayton Kershaw | Dodgers |
| 3. Jose Fernandez | Marlins |
| BEST CHANGEUP |   |
| 1. Cole Hamels | Phillies |
| 2. Johnny Cueto | Reds |
| 3. Stephen Strasburg | Nationals |
| BEST CONTROL |   |
| 1. Adam Wainwright | Cardinals |
| 2. Clayton Kershaw | Dodgers |
| 3. Zack Greinke | Dodgers |
| BEST PICKOFF MOVE |   |
| 1. Madison Bumgarner | Giants |
| 2. Julio Teheran | Braves |
| 3. Johnny Cueto | Reds |
| BEST RELIEVER |   |
| 1. Craig Kimbrel | Braves |
| 2. Aroldis Chapman | Reds |
| 3. Kenley Jansen | Dodgers |
| BEST DEFENSIVE CATCHER |   |
| 1. Yadier Molina | Cardinals |
| 2. Jonathan Lucroy | Brewers |
| 3. Russell Martin | Pirates |
| BEST DEFENSIVE 1B |   |
| 1. Adam LaRoche | Nationals |
| 2. Paul Goldschmidt | D-backs |
| 3. Freddie Freeman | Braves |
| BEST DEFENSIVE 2B |   |
| 1. Brandon Phillips | Reds |
| 2. D.J. LeMahieu | Rockies |
| 3. Chase Utley | Phillies |
| BEST DEFENSIVE 3B |   |
| 1. Nolan Arenado | Rockies |
| 2. David Wright | Mets |
| 3. Todd Frazier | Reds |
| BEST DEFENSIVE SHORTSTOP |   |
| 1. Andrelton Simmons | Braves |
| 2. Troy Tulowitzki | Rockies |
| 3. Ian Desmond | Nationals |
| BEST INFIELD ARM |   |
| 1. Andrelton Simmons | Braves |
| 2. Troy Tulowitzki | Rockies |
| 3. Ian Desmond | Nationals |
| BEST DEFENSIVE OUTFIELDER |   |
| 1. Andrew McCutchen | Pirates |
| 2. Carlos Gomez | Brewers |
| 3. Gerardo Parra | D-backs |
| BEST OUTFIELD ARM |   |
| 1. Yasiel Puig | Dodgers |
| 2. Gerardo Parra | D-backs |
| 3. Carlos Gonzalez | Rockies |
| BEST MANAGER |   |
| 1. Bruce Bochy | Giants |
| 2. Mike Matheny | Cardinals |
| 3. Fredi Gonzalez | Braves |
Follow Jack Magruder on Twitter
---