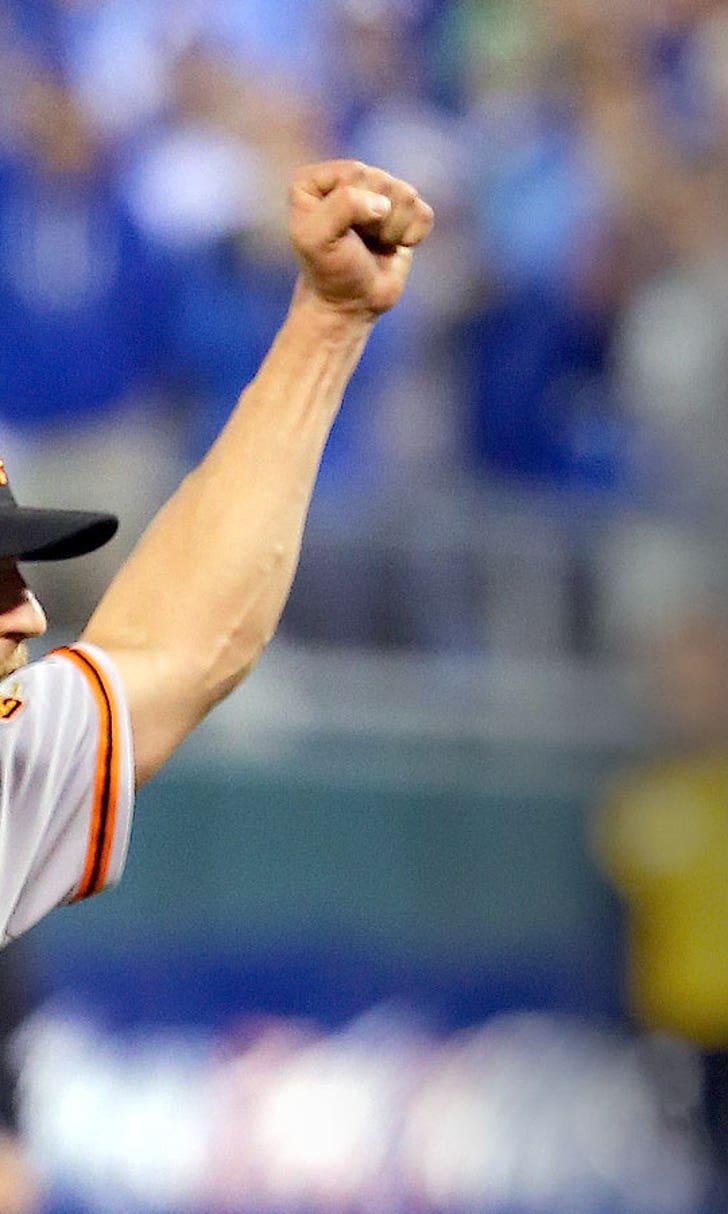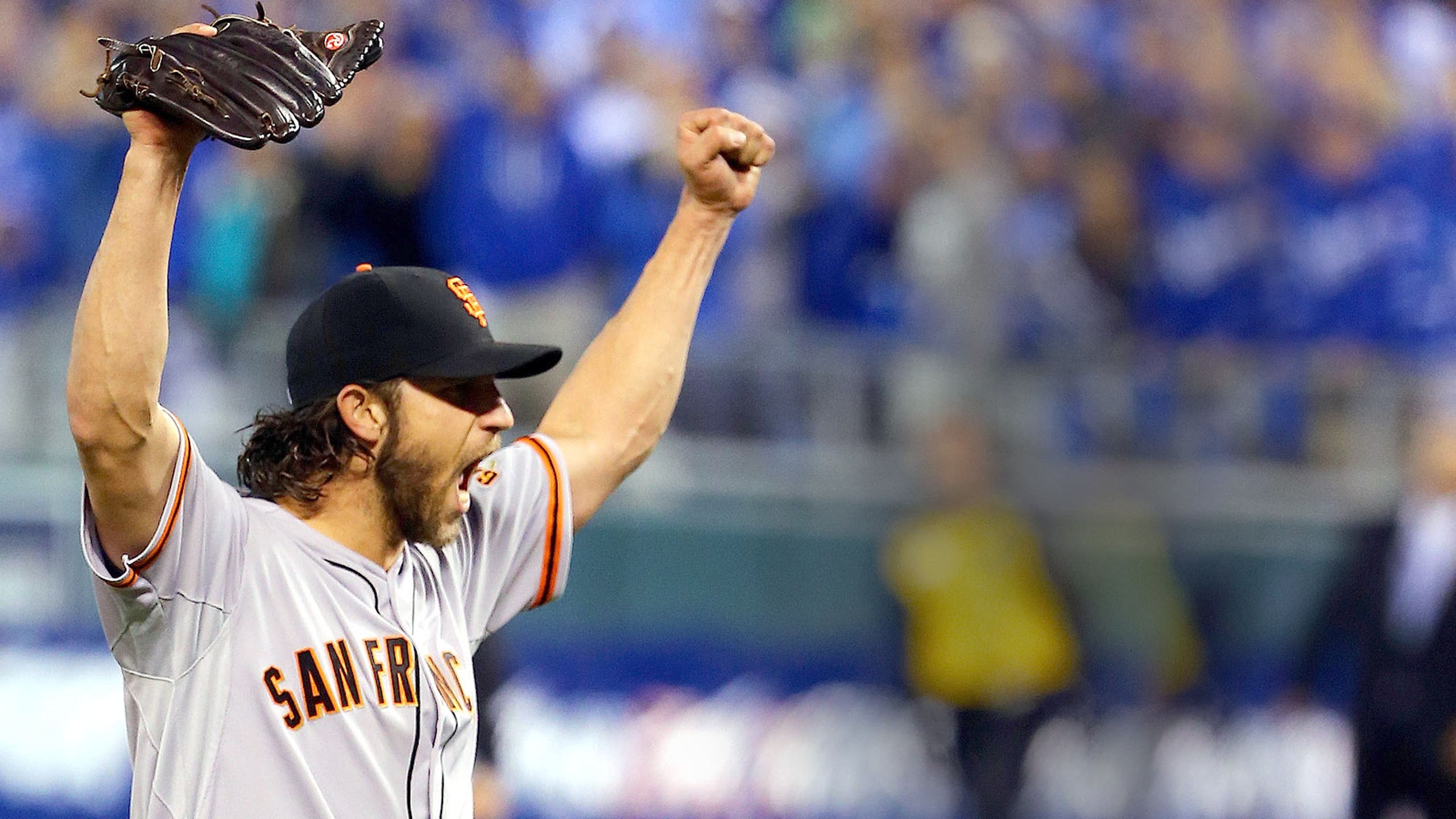 Giants' Bumgarner delivers historic World Series performance for title
BY foxsports • October 30, 2014
KANSAS CITY, Mo. — Three hours before the game, Madison Bumgarner sat calmly at his locker, musing about the challenge ahead.
"It's not as big a deal as people make it out to be," Bumgarner said.
The night before, he had jokingly told reporters that he might throw "200 pitches" as a reliever on two days' rest. But given time to reflect, he said he had thought of a better answer.
"Whatever my pitch count is at the end of the outing, that's what I was ready to throw," Bumgarner said.
Well, we know that the number was 68.
We know that Bumgarner was indeed capable of producing two of the greatest pitching performances in World Series history within a span of three days.
We know, in the wake of the Giants' electrifying 3-2 win in Game 7, that our greatest athletes know no boundaries, that their limits are only what we imagine.
This is why we watch, right? This is why baseball is so compelling, inning after inning, game after game, season after season. It's the old adage: You show up at the ballpark, and you never know what you might see.
Oh, we all knew we were going to see Bumgarner out of the bullpen in Game 7. Manager Bruce Bochy even hinted at how many pitches his ace might throw, explaining that Bumgarner normally threw at least 45 to 50 in his bullpen sessions, and would be "good for at least that" as the Giants tried to win their third Series title in five seasons.
But seriously, 68 pitches? Over five innings? After Bumgarner had thrown 117 pitches just three days before in the first complete-game shutout in the World Series since 2003?
Bumgarner, in his usual shrugging, snorting manner, essentially said, "Why not?
"There wasn't really a whole lot of talk," Bumgarner explained. "I was just ready. I knew if something happened early, it was probably a lot better chance of me getting in there, and it did.  We got the bullpen in the game, so I was ready after that, trying to prepare to go in there."
See, the great ones don't think like we do. In fact, most professional athletes don't. Bumgarner didn't walk into the park figuring he was good for say, two innings or 45 pitches. As he put it, "I was just wanting to get outs."
So, after Tim Hudson lasted just 1 2/3 eventful innings and Jeremy Affeldt restored order with 2 1/3 scoreless, Bumgarner took the mound in the fifth, entering the great unknown.
He was a little shaky in that inning, allowing a leadoff single by Omar Infante and needing a running catch by Juan Perez down the left-field line to escape. But from Infante's hit until Alex Gordon's two-out single in the ninth, Bumgarner retired 14 straight hitters.
And when Gordon reached third thanks to a two-base error by center fielder Gregory Blanco, moving to within 90 feet of tying the score, Bumgarner shrugged, snorted and popped up Sal Perez for the final out.
The official scorers awarded Bumgarner the win, then changed it to the save. In an age of advanced statistics, does anyone really care how it was labeled? Frankly, the scorers could have given Bumgarner both the win and the save, and Affeldt — the so-called "winning" pitcher — would have applauded.
Royals manager Ned Yost said he was "stunned" by Bumgarner's effort on short rest. Bumgarner threw 21 of the Giants' 61 innings in the Series, or 34.4 percent. He also threw 52 2/3 innings of the team's 160 innings in the postseason, or 32.9 percent.
The postseason total is a record, boosted by the NL Wild Card Game, which is only in its third year of existence. But it's what Bumgarner did in those 52 2/3 innings — 45 strikeouts, six walks, a 1.03 ERA — that is truly remarkable.
He is only 25, yet seems like a throwback to the days of Old Hoss Radbourn. Pitchers today rarely throw complete games in the regular season, much less the postseason. They train to pitch every fifth day, and struggle when asked to pitch on short rest in October.
The Giants protect Bumgarner, too — they watch his pitch counts, and never have started him on less than four days' rest. So, he was in completely unchartered territory on Wednesday night — and still lowered his Series ERA to 0.25, the lowest in history, minimum 30 innings.
"You know what? I can't lie to you anymore. I'm a little tired now," Bumgarner said in the interview room, evoking laughter.
Otherwise, no big deal.
Shrug. Snort. Win, make history, go home.
---