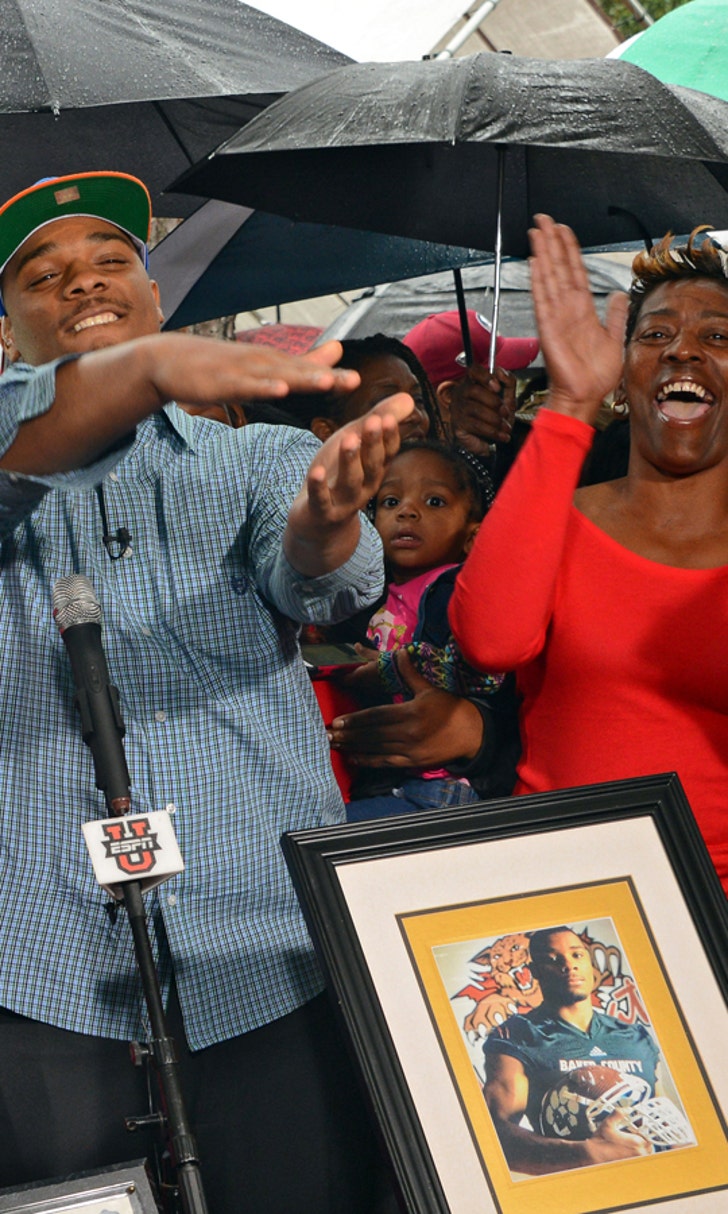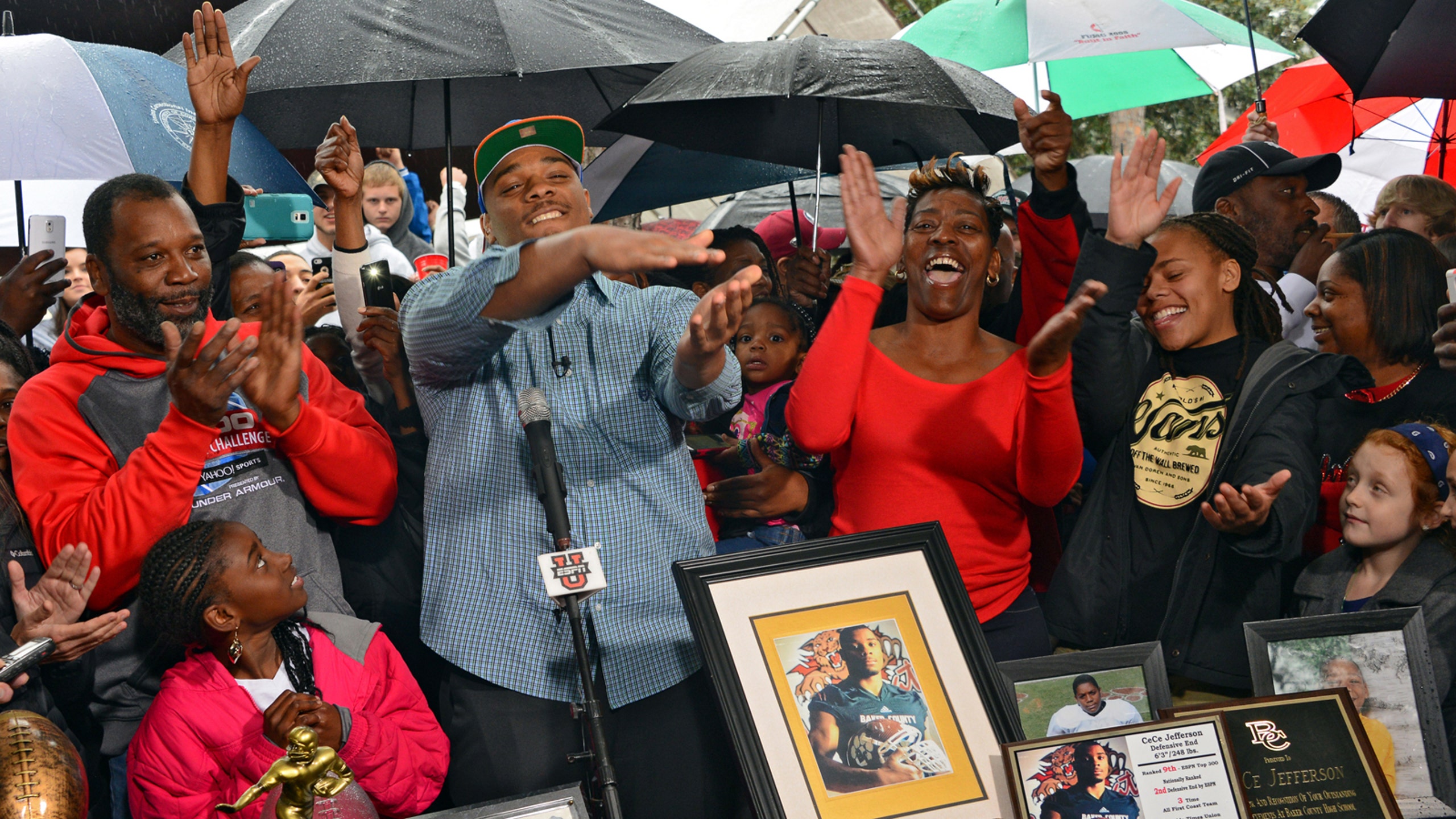 Getting things done: Florida finishes strong with Jim McElwain's first recruiting class
BY Padrick Brewer • February 4, 2015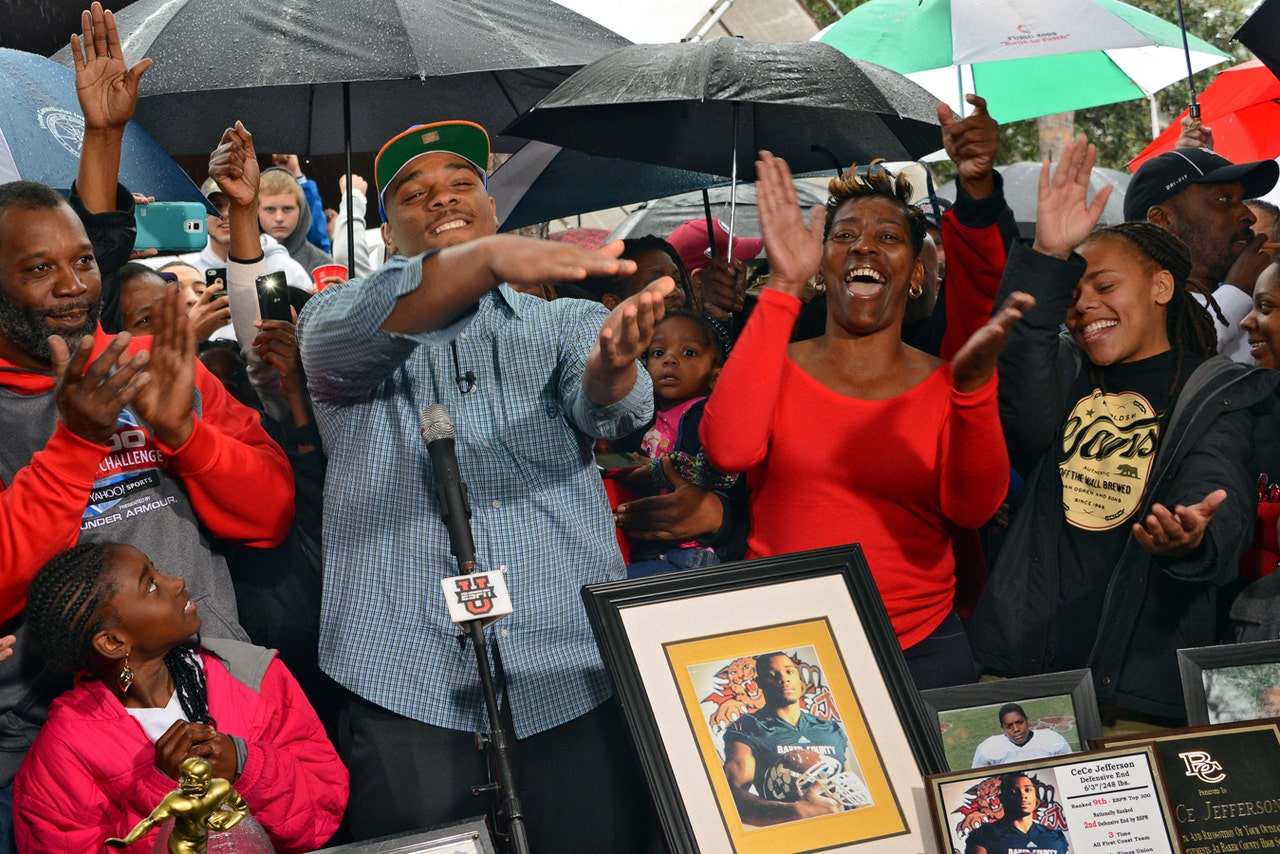 GAINESVILLE, Fla. -- Once the dust settled Wednesday on a hectic National Signing Day, the Gators emerged alive and well.
And Jim McElwain materialized with a winner's grin.
"We were able to get some things done," he said. "What we'll do is go out and have dinner as a staff and tell a few jokes and laugh a little bit. And then we'll get back to work in the morning to get ready to go for spring ball."
As recently as 10 days ago, some predicted Florida's first recruiting class under McElwain would be the Gators' worst since the Internet turned recruiting into a national star-rating obsession.
The Gators had less than 10 "reservations" -- McElwain's preferred term over those flimsy nods called verbal commitments -- and a lot of ground to make up in a short time.
They gained momentum in recent days and on Wednesday, the roller-coaster ride started mild, got bumpy for a stretch, and then roared to the finish as Florida received National Letters of Intent from 18 players to pull off one of the day's surprises.
At least in the view of outsiders. McElwain said he and his staff felt they were at least making headway, especially in Florida.
"We weren't the only ones in the country [getting a late start]," said McElwain, who replaced Will Muschamp in early December. "It happens every year. We felt decent all the way along and felt really good about the kind of kid we brought in here."
Offensive lineman Tyler Jordan out of Jacksonville's Bishop Kenny High was the first to make it official. A stream of others soon followed, including St. Thomas Aquinas running back Jordan Scarlett and Pasco (Fla.) High defensive lineman Andrew Ivie.
Still, social media buzzed about the imminent showdown between Auburn and Florida for the services of Armwood (Fla.) High defensive lineman Byron Cowart, ranked the top overall prospect in the nation according to ESPN.com.
And when Cowart announced on live television that he would sign with Auburn, Gator fans started to get antsy. A glance outside would have shown the sky in place, but in the Twittersphere, it was falling fast.
Compounding the issue is that Muschamp was the one recruiting Cowart to Auburn.
"That's part of the game," McElwain said.
Perhaps staggered momentarily, the Gators regained their balance quickly. A big swing happened when Apopka (Fla.) High man-child Martez Ivey, a 6-foot-6, 290-pounder ranked the best offensive lineman in the nation, announced he signed with Florida.
A wave of optimism and excitement engulfed Gator Nation and so did a string of NLIs that helped the Gators climb significantly in the national rankings. At the start of the day, Rivals.com ranked Florida's class No. 57, Scout.com had the Gators at No. 52, and 247Sports.com had them at No. 42.
By evening, the Gators had climbed to No. 23 according to Rivals, 29th by Scout, 247Sports ranked them No. 21, and ESPN.com ranked Florida's class the 20th best in the country.
A surge of late additions (running back Jordan Cronkrite, offensive lineman Nick Buchanan and athlete D'Anfernee McGriff) helped the cause, as did a pledge from a high-profile player the Gators expect to receive an NLI from on Thursday morning. Here is Florida's most current signee tracker.
While the final results were not revealed until Wednesday, the road trips and phone calls and official visits over the past two months are what lifted the Gators from the shadows of an uncertain class to one that is considered a momentum builder for McElwain.
The Gators have a group of talented players set to return next season, but they lack significant depth on the offensive line and could use more playmakers on offense.
Florida signed six offensive linemen Wednesday and players like Scarlett, receiver Antonio Callaway and athlete Kylan Johnson offer more potential threats for an offense lacking star power.
"The momentum that we've gained has been fantastic," McElwain said. "The doors that we've opened in this short period of time back in the places that we need to to be successful at when we go out and recruit, and obviously that's in the state of Florida first."
Of Florida's 18 signings on Wednesday, 13 are from Florida, and seven of those are from South Florida (Dade, Broward and Palm Beach counties).
"I felt we did a great job down there," McElwain said. "It's an area that when Florida was really rolling, they were getting guys from [there]. That's an area that we're going to continue to go back to."
| | | | | | |
| --- | --- | --- | --- | --- | --- |
| Player | Pos | HT | WT | Stars | Scout.com rank |
| Martez Ivey | OL | 6-6 | 271 | 5-star | 3 |
| CeCe Jefferson | DE | 6-3 | 258 | 5-star | 13 |
| Jordan Scarlett | RB | 5-10 | 207 | 4-star | 102 |
| D'Anfernee McGriff | RB | 6-3 | 220 | 4-star | N/A |
| Jordan Cronkrite | RB | 5-10 | 189 | 3-star | N/A |
| Antonio Callaway | WR | 5-10 | 180 | 3-star | N/A |
| Keivonnis Davis | DE | 6-3 | 220 | 3-star | N/A |
| Chris Williamson | DB | 6-1 | 185 | 3-star | N/A |
| Nick Buchanan | OL | 6-4 | 285 | 3-star | N/A |
| Kylan Johnson | DB | 6-3 | 205 | 3-star | N/A |
| Fredrick Johnson | OL | 6-7 | 303 | 3-star | N/A |
| Richerd Desir-Jones | DT | 6-3 | 282 | 3-star | N/A |
| Jabari Zuniga | DT | 6-2 | 265 | 3-star | N/A |
| Rayshad Jackson | LB | 6-2 | 215 | 3-star | N/A |
| Brandon Sandifer | OL | 6-4 | 329 | 3-star | N/A |
| Andrew Ivie | DT | 6-2 | 280 | 3-star | N/A |
| Camrin Knight | TE | 6-4 | 225 | 3-star | N/A |
| Tyler Jordan | OL | 6-4 | 285 | 3-star | N/A |
| Luke Ancrum | DE | 6-4 | 220 | 2-star | N/A |
---