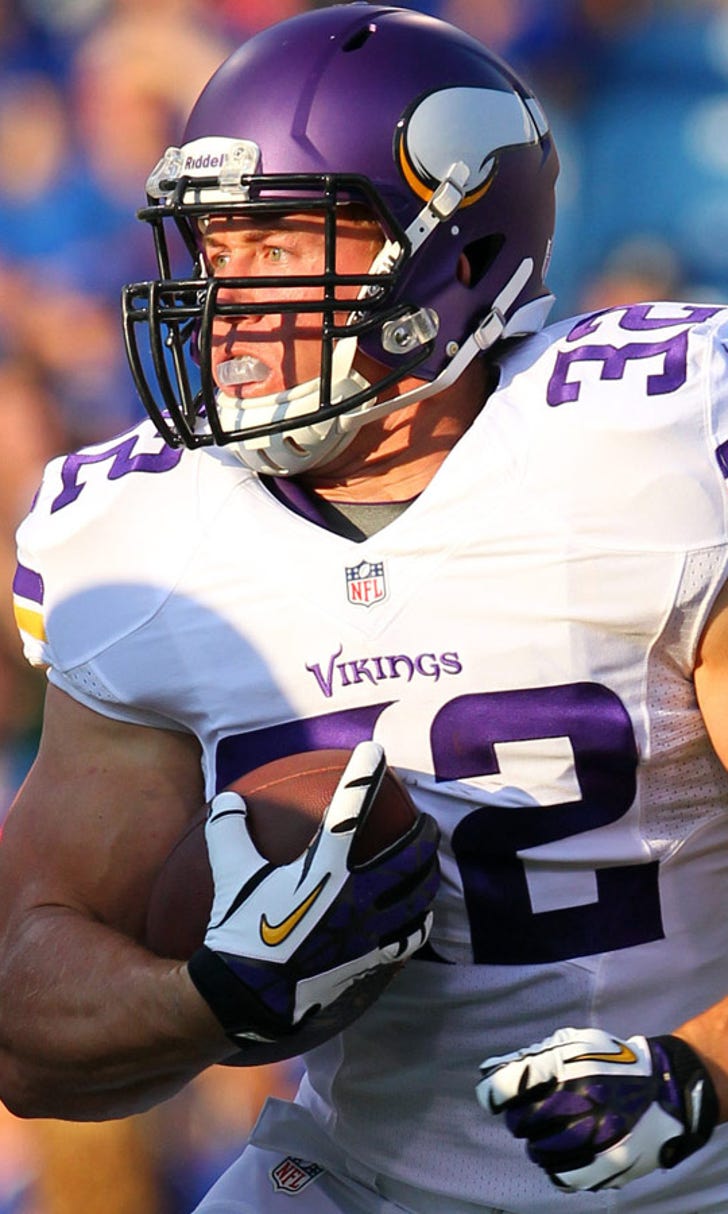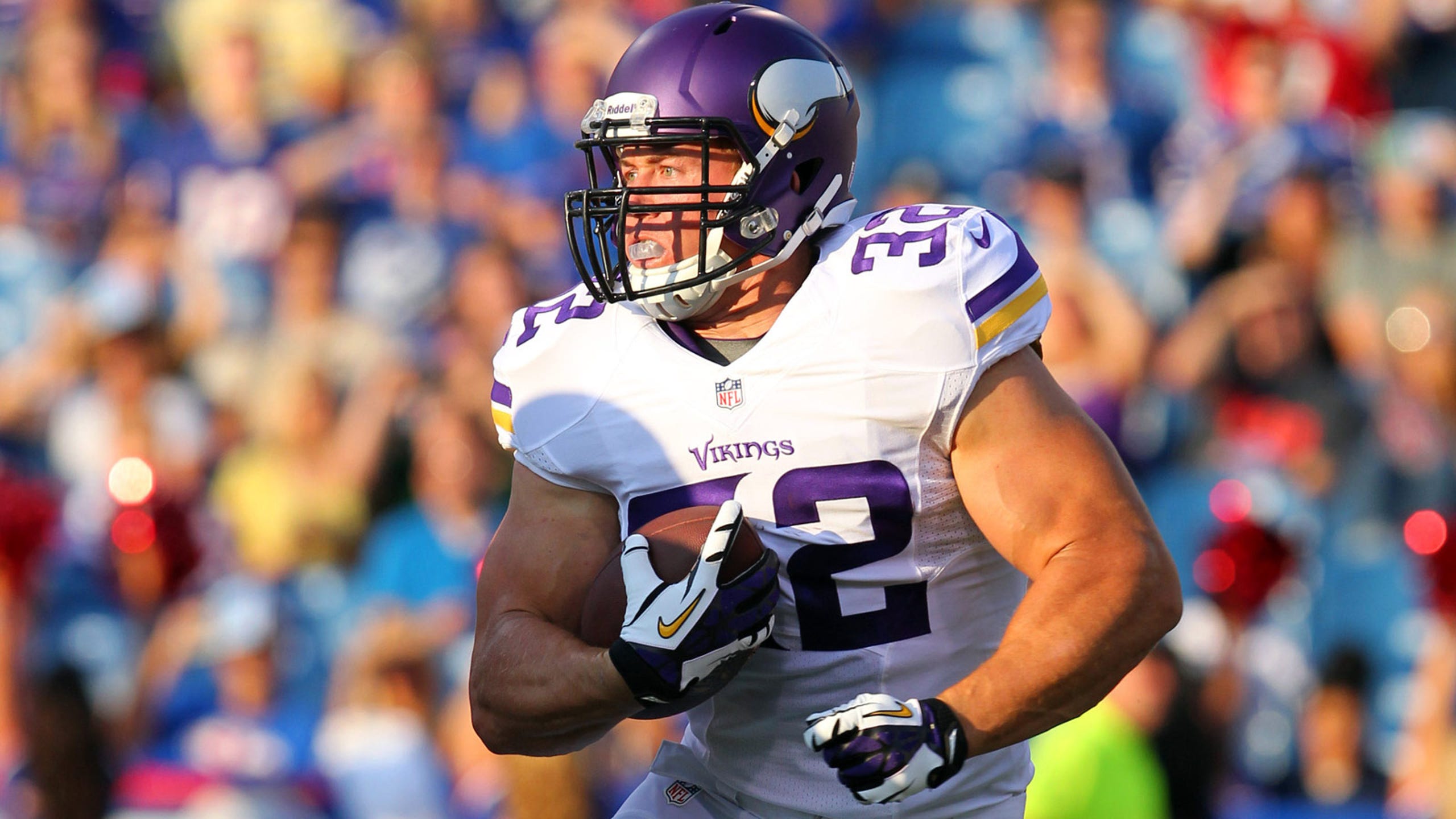 Gerhart eager to see opportunities in free agency
BY foxsports • February 26, 2014
Toby Gerhart has waited his turn. He's been patient, the consummate team player in his four years with the Minnesota Vikings.
Gerhart's patience just needs to last a few more weeks.
Sitting behind Adrian Peterson for four seasons, Gerhart waited for his chances -- and usually took advantage when he got a shot. But four NFL seasons have yielded 276 regular-season carries for the former Heisman Trophy runner-up and second-round NFL Draft pick.
On March 11, Gerhart will officially hit unrestricted free agency for the first time in his career. He appreciates his time with the Vikings and is eager to see what other opportunities are available to him from the rest of the league.
"It's the first time that I've been a free agent and (could) see what else could potentially be out there," Gerhart said earlier this month, at the team's Arctic Blast fundraising event. "Been here for four years backing up Adrian in that role and it's always nice to see what other people think across the league and what other opportunities I may have. We'll see how it all plays out."
Gerhart took part in the Arctic Blast for the third straight year and represented Minnesota, despite his pending free agency and likely departure. That consideration is just the latest example of the class and dignity he's conducted himself with since the Vikings made him the 51st overall draft pick in 2010.
In his final season at Stanford, Gerhart had more carries (343) than he has in his four seasons with Minnesota. Gerhart led the nation in carries, yards (1,871) and touchdowns (28) in 2009 and finished second to Alabama's Mark Ingram in the closest Heisman Trophy balloting in the award's history, separated by just 28 votes.
Free agency is a chance to see if he can find a home where he might be relied on more. Gerhart is keeping his options open but would enjoy the chance to be the main ball-carrier for a team again.
"Any running back, you want to be the guy," Gerhart said. "You want to get 20 carries (like) back in the glory days of college and high school when I was toting the rock all the time. It's fun. But at the same time, the league's about longevity and you see all the health stuff coming out. My mom, parents and my wife say, 'Hey, if you stick around Minnesota you can play long and walk when you're 40.' Who knows what's going to happen. There's two sides to it and we're going to weigh everything and see what happens and make a decision."
Gerhart, who turns 27 next month, doesn't have many NFL miles on his 6-foot, 231-pound frame. His NFL experience, combined with fresh legs, could have teams looking to add Gerhart as an every-down back or at least a bigger, pounding back in a split backfield.
The demand for running backs should be an interesting one. The league continues to lean heavier to the passing game and the running back market is flush with players like LeGarrette Blount, Ahmad Bradshaw, Andre Brown, Donald Brown, Rashad Jennings, Maurice Jones-Drew, Darren McFadden, Willis McGahee, Rashard Mendenhall, Knowshon Moreno, James Starks and Ben Tate.
"We're just waiting to see," Gerhart said. "It's kind of see what happens, how it plays out. All I can do right now is workout, train and see what happens here in the next couple of weeks when everybody starts talking."
Minnesota general manager Rick Spielman had planned to meet with Gerhart's agent during the NFL Scouting Combine last week, part of the initial meetings between the team and all of its unrestricted free agents.
Before the combine, Spielman said the team will have to address the backup situation for Peterson, who turns 29 next month and is signed for four more seasons.
"We don't have a potentially No. 2 running back right now," Spielman said. "So that does play into effect, either re-signing Toby back or looking at potential No. 2-type running back in the UFA market or potentially drafting another running back if Toby is not here."
Gerhart's made the most of his few NFL chances as Peterson's backup. He's averaged 4.7 yards per carry in his career and has proven a capable pass-catcher and blocker as Minnesota's usual third-down back. In his 61 games, though, he's made six starts. Filling in for an injured Peterson late in 2011, he had three games of at least 90 yards on fewer than 21 carries.
He had more chances late last season, as well, with Peterson hurt. He had seven carries for 67 yards against Seattle and came back with eight carries for 91 yards against Green Bay the following week, providing a 1-2 punch with Peterson.
After Peterson sprained his foot at Baltimore, Gerhart had 15 carries for 89 yards in a last-minute loss. However, Gerhart missed two games -- the first of his NFL career -- with a hamstring injury late in the season.
"I was productive in the times I had," Gerhart said. "It was unfortunate that I missed a game for the first time in my career at the end of the season when I would have had a chance to play and to start one or two games. That was unfortunate. But I think the body of work I've put in over the last couple years hopefully will show enough and we'll see what happens. . . . I think it's a pretty good resume (of) what I can do."
His resume and patience could soon pay off.
Follow Brian Hall on Twitter
---