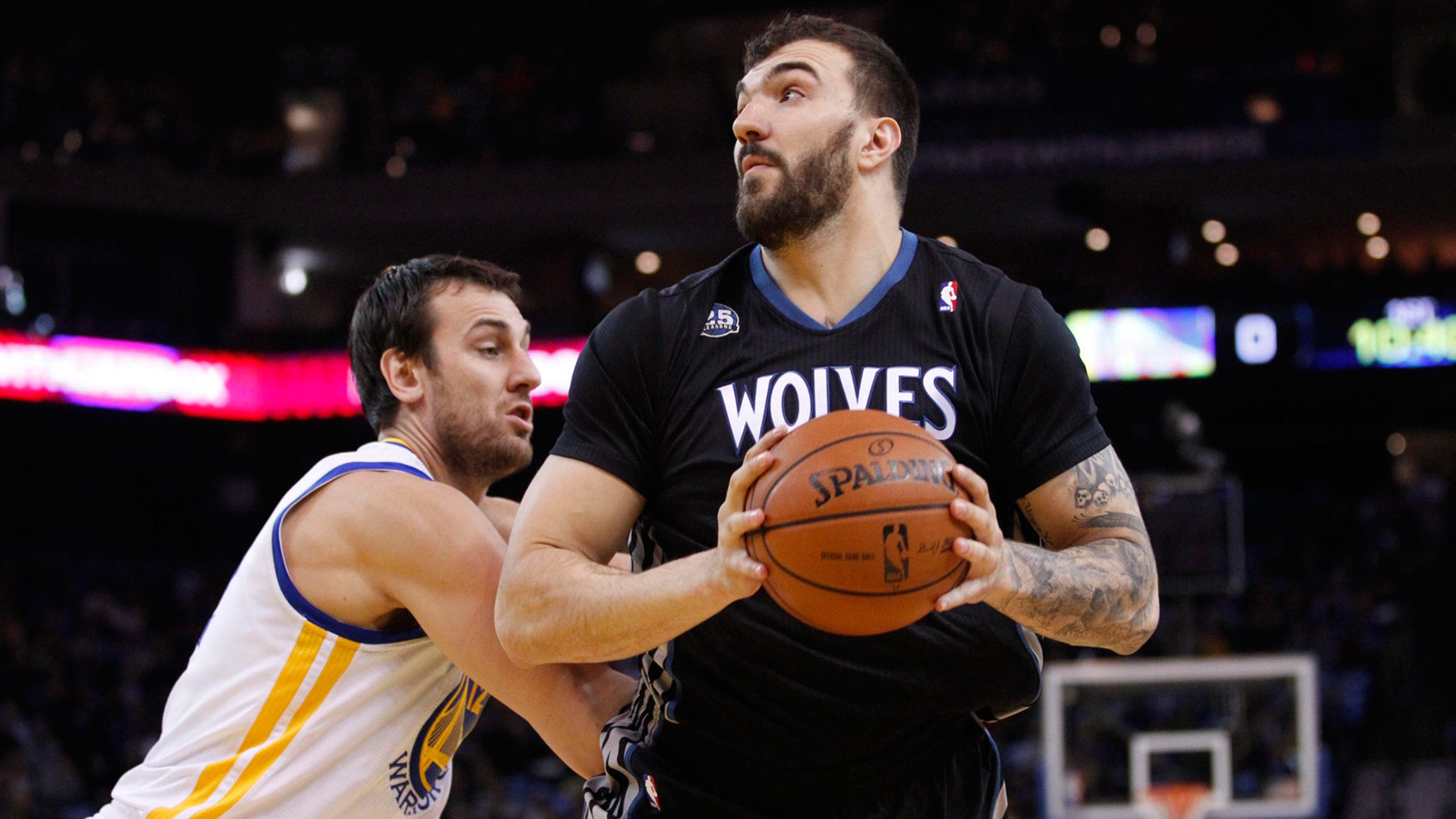 Frustration growing for Wolves' Pekovic as absence drags on
BY foxsports • February 24, 2014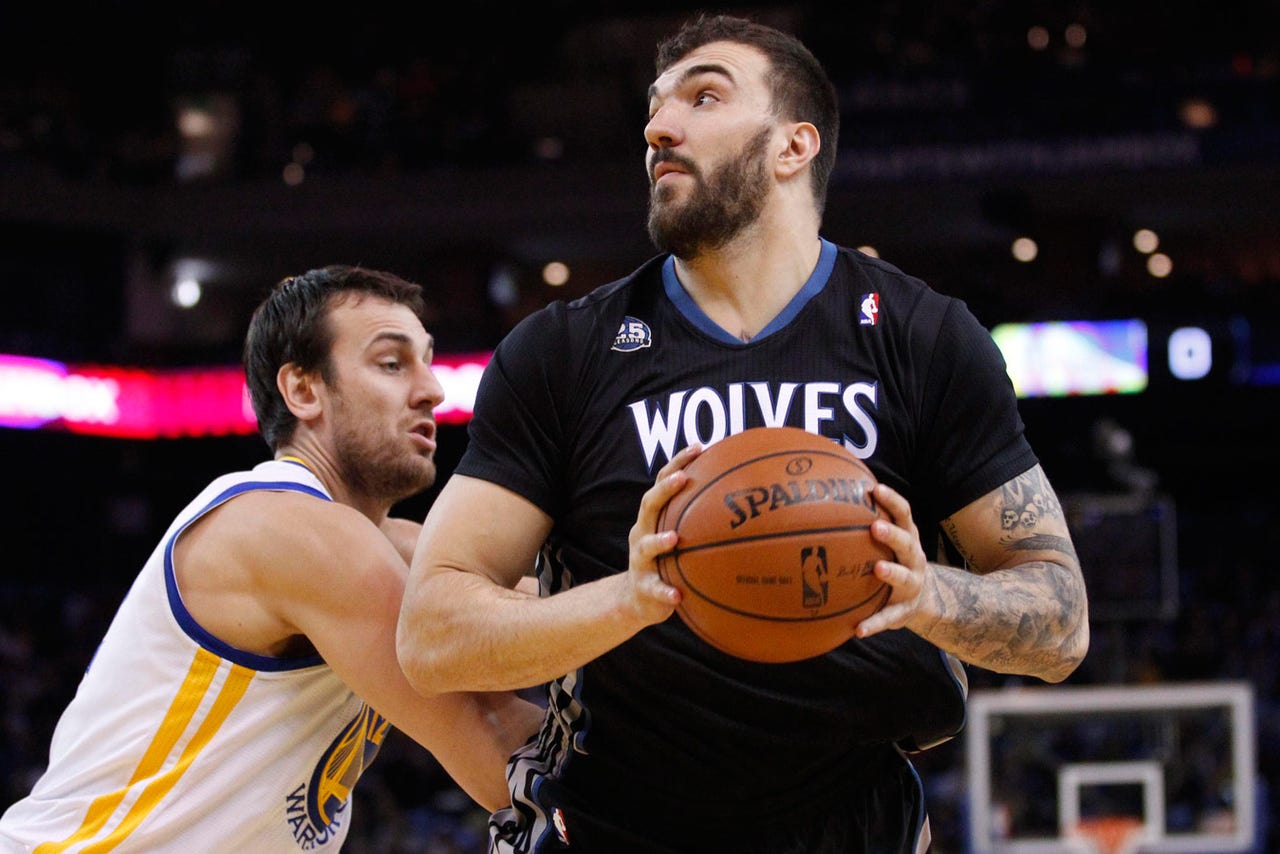 It's so close, Nikola Pekovic can feel it on the bottoms of his size-18 high tops.
The past two Minnesota Timberwolves games, their mammoth center has stepped on courts in Salt Lake City and Portland, Ore., for warm-ups to test his tender right ankle. Even with optimism abounding for his much-needed return, he's wound up sitting on the bench all night, just as he has since being diagnosed with right-ankle bursitis late in January.
While there, he's smiled, shaken hands and taken pictures with fans -- that giant teddy-bear persona he's become known for.
But within that 6-foot-11, 285-pound frame, there's a longing going unfulfilled. Still.
"I feel kind of frustrated because it's been longer than I expected, but with this injury it's just that type of recovery and everything," Pekovic said. "It's been frustrating for me because I really wanna be on the court."
Pekovic has missed Minnesota's past 12 games, nearly a month of basketball. Each of his first three NBA seasons, he sat out at least 17 contests due to various minor injuries, prompting the Timberwolves to put a games-played incentive in the extension he signed this past summer.
Since returning before training camp, Pekovic has worked closely with the team's training staff to become more flexible and durable in hopes of preventing further absences.
So this is getting kind of old.
"I've been having a good year and everything's been working fine," said Pekovic, who led the league in second-chance points and offensive rebounds before exiting early Jan. 27 at Chicago, citing pain above his right foot. "I'm just missing the guys and missing playing really much."
Pekovic participated in drills for the first time Thursday and did so again Friday before departing with the team for its current five-game road trip. Some light work at Utah's EnergySolutions Arena on Saturday revealed there was still too much soreness and stiffness for him to perform, and a similar routine Sunday at Portland's Moda Center produced the same, aggravating result.
The Timberwolves sure could've used him Sunday, when they fell at Portland after leading by as many as 18 in the first half. With backup center Ronny Turiaf also out, they're down to usual power forward Kevin Love and rookie Gorgui Dieng as the only viable five-spot options.
Love has handled the shift well, averaging 33.1 points and 14.4 rebounds per game since Pekovic's injury. But Dieng remains mostly a nonfactor, and a makeshift frontcourt rotation featuring Dante Cunningham, Luc Mbah a Moute, Shabazz Muhammad and Robbie Hummel in more central second-unit roles only works as a temporary fix.
"It's just gonna be by committee right now," coach Rick Adelman said.
In dire need of a slew of consecutive wins to insert themselves into the playoff conversation, the Timberwolves are 5-7 with Pekovic out of the lineup. That stretch includes the first triple-double of Love's career and a three-game win streak that matches their longest this season -- both came Saturday against the Jazz -- but also saw Turiaf sidelined with a bone bruise in his right knee and a four-game skid, Minnesota's longest this season.
President of basketball operations Flip Saunders told KFAN 100.3 on Friday that Turiaf will be out for at least the next three weeks. Going up to block a shot in the fourth quarter of last Wednesday's win against Indiana, he landed awkwardly on his right leg and limped out of the locker room with a large, black brace on it.
An MRI the next day revealed a bone bruise, and Turiaf has been out indefinitely since.
That's a blow to Minnesota's chances whether Pekovic's healthy or not. During 10 starts in Pekovic's stead, Turiaf made 54.5 percent of his field goals, averaged 7.5 rebounds per game and proved a viable rim protector at the other end of the floor.
With his top two centers out and a rookie averaging 6.8 minutes per game behind them, Adelman has been forced to go small. While Dieng has expectedly received more minutes, the coach has preferred to use Love at center first and either Cunningham or Mbah a Moute -- who both play small forward, too -- at the four. When Love takes a breather, Dieng plays center alongside one of those two.
That's left some wing time open for rookies Muhammad and Hummel, who played 22 and 14 minutes against the Blazers.
It's a thin, precarious lineup that doesn't look built to go on the kind of run Minnesota requires. Kevin Martin is still out with a broken left thumb -- he was scheduled to get a second opinion on it Monday in Los Angeles -- and Phoenix is the next stop on a road trip that still has three important games remaining.
Then again, the Timberwolves dug themselves their six-game standings hole while Pekovic and Martin were healthy.
Still, Pekovic is big enough -- both in stature and contribution -- to plug a sizeable gap when he does return. The Montenegrin is expected to test the ankle again Tuesday at the U.S. Airways Center in Phoenix.
"It definitely hurts," Love said after the Timberwolves' 108-97 defeat Sunday night. "A night like tonight just reminds us that we need all of our guys back."
FOX Sports North's Marney Gellner contributed to this report.
Follow Phil Ervin on Twitter
---