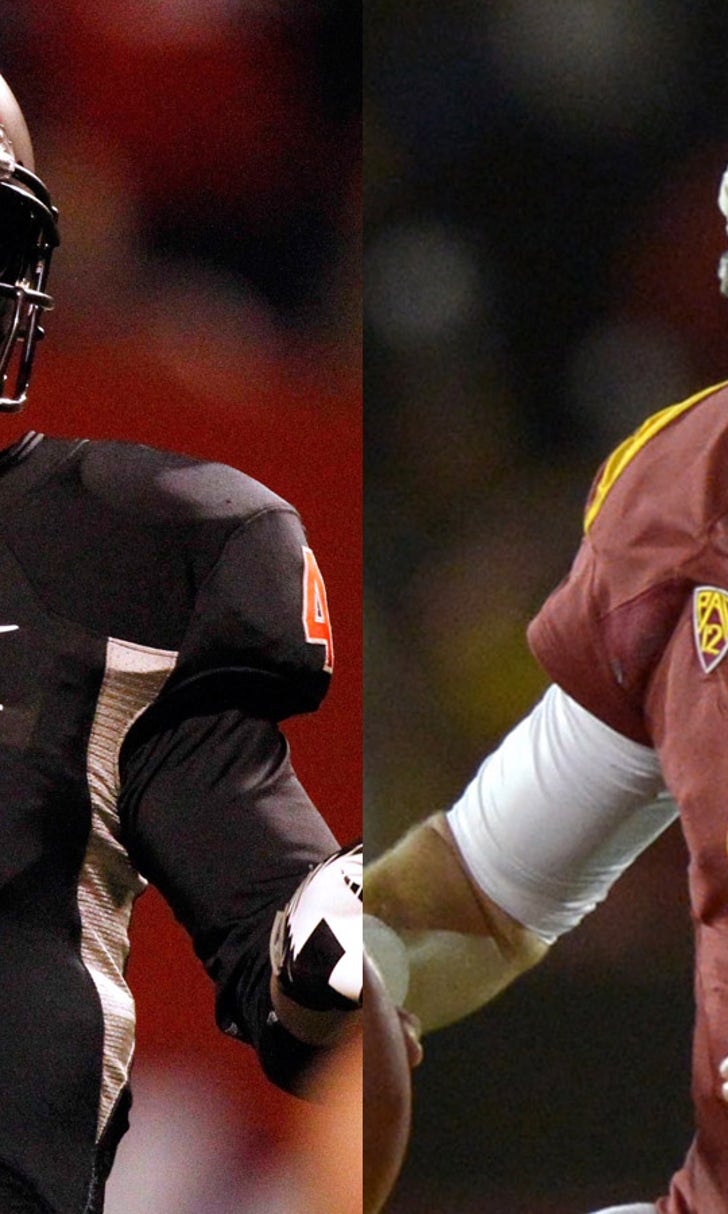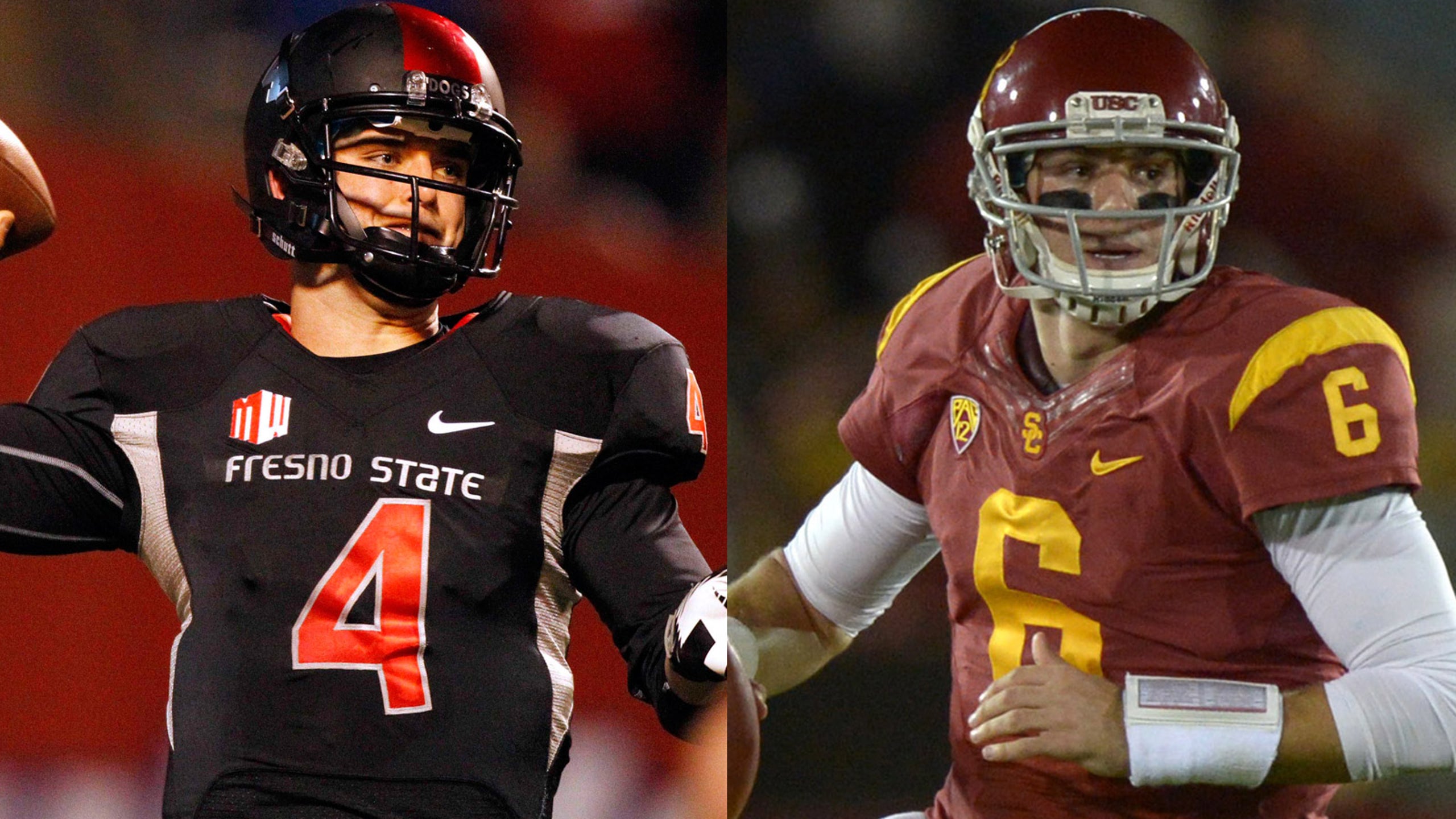 Fresno State's Carr has high praise for USC's Kessler
BY foxsports • December 20, 2013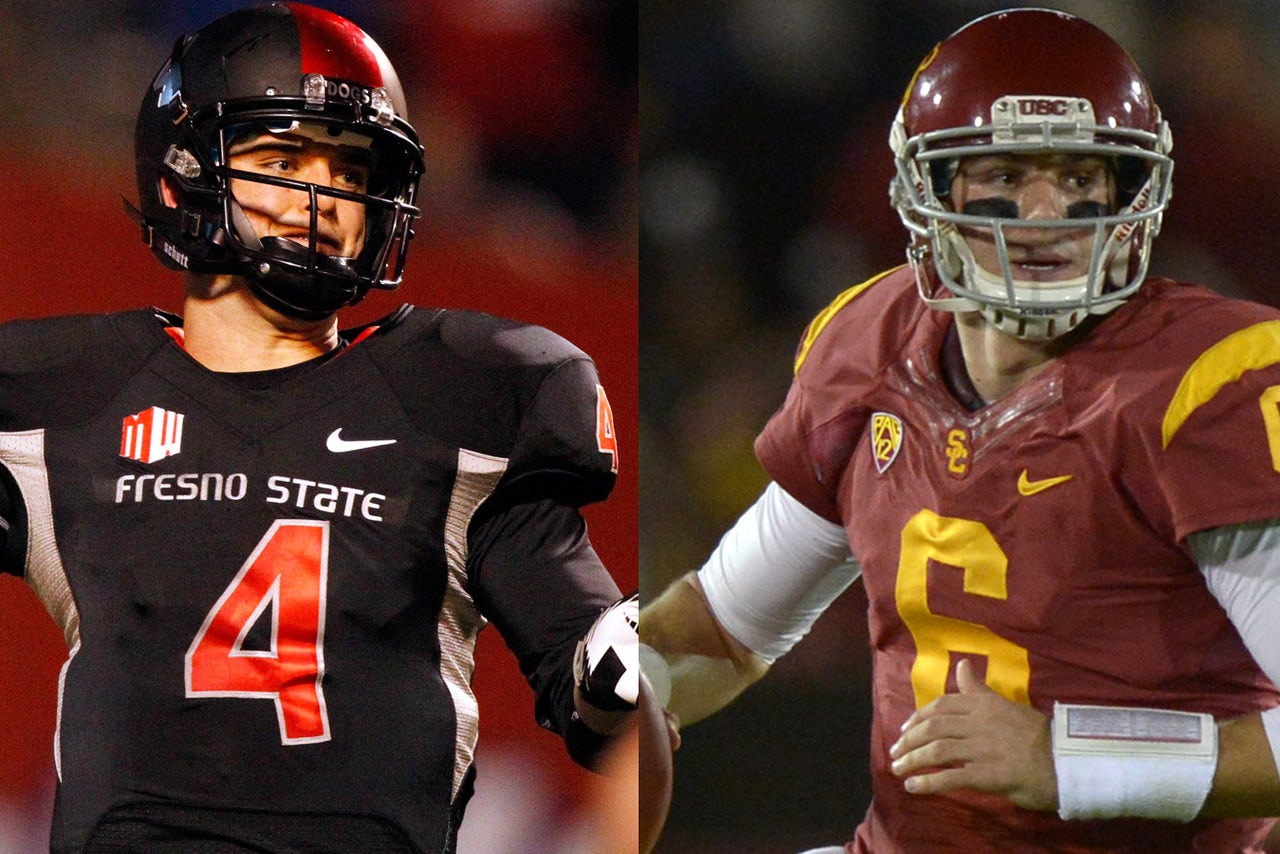 LAS VEGAS -- USC quarterback Cody Kessler and Fresno State quarterback Derek Carr are really good friends and both hail from Bakersfield.
They two are both fans of one another and when they sat at the podium Friday morning for the final Royal Purple Las Vegas Bowl press conference before Saturday's 12:30 p.m. kickoff, Carr expressed how highly he thought of his pal.
"I think (USC has) the best quarterback around in Cody," Carr said. "He's a star in the making. He's a great player."
The Fresno State quarterback didn'€™t stop there throwing praise at his buddy.  
"One day he'll be a first-round pick," Carr said of Kessler. "He works hard. He has the talent and it means something to him."
Hearing his friend utter those words, Kessler took the compliment to heart.
"I have a lot of respect for him," Kessler said of Carr. "It means a lot to me."
Kessler's admiration for Carr began when he was just a sophomore playing varsity football at Bakersfield's Centennial High School, and Carr was the star in town and setting records at Bakersfield Christian. They forged a bond, often working out and throwing together.
Carr was also a huge supporter of Kessler as he went through a quarterback battle before the start of the season.  
"He taught me so much," Kessler said. "He's just a classy guy.
"He's someone that I try to model myself after. He's a dad. He's a husband. He does everything the right way."
Not only are the quarterbacks close friends but their families are close with one another as well.
Kessler says he's heard from plenty from his hometown saying they'll be in attendance at the sold out Las Vegas Bowl on Saturday to see two products of the town duke it out.
While their admiration for one another is clear. What's unclear is who'd win in a pickup game of one-on-one. Kessler averaged 29.5 points per game as a senior in high school and had a scholarship offer from UC Santa Barbara. It appears he would have the age, especially when you throw in the fact Kessler says he's never seen Carr pick up a basketball.
However, as quick as he issued praise for how great his friend is as a quarterback, Carr shut down any notion that he'd come out on the losing end on the basketball court.
"Of course, I'm going with myself," Carr said.
---