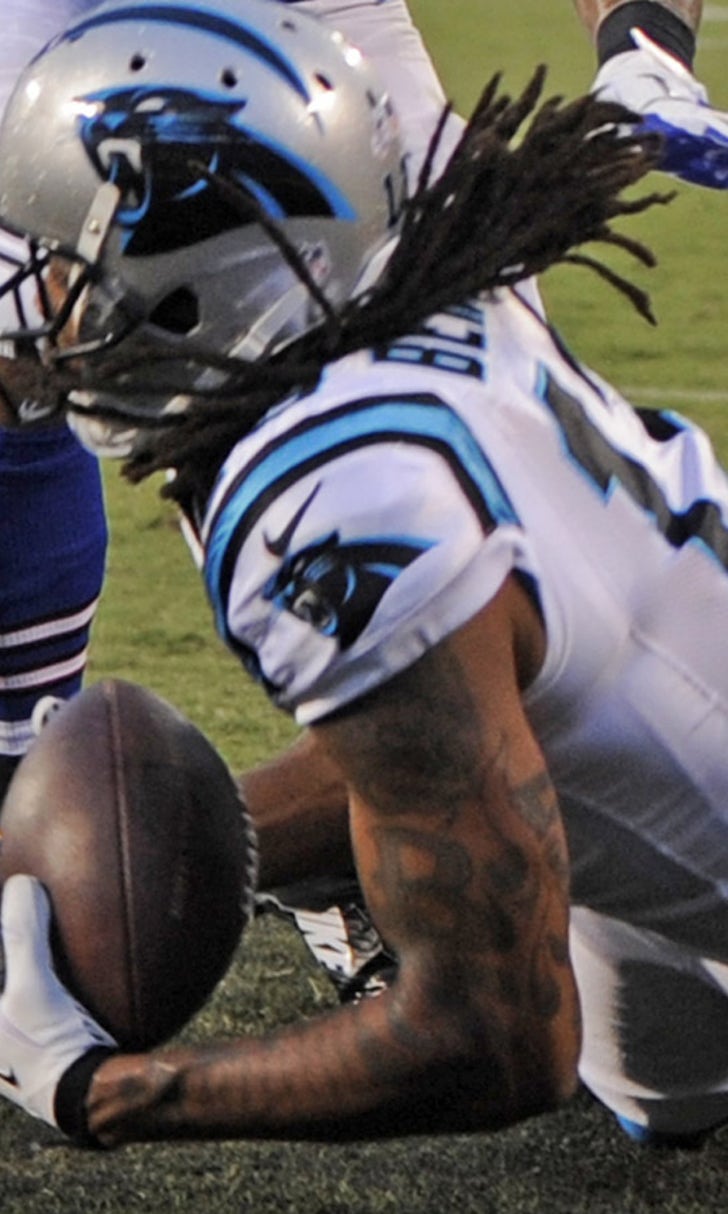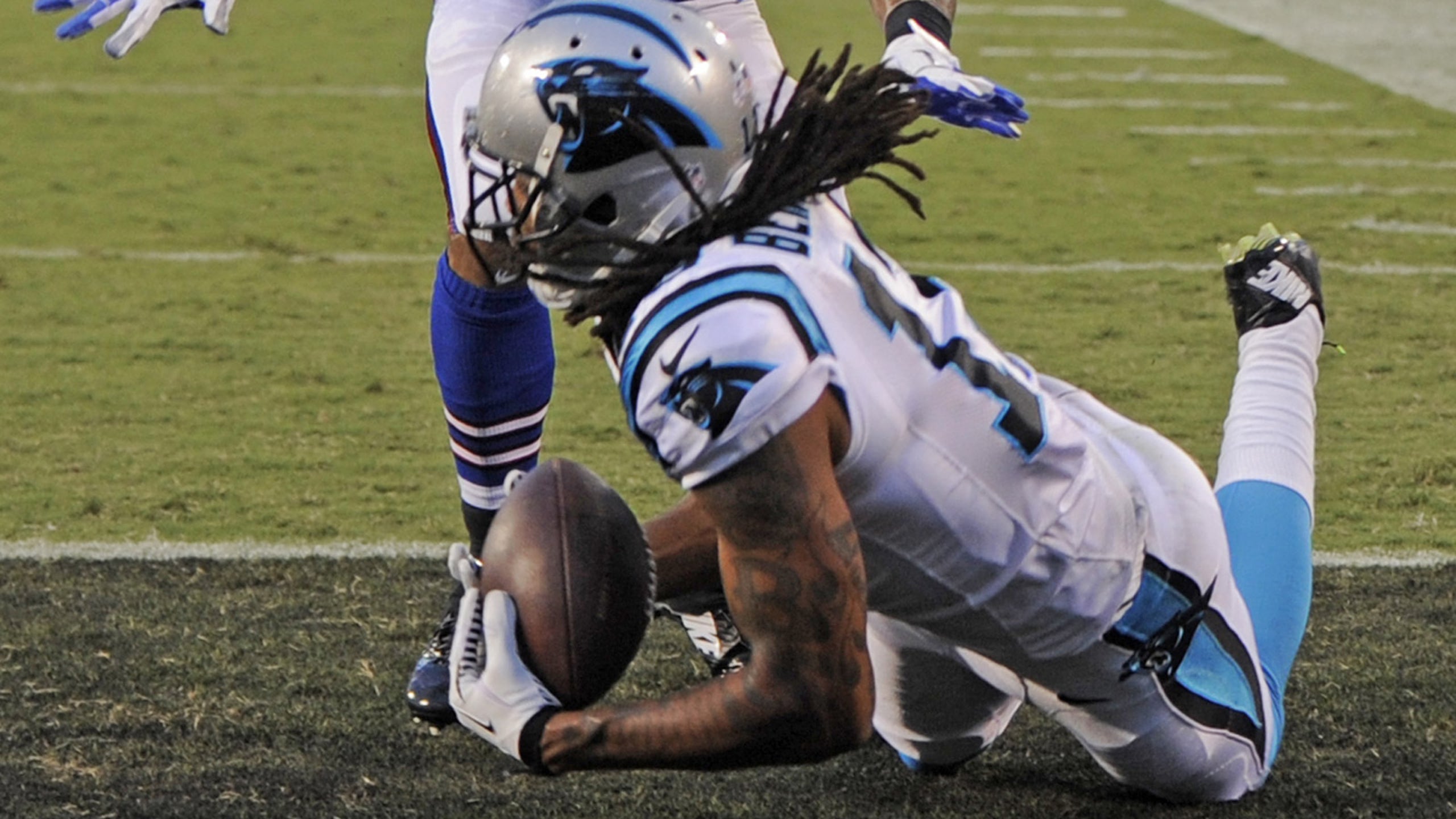 Four Downs: Benjamin shines in Panthers preseason loss to Bills
BY foxsports • August 9, 2014
CHARLOTTE -- The Carolina Panthers played in their first preseason game against Buffalo on Friday night at Bank of America Stadium and here are four observations from a 20-18 loss.
The rookie receiver for the Panthers made his first NFL catch a memorable one. 
After only being targeted once during the first quarter, and it being an uncatchable pass, Benjamin made his presence known by grabbing the game's first touchdown in a spectacular way.
As he streaked down the left sideline, his feet got tangled with Bills cornerback Stephon Gilmore, which caused Benjamin to stumble and ultimately fall to the ground. However, as he was falling, he snagged the pass just inches off the ground and brought it to his body to secure the catch and record the 29-yard touchdown.
It caused star quarterback Cam Newton, who didn't play and was dressed in street clothes, to sprint down the sideline and jump on Benjamin in the end zone. 
Not a bad way to make your first catch as a professional.
"The whole time I was stumbling, I kept my eyes on the ball and I followed it all the way to the ground," Benjamin said. "In a split second, I just stuck my arms up between the ball and the ground, right before it hit the ground and I caught it. It was crazy."
Derek (Anderson) threw a great ball and gave me a chance to make a play," Benjamin said. "I got tangled with the corner but never took my eyes off the ball and made the play."
A reception like that one is exactly why the Panthers surprised so many by taking him in the first round. 
"Those were the types of plays we saw him make in college," Carolina head coach Ron Rivera said. "But he's also consistent and we felt he could give us that."
The starting offensive line for the Panthers, which has four positions being played by somebody new from last season, played three full series, even though the defensive line only played two series.
Moreover, right tackle Nate Chandler, who was a guard last season and a defensive tackle the season before that, and right guard Trai Turner, a rookie out of LSU, played four series to start the game.
"They're both relatively young guys," Rivera said. "Trai needed to go a little bit longer." 
This is obviously an offensive line that is a work in progress and it needs all the work it can get. 
Third-year left guard Amini Silatolu, who played in only three games last season before tearing his ACL, struggled at keeping members of the Bills defensive line away from Anderson. But it's not as if he was alone. At times, all but Ryan Kalil had issues.
"I'd like to see us run block a little bit better," Rivera said. 
But the good news is, it's only the first game of the preseason and there are hopes they will continue to improve as it gets closer to Game 1.
With fellow starting running back Jonathan Stewart having yet to practice in training camp, Rivera sat DeAngelo Williams, because he couldn't risk both starters being injured.
Stewart has been nursing a bad hamstring after having played in only 16 games over the last two seasons because of various injuries, which have nagged him since his rookie season in 2008.
And even though Williams is 31 and rarely shows the explosiveness he had early in his career, he's been the most reliable the past few seasons. He started 15 games last year. So not risking him to injury in the first preseason game seems to make the most sense.
"It was a decision that I made after (Thursday's) practice," Rivera said. "We want to make sure we get Jonathan back this week (before Williams plays)." 
It wasn't that long ago that cornerbacks Josh Thomas and Josh Norman were being thought of as future starters for the Panthers.
Each has struggled during training camp and each entered Friday's game listed third on the depth chart. 
Their first series on the field against the Bills perfectly showed why they've fallen out of favor.
Thomas, a fourth-year player, had a defensive holding penalty on third down which resulted in an automatic first down for Buffalo.
Two plays later, Norman, a third-year player, allowed a 28-yard pass to Mike Williams. In fact, the Joshes had four completions happen to the player they were covering.
It's safe to say that both are in real jeopardy of not making the team, which is quite a far cry from a year ago when being starters seemed like a viable option.
---