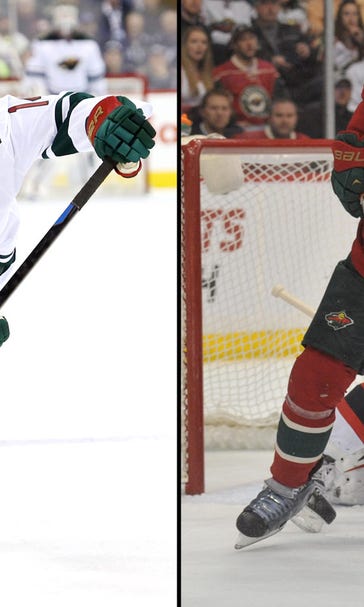 Fontaine, Bergenheim rejoin Wild lineup for Game 3
April 20, 2015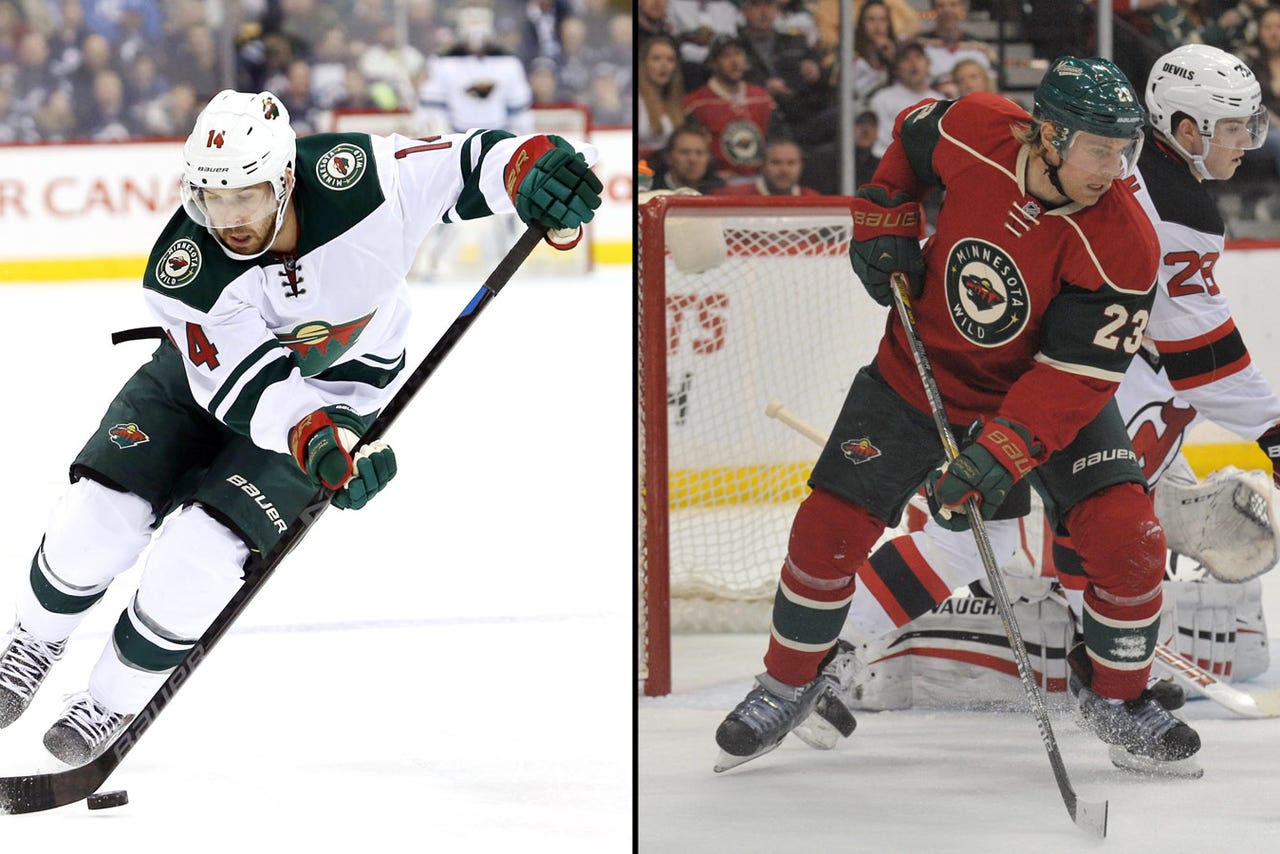 ST. PAUL, Minn. -- Recovered from a stomach virus, forward Justin Fontaine will be back in the Wild lineup for Game 3 against the Blues. Fontaine's return also led head coach Mike Yeo to revert back to his Game 1 lineup, when Minnesota won in St. Louis.
Fontaine and Sean Bergenheim will play the wings on the fourth line with center Kyle Brodziak for Monday's first Wild home game of the series. Matt Cooke and Jordan Schroeder, who replaced Bergenheim and Fontaine for Game 2, will be healthy scratches.
Yeo said he liked how both lines played, but Fontaine gets his spot back now that he feels better. Cooke took a healthy Bergenheim's spot in Game 2 because Yeo wanted a forward who could play penalty kill in Fontaine's place.
"I thought both those lines had some real good shifts in the offensive zone -- forechecking, creating turnovers, going in straight lines, finishing checks, those are things that are important to us," Yeo said Monday. "That's the kind of stuff that we're looking for, especially at home here. We know the crowd's going to be buzzing. We can get in there, we can bump them a little bit. In order to make that happen, you've got to be able to execute up the ice as well. And that's where a guy like Fonzie comes into play. His execution on the wall, and he very quietly has become one of our top penalty killers as well."
Fontaine's play during the regular season had led Yeo to say he "doesn't need to look over his shoulder" despite Minnesota having six healthy forwards for two spots. Fontaine had nine goals and 22 assists in the regular season and became a valuable member of the league's top penalty-kill unit.
The second-year forward appreciates being a fixture after being in and out of the lineup during the playoffs last year.
"You can never get too comfortable or complacent, anything like that," Fontaine said. "We've got a lot of guys around. But the focus and getting out there on the kill keeps you in the game and keeps your energy, keeps the legs in it. I think that's the biggest part. I'm glad to be a part of it, for sure."
With Fontaine set, Yeo had to choose between Bergenheim, Cooke, Schroeder, Ryan Carter and Erik Haula for the final forward spot. Bergenheim drew the start in Game 1, in part, because Yeo said Cooke wasn't ready after missing time because of sports hernia surgery and feeling discomfort in the week leading up to Game 1.
Sitting Cooke, who has the most playoff experience of any Wild player with 103 games, is a tough decision.
"Yeah, absolutely, and just a guy who first off has a lot of playoff experience, a guy who is not an easy guy to play against," Yeo said. "I thought that he played a good game. Again, those are tough decisions, but I give everybody credit. Whether it's a guy like that coming out of the lineup or guys that haven't gotten into the lineup, everybody's had a great attitude. The team atmosphere is very good right now. Everybody is all-in for each other and obviously we're hoping to make this a very long run here, which means they'll factor in."
The decisions also mean Erik Haula, who was a key factor in the playoffs last year, has been a healthy scratch for each game. Haula had three goals and four assists in 13 playoff games last year and was also responsible for helping slow some of Colorado and Chicago's top playmakers.
"I think it's been a trying year for him," Yeo said. "Going into the playoffs last year, there was a much different feel to his game. I know there was a lot of reference to what happened in the playoffs last year. I think he was in a different place, as well. So that's a big factor in it. But again, this is a different team, it's a different matchup and I also think that we have a lot more guys who are playing very well that make those tough decisions."
Minnesota has gone with the same six defensemen in each game, leaning on rookie Matt Dumba and veteran Jordan Leopold as the third pair.
Yeo said the playoff experience is valuable for the 20-year-old Dumba, and Leopold has "probably even exceeded expectations" after being a trade-deadline acquisition.
"I've coached him; I know what he's capable of," Yeo said. "Wasn't sure where he was going to be at, at this point in his career. But the way that he's going back, retrieving pucks, moving his feet, the defensive side, everything. We've been really pleased with his game."
Playing the matchups: As the series shifts to the Xcel Energy Center, Yeo will be able to get the matchups he prefers while having the last change.
Yeo doesn't see many potential opportunities to get lopsided matchups.
"Against a team like St. Louis, we don't think that there's a ton of really good matchups," Yeo said. "I'll also argue that they have the same against us. It's two very even teams, two strong teams that are deep from lines one through four, and Ds one through six, that it's a tough matchup both on the offensive and defensive side. That's what makes it so important, the importance of every shift going out there and making sure you're ready to be on top of your game."
Getting the home crowd into the game: Minnesota was 5-1 at home in the playoffs last year and the home crowd was a factor in the performance. Yeo thought his team was too "amped up" in the final regular season home game and he knows his team will be excited to be back home.
Yeo is also hoping his team gives the fans a reason to make an impact.
"You don't want to go over the line but let's get close to the line," Yeo said of being excited. "They're going to be loud, let's give them a reason to be loud here tonight to start the game. I think we should come out with a lot of energy. I think we should come out finishing checks, going in straight lines."
Follow Brian Hall on Twitter
---