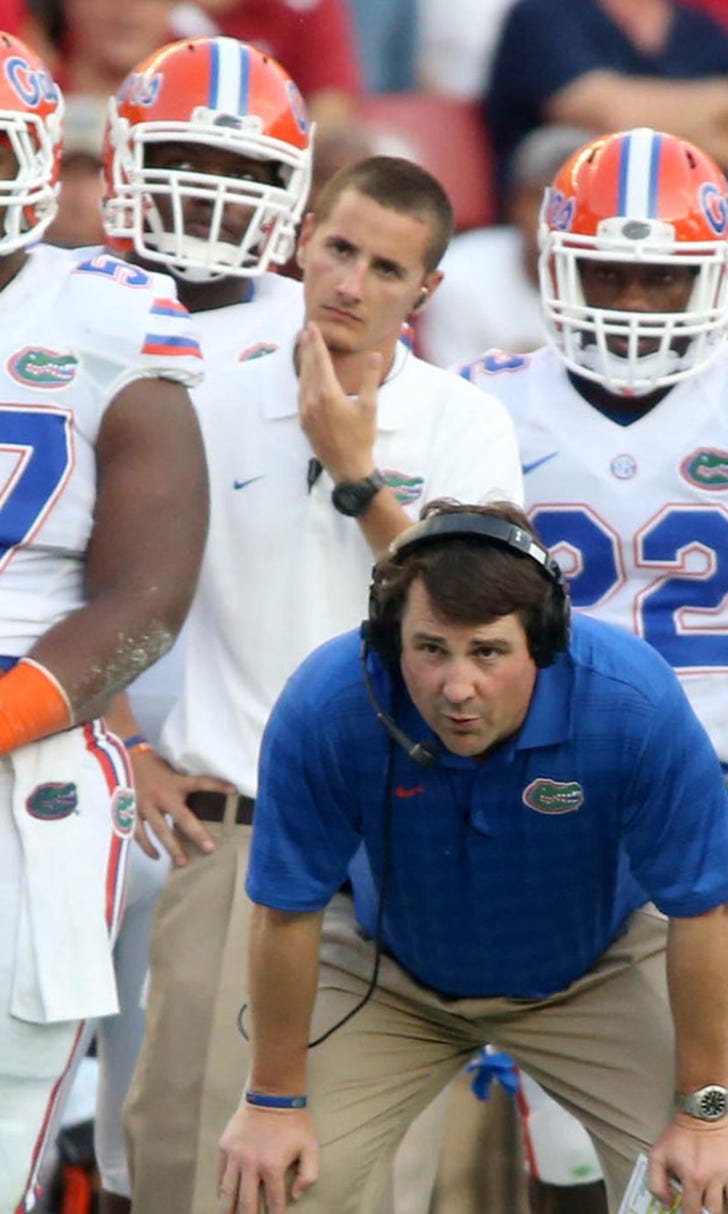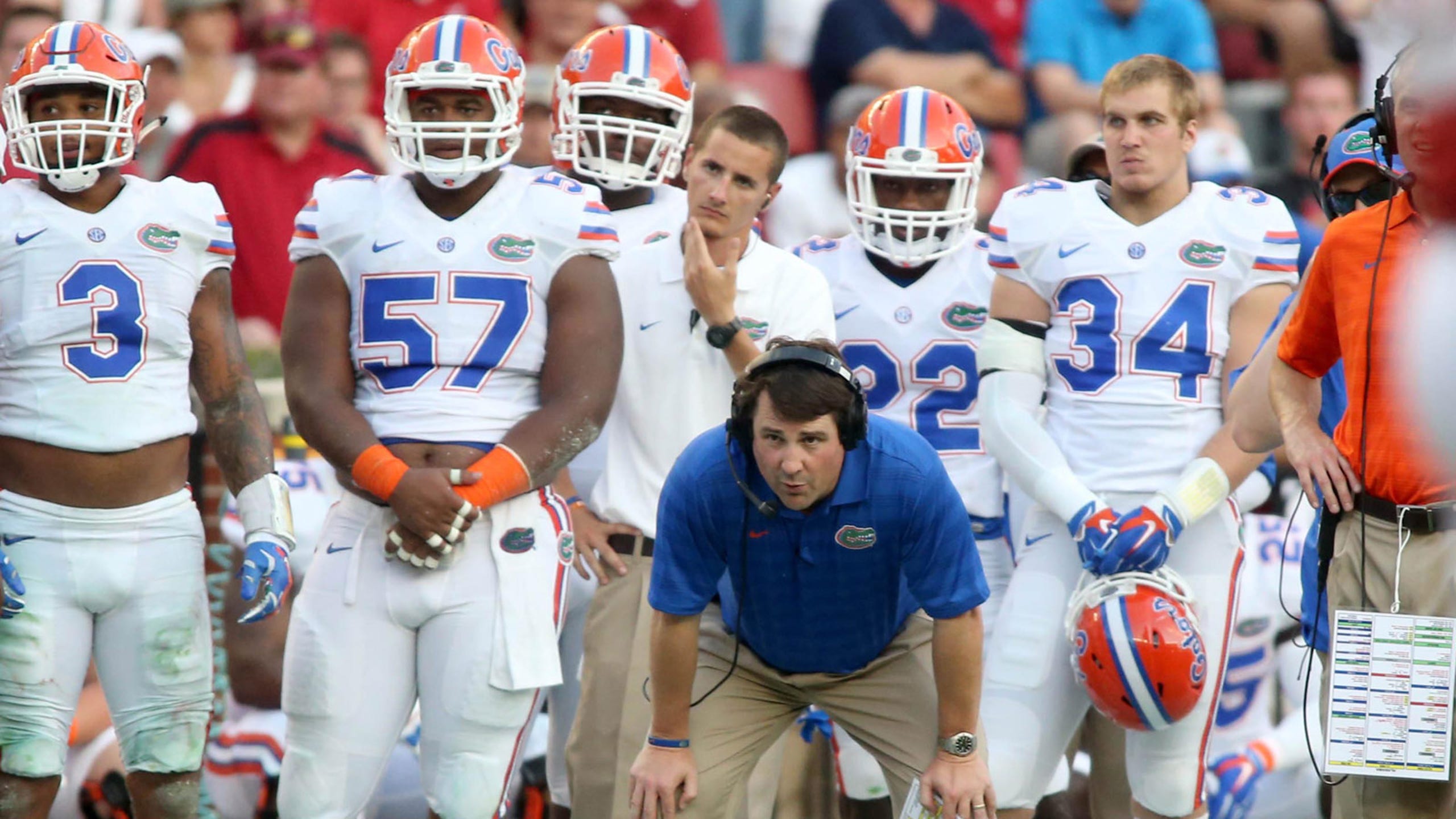 Florida players offer support of coach Will Muschamp
BY foxsports • October 27, 2014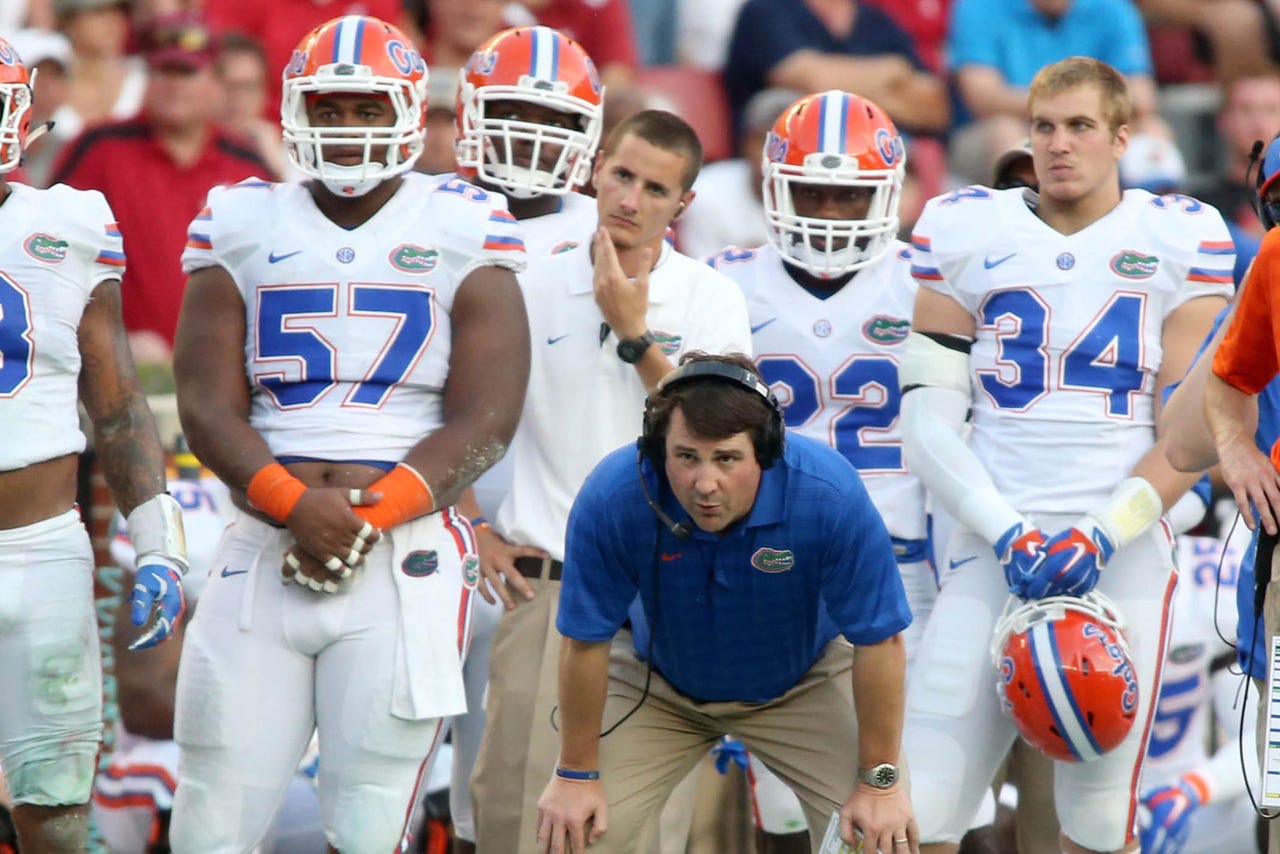 GAINESVILLE, Fla. -- Former Gators quarterback Tim Tebow made headlines over the weekend when he tried to rally Florida fans in the middle of what has been a difficult season for fourth-year UF head coach Will Muschamp and his team.
Current Gators Michael Taylor and Max Garcia rallied around Muschamp on Monday.
The Gators (3-3, 2-3 SEC) have lost three of four games and are coming off a 42-13 loss to Missouri heading into Saturday's annual showdown against No. 9-ranked Georgia (6-1, 4-1) in Jacksonville.
During Saturday morning's "SEC Nation" broadcast on the SEC Network, Tebow the analyst briefly transformed into Tebow the Florida icon.
"This goes out to the Florida Gator fans. And it's personal for me because I've been a Florida Gator fan since I can remember, since I was a little boy," Tebow said. "Over the course of the last 20-something years, we have been blessed to have a much success as any university out there -- three national championships, a lot of amazing seasons.
"So as a Florida fan, I'm saying to the rest of you Florida fans, it's OK to have your own opinion. It's OK to call the Paul Finebaum Show and say whatever you want. I'm not saying anything about that. But when you're at the game, let's be better than these other universities that boo their student-athletes."
During the loss to Missouri fans booed Muschamp and the Gators as the Tigers blew the game open in the second half. Florida committed six turnovers and Missouri scored on a kickoff return, punt return, fumble return and interception return.
Coming off a bye week, Muschamp, Taylor and Garcia spoke to the media Monday. While none were asked specifically about Tebow's comments, fan unrest was a popular topic.
A segment of the Florida fan base has made its displeasure with Muschamp known in recent weeks on social media. The players have a different view of their coach.
Taylor offered a heartfelt defense of Muschamp's reputation inside the locker room.
"I mean, people can really say what they want," Taylor said. "The people that are saying [negative things] are not out there coaching with him, not being coached by him, they're not playing on Saturday.
"They have the tickets, they have Twitters, you know, they have all that stuff. And they can voice their opinions. There's nothing wrong with that. It's somewhere in the Constitution, in one of those amendments, where you can voice your opinion. It's not facts."
Muschamp talked more about facing Georgia than his future. However, he was asked about dealing with the criticism that in today's world is difficult to avoid on social media.
He said the most difficult part is trying to explain the situation to his young boys, Jackson and Whit.
"Well, you've got to get home and explain to your 9-year-old why they're chanting to fire your dad,'' Muschamp said. "That's not very fun. But, again, my family understands it. They understand the deal of being a coach. There's some great things that come along with this job and there's some tough deals you've got to deal with. I don't complain about any of that stuff. That's part of the job when you come here. It is what it is."
Taylor knows at this point there is only one way to quiet the critics.
"People can say whatever they want to say, but if we go out there and play well on Saturday, we win, a lot of stuff that comes on my Twitter feed will be a lot more positive than what it has been."
The Gators opened the season with high expectations following an injury-marred 2013 season. Florida finished 4-8 to suffer its first losing season since 1979.
The arrival of first-year offensive coordinator Kurt Roper and the return of several injured players from a year ago, including fourth-year junior quarterback Jeff Driskel, offered promise of a quick turnaround.
The Gators started 2-0 but have lost three of four, starting with a 42-21 loss at Alabama on Sept. 20. Their only win since is a 10-9 comeback victory against Tennessee in which a struggling Driskel was replaced by true freshman Treon Harris, who will start against Georgia.
Garcia echoed much of what the fiery Taylor had to say in support of Muschamp.
"We know Coach Muschamp on a personal level," Garcia said. "People don't realize it all the time that he's a father, he's a husband, he's a son, and the players on the team look up to him as another father figure as well just because of what he means to us. So it's hard when people talk bad about him."
"But we're just there to support him however we can. And you know just to love him like he loves us. You know that's all we can do, just support him because he does put us in the right position. He does give us the opportunity to go out there and win but he can't catch the ball for the receivers, he can't, you know, make the call or make the right read on the field. He can just prepare us to do it. As players we have to go out there and execute."
Muschamp said he has told the team to focus on what it can control and don't get caught up in the outside perception of the program.
Like it or not, they have no choice.
"They buy the ticket, they can come boo and chant and holler and scream and start a website and all that stuff," Muschamp said of fans. "If that's what they want to do, that's certainly their prerogative. As a coach or a player when you come to the University of Florida or a place like this, that's something you've got to accept."
It's true. The Gators might not like it but they have to accept it. Nothing will change before kickoff on Saturday.
Fans will say what they want. The best way for the Gators to respond is by winning.
"We're just going to go out there and play,'' Taylor said. "We love playing for him. He's a good coach. He's a great person. I wouldn't approve anybody else. So we're not really playing for his job. We're playing for ourselves. We have enough motivation."
---