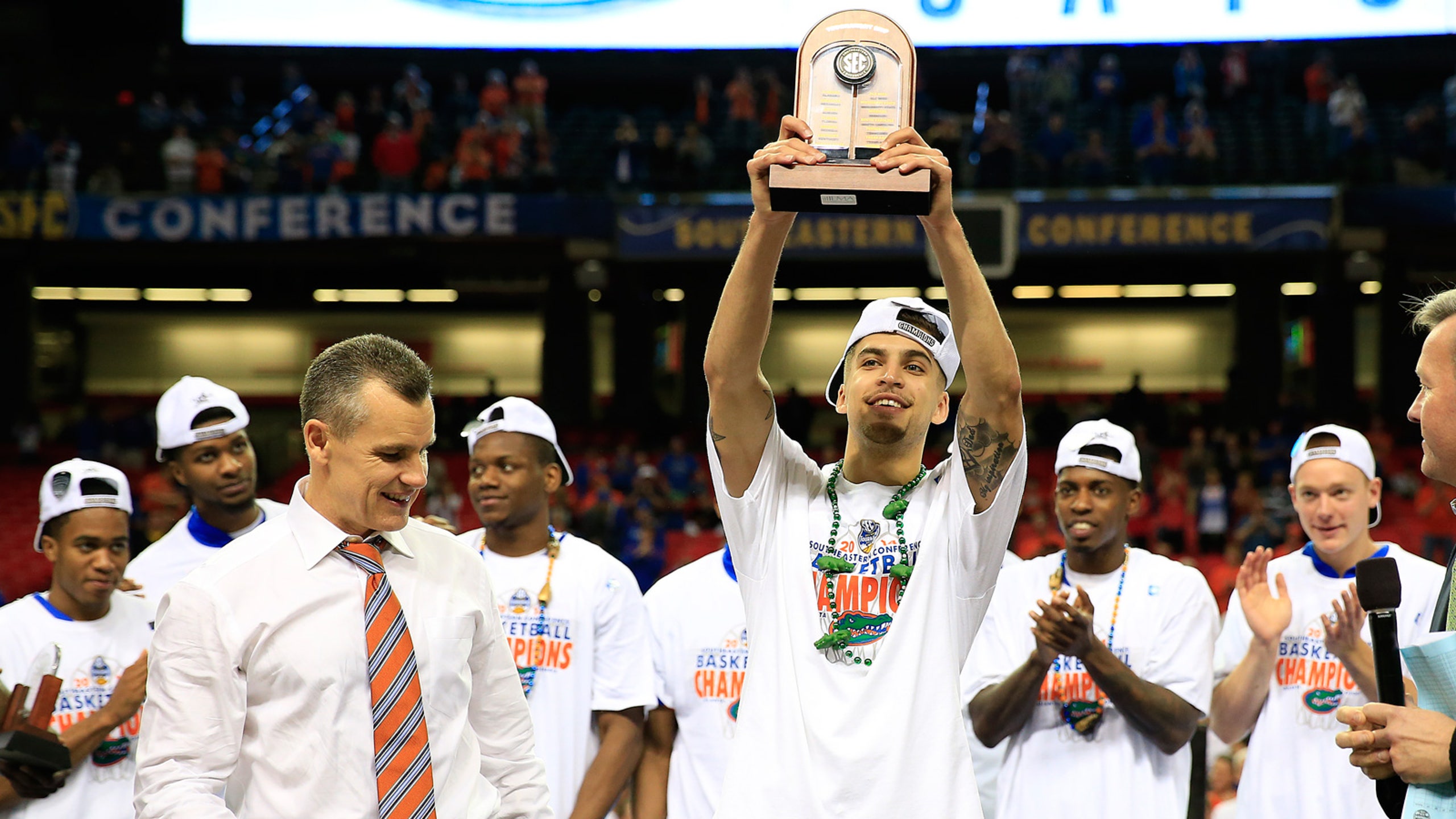 Florida holds off Kentucky in nail-biter to capture SEC crown
BY foxsports • March 16, 2014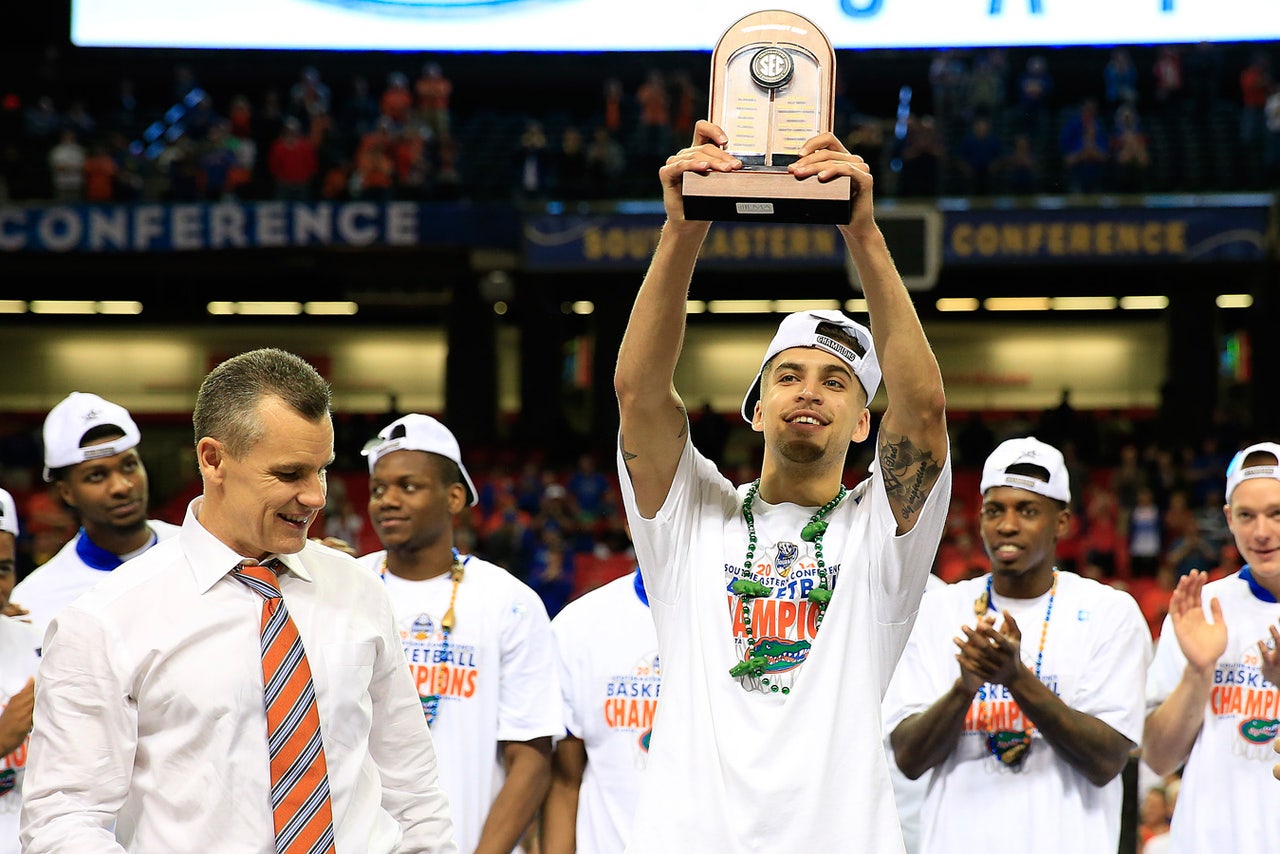 ATLANTA -- The Florida Gators went to the sidelines after Kentucky called a timeout and led by just one point with 14 seconds to play in Sunday's Southeastern Conference Tournament title game. The Wildcats had the ball and a chance to cap a stunning comeback with a game-winning shot.
The first one to speak in the UF huddle was not Billy Donovan, nor any of his assistant coaches.
It was Scottie Wilbekin.
"I want 5," the senior point guard said.
That would be No. 5, as in UK freshman guard Aaron Harrison, who the possession before had taken a hard drive into the Gators defense against forward Dorian Finney-Smith, got a good look that he missed, and surely was going to try the same thing again. Wilbekin, the newly crowned 2014 SEC Player of the Year and SEC All-Defensive Team selection, wanted the assignment, the challenge, the pressure.
"That's what great players do," UF assistant coach John Pelphrey said.
Sure enough, Harrison got into his dribble-drive attack mode, only to find nothing doing with Wilbekin basically in his jersey. Harrison, instead, went right and handed the ball to guard James Young, who tried to angle into the UF defensive wall, only to lose his handle and watch the ball roll away ... the clock tick away.
"And I just smiled from there," Finney-Smith said. "We all did."
Actually, they all mobbed each other in a celebration. Along with an orange and blue universe.
Wilbekin's 11 points, six assists and badgering defense were at the forefront of top-ranked Florida's 61-60 escape act against the Wildcats in front of a frenzied 21,021 at the Georgia Dome, a win that gave the Gators a 26th straight victory and just the fourth SEC Tournament title in school history.
Senior center Patric Young scored 14 points, grabbed five rebounds and blocked three shots. Sophomore guard Michael Frazier II hit four 3-point shots, including a huge one to stave the Wildcat run, while senior forward Casey Prather had 11 points, five rebounds and four steals.
It was another wire-to-wire team performance for the Gators (32-2) and one befitting a team that capped the greatest perfect season in SEC history -- 21 wins, zero defeats -- and will head to the NCAA Tournament this week as the No. 1 overall seed in the 68-team field.
"It's an incredible, unbelievable accomplishment for these guys. It's never been done before and it's a record that won't ever be broken," Donovan said long after the confetti had been dusted from his shoulders. "It might be tied, but it won't ever be broken. It's fantastic. They earned it."
"It's just an amazing what this team has been able to do," Wilbekin said after being crowned the tournament's MVP. "To do it in my senior year ... I don't know what to say."
Of course, it's not over. Next up for the Gators is a Thursday second-round NCAA game against the winner of Tuesday night's play-in game between shared No. 16 seeds Albany (18-14) and Mount St. Mary's (16-16) from Dayton, Ohio.
But first, the UF players were given Sunday night to wallow in their historic achievement.
"We'll wake up [Monday] and it'll be on to the next thing," Frazier said. "The next challenge."
UF, without a loss since a Dec. 2 buzzer-beater at Connecticut, has been up to virtually every challenge to date and definitely got its fill against the Wildcats (24-10), who came into the tournament as the No. 2 seed and still smarting from last week's 84-65 thumping in Gainesville. UK and its uber-talented freshmen starting five had something to prove against the Gators. The Cats played like it too, even though they easily could have folded.
"We knew they would make a run," senior forward Will Yeguete said. "It was coming. They're too good. We just needed to withstand it."
Florida had it all working. The Gators were shooting 46 percent, holding the Cats to 31 percent nearing the midway point of the second half and threatening to blow the game open, ala last week at the O'Connell Center.
But Kentucky, remember, had a 15-0 run in that game to make the Rowdy Reptiles nervous for a while. They had another such surge Sunday, too, and it did way more than make things interesting.
This one turned downright pulsating.
"We had every chance to let go of the rope," Kentucky coach John Calipari said. "We really showed a fight."
Down 54-39 after a thunderous dunk by Young with just over 11 minutes to play, the Cats got a couple free throws from Julius Randle (4 points, 7 rebounds) at the 11:05 mark and proceeded to score 14 unanswered over the ensuing five minutes. Seven-foot center Willie Cauley-Stein (10 points, 11 rebounds, 5 blocks), who was a rim-protecting nightmare the entire game, could have tied the score, but bounced the second of his two free throws at 6:16.
Seconds later, at UF's end, as Kentucky was getting back on defense, Frazier dropped a 3-ball to halt the scoring drought and give the Gators a four-point cushion that eventually got to six with five minutes to go, but shriveled to one when Young (13 points, 4 rebounds) hit a 3-pointer from the win with 1:27 remaining to set up the dramatic finish.
Somewhere in the dome -- and Gator Nation parts beyond -- minds were drifting back to last year when Florida blew a 12-point second-half lead against Ole Miss in the SEC Tournament final and lost. Or recalling other late-game meltdowns of recent memory. Anyone remember Butler? Or Louisville? Or Arizona? Or Missouri? Or last year at Kentucky?
Those thoughts weren't on the UF sidelines, though.
"This team is far different from the others I've been on," Young said. "We've experienced so much."
What unfolded over the last 87 seconds was a little different.
UK forced a turnover with just over a minute to go and a had its first chance to take the lead. That's when Aaron Harrison took on Finney-Smith, who challenged the shot and got the rebound. Three quick Wildcat fouls put UF in the bonus with 23 seconds left, sending Wilbekin going to line for a one-and-one.
He missed. But Finney-Smith got the rebound and went to the line for another one-and-one.
He missed, too. Rebound Wildcats. Timeout Kentucky.
That's when Yeguete grabbed both Wilbekin and Finney-Smith and shouted in their ears.
"Next play!"
As in, "That one's over, so move on!"
"We still had a lead and a chance to get a stop and win the game," Donovan said. "Give our guys credit for staying focused, staying in the moment."
Out of the timeout, Harrison never had a chance to get past Wilbekin, so he dribbled right and handed off to Young, who was in a hurry and maybe a tad off balance.
"I took too much of a wide step and I just slipped," Young said. "It all slipped away from us."
The entire Florida team poured onto the floor and mobbed one another at midcourt. The Gators had become the first team to defeat Kentucky three times in a season in 35 years. A perfect ending.
As in a perfect 21-0.
"We still have other goals," Frazier said.
They also have another white-knuckle experience to use as future reference points, should circumstances dictate. In March, they always do.
The Gators know how to persevere. More importantly, they know how to win.
"We're right where we need to be confidence-wise," Wilbekin said, his freshly cut championship net draped around his neck. "Obviously, we came into the tournament wanting to win it. That was our goal and we accomplished it. Now, we move on."
He smiled.
"But it feels really, really good right now."
---