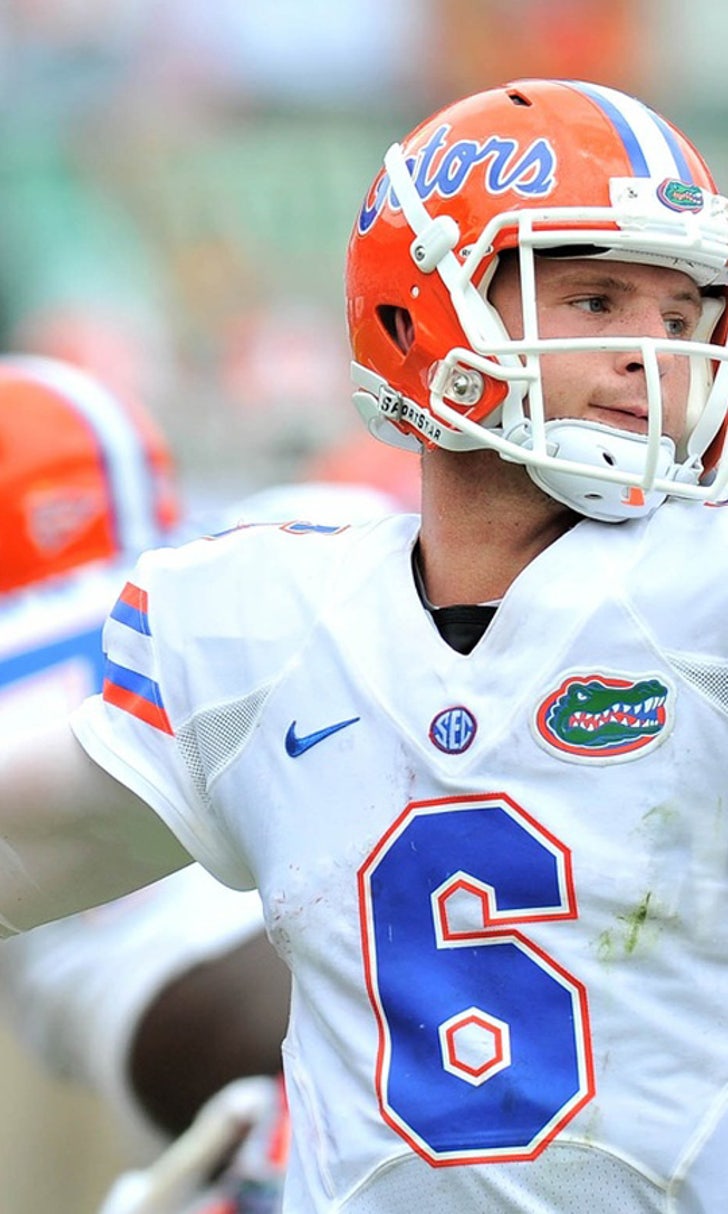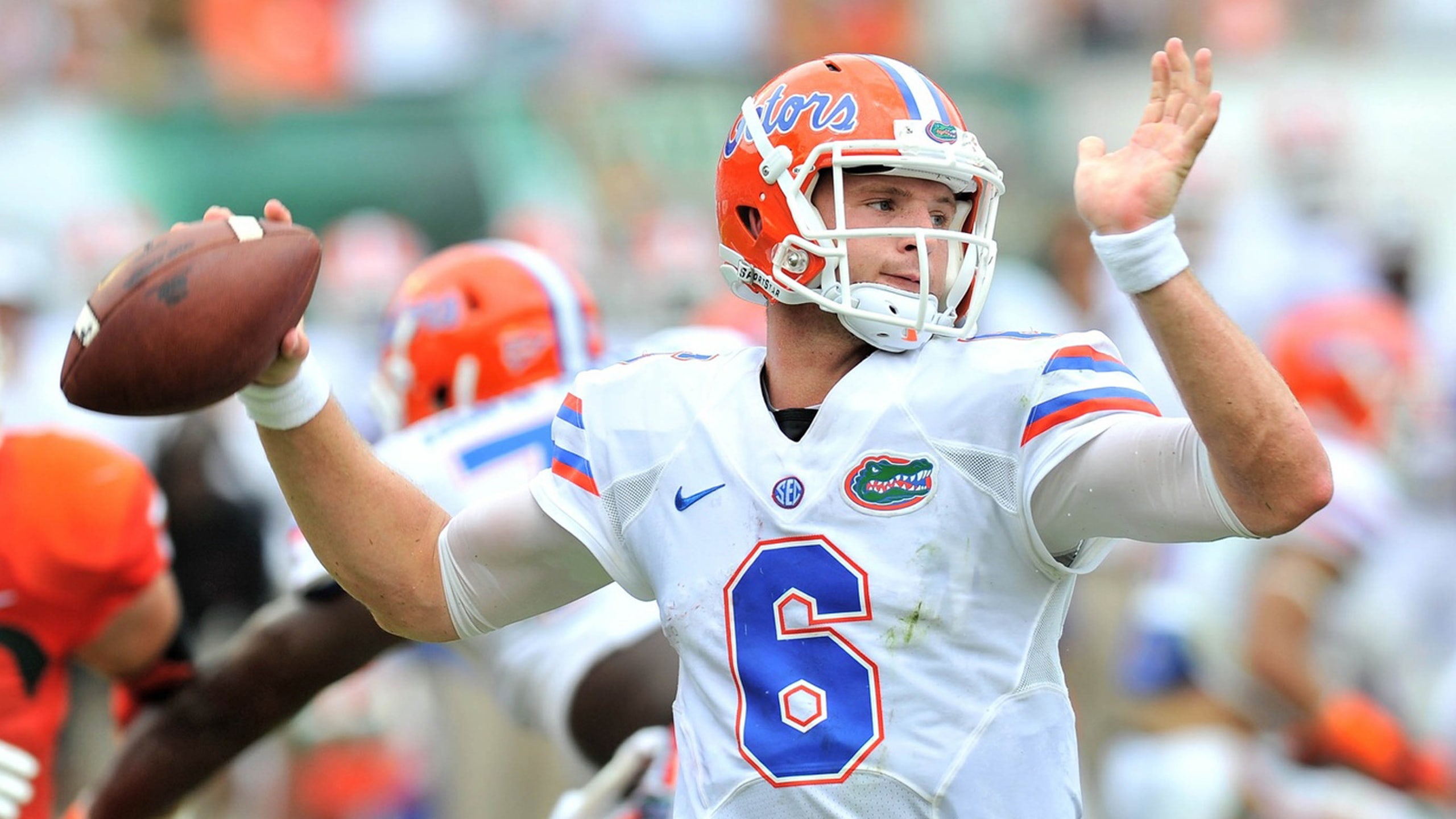 Florida Gators 2014 spring football preview
BY foxsports • March 19, 2014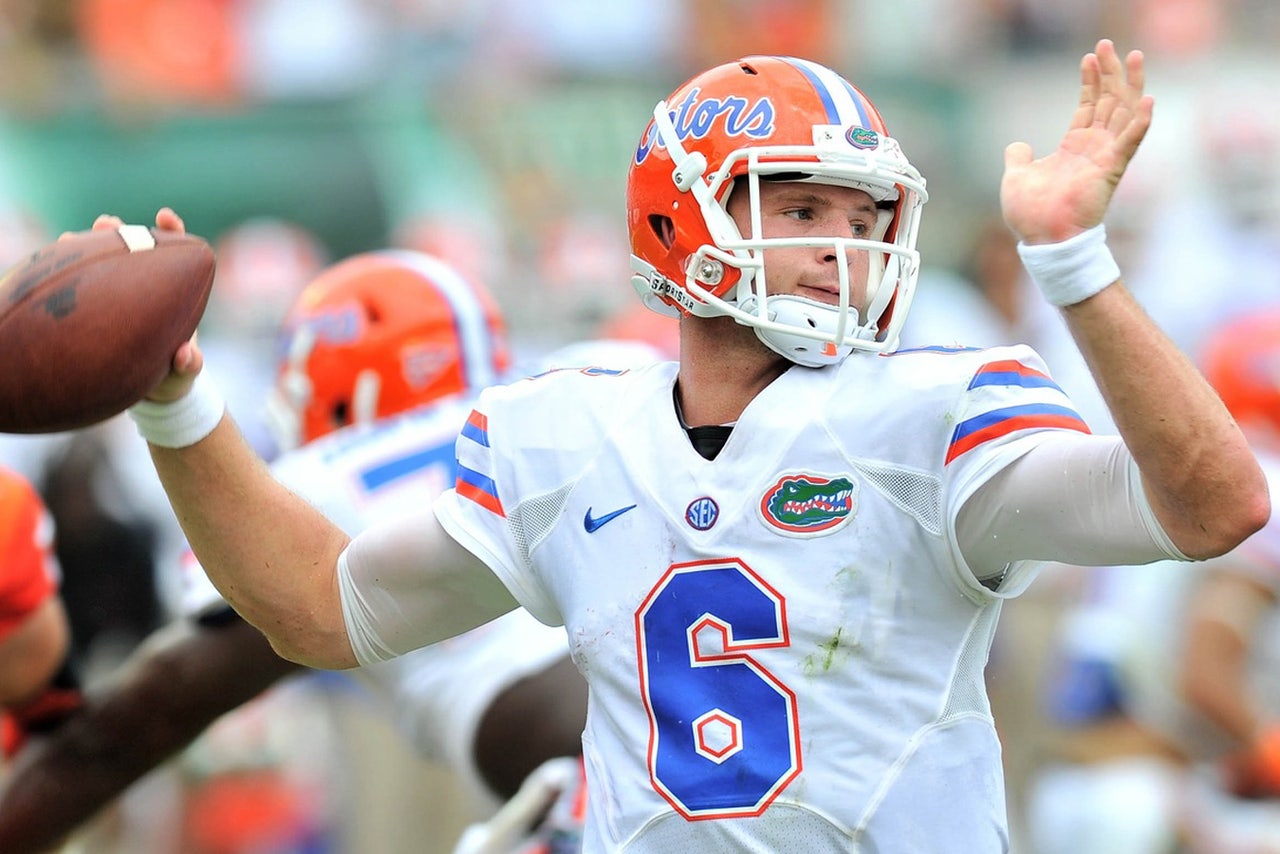 GAINESVILLE, Fla. -- Even following a successful season, the start of spring football practice delivers a renewed sense of optimism.
The arrival of a fresh crop of recruits is usually all it takes. Often times a new coach or revamped offensive scheme or fresh-faced quarterback is the source of the buzz.
Coming off a 4-8 season like the Gators, all the above are in play.
The Gators have nine early enrollees on the roster this spring, including freshman quarterback Will Grier, who was in Atlantic City, N.J., last week to be honored as the 2013 prep National Player of the Year. First-year offensive coordinator Kurt Roper was hired after a successful six-year stint at Duke, where his fast-paced offense helped produce a school-record 10 wins last season.
And while redshirt junior quarterback Jeff Driskel isn't new to the program, this spring has that feel for him. Driskel played only nine quarters last season because of a broken leg suffered in the third game of the season.
Driskel is healthy and back on the field with an opportunity at a fresh start under Roper.
Gators coach Will Muschamp enters his fourth season optimistic that the Gators can rebound quickly in the wake of a disastrous 2013 season that crumbled under the weight of too many significant injuries and an inconsistent offense.
While he is ready to flip the page on 2013, Muschamp won't shy away from using it as a reference point.
''I don't know that you can put the season behind you,'' he said. ''You need to have a good memory for that and not let it happen again. We've talked about those sorts of things, but our guys are hungry, our guys are working hard.
''At the end of the day you 'shut up and have a good memory.' That's kind of been our motto around here. You get knocked down like we were last year, you just shut up and go to work.''
The Gators open spring practice Wednesday afternoon, the first of nine open practices fans can attend this spring including the Orange & Blue Debut on April 12 at Ben Hill Griffin Stadium.
Here is a 2014 Gators spring practice primer:
QUARTERBACK
Driskel enters spring as the projected starter with Skyler Mornhinweg and Grier behind him on the depth chart.
No one has ever doubted Driskel's talent. When healthy, the 6-foot-4, 240-pound Driskel's combination of size, speed and arm strength offers big-play ability. The main task for Driskel this spring is to learn his third offensive system in four years on campus.
''Jeff's been exposed to a lot since he's been here, schematically, so he'll be able to adjust well,'' Muschamp said. ''I think he's more comfortable in the gun. A lot of the reason why we went to this (quick-tempo offense) was because of Jeff.''
Mornhinweg added experience last season when he started three games after Tyler Murphy, who replaced Driskel as the starter, was lost to a shoulder injury. Murphy transferred to Boston College, leaving Mornhinweg as the only experienced quarterback behind Driskel.
Grier is an intriguing talent who arrived on campus in January and has an opportunity to showcase what he can do this spring.
RECEIVER
Senior Quinton Dunbar is the most proven player returning among this group. The Gators lost Solomon Patton and Trey Burton to graduation and Roper will explore all his options.
The Gators signed Demarcus Robinson, Ahmad Fulwood, Marqui Hawkins, Chris Thompson and Alvin Bailey in the 2013 recruiting class. Robinson, Fulwood and Thompson played as true freshmen and Robinson is considered the most talented.
He had trouble adjusting to the college game a year ago and missed time due to suspension. However, Muschamp said he has seen maturity in Robinson heading into spring.
''He's working hard; he's doing everything we've asked,'' Muschamp said. ''I'm real pleased with where he is, we just got to continue to move forward. It's a huge spring for everybody at the wide receiver position and all positions, really.''
Sixth-year senior Andre Debose, Latroy Pittman, Raphael Andrades and walk-on Michael McNeely are others vying to make an impact.
RUNNING BACK
Junior Matt Jones will not participate in spring drills but has received good reports of late concerning his injured knee that cost him six games last season.
When Jones went down, Mack Brown and Kelvin Taylor picked up the bulk of the carries. Brown adds dependability and Taylor blossomed as a natural runner in the second half of the season.
Taylor has an opportunity this spring to really shine. Keep an eye on Adam Lane and Mark Herndon at tailback as well. Meanwhile, veteran Hunter Joyer returns as the starting fullback with Gideon Ajagbe behind him on the depth chart.
TIGHT END
The Gators really missed Jordan Reed at this position last season. Clay Burton and Tevin Westbrook played and served primarily as blockers. Both return, but an interesting player to watch this spring is freshman DeAndre Goolsby.
Goolsby is a 6-foot-4, 230-pound target that can stretch the middle of the field as a receiver. Two touted young tight ends in the 2012 signing class -- Kent Taylor and Colin Thompson -- won't be available.
Taylor transferred to Kansas after the season and Thompson, plagued by foot trouble during his time at UF, has not been cleared for spring according to Muschamp.
OFFENSIVE LINE
This unit has a different look. Veteran center Jonotthan Harrison and right guard Jon Halapio are gone.
Muschamp said redshirt senior Max Garcia, who played guard and tackle last season, is working at center. D.J. Humphries, who is consistently up to 290 pounds, is at left tackle. The Gators get a boost with the return of Chaz Green, who missed last season due to shoulder surgery after starting 10 games in 2012. Green has played the majority at right tackle.
On the interior of the line, Tyler Moore, center Cam Dillard, Trip Thurman, Trenton Brown and newcomer Drew Sarvary will compete for snaps. Roderick Johnson, a redshirt freshman, also projects in the mix when healthy.
The key this spring is to build depth and cohesion.
''You look across the board there, you see six or seven guys that have played good, quality football for us,'' Muschamp said. ''I'm excited about that. We just need to keep those guys on the field.''
DEFENSIVE LINE
The most notable absence here is the loss of Dominique Easley, who was playing the best of his career when he went down with a season-ending knee injury last season. Also, Ronald Powell opted to pass up his final season of eligibility and enter the NFL Draft.
Juniors Dante Fowler Jr. and Jonathan Bullard have the potential to anchor this group and be very good doing it. Inside, Darious Cummings and Leon Orr are projected to start. However, Orr will miss the spring due to a fractured wrist.
With Orr out, look for young players Joey Ivie, Caleb Brantley, Jay-nard Bostwick and Antonio Riles to get a good look inside.
At defensive end, Bryan Cox Jr., Jordan Sherit, newcomer Taven Bryan and Alex McCalister have an opportunity to stand out. McCalister is gifted physically and is expected to see time behind Fowler at the buck position.
LINEBACKER
Three young players expected to contribute in the fall are unavailable this spring recovering from injuries: Matt Rolin (knee), Jeremi Powell (knee) and Alex Anzalone (shoulder).
Those healthy include outside linebackers Michael Taylor and Neiron Ball, and middle linebacker Antonio Morrison. All three started a season ago and gained valuable experience in the first season under defensive coordinator D.J. Durkin.
Sophomore Jarrad Davis came on strong in the second half of the season and is a player Muschamp is excited about. Daniel McMillian is projected to play on the outside and has the ability to develop into a difference maker if he can continue to improve.
''Those guys work hard. Those guys have a good work ethic,'' Muschamp said of the linebackers. ''Those guys realize we need to be more productive at the position than we were a year ago.''
DEFENSIVE BACK
The loss of cornerbacks Marcus Roberson, Loucheiz Purifoy, Jaylen Watkins and Cody Riggs (transferring to Notre Dame) might be a greater concern for other programs. However, Florida has recruited well at this position and has ample talent, starting with cornerback Vernon Hargreaves III.
Hargreaves was a freshman All-American and impact player for the Gators last season. The group of players competing for playing time this spring includes Marcus Maye, Nick Washington, Keanu Neal, Marcell Harris, Brian Poole, Jabari Gorman and newcomers Duke Dawson and Jalen Tabor.
During Muschamp's tenure, the Gators have done a lot of cross-training in the secondary, which will continue this spring as the coaching staff tries to find the right combinations.
SPECIAL TEAMS
Muschamp wants to see improvement in the kicking game, which he called ''atrocious last year.'' Kickers Austin Hardin and Frankie Velez return and must perform better than a year ago.
''We've got to get that fixed,'' Muschamp said.
Muschamp is more confident in the punting tandem of Johnny Townsend and Kyle Christy. Townsend took over for Christy last season as a true freshman. An All-American in 2012, Christy has a chance to earn the job back with a good spring in what should be a tight competition.
''Johnny and Kyle both have NFL legs,'' Muschamp said. ''Those guys will punt on Sunday. We just need to let those guys battle it out, and that will be good for our football team.''
The return of Debose adds a dangerous kickoff returner to replace Patton.
BOTTOM LINE QUOTE
''Really at this time of the year, there are a couple of things you're looking for: a belief and confidence in what we're doing. I see that with our team. Ownership of the team. I feel good about that. Generally, what you put in is what you get out. I think our guys are putting in a lot right now and I'm pleased with where we are.'' -- Muschamp
---