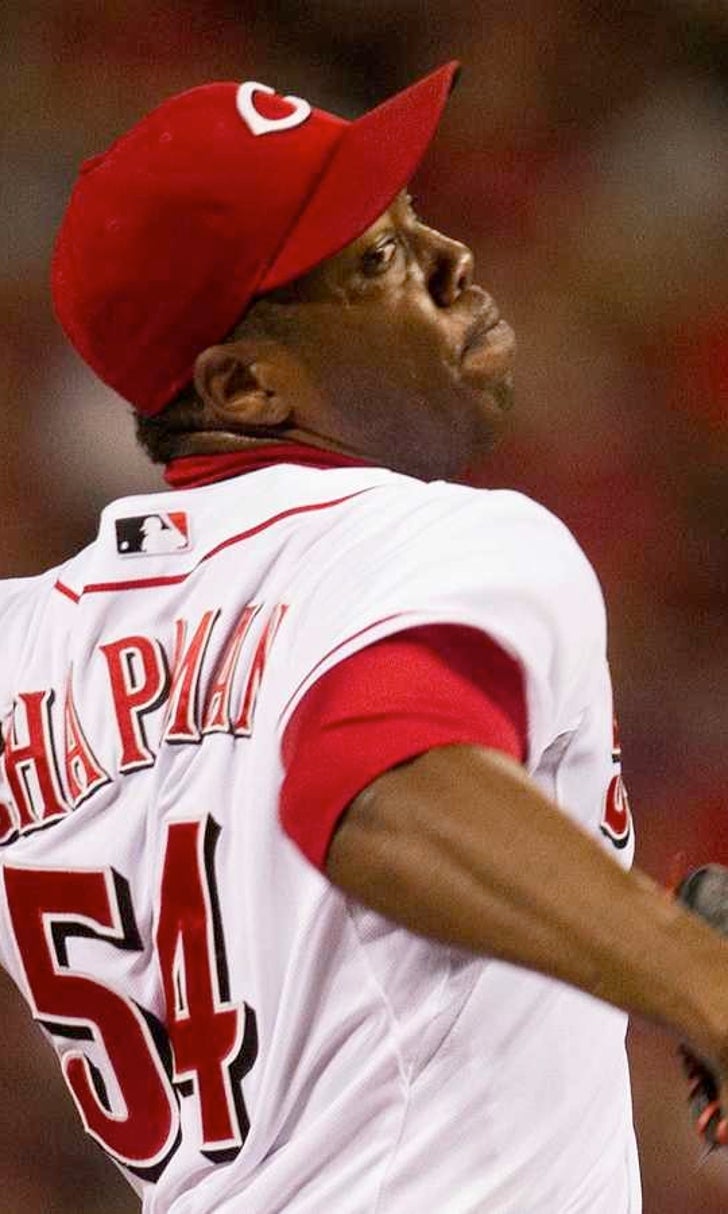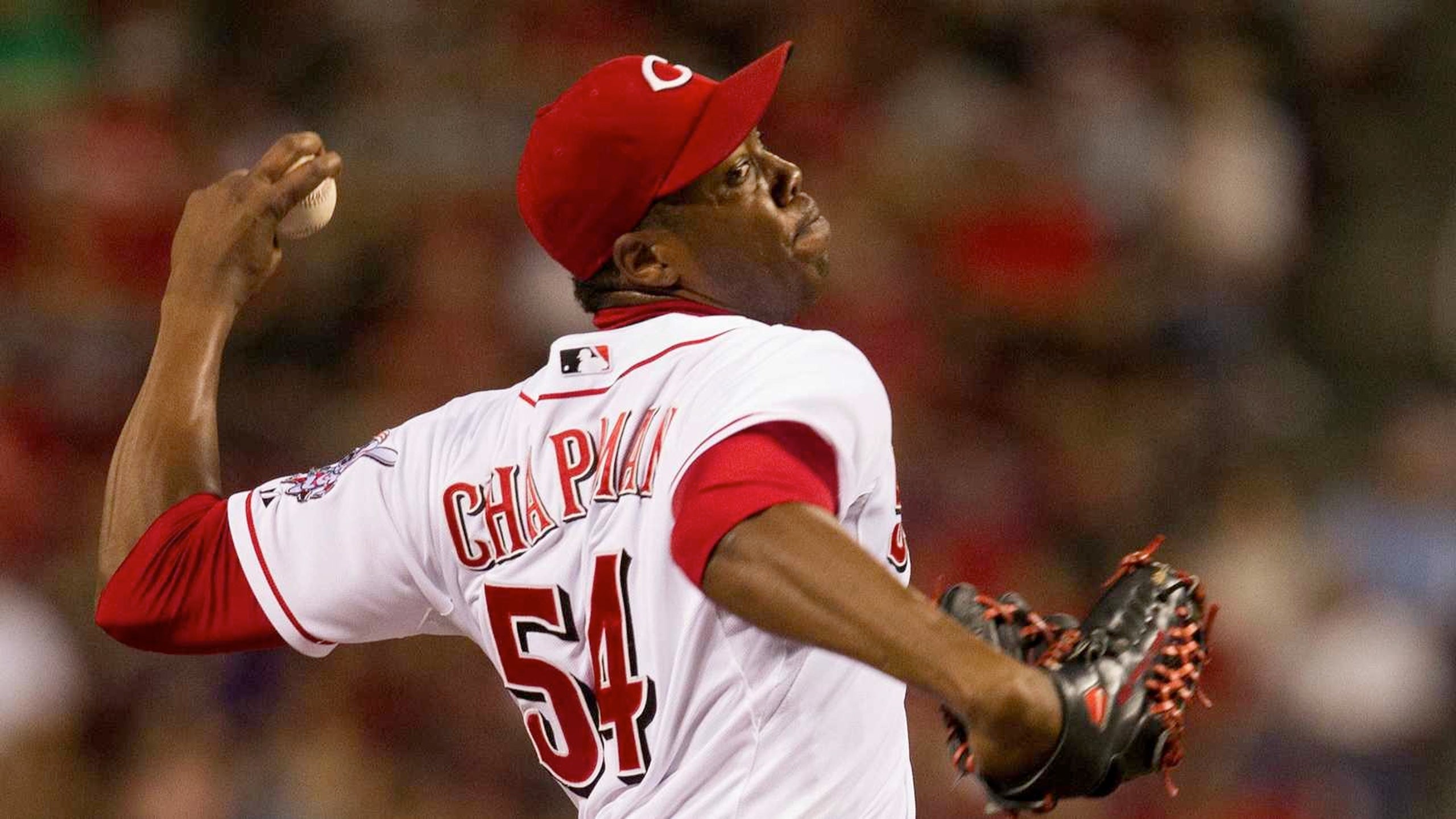 Fantasy Baseball Buzz: Chapman's prognosis
BY John Halpin • March 21, 2014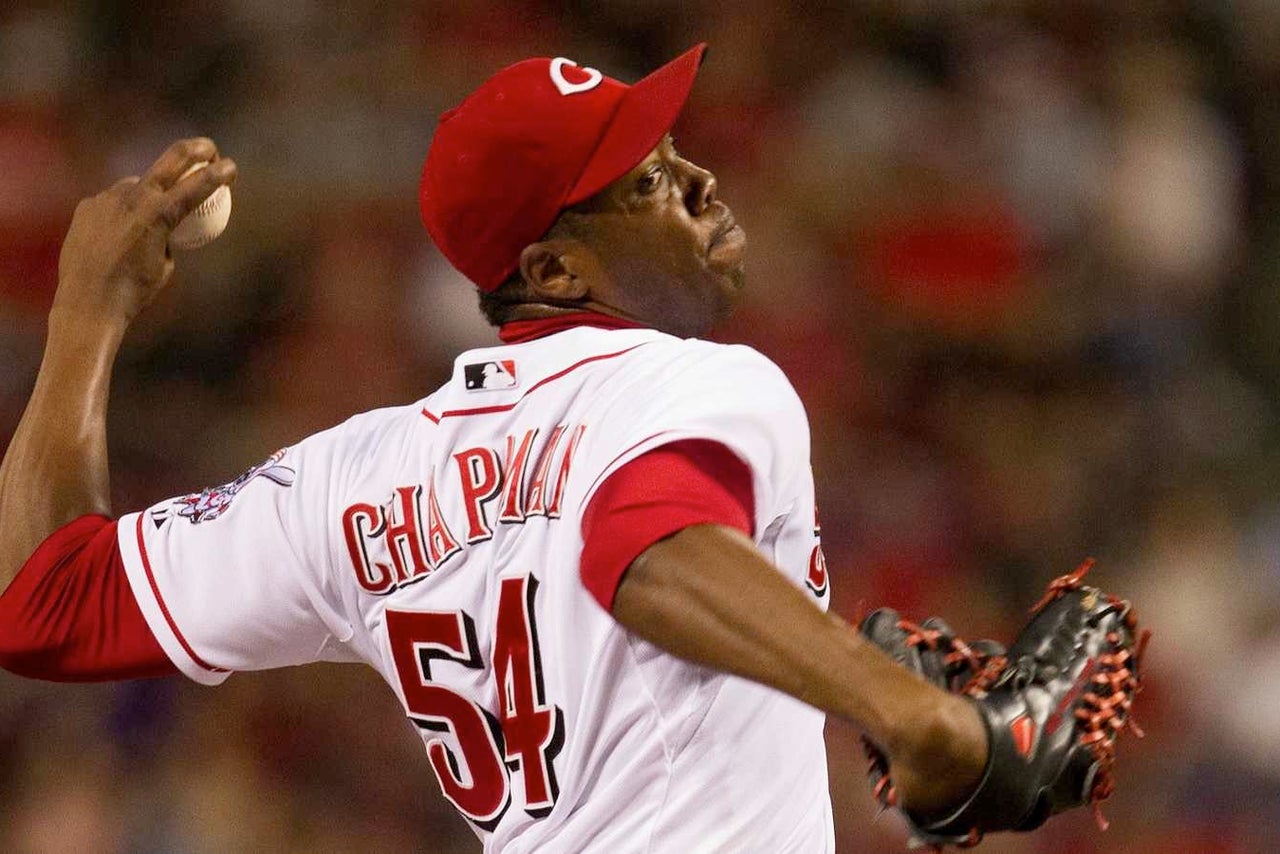 Reds RP Aroldis Chapman had surgery on Thursday to repair a broken bone above his left eye. If all goes well, Chapman can resume working out and throwing within 10-14 days, and could pitch in game conditions in 4-6 weeks. That timetable gets Chapman "back in six to eight weeks with contact," according to Reds' team doctor Tim Kremchek, who said that Chapman will "absolutely" be able to pitch again this season. Eight weeks from today is May 16, but if I owned Chapman on a fantasy squad, I'd be hoping for that date rather than counting on it.
Reds' manager Bryan Price said Thursday that he hadn't yet thought about the layout of the bullpen during Chapman's absence, but the team's website noted that both Jonathan Broxton and Sean Marshall are behind schedule this spring due to injuries. As my colleague Joel Beall said on Thursday's Fantasy 15 podcast, J.J. Hoover is a good bet to close in Cincy until Price says something to the contrary.
On to the rest of the news:
We've got real, live regular season games on tap for the weekend, with the Dodgers and Diamondbacks playing a two-game series in Sydney, Austraila. Clayton Kershaw and Wade Miley will face off in the opener on Saturday at 4 a.m. ET, while Hyun-Jin Ryu and Trevor Cahill will pitch the second game on Saturday at 10 p.m. ET. Justin Turner will bat second and start at second base for the Dodgers against Miley, suggesting that he and Dee Gordon will platoon to start the season. Enjoy Triple A, Alex Guerrero.
Addison Reed has officially been named as the Diamondbacks' closer. Why did they scare us with all the J.J. Putz talk a couple of weeks ago?
Tigers SS Jose Iglesias is expected to miss 4-6 months due to stress fractures in his legs. Stephen Drew should probably start searching for available rental apartments in Detroit.
Jacoby Ellsbury's calf tightness is keeping him out of spring games right now, but an MRI came back negative, and the Yankees think he'll be ready for Opening Day. I know Ellsbury has a checkered injury history, but I'm not planning to discount him because of this issue. Big year coming in that tiny ballpark.
Look for Nationals SP Doug Fister to return to the mound on Saturday, with an eye toward being part of the team's Opening Day rotation.
Pirates SP Francisco Liriano left Thursday's game with a groin injury, and we should know more today about his prognosis. It doesn't sound serious.
Braves SP Brandon Beachy will have his second Tommy John surgery today. Ugh.
Giants 2B Marco Scutaro is 50-50 to be ready for Opening Day due to back issues. Joaquin Arias, who can't hit but can run a little, would be Scutaro's fill-in.
Power-hitting Phillies' reserve Darin Ruf left Thursday's game with an oblique injury. Those things always take longer than you think to heal.
Ervin Santana pitched two innings on Thursday, and the Braves hope he'll be ready to join their rotation "by the end of the second week of the season," according to the team's website.
The Astros sent most of their top prospects to the minors.
Twins OF Aaron Hicks had four hits on Thursday, and leads Alex Presley in the Twins' center-field competition.
See you back here Monday morning.
---