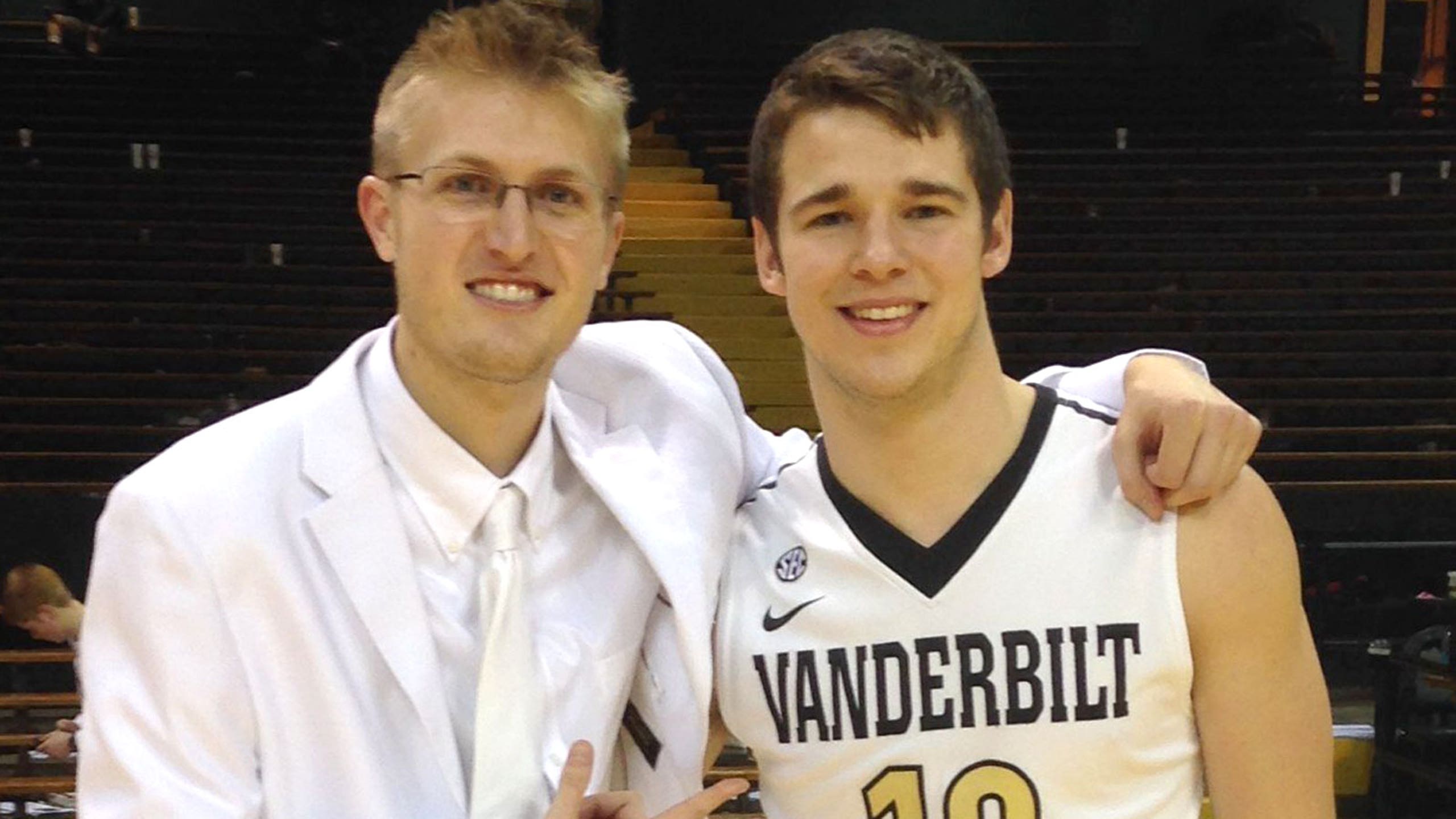 Ex-student manager Cross living the dream as Vandy hoops player
BY foxsports • February 18, 2014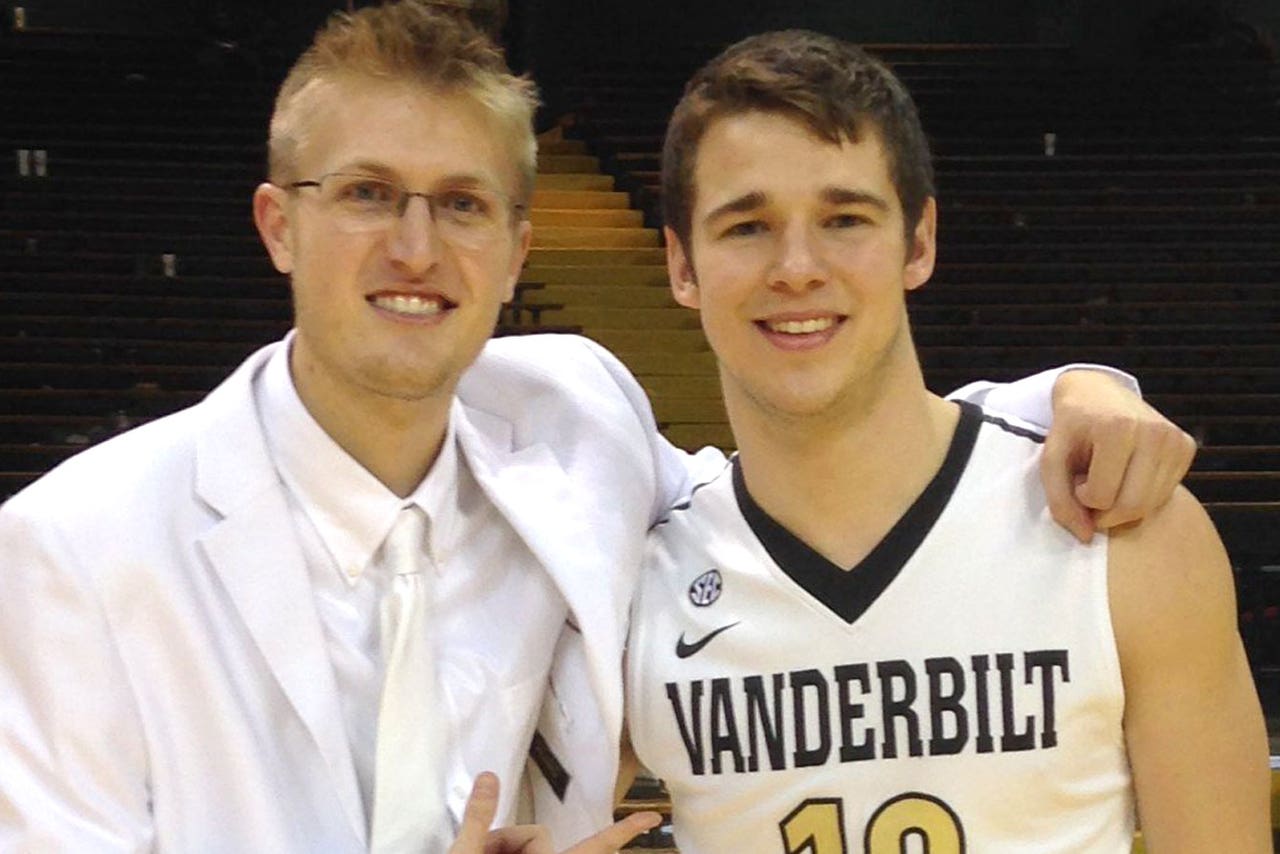 NASHVILLE, Tenn. -- When Vanderbilt basketball calls timeout during a game, Rob Cross instinctively still has a "Pavlov's dog" reaction every now and then.
For nearly four full seasons, Cross had been a team manager, including the last two as senior manager. But in January, when the roster was whittled to only seven scholarship players -- plus two walk-ins -- Cross was called into duty and asked to be a roster player.
"Not in my wildest dreams," Cross said of going from manager to player on Jan. 16. "I don't think any of us really expected for the year to go like this. In April, we had 14 guys, and now we've got 10, including me."
In the 10 games since Cross joined the team (yet to play), the Commodores (14-10, 6-6) have gone 6-4 in SEC play to sit surprisingly tied for fifth heading into Wednesday's game at Missouri (18-7, 6-6).
Cross admits it feels weird to sit on the bench as a player and not as lead manager.
"During the game, I'll say to the managers that the next timeout is full," he said, "or you've got to bring the board over here, or you got to get this guy water. It's just out of habit. I find myself sitting on the bench doing that."
Indeed, this has been one of those years for the Commodores. Before the season started, three returning starters -- junior point guard and leading scorer Kedren Johnson (suspension), top rebounder Kevin Bright (turned pro) and forward Sheldon Jeter (transfer) -- departed the team.
In December, sophomore center Josh Henderson was lost for the season with a knee injury. Sophomore guard Eric McClellan, Vandy's leading scorer, was dismissed in January for violation of school policies and a misdemeanor arrest.
That opened the door for Cross to move from manager to player, mainly because the team needed an extra body for full scrimmages at practice. It's something Kevin Stallings had never experienced in 20-plus seasons as a college head coach, including the last 14-plus at Vanderbilt.
"I have never had to put a uniform on one like we did this year," Stallings said of dressing a manager. "I guess that there was a sense that Rob was the best basketball-playing manager that we had. We knew that he would do it and embrace it.
"Rob has a little bit of a 'kamikaze' mentality when it comes to playing. You could see when the managers played pickup games, he would be diving on floors and taking charges and stuff that you don't see a lot in a pickup game."
Indeed, Cross fancies himself a basketball player who just happened to become a manager. He was team captain for two seasons at Horace Greeley High School in Chappaqua, N.Y., located 45 miles north of New York City. Then again, he averaged only 3.6 points per game as a senior.
"I was pretty good," said Cross, who will graduate in May with a degree in Human & Organizational Development. "I was a defensive guy. I always guarded the other team's best player. I probably would have scored more if I was little more confident. I kind of let myself get in the way of being good."
During high school, Cross started seeking schools to attend in the South, from where his mother hailed. He approached the Vanderbilt coaching staff during his junior year about being a team manager and then visited as a senior, eventually deciding to enroll at the private school.
"I knew I wanted to go to a southern school," Cross said, "and I wanted good academics and also do something with basketball, so Vanderbilt kind of fit all three of those."
Senior forward Rod Odom, now Vandy's leading scorer, was one of the first to learn of Cross's conversion from manager to player. Cross calls Odom his best friend on the team.
"At first, they thought I was joking," Cross said of his impending move. "I told Rod, and he asked, 'Are you serious?' And I was like, 'Yeah.'
"They have been great. I have had a really good relationship with them as a manager for 3 1/2 years, and it has been the same way as a player."
As a manager, Cross helped Odom with shooting drills most every night. And now, they're teammates.
"I was surprised," Odom said. "Rob worked out with me every night, so I knew he had some skills. But it's one of those things where it seems kind of surreal when you see him out there with a jersey on."
Along the way, there has been some good-natured ribbing from coaches, players and, most assuredly, his former fellow managers.
"My first day of practice, there wasn't enough ice in my water," Cross said. "First thing I said to them is, 'Hey, guys, we've got to get a little more ice in there.' So, for the next couple days, they gave me just ice, and I had to go put the water in there myself.
"We have fun with it. We're very close, so we have some back and forth with it."
With six games remaining before the SEC tournament and a potential postseason tourney on the line (likely the NIT), Cross wonders if he might get to play. It would probably come in a situation where Vanderbilt is either leading or trailing by a substantial margin near the end of a game.
"I hope he gets the chance to get into a game," Stallings said. "I'll be looking for an opportunity to give him a shot to get in one of these games as we get closer to the end of the season."
Cross thought that chance might come in last Saturday's win over Texas A&M. Walk-on guard Carter Josephs left the game early after taking an elbow to the face. Stallings had to choose among the five Commodores as Josephs' injury replacement at the free-throw line.
"I was thinking maybe I have to shoot these free throws," Cross said of the shots instead taken by freshman forward Luke Kornet. "So, I was ready. I would have made one and probably air-balled the other one.
"But I definitely would have cashed one of them. I've definitely thought about playing and doing it in a win with us being up a lot and being able to enjoy the moment."
When told Cross thought he might get to shoot the free throws against A&M, Stallings cracked a sly grin.
"He said that?" Stallings asked. "Let's just say there were a number of guys higher on the list."
But in Stallings' mind, Cross in particular and managers in general are crucial cogs to a basketball team's operations. They're greatly appreciated internally but rarely applauded externally.
"Those guys are invaluable," Stallings said. "They are some of the sharpest, smartest, most loyal hard-working guys that you will ever find. My wife has said for years and years and years that every business should be trying to hire the basketball managers, because they are so organized and driven and the work ethic."
Soon, Cross will graduate and start looking for that job, hopefully in teaching and/or possibly coaching. He figures the experience of this season has only made him, his teammates and everybody involved with the program that much stronger.
"Like coach (Stallings) says, 'It's not about what happens to you, it's about how you react to what happens to you,'" Cross said. "And I think we've really done a good job as a team, a coaching staff, our managers, to really reacting to these type of circumstances."
---