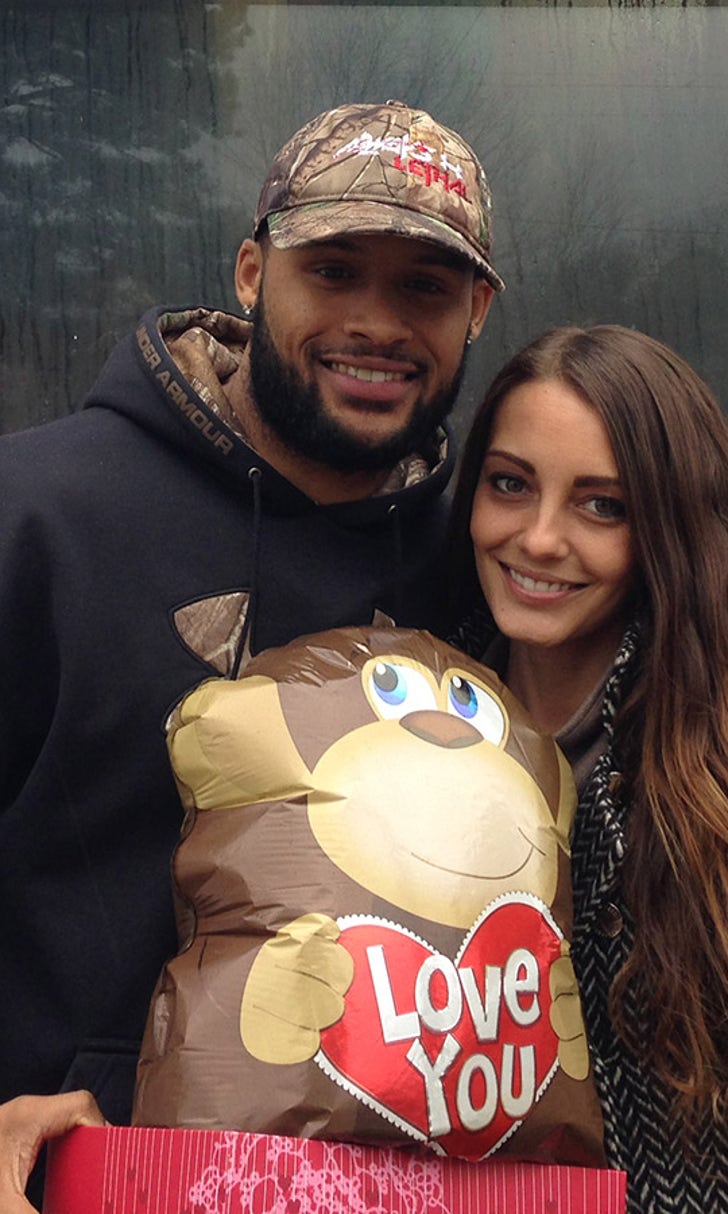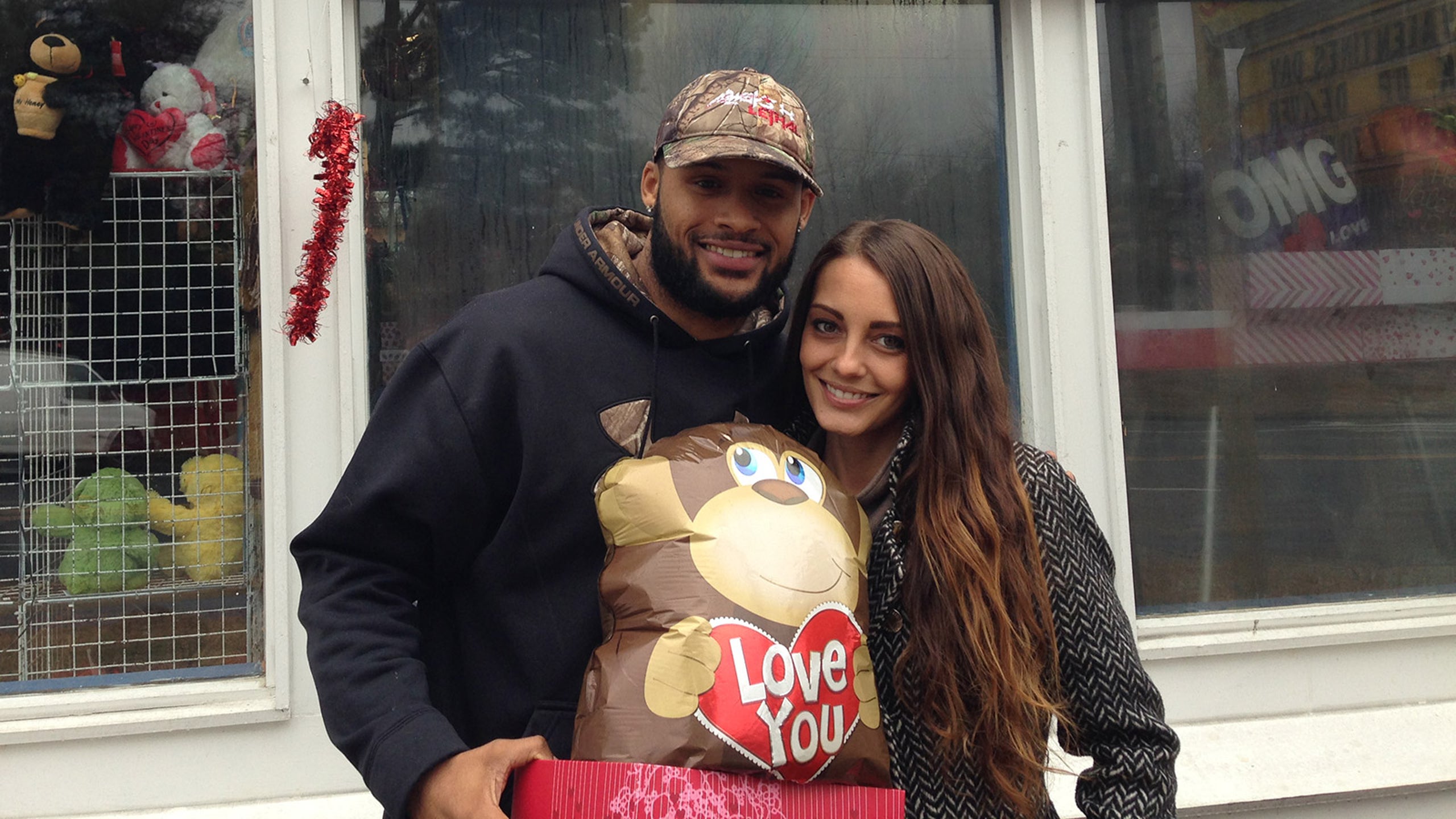 Ex-Marquette star James looking to make new name for himself
BY Cory McCartney • March 19, 2014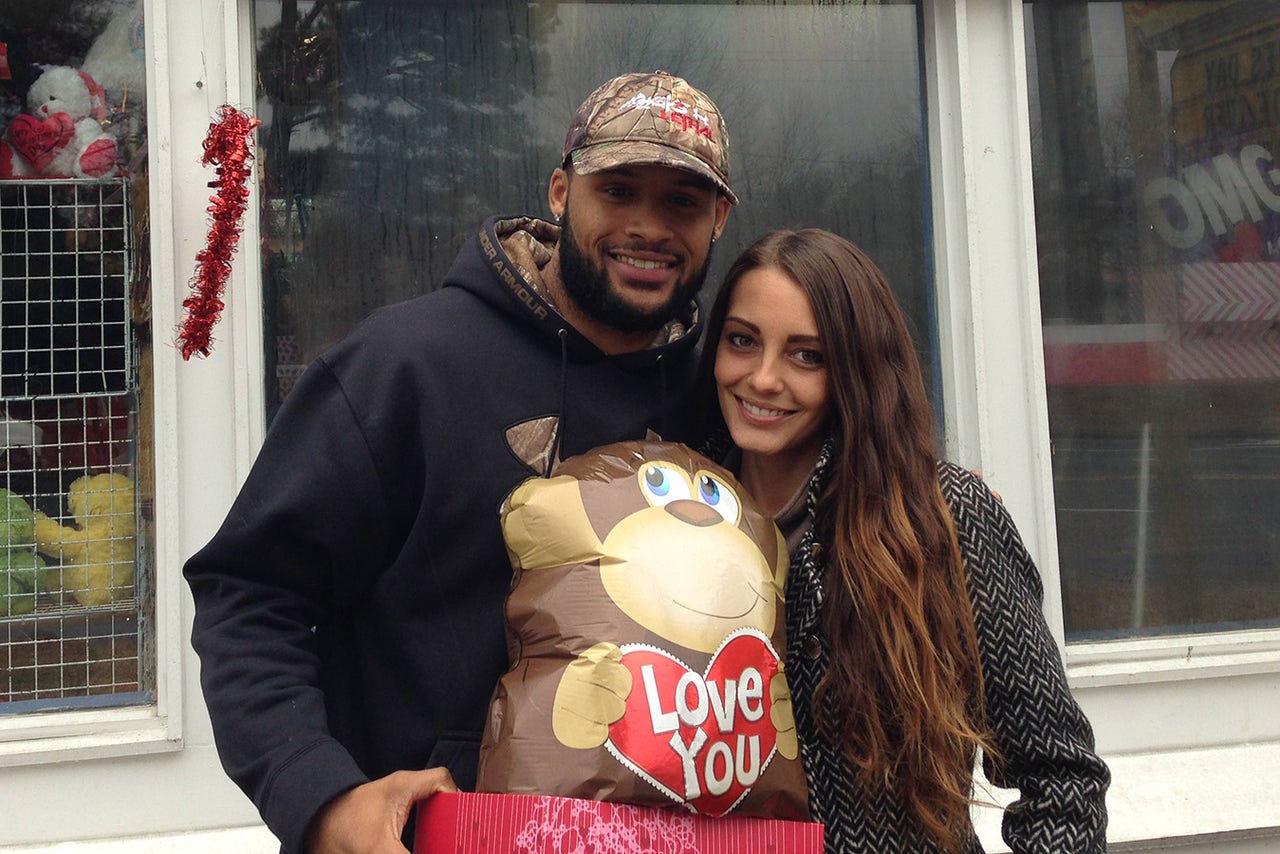 ACWORTH, Ga. -- Dominic James was a star point guard at Marquette, an All-American and a former Big East Rookie of the Year; Dominic Wright is an entrepreneur, selling balloons in a box.
The two men are one in the same.
James, who plans to legally change his surname to Wright -- the last name of his once-estranged father, Greg -- has launched a company called Pulloons, which, per the Web site "are celebratory gift boxes that contain candy and a balloon that automatically inflates when the decorative Pulloon Ribbon is lifted up."
"Inflate a smile," James says, grinning as he recites the start-up's tag line while sitting outside a coffee shop in metro Atlanta, where he currently resides.
James, 27, with his business partner and wife Angela Phillips, a former Kentucky/Indiana State point guard-turned-model (they married last year, but she is waiting to change her name until James completes the task of doing the same) are waiting for a call back to shoot an episode of ABC's "Shark Tank," where they hope to put Pulloons on display for the masses.
"Most of the time when you go buy balloons, you've got to drag them out of the store or get them filled up and get them in your car. It's just a hassle," James said. "But to get them in a gift box where you can ship to your friends wherever they are and then they open it up and it inflates itself?"
Invented by the father of one of James' AAU teammates in Indiana, James obtained the patent in January and after making improvements to the existing product template, established Pulloons LLC in February. The husband and wife team do all the manufacturing out of their home.
"It's unbelievable, man," he said. "I never saw it coming. If someone would have told me I'd be making balloons in my living room, I would have never believed it."
It's a world away from basketball for James, who last played in 2013 for Poitiers Basket 86 in the French Pro A League. But he's walked away from the game -- and the name he built playing it.
"It's like a leap of faith thing for me," James said. "I just want to put my all into it and not think about the future and take it one day at a time."
Faith is James' driving force these days. He recounts a pastor sharing the Bible story of the apostle Peter, a professional fisherman who was driven in a new direction with his brother Andrew to be "fishers of men." He sees much of himself in that parable.
"I still feel like I'm a point guard, still creating opportunities for other people, still making people better around me," he said. "It's still the game of basketball for me. That's just how I live my life and I think that's ultimately why God had me play basketball, just to learn how to give and make people better and impact those around me."
When the NCAA tournament bracket was release Sunday, Marquette was missing. It marked the end of seven straight appearances -- and broke a tie with Louisville for the sixth-longest active streak -- a run that began with James, Jerel McNeal and Wesley Matthews, a trio that was nicknamed "the Kids" upon their arrival in 2005.
Those "Kids" grew up in a hurry, fueled by James, who was an Associated Press Honorable Mention All-American in his first year and broke Doc Rivers' 25-year-old Eagles' record for points as a freshman with 473.
He would finish his career fourth on the school's all-time scoring list (1,749) and is second in assists (632).
There are still moments from those tourney appearances that James can't get out of his mind -- a five-point loss to Alabama in the first round in '06; falling to Stanford 82-81 in '08 with a spot in the Sweet 16 hanging in the balance.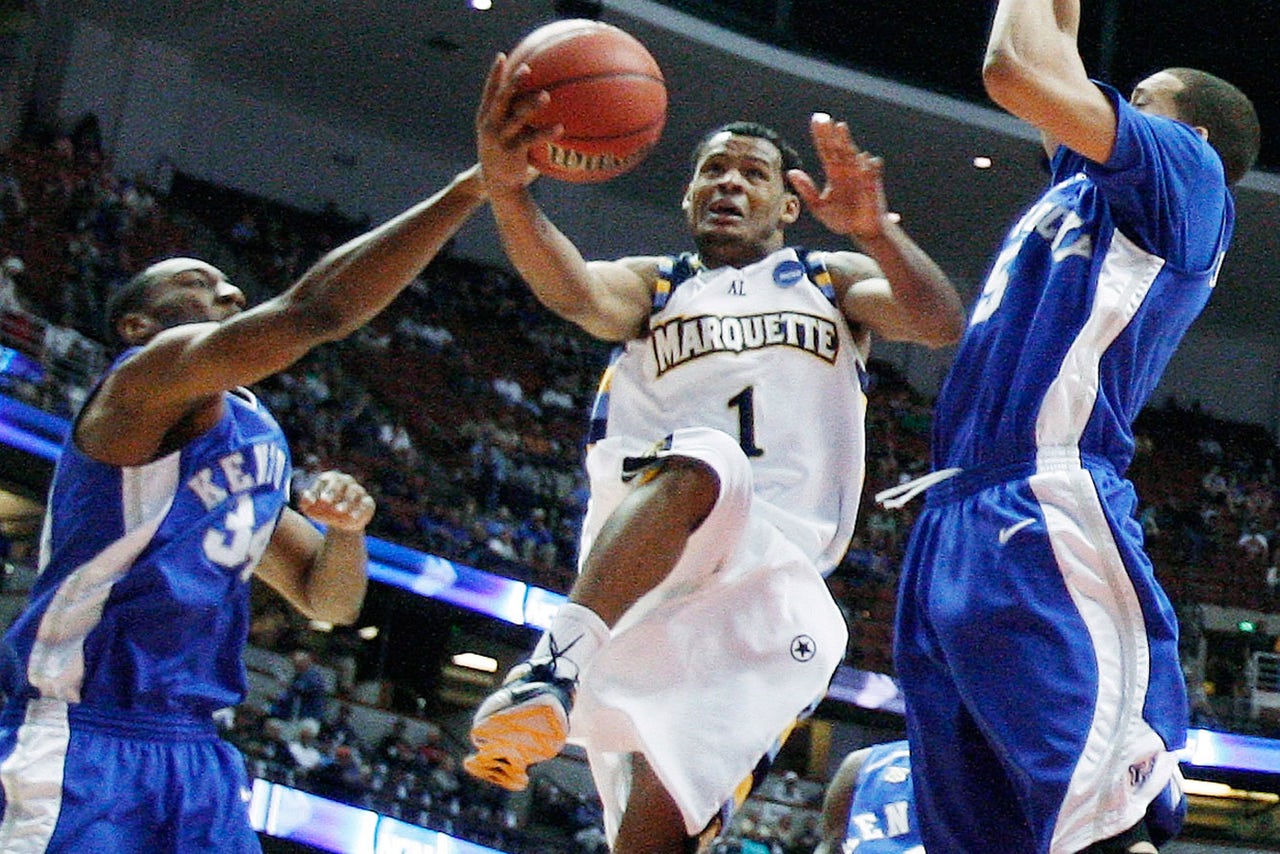 The Big East Rookie of the Year in 2006, James ranks fourth on Marquette's all-time scoring list (1,749) and is second in assists (632).

But it was his final game in a Marquette uniform that is inescapable, both for its finality and the fact that he was playing at all.
On Feb. 25, 2009, James left the Eagles' game against UConn after playing only four minutes. He pulled up while defending A.J. Price and limping, grabbed at his left foot. James signaled to the bench and made his way off the court.
X-rays would show he had a fractured fifth metatarsal, which usually requires three months of recovery time. James' career, it was believed, was over.
"We are hurtful as a program and hurtful as an institution for Dominic," coach Buzz Williams said at the time. "He has been absolutely incredible throughout his career."
But 22 days later, with the sixth-seeded Eagles set to face No. 3 Missouri in the second round of the NCAA tourney, James woke up at 5 a.m. in the team's hotel in Boise, Idaho to sprint the hallways, seeing how much pounding his foot could take.
Estimating he was around 60 percent, James told one of Marquette's trainer he could play. "He looked at me like I was crazy," James remembers.
After getting the team doctor's approval he went to a local YMCA for a private workout and was cleared to play. But his return couldn't help the Eagles advance; James played 17 minutes with a rebound and an assist while committing three fouls. It was the only time in his career that he didn't score.
"I think I was so proud to just be out there on the court and contribute any way that I could. But at the same time, I didn't want to hurt my team," James said. "I probably wasn't fully ready, but I felt like it gave the team a lot of confidence that I was suited up and out there with them."
James went undrafted, but received an invitation to Milwaukee Bucks training camp. With the team already adding a young point guard in Brandon Jennings, the No. 10 pick, there was nowhere to put James. When an offer came to play for Mersin BB of the Turkish Basketball League, James left and began a four-year run that would see him play in Bulgaria, Greece, Serbia, Italy, and finally France.
That last stop would provide a highlight that changed James' life, and that of Angela Phillips' as well.
James told his Poitiers Basket 86 teammate to be ready to pull Phillips out of the crowd after his turn in the Italian BEKO All-Star Game dunk contest.
His toss near the restricted arc was off line the first two attempts, but on the third try he nailed it. James grabbed the ball, leapt and swept it through his legs with his left hand and passed it to his right, throwing down a one-handed jam that had the judges holding up "10s."
"The dunk," James recalls, "was the easy part."
He then met Phillips on the court, bending down to one knee to propose. She said 'yes' and the two kissed, drawing roars from the crowd.
"It was just unbelievable and something that I dreamed up and something that I prayed about," he said.
The two were married Sept. 8, 2013 and are expecting their first child in October.
James has all but excommunicated himself from the game of basketball. He doesn't watch and doesn't keep around reminders. His Rookie of the Year trophy is at Richmond (Ind.) High School, along with most of his memorabilia; an uncle has the rest of his hardware.
He insists that he's not giving up his dream; he's walking away from it. James believes that he's at his best now, saying, "I feel stronger than ever, I feel more confident than ever."
Confident enough to put aside the surname that dots Marquette's record book.
James didn't know much of his father growing up. Greg Wright struggled with drug use and was in and out of jail for most of his son's young life. But with his life back on track, he has helped to open James' eyes.
"My dad was out of life my entire life, but me and him, we got the same heart," James said. "There's things that he didn't do that I want to do and when I do it, it's going to be (for) him."
Pulloons is already seeing gains, partnering with stores in metro Atlanta and Tennessee, and they recently had a meeting with 1-800-Balloons.com.
Dominic James was the basketball player; that was how he forged his name in years spent on the court. Dominic Wright is someone else entirely, working to make his own path, one independent of James.
"People look at me like 'Why would you give up the last name James?" he said. "Because it's bigger than just me."
---