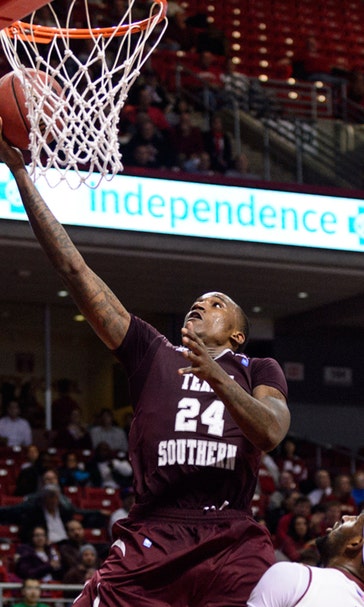 Ex-bad boy Murray making most of last shot at basketball stardom
March 18, 2014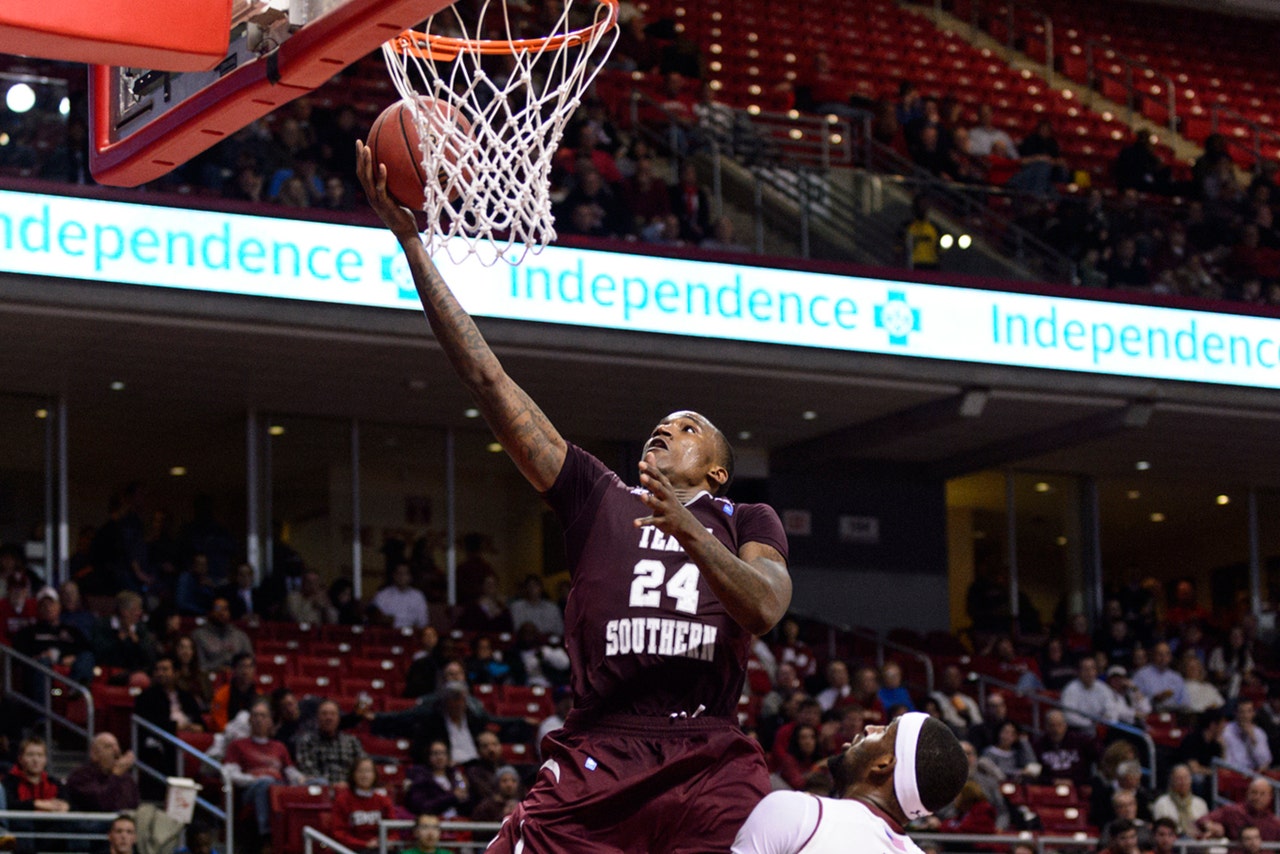 DAYTON, Ohio -- It took Aaric Murray five years and three schools to get to the NCAA tournament. His dominant post play pushed Texas Southern through the SWAC tournament last weekend, earning a spot in the First Four here Wednesday night, and finally his new team got to fly to Ohio after spending the season taking 500-mile bus rides.
Finally, he gets the NCAA tournament stamp on his basketball passport.
It's unclear if he could find room for a tattoo. He has a bunch of those already.
"I lost count at 67," Murray said.
A baby picture of his daughter is one of many on his back. One's on his neck; really, it's across his throat. If you follow the design on the W and S, it reads, "No Worries."
But Murray's had a few.
He had issues, as in multiple, at La Salle before transferring to West Virginia, where more issues led to another suspension and ultimately his dismissal following last season.
Really good players -- and Murray is definitely one -- always get a second shot. But a third?
One of the conditions of Murray's joining the team at Texas Southern -- former Indiana and UAB coach Mike Davis is the coach -- was drug rehab. Davis placed Murray with former NBA coach John Lucas, who now makes his living training athletes and placing them in a substance abuse recovery program in Houston.
"He's been drug tested once a week," Davis said. "He goes to counseling almost every day. We communicate all the time, and I told Aaric when he came to Texas Southern I was going to treat him like my son. I don't think he's ever been treated that way.
"We text a lot. We talk a lot. I try to be as positive as possible with him throughout the course of the game, in practice and off the court. I think he really appreciates me and respects me as a father figure. I'm not his father, but I'm that father figure to him. I communicate with his mother from time to time ... and so what I wanted Aaric to do is feel comfortable, feel appreciated not from just basketball, from just a person in life."
Murray's neck tattoo doesn't quite tell the whole story, but he currently has fewer worries than he did at most times over the past several years.
"When I first got the tattoo, it was because I was like coming into La Salle as one of the highest recruits, and they were talking about me going to the NBA after one year," Murray said. "So during that time I had no worries. It was like, 'Why should I worry? I'm going to get drafted', stuff like that.
"But then I started, like, making bad decisions. (I realized) I do need to be worried. Now I look at the tattoo as like motivation to always be worried, to always like know people are watching me and I need to do the right things."
He was Scout.com's No. 31 overall prospect in the class of 2009, a four-star prospect listed at 6-9, 220 out of Glen Mills, a school south of Philadelphia for those sent there by the court system.
Now, Murray is listed at 6-10, 245. He's averaging better than 21 points and almost 8 rebounds per game for a Texas Southern team that's won nine straight games to get here, where it will play Cal Poly for the right to move on to play Wichita State on Friday. He said he appreciates finally getting to college basketball's biggest stage -- even if it's just a play-in game in Dayton -- "because a year ago I was like facing a lot of like bad stuff, difficult times, getting dismissed from West Virginia, not knowing where I was going to end up."
Davis said Murray has focused on doing the little things right on the floor, including orders from Davis not to get in foul trouble when Texas Southern played -- and almost always lost -- "buy games" early in the season.
"It looked like he wasn't playing defense," Davis said. "But once we got to conference, he won (SWAC) defensive player of the year because he shut the middle down and played hard. To make that commitment and sacrifice from Aaric tells you a lot about his maturity and where he's come from since he's been on our campus."
With Murray's body -- he looks to be in outstanding shape -- and gifts, NBA teams will at least take a look. He'll be 25 this summer and has plenty of questions to answer, but there aren't many guys walking around anywhere who play in the post the way Murray can. He scored in double figures in both of his seasons at La Salle, 15.2 to go with 7.7 rebounds in his sophomore season. He averaged 8.8 points and 6 rebounds a game at West Virginia.
"(The NBA) is still in my head, but I don't want to worry about that right now," Murray said. "I just want to play our next college game."
Said Davis: "Basketball is not Aaric's problem. He's one of the most talented players I've ever coached. I've coached NBA players, and from a talent standpoint, he's definitely an NBA player."
Perhaps knowing that was part of Murray's problem(s). He knew he was one of the best players on the court every night, knew he'd get extra chances, knew that the basketball world knew about Aaric Murray. No worries, right?
Now, he'd like people to know his third chance is going very well at Texas Southern.
"I got to Texas Southern and Coach Davis told me about (John Lucas)," Murray said. "I listened to (Davis) and let him guide me -- that the future is promising. And I have just been listening and doing what he says to do, and now we're here at the NCAA tournament."
---