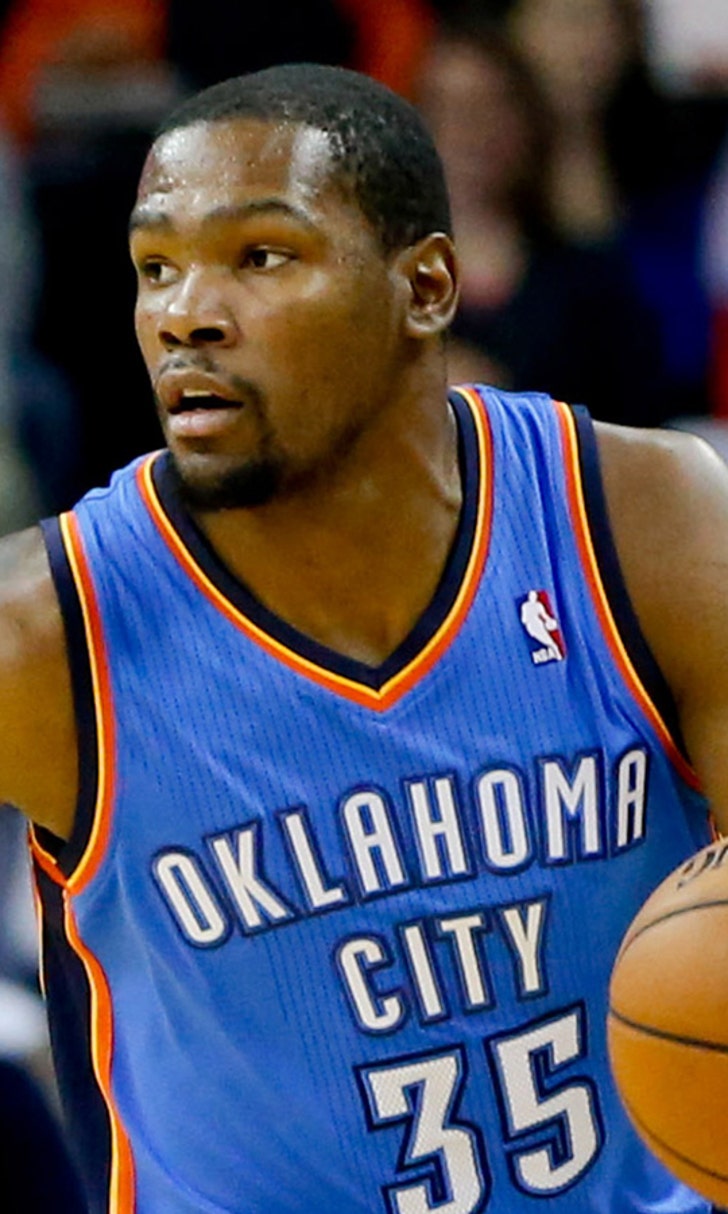 Durant leads streaking Thunder past Bulls
BY foxsports • December 20, 2013
Another win for the Thunder.
That makes 13 in a row at home and 16 of 17 overall. The Thunder are the top team in the NBA right now at 21-4. Oddly enough, it's the same record the team had a season ago.
OKC won 107-95 Thursday night, but here are three things you should be talking about today when it comes to the Thunder and one thing you definitely didn't see at the game that folks will be talking about, too.
1. Kevin Durant is really good. Just thought you ought to know
Don't know how else to put it. Durant is playing at another level right now. So good, Nick Collison summed it up this way:
"I'm really glad he plays for our team."
Durant had 32 points on 13-of-20 shooting. He added nine rebounds, six assists and had just one turnover in 33 minutes.
Somehow Durant has improved after last year when he was just the second player in NBA history to average 28 points while shooting better than 50 percent from the field, 40 percent on 3-pointers and 90 percent from the free throw line.
He's averaging a career-best 8.2 rebounds and 4.8 assists per game. Durant has scored 30 or more points while getting 10 or more rebounds five times already this year. He only did it four times last year.
"My confidence level is always up from shooting it well or not," Durant said. "There are going to be games that are better than others, but I'm always confident in myself. This is my seventh year and I've been through those phases where I let a bad shooting night take over for a few weeks, but I just move on to the next game and move on to the next play. Keep trying to play winning basketball for my team. Right now I'm just trying to lock in on the defensive end and help my teammates as much as I can. And things will fall in line."
It's falling in line now. Durant is averaging 29.4 points in his last 10 games and is shooting 54.7 percent from the field in that span.
"He plays a good, solid basketball game," coach Scott Brooks said. "He plays efficient on both ends. He can make shots all over the floor. He doesn't have to have a certain play. He's one of the beast players in the world."
2. Time to get serious about this home winning streak
Checking over the next few home games, the Thunder have Toronto, Houston, Portland, Brooklyn and Boston. I don't think it's too early to start thinking about a run for the record.
It's early, but at 13-0 so far this year at home, I could see OKC really grinding it out if the players know they have a shot at the Celtics' all-time best mark of 40-1 set during the 1985-86 season. Plus, we know the Thunder are going to the playoffs, so they are already angling toward the postseason. Every win matters. It will be hard to catch Miami or Indiana for the top overall record because those teams play so many games against a weak, weak Eastern Conference, but winning the West is achievable.
"I have not mentioned to our guys one time," coach Scott Brooks said. "I knew we're 13-0, but we're focused on playing good basketball every  night, home or away."
Portland is a real and immediate threat. The Blazers come to town on New Year's Eve, but the Thunder have the advantage of having lost at Portland earlier this year. Houston is always interesting, because of the James Harden situation. Houston is here on Dec. 29.
"You've got to be humble and you've got to be grateful for it," guard Reggie Jackson said. "I think we've worked hard for it and we're always happy to get as many wins as possible. It's one of the best arenas to play in."
My take: The longer this streak goes the harder the Thunder play at home.
3. Anyone else tired of these tired Eastern Conference teams?
Starting to sound like the entitled, but these Eastern Conference teams are really a drag.
Another night, another win for the Thunder against a Eastern Conference team lifeless and without identity.
It's not Chicago's fault. After all the Bulls are missing Derrick Rose. But Thursday, they were also missing point Kirk Hinrich and forward Luol Deng. Both were out with injuries. And while Chicago was on a back-to-back, losing to Houston on Wednesday night, coach Tom Thibodeau probably just figured it would be hard enough to win with those guys playing at less than 100 percent, so why risk it.
Well, the big loser in all of this are the fans, who missed out on seeing a Chicago team that could be competitive. Now, sure, the Bulls stayed close, but when it counted and when the Thunder really started caring, it was just another walk-through.
The Bulls shot 37 percent. The Thunder shot 51 percent. The Bulls shot 27 percent on 3-pointers. The Thunder shot 60 percent. Joakim Noah shot the ball 17 times. That's a lot for a guy who spins the ball sideways on his jumpers. If you're doing something no one else is doing, you could be an innovator. However, you could also just be a really bad shooter. Noah's shot is just really bad. He's best around the glass, rebounding and fighting for putbacks. He's not great when he has to shoot a jumper. That being said, he started the game three-of-four, including a 21-foot jumper.
That's what happens when your best players are out. You become reliant on goofy jump shooters.
The Thunder fooled around with Orlando last Sunday and now have Toronto up next. Yeaaah, Eastern Conference!
And one thing you didn't see at the game
We all know the NBA lockerroom is a sacred place. Media is allowed in only at certain times and only for a certain amount of time. No exceptions. No one else other than team and ones associated with the team get in.
Apparently Joakim Noah didn't realize that. The Bulls forward walked into the the Thunder lockerroom after the game but not all the way in.
"We just let anyone in the lockerroom now," OKC's Kendrick Perkins asked, rather loudly and with a lot of conviction. Noah responded, "You want me to leave, I'll leave."
Perkins response: "Get your ass up out of here."
Noah came to the Thunder lockerroom because he is friends with Thabo Sefolosha, who was hanging out in the Bulls' area after the game. While the Bulls may have let Sefolosha in, apparently the Thunder do not have the same admittance policy.
Can't remember ever seeing something like that before and I can't say I blame Perkins for saying anything, either.
Follow Andrew Gilman on Twitter: @andrewgilmanOK
---