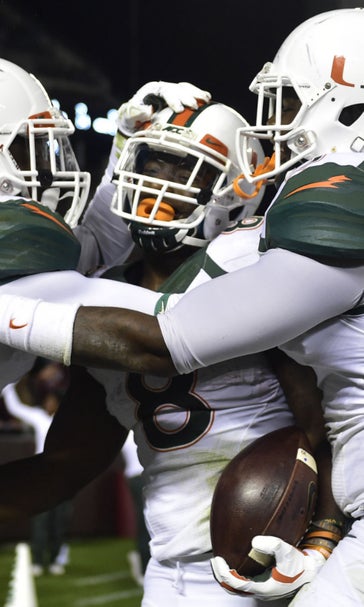 Duke Johnson runs wild as Hurricanes rout Hokies
BY foxsports • October 24, 2014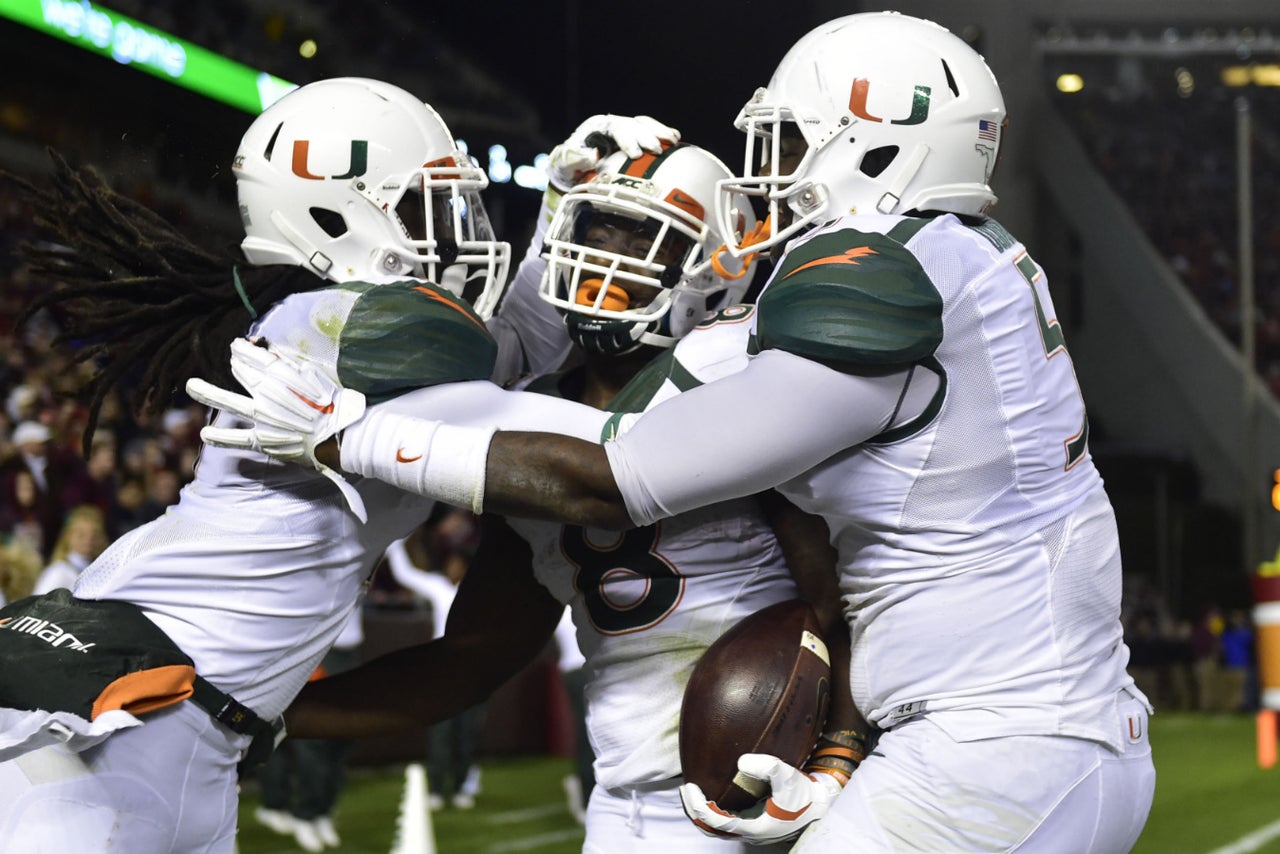 BLACKSBURG, Va. (AP) -- Virginia Tech didn't face Duke Johnson when it played Miami last season.
The Hokies would be happy to never see him again, either.
Johnson ran for 249 yards and scored two touchdowns, and Miami raced to a 24-0 halftime lead, then took the ball away on the Hokies' first three possessions after halftime to prevent a comeback in a 30-6 victory Thursday night.
"I thought that was one of the better running backs, maybe the best that we've ever tried to tackle," Hokies coach Frank Beamer said about Johnson, who had 29 times. Beamer later called Johnson the best back he's seen in "forever."
The Hurricanes (5-3, 2-2 Atlantic Coast Conference) outgained Virginia Tech 255-36 in the first half in taking the 24-0 lead, then stymied the Hokies' hopes of coming back by forcing fumbles on three consecutive drives. The first takeaway came after an impressive march to Miami's 1 as Deon Bush stripped Marshawn Williams and made the recovery, too.
Miami's victory came after a 55-34 romp against Cincinnati in its last game, and came as Johnson topped the 100-yard mark for the fourth game in a row. The two might go hand in hand, center Shane McDermott said.
"We executed when we needed to execute, and we have Duke Johnson in the backfield," he said. "When he shines like that, it makes us look very good."
Johnson, who missed the game against the Hokies last season with a broken right ankle, made it look easy.
"It was amazing. Green grass in front of me," he said.
Virginia Tech (4-4, 1-3) lost for the second week in a row and for the fourth time in its last five Thursday night appearances. Its continuing offensive struggles drew boos before halftime and the fumbling sent fans heading for the exits.
The first fumble was especially big because the crowd was energized by Deon Newsome's 58-yard kickoff return to start the half, and a crisp drive that featured Williams' running and a fast-paced attack that followed a 36-yard first half.
"If we could have punched it in right there, we could have gotten some momentum," receiver Isaiah Ford said.
The Hokies also almost had their 250-game scoring streak that dated to 1995 come to an end, but backup quarterback Mark Leal hit Ford for a 14-yard touchdown pass on fourth-and-10 with 1:30 left.
Johnson, who missed the Hurricanes' game against Virginia Tech last season with a broken right ankle, got the ball on Miami's first seven plays from scrimmage, and he was just warming up.
He gained 15 yards from a "Wildcat" formation on a drive to Michael Badgley's 28-yard field goal, and had a 29-yard gain on the next drive. He also caught a 15-yard pass on third-and-8 early in the drive to keep it going before Gus Edwards came in to give Johnson a rest and bulled in from 3 yards out, making it 10-0.
An exchange of punts found the Hokies starting at their 1, and after three consecutive incompletions by Michael Brewer, A.J. Hughes' short punt took a big Miami bounce, setting them up at the Hokies' 24.
Johnson ran it in on the next play, and capped the following drive with a 22-yard touchdown reception from Brad Kaaya, making it 24-0. He also had runs of 14 and 25 yards on a drive that ended in a punt.
Edwards, who added a 38-yard touchdown run with 4:14 to play, finished with 115 yards on 20 carries. The Hurricanes finished with 364 yards on the ground, the most ever against a team coached by Frank Beamer.
After Williams' fumble, Brewer hit Joel Caleb for 13 yards on Virginia Tech's next play from scrimmage, and after getting the ball to the Miami 32, Tracy Howard took it away and Jermaine Grace recovered for the Hurricanes.
After another Miami punt, the Hokies drove from their 11 to the Miami 18, but Denzel Perryman knocked the ball away from Jerome Wright on a run to the 13 and Grace again made the recovery for the Canes.
---